iMoving Professional Moving System Review
Overall Opinion
iMoving Professional Moving System (iMoving) is a local moving company located in San Francisco
iMoving specializes in handling local moves within San Francisco
The company is well-known in the community
Customers generally appreciate the company's responsiveness and professionalism
iMoving isn't authorized to handle out-of-state moves, but the company is licensed to operate within San Francisco
The company is unaccredited and unrated by the BBB
Best for: Residential and business moves within San Francisco
Not recommended for Out-of-state moves
For even more long-distance moving options, check out our list of the top interstate moving companies of 2022
How does iMoving compare to other professional movers?
Jump to the iMoving Professional Moving System review section that you're looking for:
About iMoving Professional Moving System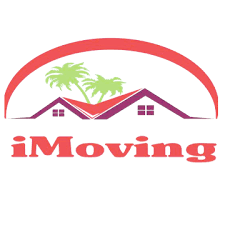 iMoving Professional Moving System (U.S. DOT# 3043907) is a local mover located in San Francisco, California. As an asset-based mover (not a broker), the company physically handles and transports its customer's belongings. The small carrier was founded in 2014. In 2021 its two registered trucks logged about 20,000 miles.
The company specializes in local moves in the San Francisco area. While iMoving may not be able to handle some special items, the company's team is highly experienced. Generally, residential and commercial customers can expect quality work at reasonable prices.
The family business is immigrant-owned, with Sean using his 12 years of moving experience to start his own company. As a fixture in San Francisco, they have close ties in their community. Customers will work with personable movers that live in the area.
iMoving isn't authorized to perform out-of-state moves. However, they can still handle most moves within California.
Pros & Cons
Family and immigrant-owned
Free web quotes
No extra charges for stairs, elevators, or long carries
Stellar reputation in the community
No interstate moves
Unaccredited and unrated with the BBB
iMoving Professional Moving System offers a broad range of services
As a small family business, iMoving focuses on providing quality services to its customers in San Francisco.
Residential moves: The carrier loves to work with San Francisco locals regardless of move size. This includes studios, apartments, houses, and storage units
Commercial moves: The family-owned business can assist companies in moving their belongings from one location in San Francisco to another. They'll provide all the packing supplies and will disassemble and reassemble furniture when necessary
Packing and unpacking: The company offers various packing solutions for residential and commercial customers. They have the packing material necessary to transport even the most fragile items safely. Ask them about prices on supplies if you wish to pack some items before your move
iMoving isn't authorized to provide interstate relocation services, but they can legally handle moves within San Francisco and California.
How much does iMoving Professional Moving System charge?
Since each move is unique, customers interested in working with iMoving should contact the company directly for an estimate.
The carrier offers free quotes on its website. Customers can fill out a simple form, providing their pickup and dropoff locations, the size of the move, and their contact information. You can also get a free quote using the phone number or email provided on the company's Free Quote page.
Though costs can vary based on multiple factors, local move customers can generally expect to pay:
$119 per hour for two movers and one truck
$159 per hour for three movers and one truck
The company charges a three-hour minimum on each move.
Unlike many competitors, the carrier does not charge extra fees for stairs, elevators, or long carries. This is a big plus when moving to or from a multi-story apartment building.
According to state law, iMoving must charge for double drive time on all moves over seven miles. This law prohibits moving companies in California from charging for drive time to and from their offices. Instead, they only charge double for the drive from your pickup location to your dropoff location.
Payment must be made at the end of each move. The company accepts cash, checks, Venmo, or Zelle, but not credit cards.
Check out our moving cost calculator to get a quote on your move and find the best movers in your area.

How is iMoving Professional Moving System's customer service?
The local mover makes it easy for customers to contact them. iMoving has business hours all week from 7:00 a.m. to 8:00 p.m.
Customers can request a free estimate or book an appointment with a representative using the phone number or email provided on the company's Free Quote page.
iMoving doesn't offer on-time delivery guarantees, but since local moves are the company's core business, most jobs are completed on schedule.
iMoving works hard to provide top-notch service in San Francisco, and its customers generally give the company high marks for responsiveness, professionalism, and overall value.
Does iMoving Professional Moving System have a good online reputation?
Local carriers tend to have different review patterns than national moving companies. When searched on Google Business, iMoving holds a 4.7 out of 5-star rating with 15 reviews. While this number of reviews might seem relatively small for a large company, it's likely accurate for one of this size.
Another difference between local and national companies is the amount of government and official data. iMoving Professional Moving System is unaccredited and unranked by the Better Business Bureau.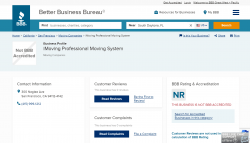 Because disputes with the company are local, complaints tend to be handled directly or through the state. Another factor that dissuades official complaints is the typical size of moves. As the company doesn't move out of state, jobs are less complex, resulting in more affordable price margins.
With this in mind, the carrier does particularly well on public review sites. iMoving holds a 4.5 out of 5-star rating on Yelp with 43 reviews. Their customers appreciate their professionalism and attention to detail. The carrier responds to all reviews on the website.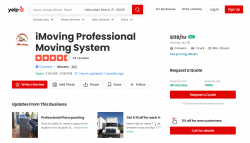 Though basic, the company's website provides all the necessary information. Customers will have no issues requesting a free quote, finding helpful moving info, or contacting the company. The company's About Us page does a good job introducing its owner and history, showing its connection to the San Francisco community.
Is iMoving Professional Moving System licensed and insured?
The moving industry uses various databases to collect information about moving companies. When assessing a moving business, we check four databases to see what information is registered and whether the company has claimed its profiles. These databases are compared alongside company websites, social media pages, and review sites like Yelp to determine the moving business's credibility and transparency.
| | |
| --- | --- |
| Database | Listed (Y/N) |
| AI FMCSA? | Yes |
| SAFER FMCSA? | Yes |
| Licensing Insurance FMCSA? | Yes |
| Better Business Bureau (BBB) | Listed but unaccredited |
The services and information stated on iMoving's website are consistent with what we found on government databases. While the company is not federally licensed, they hold all the proper authorities and insurance to operate within California. The carrier owns two trucks that logged about 20,000 miles in 2021.
For more information on moving company regulations and why we choose to look at these databases, check out our post on how moving companies are regulated.
Should You Consider iMoving Professional Moving System for a Move?
iMoving Professional Moving System is a local carrier that serves the San Francisco Bay area. They exclusively handle local moves for residential and commercial customers. They are family and immigrant-owned and are well-known in their community.
The carrier offers free quotes on its website. They provide insights into hourly move rates and don't charge additional fees for stairs, elevators, or long walks. California state regulations requires the company to charge double drive time for moves over seven miles.
Customers generally praise iMoving for its responsiveness, professionalism, timeliness, and value. Unsurprisingly, the company has a rock-solid reputation.
The local company isn't authorized to handle interstate moves. However, it does have proper California licenses and insurance to handle local moves. To check the status of the carrier's federal authorization, visit the FMCSA website with the company's DOT#.
Overall, we recommend using iMoving Professional Moving System for your local move in San Francisco.
For more help choosing the right moving company and getting free moving quotes, check our picks of the top-rated interstate moving companies.
Not what you were looking for?
Check out other categories that can help you find the information you need!