JB Hunt Movers Review: Prices, Services, and More
Not sure if JB Hunt Movers is the right moving company for you? Our review of prices, services, online reputation, and more should help you decide.
Overall Opinion: Booking your move with a broker instead of directly with a full-service moving company can be a risk. Based on a lot of negative online reviews coupled with a poor rating from the Better Business Bureau, it seems like it may be even more of a risk than usual with JB Hunt.
We would definitely recommend comparing JB Hunt to other interstate moving companies we recommend.
When looking for a moving company, it's a good practice to compare as many options as possible, and if JB Hunt offers a price that's too competitive to pass up, you may ultimately decide that it's worth the risk. But proceed with caution (more tips on how to do that below).
From what we can tell, JB Hunt Movers is based in Florida and has been offering moving brokerage services for around 40 years. We say "from what we can tell" because it's pretty difficult to find reliable online information about this company. That's the first red flag that popped up when we started looking into JB Hunt.
A moving broker is different from a moving company. JB Hunt doesn't have its own fleet of moving trucks or crews of workers to help load and unload your furniture. Instead, a broker operates kind of like a middle man between you and a network of full-service moving companies.
Typically, brokers are able to offer lower rates than full-service companies, since they're able to shop your moving job around their network and have multiple companies bid on it. That's the upside to using a broker rather than booking your move directly with a moving company on your own.
The downside is that you give up some control over the company that will be handling your move since the broker is the one who ultimately makes that choice (more on that down below).
There's nothing inherently wrong with using a broker to book your move, especially if you're trying to work within a tight budget. But in researching JB Hunt, we learned a lot about this particular broker that might give us pause if we were considering booking a move with them.
Read on for more information about the pros, cons, services, prices, and more that you get when you move with JB Hunt Movers.
JB Hunt Movers Review: The Good and the Bad
Before we get into things like prices and services, let's take a look at some of our favorite (and least favorite) things about JB Hunt Movers.
The Good: Whatever Your Moving Needs, They Can Probably Handle Them
JB Hunt Movers boasts a pretty robust list of services on its website, and it seems like whatever moving needs you may have, they can likely match you to a company in their network that can handle them.
That's one of the advantages to using a broker — if your move has some specific needs, like if you have a piano or fine art, shopping the job to a whole network of moving companies ups the odds that you'll find a great fit with a company that has the experience and expertise to handle your needs with professionalism and care.
The Bad: Their Online Presence Leaves Us With a Lot of Questions
When you're searching for information about a product or service in 2019, you turn to the internet. It's where we go to find company websites and profiles, reviews, and licensing information — all great tools that you can use to vet a moving broker before you use them to book your move.
With JB Hunt Movers, though, searching for online information was a process. The company's website is pretty bare-bones, which isn't super unusual in the moving industry.
So we started Googling. And we just didn't find much. There are Yelp reviews, many of them negative. There are a ton of Better Business Bureau profiles, none of them with the company's registered address listed, so we don't know which one, if any of them, contains accurate information.
But the most troubling thing about searching for information on JB Hunt Movers online is that the company lists a U.S. Department of Transportation registration number that doesn't appear to be accurate. We'll get into more detail on this in the online reputation section below, but the fact that it's so hard to find accurate information about this company online makes it feel very sketchy. We definitely wouldn't feel at ease paying them a large deposit or having them pack our valuable belongings up for a long-distance move.
JB Hunt Movers: Other Pros and Cons
Those are just our favorite and least favorite things about this company that we were able to find from some online research. Like we said, we had trouble finding comprehensive info about JB Hunt Movers, but here are the pros and cons we were able to compile.
Pros
Cons

Network of moving companies makes it more likely you'll get matched with a mover that fits your needs.
30 days of storage included for some moves.
Some packing supplies are included

Using a broker means giving up a lot of control over who does your move.
Their website is missing a lot of key information.
Their online reputation doesn't seem to be great, and many review sites and online profiles have missing or inaccurate information.
Many users report price changes on the day of their move.
You'll likely have to pay a deposit when you book.
JB Hunt Movers Review: Services Offered
On their website, JB Hunt lists these moving services that it offers:
Local moving
Long-distance moving
Office moving
Specialized packing services
International moving
Trade show shipping and storage
Shipping for high-value servers
The company also notes that a full-service move booked through them will typically include:
Disassembly and reassembly of standard pieces of furniture
Loading and unloading of all boxes and items
Transportation from your old residence to your new one
Blanket wrapping for furniture
Tolls, fuel, taxes, and mileage
Limited liability protection of $0.60 per pound
One month of free storage if needed
Basic packing supplies, including tape, bubble wrap, boxes, shrink wrap, and packing paper
Cardboard crating for large items

Packing and unpacking services are available at an extra cost.
JB Hunt Movers Online Reputation and Reviews
Like we mentioned earlier in this review, deciphering JB Hunt Movers' online presence and reputation takes a lot of legwork. Overall, we found that the company has more negative reviews than positive ones, plus complaints filed against it across multiple platforms, and a lot of duplicate profiles on sites that make it hard to tell if you're even reading about the right company. Let's break it all down.
JB Hunt Movers' Company Website
The official company website for JB Hunt Movers is extremely basic and doesn't offer a lot of information. There's a section that lists the moving services they offer, some customer reviews, a form to fill out to start the process of requesting a quote, and that's about it. That's not too uncommon for moving companies and moving brokers, but it means a savvy consumer is likely to seek out more information elsewhere. And that's where the problems start.
JB Hunt Movers' USDOT Number
On their company website, JB Hunt Movers claims to be registered with the U.S. Department of Transportation Federal Motor Carrier Safety Administration (like all moving companies should be) under USDOT number 2416166. But searching the USDOT website for that number brings up a different moving company called Promaster Movers, Inc. There are 14 complaints listed on the USDOT profile for that company.

Searching the USDOT website for JB Hunt Movers brings up a different profile, registered under USDOT number 2847234. On that profile, which seems more likely to be an accurate registration page for JB Hunt Movers, there have been 44 complaints filed in the last three years, a pretty high number compared to similar moving brokers. The complaints span a wide variety of categories, but most of them fall under "estimates/final charges" and "pickup and delivery."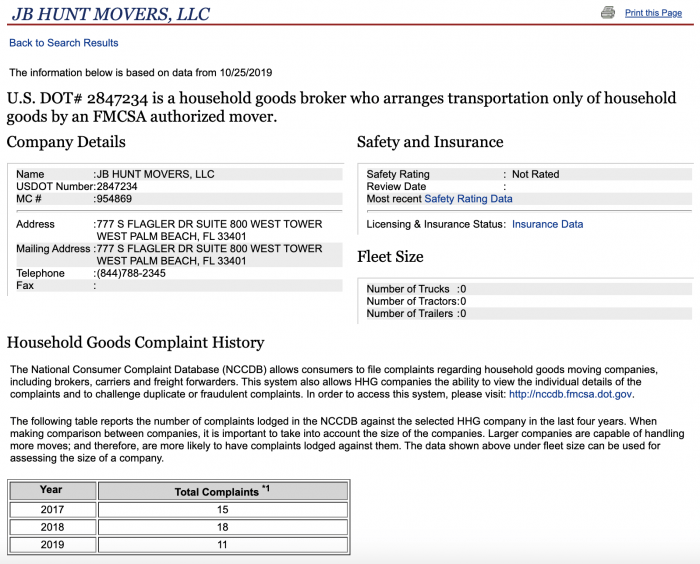 We don't know why the USDOT number on JB Hunt Movers' company website doesn't seem to be accurate.
JB Hunt Movers Online Reviews
When it comes to finding online reviews of JB Hunt Movers, there's more legwork involved.
The company appears to have an official Facebook page, but it contains next to no information, has no reviews, and only has three likes.
On Yelp, the company has just seven reviews. All but one of them is one out of five stars, resulting in an average rating of 1.5 out of 5. While many companies respond to negative reviews online to bolster their customer service efforts, we didn't see any replies from JB Hunt on Yelp.
We couldn't find any Google reviews for JB Hunt Movers.
Overall, there just aren't a lot of reviews available for this company, and of the ones we were able to find, the majority were negative. There were a couple of patterns we could see in the negative Yelp reviews that were left for the company.
Several people complained that their movers' arrival times were changed and they weren't alerted in advance.
Even more people complained that after paying hefty deposits when they booked their moves, they were told once the movers arrived that they owed much more than what was originally quoted to them. It's not super uncommon for moving prices to fluctuate a little bit since the total price is often based on the final weight of the shipment, but in this case, there was a definite pattern of reviewers who received low estimates and were shocked by huge price increases on the day of their move.
JB Hunt Movers on the Better Business Bureau
The Better Business Bureau is another place where it was hard to find information about JB Hunt Movers that we felt was accurate and trustworthy.
According to the company's USDOT profile, it's registered at 777 S. Flagler Drive in West Palm Springs, Florida. While there are a number of BBB profiles that come up when you search for JB Hunt Movers, none of them have that address listed.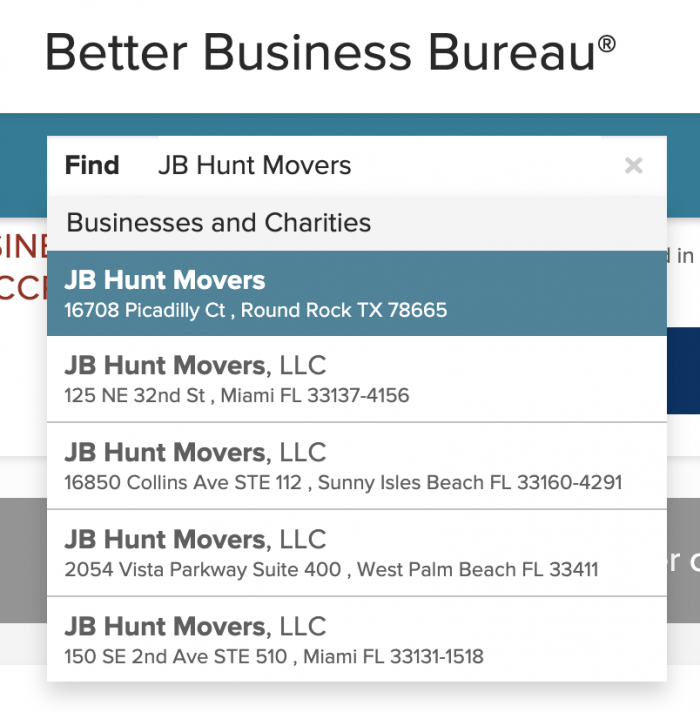 Several of the profiles have locations listed in other parts of Florida, though, and one is listed in West Palm Beach. The four BBB profiles that have addresses listed in Florida all have some things in common: None of them are accredited, which means it's likely that JB Hunt has not gone through the BBB's accreditation process. Becoming accredited isn't ever required of businesses, but it's something they can do to show that they're willing to make a good faith effort to provide their customers with accurate information and work with them in the event of a dispute.
The other thing all the Florida profiles have in common? A D+ rating, which indicates that the Better Business Bureau has not found that JB Hunt Movers does a satisfactory job of resolving customer complaints when they're made to the agency. The number and types of complaints vary across the different BBB profiles we found, and it's tough to know if just some of them are related to this company or if all of them are.
JB Hunt Movers' Online Presence: The Bottom Line
We don't really know what's going on with this, but we do know that it does not instill confidence that JB Hunt Movers is a transparent, trustworthy company.
At the end of our search for online information about JB Hunt Movers, we had more questions than answers. That's not how any consumer wants to feel when they're looking for information about a company.
It's also important to note that because JB Hunt Movers is a broker, it's possible there are reviews, complaints, and online profiles related to the companies it works with that you won't find when searching for information about JB Hunt.
JB Hunt Movers Review: How Much Does a Move Cost?
When you book your move through a broker, you're likely to get a better deal on your move. This is because the broker shops the bid around to multiple moving companies who compete for the job. But that means that price estimates from brokers are even more variable than price estimates from traditional moving companies. It's hard to provide a range of prices you might expect from a broker since there's not much predictability in the pricing.
If JB Hunt Movers is one of the moving companies you want to consider, you should get in touch with them and get a personalized quote before you make any decisions based on prices.
Keep in mind that with any broker, you're likely to have to pay a deposit to secure your booking. According to online reviews, it sounds like JB Hunt typically requires a deposit at booking. Then they have you pay the balance of the cost in two installments — one when the movers pick up your belongings, and the other when they're delivered at your new home. Keep in mind, though, that price estimates are subject to change. Many customers complained that they were asked for much higher payments on moving day than what they were quoted originally.
You can start the quote process with JB Hunt Movers by entering your information into the form on their website. They don't offer instant quotes — you'll have to work with a representative throughout the process. Quoted prices are based on an inventory list and sometimes an in-home estimate, but final prices are based on shipping weight, which is why they can change once your moving day arrives.
Keep in mind that some services you can add-on to your move will increase the bottom line. As with any moving company, if you make any agreements with a customer service representative about prices or services, be sure to get them in writing. You can also ask for a detailed price breakdown of how each part of the move is being priced, which will make it easier to compare JB Hunt with other moving companies once you get other quotes.
JB Hunt Movers: Is It Right for Your Move?
Ultimately, it's up to you what type of moving company you want to use, whether that's a broker, a full-service mover, a container company, or even a truck rental. Making that choice requires weighing as many options as possible against your wants and needs for your move.
While we would advise proceeding with caution if you choose to move forward with JB Hunt Movers, it's never a bad idea to compare as many companies as possible, including this one. Start your search with moveBuddha, where you can get instant quotes from multiple moving companies you can trust, all in one place.