Proud American Vanlines Company Review 
Overall Opinion: Proud American Vanlines is a relatively new broker in the American moving industry that registered with transportation in 2015. They are a customer-focused company that offers a high-touch service, and one of the best delivery times on the market.
Although the business itself is relatively new, the owners are industry veterans. As a new business, the long-distance professional mover has a limited online presence, and there isn't much available online about their exact moving process. Although their online presence is small, they are still professional movers with plenty of industry know-how.
The best way to learn about them is to have a phone call with one of their sales reps to get the most accurate estimate and understanding of their service. You can also check out our list of the top interstate moving companies to see how they compare to other movers on our list.
Jump to the Proud American Valines review section that you're looking for:
Proud American Vanlines: Moving Services Available:
Based in Fort Lauderdale, Florida, Proud American Vanlines is a broker of household goods established in 2015.
Long-Distance Moves: They will coordinate interstate moves between all U.S. locations nationwide.
Full-Service Options: Labor is available for professionally packaging all items to be transported, loading, unloading, etc.
Business Moves and Relocation: Commercial customers, both large or small, are invited to consider Proud American for moving projects. They will customize the services to include secure custom crating, office furniture disassembly and transport, and packaging services as needed.
Storage Options: Their written estimates mention an offer of up to one month of free storage
Proud American Vanlines: Pros and Cons Summary:
We have identified some of the organization's strengths and weaknesses.
The Good: Door-to-Door Nationwide Moving Services
Proud American will handle moving projects throughout the continental U.S. with optional packing services. It doesn't appear that they offer service in Alaska or Hawaii.
They offer guaranteed express delivery, next-day delivery, and binding estimates on all cross-country moves. Additionally, they offer one month of free storage on interstate moves.
Customers also loved their quick ballpark estimates and responsive customer service representatives.
The Bad: Some Issues with Contracted Labor
The leading complaint among those who use Proud American is the quality of the labor responsible for loading and unloading the moving trucks. Some customers were disgruntled when they discovered their belongings had shifted in the trucks during the move.
---
Pros:
They are offering long-distance moving customers up to one month of free storage (details not specified)
They partner with leading carriers and labor that are properly licensed and insured.
You can schedule a remote consultation via FaceTime or other similar web-based applications.
Has representatives available six days a week for customer inquiries and service.
They have a detailed online inventory creation tool categorized for each room or area of the home (see image)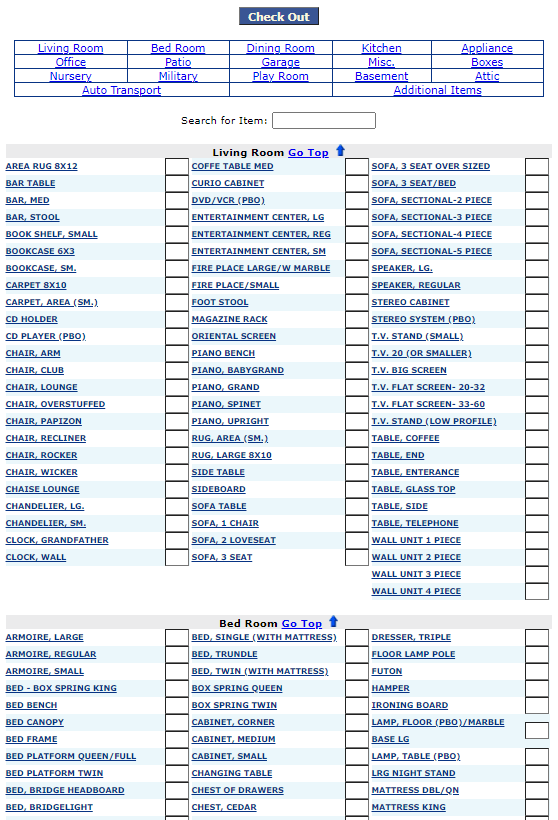 Cons:
The company website does not provide much information about them.
They require a credit card deposit on interstate moves before moving day.
Cost and Affordability
Proud American boasts of offering affordable prices. Customers can either call to receive a quote or submit the details of their moves through the website form and await a call from a sales representative. They offer some pricing promotions and specials such as their "Proud 200" offer that may save those who call to coordinate a move $200.
You can compare the accuracy of their quotes to quotes we provide using our moving cost calculator.
The organization states they remain committed to pricing transparency. Quoted rates are binding and based on the cubic feet necessary to complete the move. The customer will receive a copy of the agreement via email for review or acceptance.
Customer Reviews & Feedback
They have a total of 11 reviews.
Some concerns included inaccurate initial quotes that wound up increasing by hundreds of dollars once the moving process was underway. This can be common among interstate moves when they calculate quotes accurately.
There is currently no listing on Yelp for Proud American Vanlines.
Proud American holds accreditation with the Better Business Bureau (BBB) since 2000. They currently have an overall rating of A+. They have only two reported complaints categorized as involving "product or service" concerns; however, no posted details are currently available.
Should You Consider Proud American Vanlines for a Move?
Proud American Vanlines is among the many brokers that coordinate household moving services with a business address based in South Florida. In practice, they function as a lead generator and telephone sales organization. The customers visit their website and either submit their basic contact information to receive a return call or dial directly via the 800 #.
The first time you call their office, a company representative will gather the necessary information regarding the move and attempt to create a detailed inventory of items that will be moved. This inventory's accuracy is important because it calculates the number of cubic feet necessary for the move.
Proud American briefly mentions that they also have remote video capabilities available, including FaceTime, for completing this process.
The sales representative will create a free quote or estimate based on the inventory of items and make a "binding" price estimate. Next, they send the document to the potential customer for acceptance using an electronic signature. Upon approval, the customer is responsible for making a deposit to secure the reservation, typically made using a credit or debit card.
Many customers expressed that the representative gave them reassurances regarding scheduling during the sales process and that the price was guaranteed.
Proud American then enters an agreement with a motor carrier or other transportation sources and labor to coordinate the move. As the move approaches the scheduled date, the carrier contracted to handle the move will contact the customer to confirm such details.
Overall, Proud American delivers on its reputation as a top interstate moving company and providing a solid and reputable moving experience to its customers.