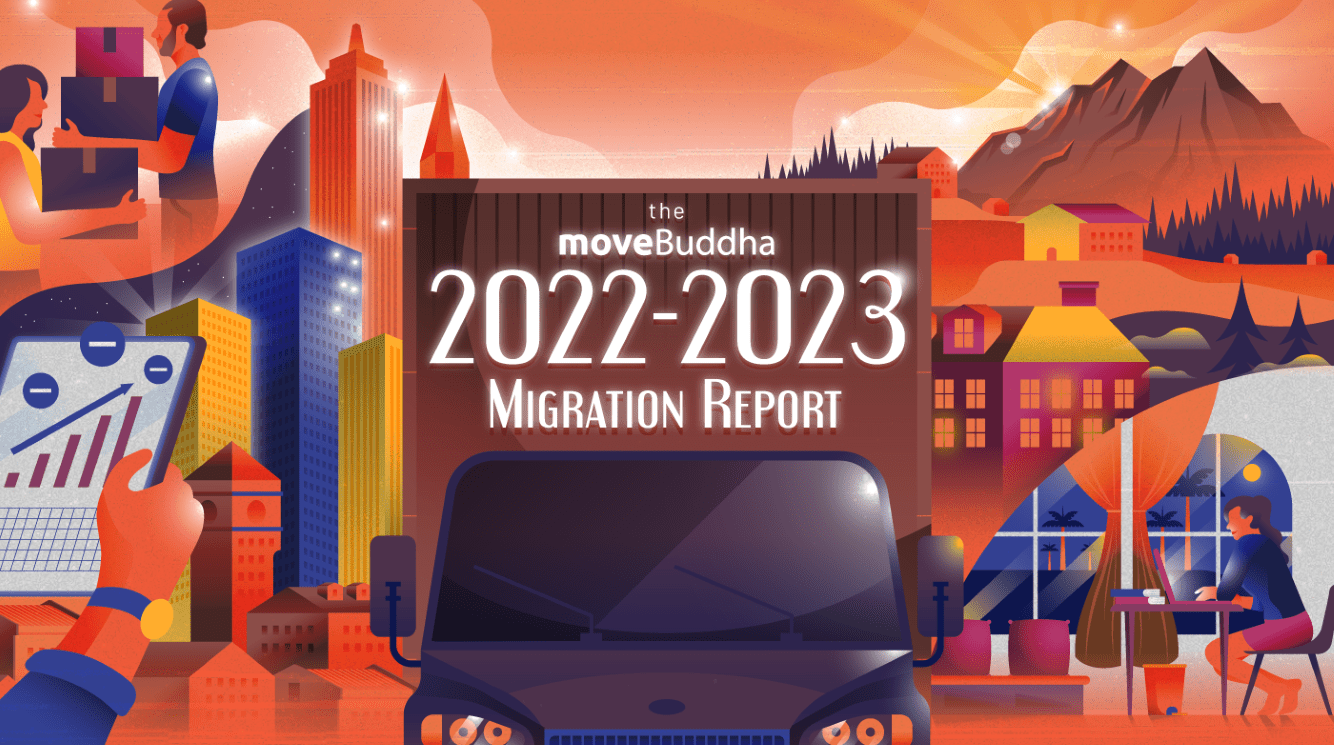 New Patterns Emerge: The moveBuddha 2022-2023 Migration Report
2021 saw a Great Reshuffle in American moving trends, as more people than ever headed to the Sunbelt to hone their tans and bask in the glow of affordable real estate. As prices boiled over and the pandemic subsided, their preferences changed again. Where were Americans looking to move in 2022?
Talk about remote work. It can be hard to get any farther from the home office than Hawaii, a state with more than 2,000 miles between its border and the other 48 states, and without a single Fortune 500 company. But as far as moving goes, 2022 was the year of "even more remote."
Mountain towns and small, affordable cities surged in popularity in 2022. Many movers eyed states that weren't on anyone's radar last year, but that show a continued exodus from America's most expensive regions to places with a high quality of life and room to roam.
Key Findings
Searches for moves are spiking in unexpected places and falling in areas that saw unprecedented interest in 2021.
Even still, the areas attracting the highest interest for moves in are largely located in the Southeast, and those seeing the most locals looking to exit are mostly located in densely populated urban areas.
Comparing moves in 2022 to 2021: 
2022 saw sleep declines in the volume of searches for moves into these (still) popular move-to states — Montana (-66%), Florida (-49%), and Texas (-36%) — and cities Billings (-168%), Leander (-85), Tampa's (-69%), Austin's (-62%), and Fort Worth (-33%).
States like Alabama and Mississippi are drawing interest from movers. Hawaii saw an unexpected spike of interest for inbound moves, +109% since 2021 (mostly from California).
Ellicott City, Maryland is wildly more popular this year than last, up 103.2%. Other surge cities are Portland (ME), Chattanooga (TN) Jacksonville (NC), Tyler (TX), and Katy (TX).
Among the nation's largest cities, those seeing surges largely correspond with states seeing surges, but those maintaining high inflow year over year like Tulsa and Charlotte are worth keeping an eye on.
Moving to and from the most, in 2022:
#1 Alaska, #2 Maine, #3 Vermont, #4 Montana, and #5 South Carolina saw some of the highest numbers of searches for moves in per capita.
California continues to tumble from its Golden State pedestal. Just 33% of its 2022 moves were inbound, and it ranked 51st in per capita move-outs (including the District of Columbia).
#1 The Villages, Florida, is seeing the highest proportion of interest for moves in, 441 in for every 100 out. Among the top 25 — 9 are in Florida and 9 more are located throughout Southern states.
After #1 The Villages, FL are #2 Portland, ME; #3 Ocala, FL; #4 Asheville, NC; and #5 Chattanooga, TN.
Leaving Escondido, this California city is seeing the highest proportion of searches for moves out 34 in for every 100 out. 15 California cities land in the list of the 25 seeing the highest exit ratio.
I. The new normal distancing: More affordable cities, remote spaces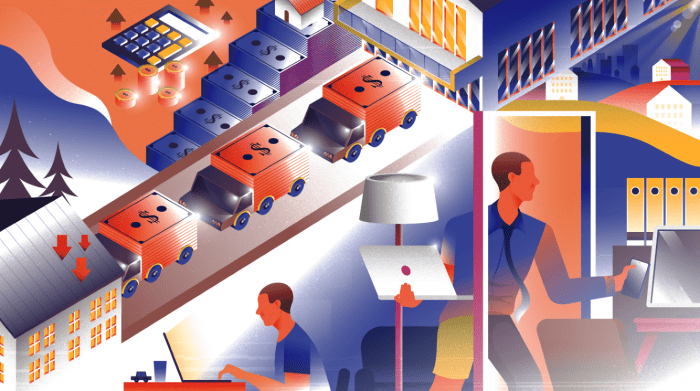 Is it really 2020, too? The overall trends of 2022 do feel familiar as if the patterns caused by the pandemic might continue forever. The Great Resignation continues, with more than four million Americans quitting their jobs in 17 of the last 19 months. And Americans are still leaving pricey locales for more affordability, heading to destinations where the average home costs almost a quarter less than in the cities losing the most residents.
Remote work is becoming a staple of our work lives. Employees are demanding even more remote flexibility than they were in 2021, with 23% more employees saying they'd leave a company if they weren't given long-term remote options. And because a labor shortage still means fewer workers available than before the pandemic, more workers can successfully negotiate working from a tropical isle (or from a city where inflation and rising interest rates hurt a little less).
In 2021, movers headed for mountain west states with low costs of living (think Montana, Idaho, and Wyoming) and southern states like Florida, Texas, and North Carolina. But while many things look the same, plenty has changed in 2022.
Click through the map below to see how inflow and outflow from state to state has changed from year to year:
In 2022, the states with the highest ratio of searches for moves in are: Alaska, Maine, Vermont, Montana, South Carolina, North Carolina, Hawaii, Florida, Colorado, and Tennesee.
While California, New Jersey, Maryland, Illinois, Connecticut, New York, Utah, Rhode Island, Virginia, and Nebraska are seeing some of the highest proportions of searches for moves out.
Overall moves have cooled down this year. With fewer bright spots of inflow surges and a broadening of interest across the states. Perhaps with the compensation gains that often accompany a job change, newly location-independent Americans are broadening their searches in 2022 to states with high quality of life that can help them thrive no matter what comes in 2023 and beyond.
II. States of Nature: Comparing interstate moves from 2021 to 2022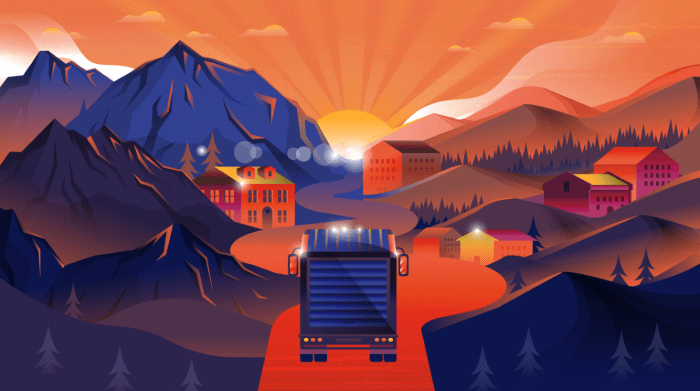 Which states are rising in popularity, and which are losing out?
We looked at the ratio of in-moves to out-moves this year compared to 2021 and saw that many of last year's most popular destinations were this year's biggest losers. Why? While many southern states are still gaining residents, they're not doing so at anywhere near the rates they were in 2021.
How we did it: We took the in-to-out ratios from 2021 and 2022 and found the percentage change in ratio from year to year.
Florida Example:
2021 in-to-out ratio: 2.10
2022 in-to-out ratio: 1.6
Ratio change from year to year: 2.10 – 1.61 = -0.49
-0.49 x 100 = –49% change from 2021 to 2022 
The hottest places that saw the most influx in 2020 and 2021 are cooling down in 2022, victims of their own success, and skyrocketing housing prices.
Pineapple Express: Hawaii's on a Fast Track to Popularity in 2022
2022's biggest winner is Hawaii, with a 109% increase in its in-to-out move ratio over the last year. The Aloha state now welcomes 2.4 people for every departure. That's a volcanic leap from last year's 1.3 people inbound for every move-out.
What might account for the increase in Hawaii's popularity?
In spite of Hawaii's high cost of living, its built-in social distancing and lower COVID-19 rates in 2021 helped many Californians ride out the pandemic. Some caught island fever instead and decided to stay. Since requests for moves from the Golden State are eight times higher than the next most popular state, Washington, we can guess that Hawaii's popularity will remain high as long as Californians keep searching for a new slice of paradise.
Florida Chills, Montana Keeps its Big Sky
In 2021, Florida outshone every other state for in-moves, jumping 42.8% in popularity over 2020. Like selfie sticks and hula hoops, that kind of infatuation can't last forever. This year, Florida is #2 for the biggest popularity loss, seeing its in-to-out move ratio tumble 49.2%. While there are still 1.6 new Floridians moving in for every move-out, it seems Florida's in-migration is leveling off.
The state that took the biggest hit to its popularity since 2021 is Montana, where the in-to-out ratio tumbled from 2.7 to 2.1. That still indicates many are striking their own kind of gold in the Treasure State, and in fact, the mountain west still has some of the highest in-migration as movers prioritize affordable places with lots of nature to offer.
Popularity Spreads to More States
In 2021, popular states had soaring in-to-out ratios. This year, that frenzied land rush is over. More states are sharing in a more subtle reshuffling. Places once considered undesirable, like icy Alaska or the agricultural Deep South, and even the Rust Belt, are finding their moment.
Proving that just a few hours of sunlight per day doesn't have to deter newcomers, Alaska takes second place in the state popularity contest for the second year in a row. Alaska increased 38% in move requests inbound last year. Now in 2022, inbound requests have grown another 40% compared to outbound requests. This year, 71% of requests were for inbound moves, with just 29% for those saying goodbye Last Frontier.
Alabama and Mississippi, the southern states with per-capita GDPs ranking #47 and #50, respectively, also saw the biggest leaps in popularity over the last year, suggesting that their rock-bottom cost of living indices are making them attractive as other southern states see costs rising.
Midwestern states also saw their popularity explode: Indiana, Minnesota, Indiana, Wisconsin, Ohio, and Michigan saw the biggest improvements over last year and all landed in the top ten. That might not mean that the midwest is all the rage, but that those who wanted to leave already did so.
III. Which states felt the power of new residents in 2022?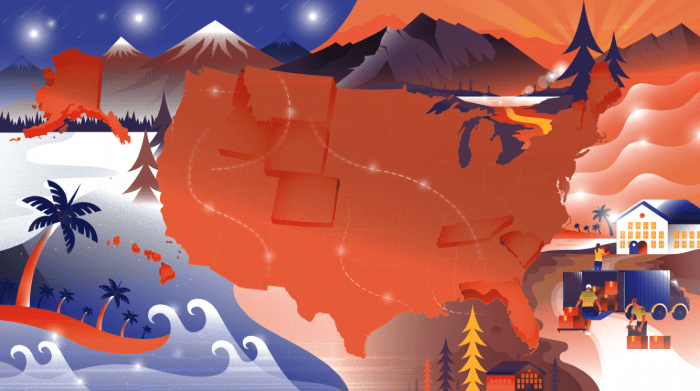 If we judged America's moving patterns by net moves alone, we'd see the biggest states bid hello and goodbye to the largest numbers of people. They'd top our lists, and states with low populations would generally get overlooked. But when relatively small numbers of people descend on tiny states, the effects can be drastic.
We wanted to know where moves are making the locals sit up and take notice.
In order to understand where people are feeling the influx most, we looked at the volume of moves in or outbound with the state's overall population.
(Click here for the full list.)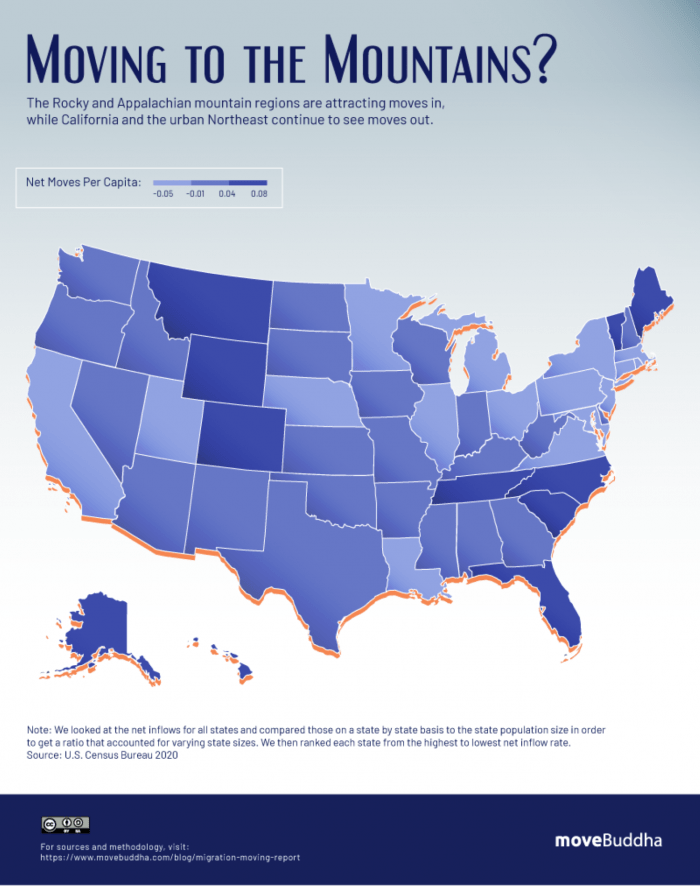 This table shows the top and bottom 10 by greatest proportion of net migration inflow relative to a state's original population (all states as well as Washington D.C. are included in this analysis)
Top-ranking states by net inflow per capita:
1. Alaska
2. Maine
3. Vermont
4. Montana
5. South Carolina
6. North Carolina
7. Hawaii
8. Florida
9. Colorado
10. Tennessee
Bottom-ranking states by net inflow per capita:
51. California
50. New Jersey
49. Maryland
48. Illinois
47. Connecticut
46. New York
45. Utah
44. Rhode Island
43. Virginia
42. Nebraska
The Mountains are Calling
Alaska. Maine. Vermont. Montana. Colorado. Tennessee. I could go on. There's an overall pattern to the most popular states of 2022, and it involves strapping on your hiking shoes.
While these states aren't all located in the same region, they all feature peaks to explore and wilderness to savor.
It's no secret that mountain towns were sanctuaries during the pandemic. They promised clean air and greater safety than cities. Those draws continued to appeal throughout 2022. As once-seasonal towns become viable for year-round remote workers, expect states with big wilderness to continue gaining residents.
Urbanized States See Biggest Declines
Speaking of lifestyle, nature, and space, the states that saw the biggest losses in 2022 are those with the country's biggest metropolises: New York, California, Illinois, and New Jersey all make the bottom ten. Similarly, Connecticut, Maryland, and Rhode Island are all small states where residents can only carve out a very small slice of nature and solitude, where super-sized homes come at a premium, and where urban life reigns.
Overall, highly urbanized states with large populations continued losing population in 2022. Much has been made of New York City's post-pandemic comeback, but the state of New York still ranked 46th this year in per capita moves, with a negative in-to-out ratio of .7 (more than 58% of the state's moves are outbound).
IV. Which cities were more popular in 2022 than in 2021, or were they?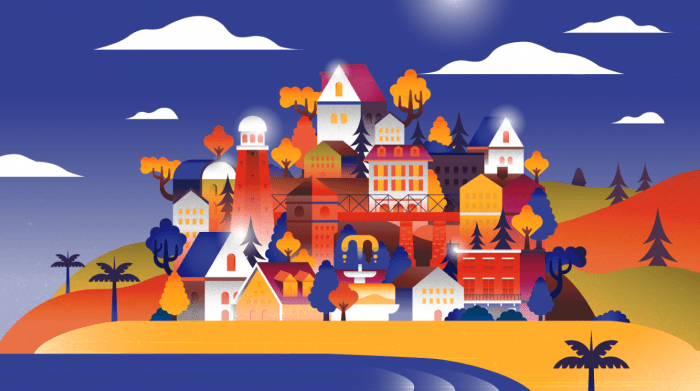 We looked at city moving data for the U.S. cities which saw a minimum of 100 inbound and outbound queries this year to see which cities were the more popular destinations of 2022 compared to the previous year and which were losing their appeal.
Of the 483 cities on our list, which gained and lost the most interest in 2022?
The following chart shows the cities with the largest percent increase of the in-to-outflow ratio from 2021 to 2022, and the subsequent one shows those with the sharpest declines.
Growth Slows in the South
It's hard to get more popular than Florida and Texas in 2021. But in 2022, there are fewer baby boomers taking early retirement, pearl-clutching real estate prices, and less pandemic urgency to relocate. All may have had a hand in cooling the southern migration.
In total, 14 of the top 25 declines belong to either Florida or Texas. While #12 Tyler, Texas, and #17 Katy, TX, are up and coming, the majority of hot spots in these southern giants have lost ground.
At the state level, Florida still ranks #9 overall for its in- to out-ratio, with 1.6 people moving in for every person leaving. Texas comes in #16. But the concentrated interest in cities in these states has waned, as movers in 2022 seek out more diverse cities across the country.
More Diversity in Smaller Cities
As heavy hitters from 2021 drop off the top-25 popularity list, they're replaced by cities representing 19 different states.
And those that double dip: Pennsylvania, Texas, Georgia, Washington, and Virginia span the nation's regions. It's safe to say that popularity has come to small-town America, across state and regional borders.
But popularity isn't coming for the country's biggest cities. Of the top 25 most popular cities of 2022, just one—#2 Honolulu, HI— is a large city with over 250,000 residents. Many others, 10 of the 25 cities, are suburbs and towns rather than urban cores. That's especially true for some of the cities enjoying the biggest uptick in interest: Portland, ME, Chattanooga, TN, Jacksonville, NC, and Tyler, TX.
What does that mean? This year's movers are thinking outside the box, seeking out states and cities they haven't considered before, and particularly looking to smaller enclaves to provide a higher quality of life.
No longer are the majority of cities clustered in the (once) low-cost, tax-friendly south. Instead, they include a variety of cities that weren't on anyone's radar at the beginning of the pandemic. They're also cities across both red and blue states, as fewer Americans feel the pressure to make a move based on school or economic policies.
Take #1 Ellicott City, MD, a historic district that's home to ghost tours, antique hunting, and hiking in the Patapsco State Park, but also within commuting range of the Baltimore-Washington corridor. The unincorporated area with just 75,947 people didn't turn heads until 2022, when its in-to-out ratio more than doubled.
Last Year's Winners are Still Gaining
Last year's phenomenal numbers gave rise to some precipitous falls in 2022, like Billings, Montana, which saw 3.16 people moving in for every exit in 2021. In 2022, that ratio was only 1.48. That's still a significant inflow, but the hyper-popularity of a few places has fizzled in favor of slower growth across more of the country.
The top cities of 2021 are not down and out just yet.
In the bottom 25, just three cities saw more move-outs than move-ins this year, proving that while their popularity has waned, they're still attractive to many would-be movers. Of the cities seeing major decreases, only #15 Rockwell, TX, #19 Palm Desert, CA, and #20 Bowling Green, KY, saw more move-outs than newcomers in 2022.
V. Disrupting the urban ecosystem: Big city trends from year to year

Nobody wants to be in a large, crowded city during a pandemic, but what about afterward? Don't they miss bright lights? Theater? All-night diners?
So far, the answer has been, "no."
With so many small cities and towns dominating the popularity lists, we wanted to know which large cities with more than 250,000 residents were more popular to move to in 2022 than in 2021.
When cities like Anchorage and Honolulu top our lists, we have to wonder why?
We found that some of the most popular large cities weren't gaining residents at all, but were losing fewer to out-migration than in previous years. For example, five cities in California land on this list. All of which are seeing move-outs, though fewer than in 2021.
Everyone Wants to Hang Ten in Honolulu
It makes sense that while so many Americans are retreating from the 24-hour lifecycle of other big cities, they're saying yes to the slower-paced "island time" of Honolulu. This green city that's ranked for air quality, overall health, and low crime stands out on factors that have driven other moves in 2022.
Honolulu's in-move to out-move ratio is 2.19, increasing 90.1% year over year. That's not as high as Chatanooga, Tennessee, with 2.7, or Missoula, Montana, at 2.36. But it's gained the most ground this year.
After Loss, Some Cities Hold Steady
California cities Anaheim, San Francisco, Riverside, San Jose, and Long Beach make the biggest strides toward recovering following a catastrophic 2021. All lost residents in 2022 but staunched the bleeding.
Likewise, #3 for increased inflow year over year Cleveland, OH, has never been known as a glamorous destination, but its inflow-to-outflow ratio hit a steady 1.0 in 2022, meaning the city is no longer losing more residents than it gains. #4 Minneapolis, MN, and #5 Madison, WI have similar ~20% year-over-year improvements following population loss in 2021.
While outpost cities like Honolulu and Anchorage could thrive in 2022, stalwarts on the mainland find that those who went remote and left, or retired, have already done so. They're holding on. Getting back to normal meant a leap in popularity in 2022 that is unlikely to continue into 2023.
Florida, Texas, and Arizona? Not So Hot Anymore
There's nowhere to go but down for cities that hit peak popularity in 2021.
From Tampa, FL to Dallas, TX, and Chandler, AZ, the sunbelt's 2021 darlings were overrun with newcomers, leading to pressure on infrastructure, construction, schools, and prices. In 2022, a mover looking to make the move to Austin would have had to contend with the 73% home price increase in Austin or the 66% increase in Tampa since the beginning of the pandemic.
While only nine of the top 25 now have more outflow than inflow, the downshift in their popularity shows that the most attractive landing pads of the pandemic era have just become the newest overcrowded, unaffordable cities of tomorrow.
VI. Which cities are attracting movers the most (and which are people fleeing from)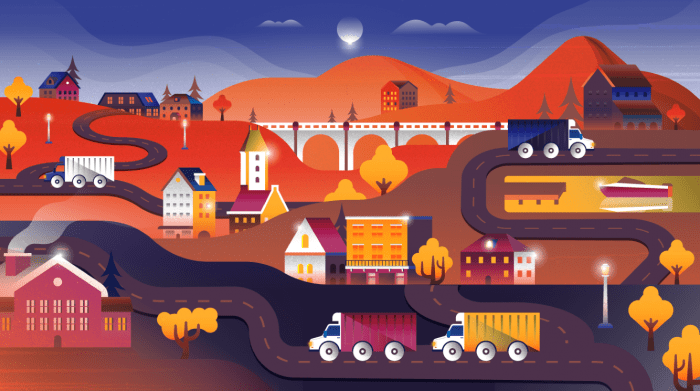 Looking at changes in moving rates from year to year can be useful for spotting trends.
For example, the nearly unknown suburb of Ellicott City has catapulted to stardom from obscurity. But it's still not seeing the most overall new moves (and that's a good thing because there's probably not room for most of America's new movers in its railroad museum). But where are people heading in droves?
Boomers Still Calling it Quits in the South
There are a lot of baby boomers. Even before the pandemic, an estimated 10,000 newly minted retirees from this oversized generation left the workplace every day. That means that in any given week, a wave of boomers could relocate to #1 The Villages, Florida, a retirement community, and double the population of the town.
| | | |
| --- | --- | --- |
| Rank | City | |
| 1 | The Villages, Florida | |
| 2 | Portland, Maine | |
| 3 | Ocala, Florida | |
| 4 | Asheville, North Carolina | |
| 5 | Chattanooga, Tennessee | |
| 6 | Eagle Rock, North Carolina | |
| 7 | Clermont, Florida | |
| 8 | Greenville, South Carolina | |
| 9 | Missoula, Montana | |
| 10 | Sarasota, Florida | |
| 11 | Myrtle Beach, South Carolina | |
| 12 | Bozeman, Montana | |
| 13 | Honolulu, Hawaii | |
| 14 | Anchorage, Alaska | |
| 15 | Summerville, South Carolina | |
| 16 | Huntsville, Alabama | 211 in to 100 out |
| 17 | Jacksonville, North Carolina | |
| 18 | Palm Coast, Florida | |
| 19 | Winters, Texas | |
| 20 | Port Saint Lucie, Florida | |
| 21 | Saint Augustine, Florida | |
| 22 | Avon Park, Florida | |
| 23 | Tyler, Texas | |
| 24 | Melbourne, Florida | |
| 25 | Wilmington, North Carolina | |
Needless to say, popular retirement destinations are sprinkled throughout the list of top inflow cities in 2022.
The Villages, with its 4.41 inflow ratio, has another advantage: many who move to a retirement destination don't intend to relocate again, so amidst huge numbers moving in, these cities also see few move-outs.
Other fair-weathered cities with plenty of retirees enjoy the same high ratio of inbound moves to outbound, like #3 Ocala, FL, #4 Asheville, NC, and #6 Eagle Rock, NC. Pandemic or not, the retirees keep coming.
Don't Count the South Out
And while they don't win this year's popularity growth contest, southern cities are still the belles of the ball with high overall inflow. Nine of the top 25 cities are in Florida, and nine more are in the south (and that's not counting Texas).
All have inflow rates of more than 2.0, meaning that they replace every departing resident with more than two brand-new ones. Ironically, these states will find their popularity declining, but their populations exploding.
California and New York Still See an Exodus, Just Slower
While San Diego's north county suburb, Escondido, has the largest outflow, its California neighbors don't fare much better. In fact, 15 of the 25 cities with the highest outflow are in the Golden State.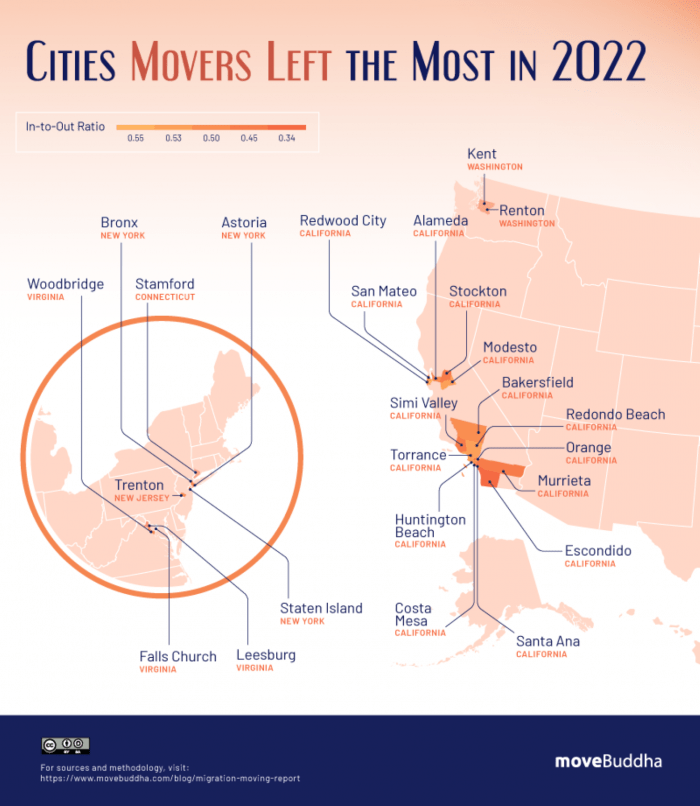 | | | |
| --- | --- | --- |
| Rank | City | |
| 1 | Escondido, California | 34 in to 100 out |
| 2 | Bronx, New York | 38 in to 100 out |
| 3 | Stockton, California | 40 in to 100 out |
| 4 | Simi Valley, California | 43 in to 100 out |
| 5 | Staten Island, New York | 44 in to 100 out |
| 6 | Murrieta, California | 45 in to 100 out |
| 7 | Santa Ana, California | 45 in to 100 out |
| 8 | Trenton, New Jersey | 46 in to 100 out |
| 9 | Alameda, California | 46 in to 100 out |
| 10 | Falls Church, Virginia | 47 in to 100 out |
| 11 | Costa Mesa, California | 48 in to 100 out |
| 12 | Bakersfield, California | 50 in to 100 out |
| 13 | Woodbridge, Virginia | 50 in to 100 out |
| 14 | Astoria, New York | 50 in to 100 out |
| 15 | San Mateo, California | 51 in to 100 out |
| 16 | Modesto, California | 51 in to 100 out |
| 17 | Leesburg, Virginia | 52 in to 100 out |
| 18 | Redondo Beach, California | 53 in to 100 out |
| 19 | Torrance, California | 53 in to 100 out |
| 20 | Huntington Beach, California | 53 in to 100 out |
| 21 | Stamford, Connecticut | 54 in to 100 out |
| 22 | Redwood City, California | 54 in to 100 out |
| 23 | Orange, California | 54 in to 100 out |
| 24 | Renton, Washington | 55 in to 100 out |
| 25 | Kent, Washington | 55 in to 100 out |
While moves have tapered off (18 California cities made the list last year), California still suffers from high taxes, an exorbitant cost of living, retreating businesses, and blazing wildfires.
It's enough to make residents keep looking elsewhere for a sustainable future.
And residents aren't happy on either end of the fly-over. New York's enclaves, like the Bronx and Staten Island, also suffer from some of the country's highest outflow. That suggests that long-term residents, not just temporarily quarantined office workers, have given up long-term on being a part of the city that never sleeps.
It also suggests that prices, crowds, taxes, and quality of life are at the heart of their moving decisions, and that the city won't bounce back instantly once pandemic fears dissipate.
Diverse Small Cities Replace Pandemic Havens
Big cities were the biggest losers in the early days of the COVID-19 pandemic, but they haven't found a new normal that looks like their old success yet. Instead, as the country moves on from lockdowns, it has embraced remote work and smaller, more meaningful connections with neighbors and nature.
That seems like a great thing. And it's changed the kinds of cities Americans desire. In 2022, the idea of trading the big city life for a smaller, more remote haven only grew, with more Americans saying hello to Maine's north woods, Honolulu's beaches, and even an Alaska moose or two.
Americans' moves in 2022 expanded to places that were overlooked in 2021's scrum, as more thoughtful movers discovered unsung cities to call their own. While sky-high inflow-to-outflow rates in popular cities have calmed, a diverse group of new destination cities emerged, even as southern cities maintained stable inflow. And as more workers felt confident their remote jobs weren't going anywhere, they increasingly carved out their own perfect places, not just for the pandemic, but for good.
Methodology
The data used in this report comes directly from moveBuddha's Moving Cost Calculator.
This analysis takes into account searches made in 2021 (Jan 1 to Dec 31) and 2022 (Jan 1 to Dec 1).
Calculations used in this analysis include:
In-to-Out Ratio In-to-Out = Count of Inbound Moves / Count of Outbound Moves
Ratios >1 indicate more inflow than outflow.
Ratios <1 indicate more outflow than inflow.
The in-to-out ratio is the proportion of inbound vs. outbound moves for a city or state over the course of a calendar year.
Ex: New York City in 2020 had a net migration ratio of .50 (also expressed as 50) meaning that for every 50 inbound moves, 100 moved out. In 2021 that ratio increased to 1.4 (also expressed as 140) meaning that for every 140 inbound moves, 100 moved out.
Ratio change: Year-over-year percentage change
Percent Change in Ratio: In-to-Out Ratio 2021 / In-to-Out Ratio 2022 Calculations based on year-to-year change in migration were derived using the net migration ratio. This same method has also been used by LinkedIn data scientists and Bloomberg.
A YoY percent change >0 indicates that there was an increase in the ratio of inflow from one year to the next.
A YoY percent change <0 indicates that there was a decrease in the ratio of inflow from one year to the next.
Net moves per capita:
State net inflow (inflow minus outflow) divided by the state population.