40 Tips You Must Know When Moving Out of State
Every month, we help thousands of people moving out of state.
Recently, we worked with Mary, who dreamed of living in New York City. So when her company switched to remote work, she left Austin and headed to the Big Apple.
Mary was eager to move out of state but also felt overwhelmed. She needed to find an apartment, transfer accounts, make travel plans, hire a good moving company…. the list goes on.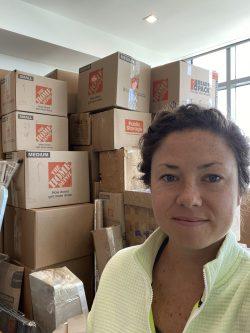 Mary spent a lot of time planning, and her move was a big success. But not all moves go well. Without preparation, long distance moves can be disasters.
After nine years in business, we've seen it all. Moving never gets easier.
In this post, we take all that experience and jam pack it into a massive list of tips for moving interstate.
If you're moving across state lines, here's a massive checklist to ensure you don't miss a single task.
1. Familiarize yourself with the cost of moving out of state
Determining how much your move will cost is essential to avoid going over budget.
Hitesh used our moving cost calculator to compare long-distance moving companies and prepare a budget. This is the perfect tool for tallying up common moving expenses.
Below is a table that sums up the average cost of moving across state lines, depending on your home size.
| | 1 bedroom | 2 – 3 bedrooms | 4 – 5 bedrooms |
| --- | --- | --- | --- |
| 250 miles | $1,012 – $3,213 | $2,090 – $5,729 | $3,025 – $11,543 |
| 1,000 miles | $2,090 – $4,670 | $3,652 – $11,662 | $5,445 – $17,969 |
| 2,500 miles | $3,190 – $6,902 | $4,851 – $15,113 | $9,240 – $21,182 |
* These price ranges are rough estimates. The actual cost will depend on the time of year, the size of your move, additional services required, market conditions, availability, and more.
2. Find a mover that fits your budget
Hiring a full-service moving company is almost always the most expensive option, but there are many cheaper ways to move out of state.
If you want to save money, consider using a rental truck. If you don't want to drive long distances but want an affordable alternative to full-service moving companies, check out our list of the best moving container companies.
Are you able to load up your furniture and knick-knacks solo? Creating your own hybrid move with a shipping container might be the best option, but If you're low on energy or time, professional movers may be more suitable
3. Pick a reputable moving company
Finding a good mover is hard, but fear not! We made a list of the best interstate moving companies. Movers can help with everything from packing and unpacking boxes and furniture to transporting household items to your new location.
Here are a few pieces of advice when looking for a mover:
Get multiple quotes: moving company pricing can vary drastically, so be sure to compare prices.
Research your mover: check licenses, insurance, and a lot more.
Read the paperwork: don't assume all moving companies offer the same services. Make sure you read every quote thoroughly and understand what the mover is responsible for.
We've asked a number of movers about their experiences with well-known moving companies to help simplify your search. Get an in-depth look at International Van Lines with Mary's move, or read about Ryan's experience with Safeway Moving.
4. Find a high-quality auto shipper
Moving companies may give you quotes to ship your car, but it's a good idea to also get prices from auto shippers directly. Often, they're able to offer more affordable rates. Just be careful to find a dependable auto-shipping company.
To get a good idea of what to expect, read our interview with Ryan, a mover who used U-Pack.
5. Have a job lined up
Many people move long distances because of job opportunities, but what if you don't already have a new job lined up?
That's why we put together a complete guide: How do I get a job before I move out of state? Be sure to check it out!
We also created a tool to help you decide whether to move for work!
6. See if your employer offers relocation assistance
If you're moving for a job, your first question should be if there is relocation assistance. Many companies will offer reimbursement on moving company costs, storage unit expenses, lease termination fees, temporary housing, pre-move visits, and more.
Want to receive $500 towards your move? Check out the Better Moves Project by moveBuddha to learn how!
7. Research to find good schools
If you have children, GreatSchools gives you ratings and comparisons on all the local schools so you can figure out the best areas before buying a new home.
Factors to consider when finding a school for your children should include:
Distance
Proximity to grocery stores or extracurriculars
Positive experiences from parents and children
Disability accommodation (such as wheelchair ramps or educational sign language interpreters)
COVID-19 safety measures (such as HEPA air filters in classrooms or masking policies)
8. Check out crime rates
Be safe! Use NeighborhoodScout to check local crime rates around your new place and find a safe neighborhood.
Want to know who might be your neighbor? Esri's Zip Tapestry tool breaks down common demographics by zip code. It's an excellent tool for understanding the makeup of different neighborhoods.
Details you should look for when picking out a safe neighborhood are:
Crime rates (such as theft, carjacking, etc)
Sex offender registries
Number of homes for sale (this shows market demand or lack of demand)
9. Know how to get around
Unless you're moving next door to your new office, you'll want to look at typical commute times, traffic issues, and public transportation options to ensure you can get to work on time.
Walkscore.com has a nifty scoring system ranking cities based on walkability, public transit, and biking options.
10. Find an apartment or home
While not everyone can sign a lease or buy a home before moving, it's a good idea to have some neighborhoods and listings picked out so you can visit as soon as you arrive. A realtor can also help give you a local's perspective on different areas.
Don't have time to visit? Use Google Street View to take a virtual walk around the neighborhood.
This tool is useful for helping you get a feel for your new stomping grounds. The ability to easily walk or take the bus somewhere is an indispensable benefit that can make or break your decision! You can visually walk through neighborhoods and search for businesses or resources such as:
Clinics
Schools
Grocery stores
Entertainment
Community services
Churches
Bus stops
Parks
11. Budget for cost of living differences
Check out CNN Money's cost of living calculator to get a sense of how different your costs will be in your new town or city.
Getting an idea of how your costs will change can also help if you're negotiating salary or a relocation package with your employer.
12. Research transferring professional licenses
Are you a doctor, lawyer, nurse, teacher, or realtor? Every state has different professional licensing requirements or license transfer policies. Be sure to check this out well in advance of moving.
Business owners must be especially mindful of operating a business without a license, which can result in a fine or even court time, depending on the state.
13. Start packing early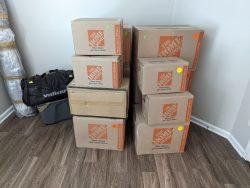 Packing always takes longer than you expect. Nothing frustrates a moving company more than customers who aren't ready on moving day! Not to mention, the mover will likely charge you for the delay. Start packing early to simplify the moving process.
See some of our top moving and packing hacks.
14. Hold onto high-value items and important documents
Sometimes boxes can get lost during shipping. Consider taking items like jewelry, birth certificates, car titles, prescription medicines, and any other important things with you.
If you're worried about losing them, create duplicates, and ask someone you trust to hold onto them for you.
15. Sell, donate, trash
Generally, the more you move, the more you pay. So don't move things you don't need.
When emptying closets and drawers, make three piles: a sell pile for items with some value, a donate pile for items that can still be used (some organizations will pick these up for free!), and a trash pile for the dump.
Save receipts from donations, as they might be tax-deductible. You can put this charitable donation on Schedule A of your form 1040. While you can usually deduct up to 50% of your adjusted gross income, you may have restrictions. Always ask a tax professional for help if you're not sure.
16. Create an inventory list
Whether renting a moving truck or hiring a full-service moving company, you'll want to know how much you're moving.
Most moving services are priced based on the size of your move. The larger the move, the higher the cost.
Get a good idea of how much your move will cost.
Moving companies especially like to know which items you plan on moving ahead of time. An inventory list will help keep you organized and ensure you get your moving estimates faster. Just be sure to update your mover with any major changes to the list ahead of time.
17. Read your move policies
Many leases and homeowners associations have move-in/out policies. Common requirements include parking restrictions, elevator reservations, and moving company proof of insurance documentation.
18. Pick an early moving date
Moving companies occasionally have to reschedule, especially in the busy summer months. Moving out a day or two in advance gives you a cushion in case anything happens.
If you can't move early, it's not a bad idea to have a backup plan if the moving company falls through. Saving some alternative moving companies or truck rental options that you have already pre-vetted allows for an immediate plan of action in case of an emergency.
19. Have emergency funds set aside
Budgeting for a long-distance move can be tricky. Even if you've read every checklist and are thoroughly prepared to move, a major traffic accident or weather event can delay your movers and have you crashing in a hotel for a few nights.
Unexpected costs are a part of moving to another state, so be sure to have emergency funds available.
20. Don't count on moving-related tax deductions
Since the last tax reform, as of 2018, all moving-related tax deductions have been eliminated unless you're military. Bummer!
That said, some states may still have exemptions. For example, California provides exceptions if you meet the requirements for distance, times, and deductibles.
21. Plan to pay taxes in multiple states
Unless you're moving to or from a state without income tax, you'll likely need to file state tax returns in two different states. Most tax software can guide you through this fairly quickly. Still, something to keep in mind when crossing state lines.
Additionally, if you plan on moving a car, some states like California and Georgia will charge you an ad valorem tax to register your vehicle.
The tax amount is based on the vehicle's market value and can be quite a bit of money for newer or luxury cars.
22. Know how long the movers will take to deliver
You should ask your mover two questions. How long does delivery usually take? And, what is the maximum number of days allowed for delivery?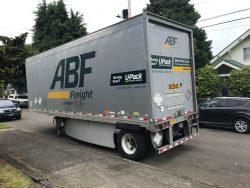 Cross-country moves typically take 7-14 days to deliver. However, moving companies legally have up to 21 business days to deliver, which means you can be without your stuff for over a month!
There are a number of factors that could influence delivery time. In Hassan's review of PODS, he mentions waiting a whopping 40 days to get his things. Conversely, Dumbo Moving and Storage delivered Hitesh's household items in just eight days.
23. Declare high-value items
Make sure your moving company is aware of any items like fine art, chandeliers, expensive antiques, or memorabilia. They'll need to know to ensure everything is packed and insured properly.
Choosing how to insure your items is tricky, but you can make it easier by learning about the different moving insurance types.
24. Give your mover multiple contacts
Cell phones can die or get lost. Be sure to give the moving company multiple phone numbers and backup contacts in case something happens and they need to reach you.
Make sure your backup contacts know you're adding them to your contact list. You don't want them hanging up or thinking they're being called by a scammer, which could interfere with your ability to get help!
25. Be mindful of prescriptions
Finding a new doctor can take time. If you have any existing prescription medicines, be sure to get them filled prior to moving.
If your prescription needs to stay cold, consider purchasing an ice box and taking it with you.
26. Hold onto chargers and important cords
It'd be a real pain if your phone and computer died mid-move and your charger was in one of your many moving boxes, right? Hold onto your chargers and cords. Even better, get a spare.
Make sure to avoid twisting your cord around your phone. This can wear out the internal circuitry faster. Loop it loosely and tape it together instead to keep it from unraveling.
27. Forward mail right before you move
USPS mail forwarding is easy! Just be sure to request forwarding a few days before you move so it starts on time to deliver to your new address.
If you don't complete this step, you could have mail sent to strangers. While most people are decent enough to forward mail that isn't theirs, you could have unscrupulous people digging through your private information!
28. Update all your subscriptions
Magazines, newspapers, meal subscription boxes… let them know you have a change of address. See our complete change of address guide to help you with this step.
If you cannot do this in time, you can always cancel a subscription, then sign up again when you arrive at your new home.
29. Plan on getting a new driver's license
Most states require you to get a new license within two weeks of relocating. Plan on a joyous trip to the DMV when you arrive.
You may have to do a short vision test while you're there. Information you'll need when transferring your driver's license includes:
Your current driver's license
Social Security number
Proof of your new residence
Another form of ID (such as a student ID card)
Payment
30. Update any lenders and insurers
Yes, you'll need to change your address with all eight different student loan lenders! Don't forget your auto lender, car insurer, and renters or homeowners insurance. If you don't do this step, you could have your sensitive information sent to strangers' homes.
31. Register to vote!
Do your civic duty and rock the vote!
Your vote isn't just for the presidential election but for legislators and mayors in your state.
Registering to vote depends on the eligibility requirements of your state. Basic requirements include being a citizen of the country, a current resident of your state, and meeting the application deadline.
32. Get out and meet people
Overcome your inner hermit and go meet some new people! Check out MeetUp.com or EventBrite to find cool groups of people and events in your new city.
There are steps you can take to get the most out of your experience. Wear something nice, and bring a small list of topics you'd like to talk about. Better yet, choose an event that lines up with your favorite hobbies or current studies.
33. Consider child custody laws
How does crossing state lines affect child custody?
After a breakup or divorce, when parents have been granted joint custody, moving to a new state with children can be tricky.
Generally, when one parent wishes to relocate to another state (or within the same state if the distance would prevent the non-moving parent from seeing their kids), they must get permission from –
The other parent with custodial rights
The court that presided over the custody hearing (in some cases)
Parents who move a child (or children) without court approval and/or written permission from the other parent can face –
Fines
Incarceration
Amended custody agreements
The forfeiture of custody rights
Not surprisingly, child custody and relocation issues fall under a bevy of state and federal laws. When contemplating a move, it's wise to contact an experienced attorney.
34. Consider how moving impacts child support
How does moving out of state affect child support?
According to Legalzoom, when child support orders are finalized by family law courts, they're immediately valid and enforceable until being officially modified or the child (or children) turns 18. This means that even if a parent moves to another state, they are still required to abide by the terms of the order.
Penalties for non-payment include –
Fines
Having an arrest warrant issued (and being arrested)
Being found in contempt of court
Incarceration
Interest added to the missed payments
Suspension of driver's license
Wage garnishment
Cancellation or denial of passport
35. Update unemployment information
How does leaving a state affect unemployment benefits?
Those receiving payments from one state but deciding to move to another state looking for work should continue to get benefits without interruption. At least in the short term.
Remember, unemployment benefits are paid by the state in which the worker lived and worked, and they're typically calculated based on –
Wages, tips, and salary
Duration of employment and residence in the state
Likewise, eligibility and disqualification criteria are determined by the laws of the state in which the worker worked, not where they reside after the fact. Laws regarding eligibility for and payment of unemployment benefits vary, but most states offer benefits for between 26 and 30 weeks.
Takeaway…
If you move out of state at any time during your defined benefits period, you'll continue to receive benefits for the maximum time allowed by state law.
36. Save money beforehand
How much money should you save before a long distance move?
Since everyone's situation differs, there's no universal answer to this commonly asked question. That said, families with two or three kids may need to save $10,000 or more before moving, especially if one or both parents will need to find work once they get there.
On the other hand, recent college graduates and young adults venturing out on their own for the first time may be able to live comfortably on $2,000 for a few months while looking for work.
Takeaway…
Always err on the high side when deciding how much of a nest egg you'll need before moving.
37. Consider your Medicare coverage
Curious about what to do with Medicare when changing states?
Thankfully, those enrolled in Original Medicare Parts A and B aren't required to change their coverage when moving.
Since there aren't any provider networks, Medicare recipients are free to use participating doctors and hospitals across the country regardless of location.
But there's a catch…
Those enrolled in Medicare Advantage generally have four months (two before moving and two after moving) to select new Part D coverage. Due to the added hassle of moving with Medicare Advantage, switching to Original Medicare may be a good time.
Click here for answers to more FAQS from the Social Security Administration.
38. Keep in mind your social security benefits
How do state to state moves impact social security benefits?
If you're on Social Security and are worried about your benefits, don't be.
According to AARP, whether you live in California, Colorado, Maryland, or Missouri, your disability, retirement, family, and survivor benefits don't change.
In addition, the same is true for American citizens residing in Guam, Puerto Rico, the U.S. Virgin Islands, and other territories.
39. Take your car with you
How do I move my car out of state?
Most families drive their cars themselves. It's often the easiest and least expensive option, but before hitting the road, you'll want to factor in –
Gas
Food
Tolls
Safety (weather, crime, health)
Wear and tear on your vehicle(s)
Lodging for each night on the road
For these reasons and others, we always recommend having your car shipped by a professional auto transport company with verified customer reviews. The benefits of using an auto transporter include the following –
Reasonable rates
Safety and convenience
Relatively quick delivery times
The availability of open and enclosed transport
Multiple insurance options
In addition, if you're moving to another state with a van line, you may be able to put your car in the trailer with your household goods or ship it on one of the company's dedicated car carriers.
Lastly, you may consider working with a driveaway company that'll hire an insured driver to drive your car from your old home or apartment to your new one.
If you go this route, don't forget to ask about background checks, insurance, and guaranteed service dates. Also, consider if you'll be comfortable having a stranger drive your car.
40. Participate in our Better Moves Project
Need a little extra cash to help with moving costs? Our Better Moves Project offers movers a $500 moving stipend in exchange for documenting their personal moving experiences with various companies.
These reviews are a great resource for readers in the research stages of their move. We explore communication, punctuality, price transparency, safety, convenience, professionalism, and more. Read about Ross's experience with Bold Moving and Storage, or learn what movers had to say about SMARTBOX and Dumbo Moving and Storage.
Learn more about the project and how you can apply here!
Not what you were looking for?
Check out other categories that can help you find the information you need!
See All
Hide All