Mayzlin Relocation Company Review
Best Upfront Pricing

Quick quote
Fast, easy, no commitment
(980) 217-6841
Best Upfront Pricing
Family owned with locations covering the east coast
Full refund for cancellations within 7 days of your move
Packing and unpacking services available
Handle residential, corporate, and military moves
Quick quote
Fast, easy, no commitment
(980) 217-6841
LEARN MORE
Overview:
Mayzlin Relocation is a national moving company headquartered in Charlotte, North Carolina
The company has several East Coast locations
Mayzlin handles corporate, residential, and military moves anywhere in the country
The carrier has a top-notch reputation and responds to each customer review
Mayzlin Relocation is accredited by the Better Business Bureau and maintains an A rating
Best for: Local and long-distance moves originating on the East Coast
Not recommended for: Moves originating in other parts of the country
For even more long-distance moving options, check out our list of the top interstate moving companies
Pros and Cons of moving with Mayzlin
Family-owned
Active in the community
Multiple east coast locations
Offer packing and unpacking
Local and long-distance moving services
Full refunds on moves canceled at least seven days before scheduled service dates
Only service moves originating on the east coast
Deposit required at booking
How does Mayzlin Relocation compare to other professional movers?
Jump to the Mayzlin Relocation review section that you're looking for:
About Mayzlin Relocation

Mayzlin Relocation (U.S. DOT# 3182355) is a national carrier headquartered in Charlotte, North Carolina. Founded in 2016, owner Semen Mayzlin leverages his extensive industry experience to offer premier long-distance moving services. In recent years the company has added four East Coast locations and significantly increased the size of its hauling fleet.
Mayzlin Relocation handles moves locally in Charlotte and those destined for other states with professionalism that exceeds industry standards. The company can also handle overseas moves to several locations. For those moving anywhere along the East Coast, Mayzlin has you covered.
As a family-owned company, Mayzlin Relocation is well-known for serving the Charlotte community. The carrier is a member of the American Trucking Association and is an authorized Consumer Affairs partner. They are certified on Angie's List and are accreditated by the Better Business Bureau.
Mayzlin Relocation offers a broad range of services
The experienced East Coast carrier provides a wide variety of services.
Local moves: Mayzlin Relocation provides expert shipping services for its customers in Charlotte, NC. The company has also expanded its local service area to include Nashville, TN, Fort Lauderdale, FL, and Baltimore, MD
Long-distance moves: The carrier offers professional services for those moving to neighboring states or across the country. Mayzlin handles loading, transportation, and storage for long-distance shipping. This includes moves to Alaska and some international locations
Corporate relocation: The company has experience moving businesses locally and long-distance. Mayzlin Relocation not only offers its full-service moving experience but also coordinates the logistics of moving companies and their employees while minimizing downtime
Packing and unpacking: The carrier provides full-service and customized packing services for residential and corporate customers. They're capable of packing standard household goods as well as bulky, fragile, and valuable items
Short and long-term storage: The company offers a variety of standard and climate-controlled storage solutions in multiple locations, even for customers who need storage at the last minute
Government and military moves: Mayzlin Relocation is a proud supporter of the Armed Forces and has General Services Administration (GSA) authorization to handle military moves. NOTE: When planning a government or military move, it's wise to verify that potential carriers are authorized to work with the GSA.
How much does Mayzlin Relocation charge?
Since each move is different, those interested in working with Mayzlin Relocation should contact the company for a quote based on the size and scope of their move.
For your convenience, the carrier provides free quotes on its website. To get their quote, customers must enter their pick-up and drop-off locations, type of move, and contact information into a simple form.
Customers can also inquire about free estimates using the company's phone number, email address, or live chat feature on the website.
Mayzlin Relocation has a lenient cancellation policy.
While many moving companies have a long list of prerequisites for refunds, Mayzlin provides full refunds when cancellations are made at least seven days before the move date.
To get a quote on your move and find out about the best movers in your area, check out our moving cost calculator.
How is Mayzlin Relocation's customer service?
Mayzlin Relocation maintains business hours at its Charlotte office between 9:00 a.m. and 6:00 p.m. from Monday to Friday, but they're closed on weekends.
Customers can inquire about a free estimate or schedule an appointment using the phone number or email listed on the company's website. The carrier also offers a live chat feature for those with quick questions. Mayzlin Relocation has a 24/7 emergency phone number for those who need assistance outside normal business hours.
While the company doesn't advertise pricing or on-time delivery guarantees, Mayzlin offers various insurance options through its partnership with Consumer Affairs. You can inquire about premium moving insurance with a customer service representative.
Mayzlin Relocation has worked hard in its six years of business to provide quality customer service. Customers generally give the company high marks for its communication, especially in last-minute situations.
Does Mayzlin Relocation have a good online reputation?
Mayzlin strives to provide premium relocation services, and its customers tend to agree that the company usually does just that. Mayzlin Relocation holds a 4.6 out of 5-star rating with 379 customer reviews when searched on Google Business. Customers overwhelmingly attest to the company's professionalism and customer support, and the carrier responds to most reviews.
Unsurprisingly, Mayzlin Relocation holds accreditation with the Better Business Bureau and maintains an A rating.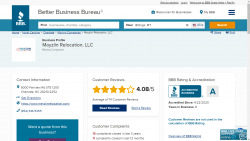 The carrier has a 4.08 out of 5-star rating on the BBB with 74 reviews.
It's worth noting that these ratings are exceptionally high by moving and storage industry standards.
While the carrier suffers from common industry mistakes such as damages, many customers are happy with their communication and attention to detail. Unlike many of its competitors, Mayzlin Relocation makes an effort to respond to BBB reviews.
The company received 15 complaints in the last three years, 11 filed in the previous 12 months. Customers state issues with delivery times which plagued the moving industry last year.
The following summarizes the categories (nature) of the complaints received.
| | |
| --- | --- |
| BBB Complaint Types | Number |
| Sales or Advertising | 3 |
| Collections or Billing | 1 |
| Deliver-Related Concerns | 4 |
| Warranty or Guarantee | 0 |
| Product or Service Problems | 7 |
Mayzlin Relocation also received 13 official complaints on the National Consumer Complaint Database in the last three years. According to the AI FMCSA, the carrier has had issues with shipping documents and final charges.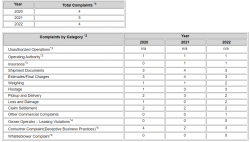 The carrier also does well on public review sites.
Mayzlin Relocation maintains a 4.9 out of 5-star rating on My Moving Reviews with nearly 300 reviews.
Customers feel comfortable with the company handling their belongings and appreciate the consistent communication throughout the moving process.
Is Mayzlin Relocation licensed and insured?
The industry uses various databases to collect information about moving companies. When assessing a moving business, we check four databases to see what information is registered and whether the company has claimed its profile.
These databases are compared alongside company websites, social media pages, and review sites (such as Yelp) to determine the moving business's credibility and transparency.
| | |
| --- | --- |
| Database | Listed (Y/N) |
| AI FMCSA? | Yes |
| SAFER FMCSA? | Yes |
| Licensing Insurance FMCSA? | Yes |
| Better Business Bureau (BBB) | Listed and accredited |
The services and information stated on Mayzlin Relocations' website are consistent with the information on these government databases. The carrier is adequately insured and directly communicates its carrier status. The company has ten fleet vehicles that traveled nearly 500,000 miles in 2021.
For more information on moving company regulations and why we choose to look at these databases, check out our post on how moving companies are regulated.
How are Mayzlin Relocation's website and social media presence?
Mayzlin's website is straightforward, easy to navigate, and full of helpful information. 
Customers can quickly learn about the company's services or fill out a simple form to get a free "ballpark" quote.
Mayzlin Relocation also has an active social media presence. Customers can find additional reviews and examples of the company's work on their Facebook and Instagram pages.
Should you consider Mayzlin Relocation for a move?
Mayzlin Relocation is a national carrier with locations across the East Coast. They offer local and long-distance moves for residential, corporate, and military customers. They provide full-service packing and storage solutions as well.
The family-owned business provides a variety of ways to receive a free estimate or book an appointment. The company offers a 24/7 hotline for customers with emergency inquiries.
Thanks to Mayzlin's customer-friendly cancelation policy, full refunds are available on cancellations made at least seven days before the scheduled move date.
Across the board, customers provide positive feedback concerning their moves with Mayzlin Relocation. They are especially appreciative of the company's dedication to communication. The carrier responds to nearly every review, going well above the rest in the industry.
For those planning a move in and around the East Coast, we highly recommend Mayzlin Relocation.
For more help choosing the right moving company and getting free moving quotes, check our picks of the top-rated interstate moving companies.
Not what you were looking for?
Check out other categories that can help you find the information you need!