American Van Lines Review: Costs, Services, Reputation
Here's the bottom line: We love American Van Lines. The full-service moving company has been one of our top interstate moving companies for years. As one of the best moving companies around, American Van Lines can take a load off your mind (and out of your house!) during any local or long-distance move.
Licensed
Insured
Price
rating
4.5 / 5
Get A Quote
(866) 835-2392
93% of users select this mover
At A Glance
Over 20 years in business
Excellent customer service score
Best pricing we've seen
Can handle last minute moves
Get A Quote
(866) 835-2392
93% of users select this mover
With a wide network and a large variety of local and long-distance moving services, American Van Lines is an excellent choice for moves of any size within the contiguous United States. They are also able to provide international moving services, including vehicle shipping assistance, and can accommodate interstate moves (across state lines). The company offers full-service packing and unique storage services with climate-controlled personal storage vaults for high-priced items such as pianos and fine art.
American Van Lines also offers upfront flat-rate quotes and even has military discounts and senior discounts for those who qualify.
Whether you're moving within the city, or maybe from one state to another, you can count on the professional movers at American Van Lines to transport all your most valuable items. Using their moving services is a great way to make your move easier and less stressful. Check out our American Van Lines review to learn more about the company's cost, services, and consumer satisfaction.
Pros and cons of moving with American Van Lines
Comprehensive moving services allow you to move locally or cross-country
Full-service packing services, which include boxes, bubble wrap, and tape
Affordable and highly competitive prices
Storage service available
Free no-obligation quotes 
Binding estimates
Insured moving solutions for high-value items
Military and senior discounts
Advocate for environmental responsibility and sustainability
All employees are background-checked and drug tested before hire
Provides commercial moving and corporate relocations
Is only available in the contiguous United States
Requires a 50% deposit upfront via credit card based on your quote
No online shipment tracking
Information can be difficult to find on their website
Auto-quotes have a tendency for inaccuracy
Not formally accredited by the Better Business Bureau (BBB)
Key takeaways
American Van Lines (US DOT# 614506) is a full-service company providing long-distance and local moves with competitive pricing.
Their moving services cover just about anything you could ask for, from full-service packing and packing supplies to climate-controlled storage solutions for even the highest-value items.
The company offers flat rate quotes, as well as military and senior discounts.
Jump to the American Van Lines info you're looking for:
American Van Lines pricing: How much it costs to move
American Van Lines has an online quote request form that gathers some basic information about your potential local or long-distance move, and a representative will follow up to complete the estimate process. Be cautious with this form, however, as it is vague and many customers report receiving inaccurate quotes.
For a quote that will more closely resemble American Van Lines' actual cost for your move, it is recommended to call an American Van Lines representative with more information (such as any large items or high-value pieces you may have). Their phone number is available on their website on the online quote request form.
American Van Lines' cost is calculated based on the distance of transport (how many miles between the origin and destination) and the estimated weight of your items. Moving services like packing and storage, or international relocations will cost extra.
American Van Lines offers binding estimates, or flat-rate pricing, and there shouldn't be any hidden fees. Be aware, however, that quotes are just ballpark numbers, so the final cost may be more than what you were originally quoted.
For a binding estimate, an American Van Lines agent will need to come to your home and perform a walk-through to accurately predict the cost of your move.
Want an instant free quote for your move? Check out our moving cost calculator.
American Van Lines offers a wide variety of services
American Van Lines services include the following:
Local moves: Those making local moves may appreciate affordable hourly rates, packing services, and customized crating options in a variety of cities across the United States.
Long-distance moves: American Van Lines offers long-distance moves and interstate moving services nationwide, except to and from Alaska and Hawaii. For those who don't want to do their own packing, there is a full moving package in which belongings are safely wrapped, packed, and inventoried before they are picked up on your moving date and taken to your new home via interstate shuttles. Shuttles run on a weekly basis to most states.
International moving: A personal moving coordinator will facilitate international moves and oversee your international moving services. They handle all customs documentation for your items, and storage services are available for items that can't come to your new home.
Military moves: Members of the military can book an in-home estimate, packing and unpacking services, packing materials, short and long-term storage units, and furniture assembly and disassembly to make their move seamless. They can also benefit from a military discount.
Commercial moving: American Van Lines offers assistance with relocating offices, including disassembling and reassembling furniture and commercial storage.
Corporate relocation: With corporate service options, employee relocations couldn't be any easier. Simply book a walk-through to have all items inventoried, sign off on the estimate, and your employee is on their way to their new position.
Storage options: Safe, secure, and private storage units are available at their facilities, which have video surveillance, optional climate-controlled storage units, and fire and storm protection.
Special item transport: Involves safely transporting valuable or challenging items to move, such as antiques, fine art, pool tables, and pianos.
Moving boxes and supplies: A variety of packing and moving supplies are available for purchase from American Van Lines.
Insurance: All items moved by American Van Lines are eligible for insurance coverage under their insurance policy. Some high-value items may require extra insurance which is available at a reasonable price.
Variety of truck sizes available: No matter what the size of your move, American Van Lines will ensure they have the proper size truck for all your belongings ready to go the morning of your move.
How American Van Lines stacks up against the competition
There are many reasons customers choose American Van Lines over Safeway and International Van Lines, two moving companies with excellent reputations that offer some of the same services, including full-service moves.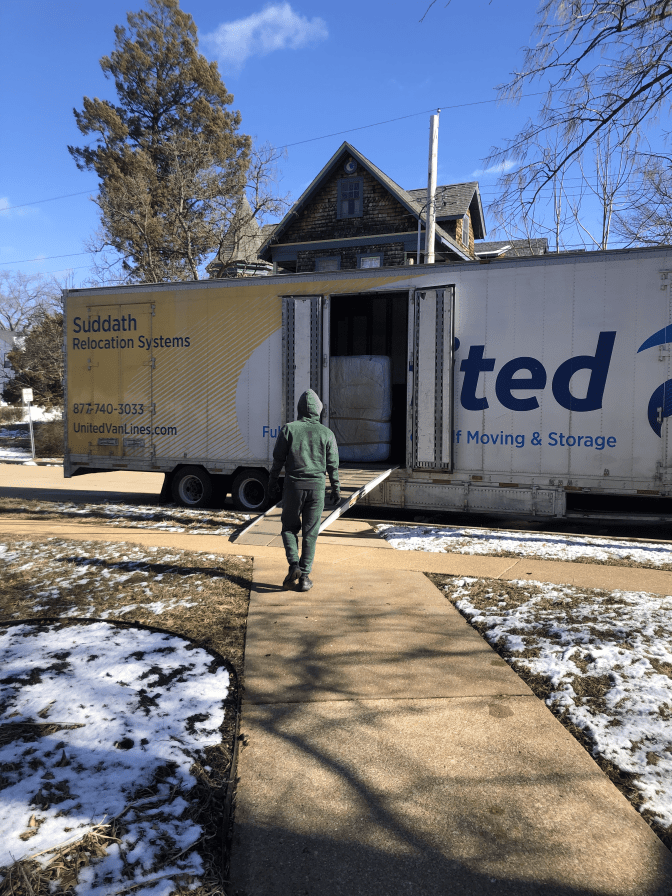 Recommended
Kathy's Move with American Van Lines
When asked to share her thoughts on how moving with AVL went, Kathy said "One thing I really appreciated about American Van Lines was the "personal moving coordinator". I had an email and cell phone number for an individual person to whom I could ask questions and who kept me updated. I found this very convenient and also reassuring to have a specific point of contact. American was also accommodating about the fact that I could not physically be at the pickup location for my items (which were in a storage unit)."
Read The Full Story
One reviewer chose American Van Lines because he was moving from Texas to Florida and wanted an all-inclusive solution which would take most of the pressure off of moving. American Van Lines is headquartered in Florida and has a large hub in the Dallas-Fort Worth area. The reviewer had a three-bedroom house with a lot of household goods, and knew there was no way he could pack in time for his move without a little help.
Another customer chose American Van Lines above other moving companies because she needed help with a last-minute move, according to an online review. She used the company's website to get an immediate quote, and someone met with her at her home for a binding quote the next day. This made moving a breeze. She was impressed and felt the company truly lived up to its 4.5-star rating.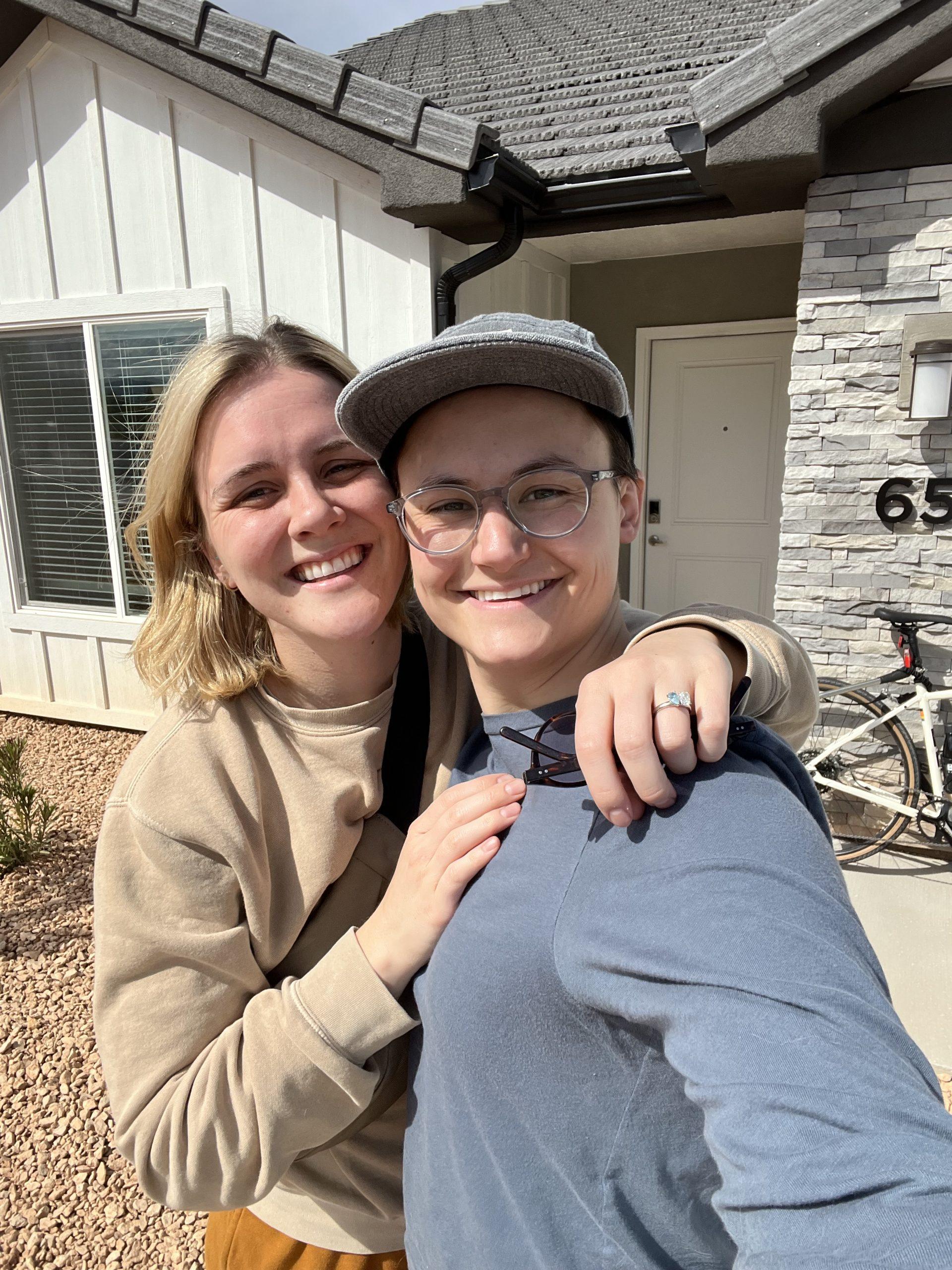 Recommended
Jen's Move with American Van Lines
When asked how the moving service staff did answering questions before the move, Jen said "They were great. I asked the QA person a lot of questions about how the price would be affected based on if they packed for us or if I had more boxes than I expected." Learn more about her experience moving with American Van Lines here.
Read The Full Story
Plus, all customers who used American Van Lines are happy that part of what they pay goes toward helping military families across the United States.
How moving with American Van Lines works
American Van Lines is one of the best moving companies in North America for a reason, known for their excellent customer service every step of the way. Before you hire American Van Lines, let's take a look at what the moving process looks like!
Getting a quote
American Van Lines has an online quote system where you can get a bare-bones estimate of your moving costs. You'll fill out a short form, and a representative will contact you with your quote.
Don't get too attached to the quote you are given, however, as you will need possibly have a representative come to your home to receive a binding quote.
While it is possible to book with the initial quote given over the phone, know that this is an estimate only and many customers state the amount they paid is much different than the original quote they were given.
We recommend calling the company directly and having an American Van Lines representative come to your home to make a binding quote to ensure you get the most accurate quote possible as you are preparing for your move.
Booking the move
Once you have decided to use American Van Lines for your move, you'll sign the binding estimate and set your date for your move.
Whether it is a large or small move, interstate moves or cross-country moves, American Van Lines has a massive network of trucks and drivers to get the job done and can usually accommodate any date or time you may need to plan your move on. Unlike some other companies, there are no extra fees for choosing weekend dates for your move.
During the entire booking process, you will speak directly with American Van Lines customer service and you can ask them any questions you may have. Don't be shy, they are there to help! At this time, you will also be assigned a movie coordinator who will be your contact point during your move.
Packing and moving
If you have opted for American Van Lines movers to pack for you and provide packing supplies, they will arrive at your home on the specified day and work to pack all of your belongings with care.
If you only book moving services, then a moving truck or van will arrive at your property the day of your move and the crew will help load your items into the truck.
American Van Lines is a moving carrier and not a broker. This means once you book your move, you can rest easy knowing American Van Lines employees are with you every step of the way. The only exception to this is international moves. International moves may require a brokered professional mover in your new country depending on local regulations.
After the truck is packed, it will begin the drive to your new home. If you are placing some of your items in storage (or all of them), then this is when you will say goodbye and American Van Lines will take your items to one of their top-rate storage facilities.
While they don't offer online shipment tracking, you can contact your move coordinator with questions at any point during your move. Many happy customers—including Jen, a MoveBuddha Better Moves Project participant—report that communication during the move was amazing, despite not having a tracker, and they were able to check up on their items every step of the way.
Customers Enjoy Excellent Communication and Timeliness When Choosing American Van Lines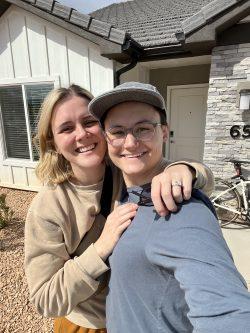 Jen had a large move to make which would traverse more than 1,360 miles. It can be difficult to part with all the belongings you own for that long of a journey. Jen reported to us that the communication with American Van Lines was superb for the entire move.
Not only that, but Jen's items actually arrived quicker than she expected, meaning she had to spend less time without her comforts of home than she thought!
Kathy, another Better Moves Project participant, used American Van Lines to relocate some items from Washington D.C. to Missouri, and she also enjoyed communicating with American Van Lines. She was assigned one point of contact for her entire move, which kept everything easy whenever she had a question.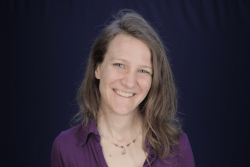 While Kathy's items were picked up a little later than expected, all of her items did arrive in St. Louis on time, which is a win in our book!
American Van Lines is perfect for people who…
Those searching for full-service moves in the United States should definitely consider American Van Lines.
American Van Lines is perfect for customers who:
Are making a cross-country or international move
Need interstate moving services
May need storage solutions during their moving process
Want help with every part of their move, from planning to packing
Have large, specialty items like a piano which need to be moved/stored
Because American Van Lines is a carrier only, no matter when or where you plan to move you can rest assured you will be working directly with the company responsible for your items.
Plus, American Van Lines is known for amazing customer service, so if you do encounter any problems or issues, you will be able to speak with a move specialist who can help you solve them right away. This is one of the many reasons we have included them on several of our best mover lists.
But don't forget it's a good idea to shop around as you are looking for a moving company. Check out our instant moving quote tool to find the best moving company for your move.
American Van Lines FAQ
Who is the owner of American Van Lines?
American Van Lines has been owned by Anthony Disorbo since the company's incorporation in 1995.
Is American Van Lines legit?
Yes, American Van Lines is a legitimate moving company. The company is licensed with the U.S. Department of Transportation and has been in business since 1967.
Is American Van Lines an insured moving company?
American Van Lines is an insured moving company. However, they may not offer full-value protection on all moves, so it is important to ask and purchase extra coverage if needed.
Is American Van Lines expensive?
American Van Lines' cost isn't the cheapest in the industry but it isn't the most expensive, either. They are known for their excellent service at a reasonable price, making them a value moving company.
Will American Van Lines disassemble furniture?
American Van Lines will disassemble furniture and reassemble it at your new home if you opt for full moving services.
Licensed
Insured
Price
rating
4.5 / 5
Get A Quote
(866) 835-2392
93% of users select this mover
At A Glance
Over 20 years in business
Excellent customer service score
Best pricing we've seen
Can handle last minute moves
Get A Quote
(866) 835-2392
93% of users select this mover
Not what you were looking for?
Check out other categories that can help you find the information you need!
See All
Hide All