American Van Lines Review
Overall Opinion
American Van Lines (AVL) offers full-service moving services for residential and commercial clients moving locally, cross-country, and internationally.
They have received many awards, are active in charitable causes, have several major national corporate relocation clients, and maintain a vibrant commitment to customer service.
AVL is an excellent overall option.
There's a reason they made our list of the top interstate moving companies.
How does American Van Lines compare to other top movers?
Company
Quote
Rating
Price

Safeway Moving

Best Overall Value

Get A Quote

American Van Lines

Best industry reputation

Get A Quote

International Van Lines

Best customer service

Get A Quote
Jump to the American Van Lines review section that you're looking for:
About American Van Lines

AVL (USDOT# 614506) is an American moving company originally founded in 1967 in Miami, Florida. Now headquartered in Pompano Beach, they have grown by securing several large commercial contracts and acquiring other regional moving companies under the ownership of Mr. Anthony Disorbo. They have recently added hubs in Greensboro, NC, and Dallas, TX.
The organization supports several charitable causes, including Breast Cancer Awareness, Alzheimer's Association Awareness, Toys for Tots, and a PGA Tour event called Birdies for the Brave that provides aid to injured military members and their families. In October, they are active in a week-long Kiss Cancer Goodbye® event.
AVL is an advocate for environmental responsibility and sustainability through a Fuel Consumption Reduction Plan, the use of energy-efficient lighting, and several initiatives involving the recycling of materials such as paper products.
Thoroughly screen and background check drivers
Affordable and highly competitive prices
Advocate for environmental responsibility and sustainability
Private storage options available
Member of top industry organizations
May require a deposit at booking
Not formally accredited by BBB
They don't promote auto-shipping services
AVL offers a wide range of services
Local moves: Those moving locally may appreciate affordable hours rates, packing services, and customized crating options
Long-distance moves: They offer Interstate moves nationwide seven days a week, where belongings are safely wrapped, protected, and inventoried before pick-up and taken to your new home
International moving: A personal moving coordinator will facilitate international moves. They handle all customs documentation, and storage services are available.
Military moves: Members of the military may benefit from in-home estimates, packing and unpacking services, packing materials, short and long-term storage units, furniture assembly and disassembly, online tracking, and more.
Storage options: Safe, secure, and personal storage is available with video surveillance, optional climate-controlled units, and facilities that are fire and storm-resistant
Commercial moving and relocation: Corporate moving and employee relocation services are available. Office and other company moving projects may include assembly and disassembly of modular desks and cubicles, commercial storage options, packing of all items, and necessary packing materials and supplies.
Special item transport: Involves safely transporting valuable or challenging items to move, such as antiques and pianos.
Auto-shipping assistance: Their website doesn't provide details about auto-transport services. If you're looking for car transport, check out our full list.
Moving boxes and supplies: A variety of packing and moving supplies are available for purchase (see image)
How much does American Van Lines charge?
They have an online quote request form that gathers some basic information about the potential move, and a representative will respond to complete to estimate process. They currently have various promotions for moves originating from Miami, New York City, Houston, Greensboro, Los Angeles, and San Francisco.
The AVL Advantage is a broadly-based company plan that relates to pricing affordability. They employ a flat-rate pricing model that offers customers an upfront cost for the move and includes furniture assembly and disassembly and specialized services to move high-end art or pianos. The company strives to provide very competitive rates through fuel efficiency and by contracting with local agents to minimize costs.
The company bases the moving estimates based on the distance for transport between the origin and destination, the weight of the shipment, and any potential additional or specialty service requirements.
Want an instant free quote for your move? Check out our moving cost calculator.
What do customers think of American Van Lines?
American Van Lines has won several awards for their customer service, including Newsweek's Best Customer Service Award in 2021, and was voted one of America's Best Customer Service Companies since 2019.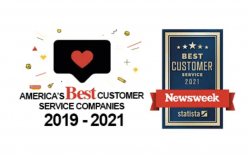 Customers online have great things to say about their moving experience after working with AVL.
AVL offers live customer support from 9 a.m. to 7 p.m. Monday through Friday and from 10:00 a.m. to 3:00 p.m. on Saturday (closed Sunday).
Customers can also reach service and support via email, phone calls, and an After-Hours Emergency phone number is also available.
Want to receive $500 towards your move? Check out the Better Moves Project by moveBuddha to learn how!
Does American Van Lines have a good reputation?
American Van Lines boasts an impressive history of awards and accolades, including the Best Customer Service rating from Newsweek Magazine in 2019 and 2021. As a vendor to Prudential Insurance, they have received multiple #1 Mover of the Year awards.
AVL has a Google listing with more than 300 reviews and an overall rating of 4.1 of 5. On Yelp, they have over 170 customer reviews with an overall rating of 3.5 of 5.
According to the Better Business Bureau (BBB), American Van Lines has been in business for more than 20 years, is not BBB accredited, and currently has a rating of B+. The summary of 37 total customer reviews equaled a 2.57 out of 5-star rating.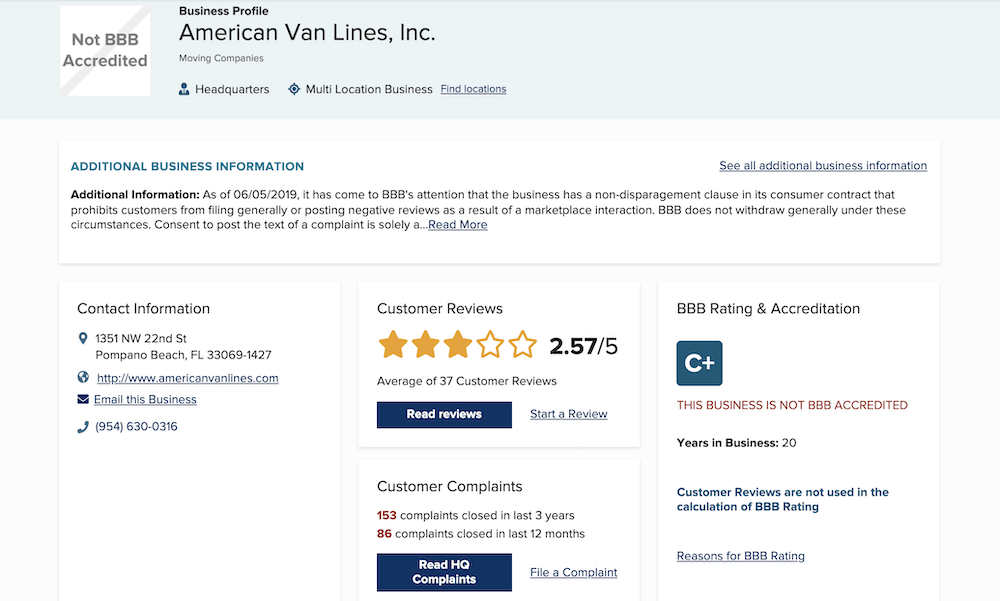 The BBB reported 151 complaints closed in the last three years, and 83 complaints closed in the last 12 months. In 2019, the BBB became aware of a "non-disparagement clause" contained in their consumer contract agreement prohibiting customers from "filing generally or posting negative reviews."
The following is a summary of the categories (nature) of the complaints received.
| | |
| --- | --- |
| BBB Complaint Types | Number |
| Sales or Advertising | 12 |
| Collections or Billing | 11 |
| Deliver-Related Concerns | 40 |
| Warranty or Guarantee | 3 |
| Product or Service Problems | 85 |
We're also very impressed by their social media presence. You can connect with AVL using Instagram, Facebook, LinkedIn, and Twitter.
Is American Van Lines Licensed and Insured?
Data from the Federal Motor Carrier Safety Administration (FMCSA) shows the company as authorized for hire to transport household goods and logged 2,458,187 miles in 2019 and maintained 54 vehicles and 46 drivers.
The FMCSA Safety Measurement System (SMS) for the past 24 months shows 11 violations for unsafe driving. The company maintains an active insurance policy for Bodily Injury Property Damage (BPID) of $1,000,000, which exceeds the required $750,000 minimum coverage by 25%. They also have cargo and bond insurance coverage.
The Better Business Bureau reported that American Van Lines, Inc. was registered with the Florida Department of Transportation and was issued a license number IM105 by the Florida Department of Agriculture & Consumer Services.
Released Value Coverage is the basic mandated minimum that provides sixty cents (.60) per pound of item. AVL may have limited liability when customers pack perishable, dangerous, or hazardous materials. Customers must file any additional insurance claims for damaged belongings within 9 months.
Full Value Coverage is available for an additional cost that makes AVL liable for the replacement value of lost or damaged belongings. AVL has the right to repair, replace, or make a payment to the customer for the item's market value.
| | |
| --- | --- |
| Database | Listed (Y/N) |
| AI FMCSA? | Yes |
| SAFER FMCSA? | Yes |
| Licensing Insurance FMCSA? | Yes |
| Better Business Bureau (BBB) | Listed (Not Accredited) |
| Vehicle Fleet | Number Owned or Leased |
| Straight Trucks | 15 Owned |
| Truck Tractors | 33 Owned / 6 Leased |
| Trailers | 51 Owned |
Who should use American Van Lines?
The bottom line is that AVL has shown to be a viable option capable of competing with the most prominent long-distance movers. They do a very effective job on marketing and have created a recognizable brand known for affordability and excellent customer service. AVL does an excellent job with large corporate clients and is very active in supporting charitable causes.
For more on American Van Lines and even more top professional movers, take a look at our list of the leading interstate moving companies. If you're looking for a free quote on your move, check out our moving cost calculator.
Not what you were looking for?
Check out other categories that can help you find the information you need!