Moving Experience: Jen's Move with American Van Lines
In the spring of 2023, Jen and her partner — plus their pooch and two cats — relocated from Columbia, Missouri to Santa Clara, Utah. Jen needed to move because of her new job, but it didn't hurt that the move put her closer to family, too.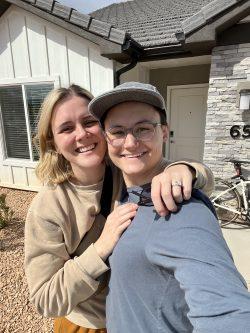 Jen planned the 1,360-mile move six months in advance to ensure everything went smoothly. After comparing movers on moveBuddha, Jen ultimately chose to go with American Van Lines because they had the most affordable rate.
Jen enjoyed great communication with her movers and a pretty easy moving day. There were minor miscommunications on the delivery day because an American Van Lines partner actually delivered Jen's belongings.
While there were some minor dings and damages, Jen successfully relocated her family and belongings in just three days.
In our opinion, the move was incredibly fast — over 1,000 miles in three days is impressive and better than the industry standard. Jen had more boxes than expected, so her quote did go over budget, but that's pretty common. She also had some dented and damaged goods as a result of the move, but again, it fit well within the industry standard 20% damage rate.
Jen participated in our moveBuddha's Better Moves Project, where we offered her a $500 stipend in exchange for sharing her moving experience with American Van Lines.
In this guide, we'll break down how Jen's move went and what you can expect from working with American Van Lines.
89% of users select this mover
Move day takeaways for American Van Lines customers
Communication: American Van Lines kept in regular contact with Jen before and during her move via call and text
Pricing accuracy and transparency: The final quote was 26% more than the estimate, which is a little higher than the 10% buffer we tell people to expect. However, this is largely because Jen had more boxes to move than she originally thought she would need
Professionalism: American Van Lines' professionalism was inconsistent. Jen had a great experience on moving day, but the unloading experience was less organized
Timeliness: American Van Lines experienced a few delays, but stayed in touch with Jen to let her know what was going on. The company did show up earlier than scheduled, which led Jen to move in a few days earlier than planned
Loss and damage: Jen chose not to pay for additional packing materials or packing services, which could have protected against damage. As a result, the move damaged a few items of furniture
Would Jen use American Van Lines again? While Jen would probably try a different mover next time, in our opinion, American Van Lines did a great job that exceeded industry standards
Jen needed help moving from Columbia, MO to Santa Clara, UT
Jen was moving from a two-bedroom apartment in Columbia, Missouri to a three-bedroom apartment in Santa Clara, Utah. She had a mix of extra small, small, medium, and large boxes to move, plus a lot of furniture. She and her partner also needed to transport a couple of bikes to their new home.
Since it was such a big move, Jen primarily worried about keeping the move as affordable as possible. She had a demanding job, so taking time off of work for the move was also a big ask. An avid planner, she began strategizing her move at least six months ahead of time to get all of her ducks in a row.
All in all, Jen was looking for a moving company that could show up on time and transport her belongings with as little hand-holding as possible.
Jen's move at a glance
| | |
| --- | --- |
| Move date | May 10, 2023 |
| Moved from | Columbia, MO |
| Moved to | Santa Clara, UT |
| Distance | 1,360 miles |
| Move size | Two-bedroom home |
| Moving company | American Van Lines |
| Moving quote | $3,578 |
| Actual cost | $4,816 |
Jen got quotes from 3 moving companies
Jen began searching for movers the same way most Better Moves participants do: with a quick Google search. She started by looking for local movers, but quickly found the moveBuddha site. Jen liked that moveBuddha's moving guide listed different moving companies and their ratings side-by-side, which saved her a lot of time.
Jen submitted a few quote requests through moveBuddha and waited for the estimates to roll in. Some of the companies called her to talk through the move and emailed her a quote.
After a couple of phone calls and emails, Jen had the following quotes:
Jen chose American Van Lines for their affordable quote
Licensed
Insured
Price
rating
4.5 / 5
Get A Quote
(866) 835-2392
93% of users select this mover
At A Glance
Over 20 years in business
Excellent customer service score
Best pricing we've seen
Can handle last minute moves
read our full review
Get A Quote
(866) 835-2392
93% of users select this mover
Jen assessed three quotes in total before landing on American Van Lines. They had the most affordable price and, since she wanted to keep the move as budget-friendly as possible, Jen felt American Van Lines was the mover for her.
American Van Lines impressed Jen by answering all of her questions before the move. She peppered them with questions about how the price would change if she did a DIY packing job, or if she had more boxes than expected. Jen felt well-informed before moving day.
The quote of $3,578 was in line with what Jen expected. She hired American Van Lines to pick up her belongings, transport them to her new home, and unload everything. To keep costs low, Jen opted to pack everything herself.
Moving day went by quickly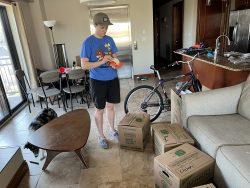 Jen prepped for her move by giving American Van Lines a list of items, including furniture and boxes, that she needed to move. The moving company advised Jen to put a mattress cover over her mattress before moving day, but otherwise, Jen worked independently to pack her belongings.
Jen admits she spent a lot of time packing. She tried to pack efficiently so she could use as few boxes as possible, so it took a bit longer to Tetris-stack everything into place.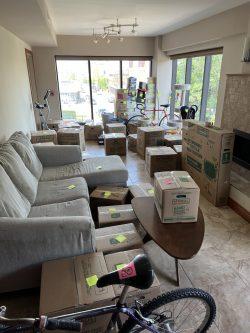 She also color-coded boxes by priority. Jen used yellow sticky notes for items that definitely needed to be on the truck, and used pink for nice-to-haves if there was extra room in the truck after loading.
The moving coordinator called Jen a few days before the move to go over everything one last time. Finally, the movers arrived on May 10 at 4:50 PM.
They arrived 30 minutes after the window they originally gave Jen because they arrived at the wrong address at first. Even then, American Van Lines stayed in communication with Jen the whole time via texts and phone calls.
Unfortunately, because of the miscommunication, Jen wasn't present when the movers loaded the truck because she had an important work meeting. All in all, it took an hour and a half to load the truck, which is incredibly fast.
Delivery was early and unexpected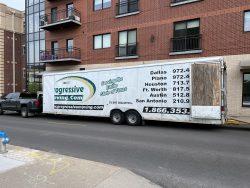 It took three days for Jen's belongings to arrive at her new home in Utah. While she traveled from Missouri to Utah, American Van Lines called her to let her know her belongings would arrive early.
Because of timing issues with her apartment, Jen asked American Van Lines to drop everything off on Monday May 15. However, they called her on Friday, May 12 letting her know they would be there on Saturday to deliver everything — and she would need to pay a $500 fee for them to hold everything until Monday.
Since Jen was still on the road, she had to make a lot of phone calls to her apartment office and family on short notice. Fortunately, Jen's mother-in-law and sister-in-law agreed to oversee the unloading process.
Because American Van Lines used a partner company to handle unloading, there was some confusion as to which boxes in the truck belonged to Jen. The movers also struggled to put together a bed frame and needed direction from Jen's family.
Most of Jen's items arrived safely. There were a few dings in a coffee table and chest, as well as wobbly legs on a desk and nightstand. Jen found that her new couch was dirty after the move and plans to have it professionally cleaned.
American Van Lines plans to make it up to Jen, though. After she finishes unpacking, she plans to submit a ticket to the claims department for help repairing and replacing damaged items.
Our take on the move
89% of users select this mover
Although she would work with a different mover next time, a lot of things went right with Jen's move with American Van Lines. Three days is an incredible turnaround time for a 1,300-plus mile move, and an hour and a half is a very short amount of time for loading.
Jen's communication with American Van Lines was great, too. Many of our Better Moves project participants say they wanted better communication from their movers, but Jen had a positive experience with American Van Lines' proactive, helpful team.
Jen did experience some minor damage during the move, which can happen with long moves. The industry standard is a 20% damage rate, so American Van Lines offered better-than-average care with her belongings.
If you're concerned about damages, it's a good idea to pay extra for the movers to handle the packing for you. That could have also given Jen a more accurate estimate of the number of total boxes, which could have helped with the sticker shock she felt at the final price.
You can also pay for basic liability insurance for your move to cover any damages. In Jen's case, wrapping the couch in shrink wrap and moving blankets would have protected the fabric during the long journey.
Although Jen was understandably taken aback by the truck's early arrival in Utah, this is something that can happen in cross-country moves. It's best to be as flexible as possible in the event that the movers arrive a little early or a little late since interstate travel is unpredictable.
It's also common for national moving companies to send partners to handle some customers' moves. The downside is that this can cause inconsistent service or confusion, like Jen experienced with her move.
The verdict
American Van Lines communicated well with Jen before and during her move. While there were some scheduling issues, they were relatively minor. It's tough predicting delivery times for interstate moves, which is why it's important to be as flexible as possible when you move.
Jen's final cost of $4,816 was 26% more than the original estimate. This is a little high, but it comes down to inaccurately estimating the total number of boxes before a move. For the most accurate estimate, hire the moving company to handle the packing for you.
In light of the scheduling issues and damage, Jen would choose to work with a different moving company next time. In the end, Jen believes she should have done more research before opting for the most affordable quote.
Here's how Jen rated American Van Lines' performance on a scale of 1 to 5:
Communication – 5
Timeliness – 2
Quote accuracy – 3
Overall experience – 3
Do you have an upcoming move? Share your moving story with the Better Moves Project to earn a $500 stipend. Sign up now.
Check out these helpful resources before signing off:
Not what you were looking for?
Check out other categories that can help you find the information you need!
See All
Hide All