Moving Experience: Phoenix's Move with American Van Lines
In March of 2023, Phoenix moved from Milwaukee, Wisconsin to sunny San Jose, California to be closer to her family.
Phoenix pored over online reviews to find the perfect long-distance moving options. She considered everything from moving containers to full-service movers. Since it was such a big move, she was primarily worried about communication and reliability.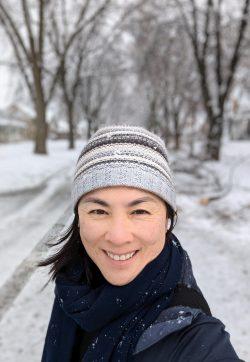 After pricing out several options and reading reviews by moveBuddha readers, Phoenix went with American Van Lines.
To take advantage of a $500 relocation stipend — and to help anyone considering a move like hers — Phoenix participated in our Better Moves Project by sharing her experience with American Van Lines.
So, what did Phoenix think of American Van Lines? There were communication issues with the employees at American Van Lines HQ, but Phoenix said her movers were helpful and courteous.
Phoenix will try another company next time, but American Van Lines crushed this move in terms of quality, safety, affordability, and timeliness. The movers were on-time, the quote was just $150 off (which is excellent), there was no damage, and the delivery was faster than expected. In the grand scheme of things, American Van Lines offered a lot of value for the money.
In this guide, we'll look at how Phoenix gathered quotes for her move, her experience with American Van Lines, and what she recommends for anyone considering a long-distance move.
Move day takeaways for American Van Lines customers
89% of users select this mover
Communication: American Van Lines moving coordinators could have had better communication, but the movers themselves were very communicative
Pricing accuracy and transparency: American Van Lines' quote for a two-bedroom move was off by only $150, which is very good
Professionalism: American Van Lines' movers were very polite and professional, although there were miscommunications with salespeople and moving coordinators
Timeliness: The movers pushed back the initial move-in day, but American Van Lines' team showed up within the correct time windows on moving day
Loss and damage: With a few gentle reminders, American Van Lines' moving team handled Phoenix's belongings with care
Would Phoenix use American Van Lines again? Phoenix would use another service if she moves again
Phoenix needed help moving from Milwaukee to San Jose
Phoenix needed to move several rooms' worth of stuff out of her two-bedroom, 900-square-foot apartment in Milwaukee to a four-bedroom, 2,000-square-foot home in San Jose, California. Phoenix was just moving herself, but she needed to move fifty boxes of stuff, amounting to 600 cubic feet or 4,200 pounds of belongings.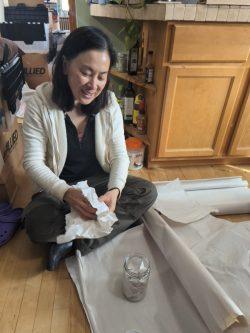 A lover of the arts, Phoenix also needed to find a mover that could handle moving fragile pieces, like her art and guitars, without so much as a scratch.
Phoenix gave herself five weeks to prep for the move, but even then, she felt rushed. She wanted to find sustainable ways to declutter and minimize her possessions, but it was a challenge finding ways to donate, recycle, or toss every single item.
Phoenix cared the most about minimizing surprise charges during her move. She also wanted a mover with good, timely communication who would offer a high level of care in moving her items.
Phoenix's move at a glance
| | |
| --- | --- |
| Move date | March 16, 2023 |
| Moved from | Milwaukee, Wisconsin |
| Moved to | San Jose, California |
| Distance | 2,200 miles |
| Move size | Two-bedroom apartment, 900 square feet |
| Moving company | American Van Lines |
| Moving quote | $3,984.81 |
| Actual cost | $4,140.15 |
Phoenix got three quotes for movers and pods before selecting American Van Lines
Phoenix knew she wanted to move a year in advance, so she had plenty of time to do her research and find the perfect moving options. She gave herself two weeks to find the right mover for the job.
To get the best deal, Phoenix first considered using moving pod companies. She looked at moveBuddha's comparison posts about U-Box, Pods, and U-Pack to find not only the best deals, but movers who had a great experience with their service of choice.
But she didn't want to load and unload by herself, which meant she had to pay for both the cost of the pod and a moving service. Financially, it made more sense to go with a full-service mover instead of a pod.
Phoenix consulted moveBuddha's Better Moves guides to find the best movers. She received several quotes, all with a very range from $4,500 to $8,000.
| | | |
| --- | --- | --- |
| Company/move type | Estimated weight/equipment type | Estimated amount |
| U-Pack (DIY container move) | 3 ReloCubes | $4,600 |
| northAmerican Moving Services (full-service) | 5,842 pounds | $8,011 |
| PODS (DIY container move) | 16-ft container | $4,506 |
| American Van Lines (full-service) | 4,200 pounds | $3,984 |
Phoenix chose American Van Lines for their reliability
Licensed
Insured
Price
rating
4.5 / 5
Get A Quote
(866) 835-2392
93% of users select this mover
At A Glance
Over 20 years in business
Excellent customer service score
Best pricing we've seen
Can handle last minute moves
read our full review
Get A Quote
(866) 835-2392
93% of users select this mover
American Van Lines gave Phoenix a quick quote over the phone, calculating an estimated price based on the number of boxes and furniture she wanted to move. Their quote was affordable, and she liked the service's reliability and reputation.
Phoenix's quote included services for:
Loading
Transporting her belongings
Furniture tear-down and setup
She didn't purchase moving insurance.
Ultimately, Phoenix chose American Van Lines because they offered the best balance between service and affordability. She didn't need to worry about loading all of her belongings herself or paying for a separate service: the company included everything in one estimate.
Moving day had a few communication issues
Phoenix found herself proactively calling American Van Lines to discuss payment, ask for packing tips, and finalize moving arrangements. The company called her before the move to finalize her inventory list, ensuring she didn't have additional items.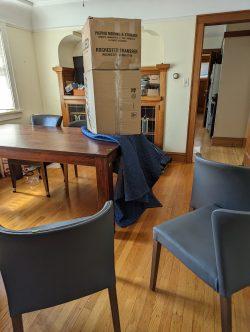 The challenge was that her phone labeled American Van Lines' phone number as spam. She didn't recognize the number and didn't pick up, so she and her moving coordinator had trouble staying in touch. American Van Lines changed Phoenix's moving coordinators, so she found it difficult to get consistent information about pricing, her move, and American Van Lines' policies.
When it was time to move, American Van Lines called Phoenix and asked if they could push out the pickup date because of driver delays. This gave Phoenix more time to pack, so she didn't mind.
The next morning, one of American Van Lines' partner companies handled the loading process. The driver's communication impressed Phoenix. He said he would arrive between 9 AM and 1 PM, and called her at 9 AM to let her know he would be there between 10 AM and 10:30 AM. The team arrived on time and began loading her belongings at 11 AM.
Phoenix packed herself for the move, which took a lot of time and energy, but it certainly sped up the moving day. However, she didn't know that, by dismantling her own bed frame to save time, American Van Lines wouldn't put it together at her destination.
American Van Lines loaded her boxes, disassembled furniture, and carefully wrapped everything in the back of the truck. While the moving team loaded the truck, Phoenix itemized inventory and marked boxes with red tape. After a few hours, she started cleaning her old apartment as the movers emptied it out. The movers started loading the truck at 11 AM and finished loading around 3:30 PM.
Delivery went smoothly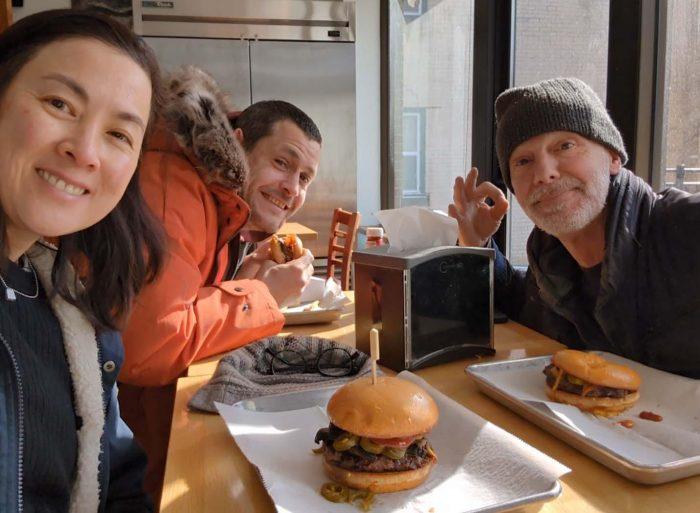 Phoenix wasn't able to personally oversee the move because American Van Lines showed up early, but her mom and aunt showed up to manage the unloading process for her.
American Van Lines called Phoenix while unloading to ask which boxes she wanted in each room. She found the movers to be very professional. They took their time to cover the floor to keep it from getting dirty as they moved in and out of the house. The movers placed all items in their indicated rooms, and they were careful about handling Phoenix's artwork and guitars.
Our take on the move
Communication issues are a common issue with our Better Moves Project participants, and Phoenix's concerns are definitely understandable.
Since American Van Lines employees call from numbers that are different from the main company line, it's understandable to feel initially caught off guard by strange phone numbers. However, prepare to answer calls from new numbers when you're sourcing quotes and during the moving process. In spite of the communication challenges, Phoenix did a great job of following up with her American Van Lines team to successfully pull off her move.
Phoenix felt disappointed that the movers didn't put together her bed frame because she packed it herself. If you're paying for a full-service mover but pack up a few pieces of furniture yourself, the company considers it a liability to put that furniture together for you. When in doubt, leave your furniture as-is and let the movers handle it — you're paying for it!
Since American Van Lines showed up early on delivery day, Phoenix had to ask her family to oversee the move. Things come up, but if possible, it's best to make yourself available all day for loading and unloading. It's hard for long-distance movers to predict the exact window of when they will show up, and being available on-site will save you a lot of time.
Phoenix felt that the price was fair for the amount of work American Van Lines did for her, but she felt that the quoting process was too generic. Since American Van Lines provided an estimate over the phone, it's understandable that the quote didn't account for the size and weight of the boxes she used.
In-home estimates give movers a much more accurate estimate because the moving company can see the size and weight in-person. But even then, American Van Lines' actual price was just over $150 of its quote, which is very good.
The verdict
89% of users select this mover
American Van Lines took care of Phoenix's belongings and gave her impressive service while loading and unloading her belongings. In spite of pushing the moving day back and communication challenges, all of Phoenix's stuff arrived safely in San Jose. She also believes that American Van Lines was a good value for the money, considering the fact that they handled loading, transportation, and unloading for her.
Looking back on her move, Phoenix wouldn't choose American Van Lines based solely on the communication issues. She had a great experience with the people handling her items; she wouldn't change a thing in terms of their skill and care.
Here's how Phoenix rated American Van Lines on a scale of 1 to 5:
Communication – 2
Timeliness – 4
Quote accuracy – 4
Overall experience – 3
Planning a long-distance move? Here's Phoenix's advice
Phoenix did her homework and picked a quality mover. However, she experienced communication issues with her move coordinator, so she encourages other movers to think carefully about everyone you'll work with during a move — not just the drivers.
Phoenix also recommends packing way sooner than you think you'll need to. Moving is the perfect time to declutter, but the process will probably take longer than you think. Phoenix took great care to sustainably donate, recycle, and toss items she no longer wanted, but she felt rushed in the end. Since Phoenix packed everything herself, the packing process took a while, even after purging her stuff.
We'd like to add that many full-service movers offer packing as an add-on service. This is a requirement for international moves, but it's still helpful for domestic long-distance moves, too. This way, you know all of your items are ready for a long journey. Plus, you don't have to worry about wrapping and packing everything, which takes one more to-do off of your plate.
Check out these helpful resources before signing off:
Not what you were looking for?
Check out other categories that can help you find the information you need!
See All
Hide All