The Ultimate Relocation Guide
Relocating for a job means leaving behind a whole life and starting a new one. Needless to say, it's a big decision.
However, our relocation guide will help you figure out how to relocate to another state and make your decision whether or not to move with confidence.
No matter what you decide, we want you to be fully armed with the knowledge of what's best for you.
Let's jump right into things, shall we?
Should you move for work?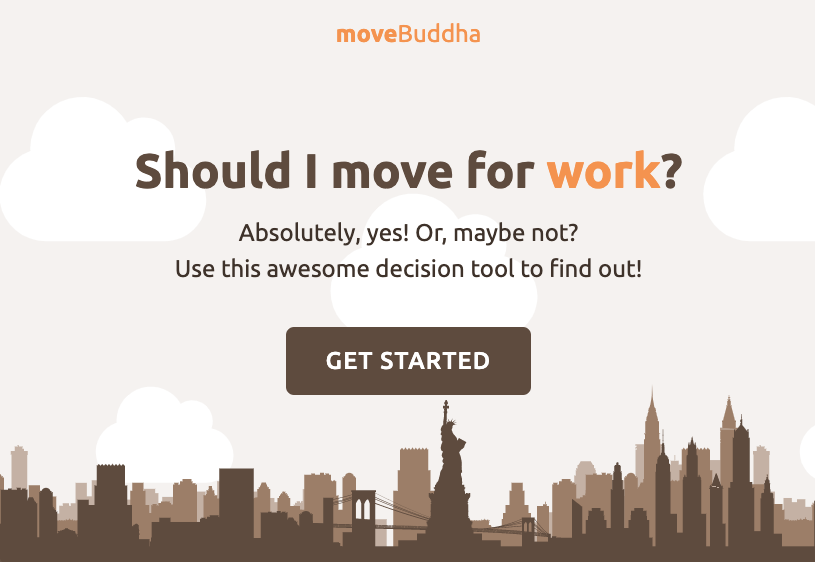 Whether or not to move for work is an age-old question thousands of people have to answer every year. No matter your situation, there are always going to be a number of reasons for and against relocating for a job. 
For example, the pay increase from a new job could be offset by higher real estate and healthcare costs in your new area. Add in the total cost of moving, and you might not necessarily come out ahead financially. On the other hand, moving closer to family can be a big win regardless of your work.
Uprooting your family and starting over in a new town or even a new state can be scary. On the other hand, many people love the idea of a fresh start — even if it requires a long-distance move.
Here at moveBuddha, we have an excellent tool to help you determine whether you should move for work. Simply answer a few basic questions about the move you're considering to see our recommendation.
Of course, if you're looking for a more in-depth analysis to help you decide, that's what this relocation guide is here for.
Relocation questions to ask yourself
Before deciding whether or not to relocate for a job, be sure to ask yourself the following questions:
Do the company and the job fit your work preferences?
Does relocating offer you better advancement opportunities?
Will the employer cover relocation expenses?
What's the job market like in the new area?
What's the cost of living in that area?
How will the move affect your quality of life?
How will moving impact your family?
Will you have a support system in place at your new home?
Do you have a financial backup plan?
Where will your kids go to school?
What are you leaving behind?
What's there to do outside of work?
Will your spouse have or be able to find a job?
What's the weather and climate like?
What would your new neighborhood be like?
Do the benefits of relocating outweigh the obstacles?
What's the local crime rate?
What will your new commute time be?
How close will your home be to grocery stores and other amenities?
If your answers are pointing towards making a move, it's time to start getting quotes from the best movers
Learn More
Basic relocation steps
Whether you're moving nearby or relocating to another state, there are similar best practices for every move. Below, you'll find the most basic steps to include on your moving checklist if you decide to relocate for work:
Stay organized and efficient
Set a budget
Understand your options
Visit and research the new location prior to the move
Learn how to hire movers
Find out if your moving expenses are tax-deductible
Locate a home, apartment, or condo that fits your budget
Decide on a moving date
Declutter
Start packing (be sure to get packing supplies like boxes and packing tape)
Have important conversations
Moving doesn't just affect you; it affects your entire family. Because of this, you should discuss the pros and cons of moving with your significant other, your children, and anyone else directly involved to make sure everyone's on the same page before making the plunge.
Talk to your significant other
Whether you're dating, engaged, or married, you need to have several conversations with your significant other about the move and all its potential consequences. These need to be ongoing, in-depth conversations that resolve difficult questions and answers.
Be especially mindful of trailing spouse syndrome: This is when someone leaves their job to follow their spouse without having a new job of their own lined up. While you're settling into a new job and meeting new people, your spouse may feel like they've been left in the dust. This can be avoided by talking with your spouse about the potential move, what's in it for them, and how the two of you can make it work.
Talk to your children
It's important to involve your children in the discussion about your move — but only as much as they need to be. It's actually not as hard to move with children as you might expect, but some ages are more difficult than others.
Generally speaking, moving with kids under the age of 8 is easier because they won't be as affected by the uprooting. Many people with teenagers don't like to relocate for work, because their lives are much more entangled with friends and activities than those of young children.
It's important that your children know a move is happening, but don't overwhelm them by talking to them about it too often. This could cause them a lot of unnecessary stress, worry, and anxiety.
Talk to your employer
Don't forget to talk things through with your potential new employer. Relocating an employee is costly. A failed relocation costs even more for the employee and the company.
This is one of the more important discussions you need to have, especially if they're paying for you to relocate. Find out if they plan to cover all relocation costs (moving company expenses, gas, and other fees).
The company that wants to hire you will likely do everything in their power to entice you to leave your current job and join them. And if you've been chosen for an internal promotion that requires you to relocate, your employer should have no problem covering your expenses.
In these situations, many employers will cover the cost of professional moving services (or at least a moving container or moving truck rental) if you're moving to a different state.
It might not be a bad idea to ask your employer whether it would be possible to have a "trial run" in your new location with your new job. The company could set you up in a rental home or hotel room for a set period so you can see what it's like in your new city or town.
If you need some extra help, here's how to negotiate your relocation package with your employer.
Already decided to relocate? Here's what comes next
So what happens once you've decided to relocate?
The first and most important decision for a smooth move is to be sure to choose a reputable mover. Depending on the interstate moving package your employer offers, you may be able to get help from full-service professional movers. Alternatively, if you're responsible for your own moving expenses, you might prefer a DIY move to save money.
The following steps should also be an essential part of your relocation prep:
Review and plan your finances
Making a financial plan is imperative for any major move. For example, while many banks have branches nationwide, you'll need to find a new financial institution if you currently belong to a regional bank.
It's also important to make sure you have enough money for the move. Are you moving cross-country? That will cost a pretty penny, especially if you're driving and not getting full relocation coverage from your employer. Review our moving cost checklist so you can plan accordingly.
Go house-hunting in person
Buying a new house after only taking a virtual tour from the comfort of your current home can be stressful. Will you like the aesthetic of your new home once you finally see it in person? Will there be enough storage in the attic or basement for your belongings? You might not learn this information until it's too late.
If at all possible, try to do your house-hunting in person. Doing so will make it easier to find a home that you, your spouse, and your children feel comfortable in.
If you're unable to do so, consider renting a place for the first couple of months in your new town. While living in your short-term temporary housing, you can get a better handle on the local housing market and find a great new home for your family.
Prospective home buyers should always try to find local realtors who know about living in the area. Real estate agents who are familiar with the real estate market can help you identify the property that best fits your needs, whether you prefer new construction, a move-in ready home, or even an apartment.
Evaluate the local schools
Another important relocation step is to decide where your children will go to school. Whether your kids attend public or private schools, you should research the local school district and/or any available private schools before deciding to move. If the schools in your new town or city are poorly-rated, this may sway you toward declining to relocate.
If at all possible, tour any potential new schools with your spouse and children so everyone can get a feel for how your children might adjust.
Build a new network
Once you've moved into your new home, start building a network. It can be hard to make new friends, especially later in life — but it's doable!
Join local groups. Obtain a membership to a local gym. Get a library card. Seek out places where you can meet people with similar interests and pursuits. Of course, you should also introduce yourself to the people in your new neighborhood.
The sooner you begin meeting new people, the easier it will be to build a social network much like the one you had in your former town.
Transfer your mail, utilities, etc.
Once you've decided to relocate for work, it's time to begin transferring over important items such as your mail, subscriptions, and utilities. Be sure to cancel all the services in your name at your current home and begin looking for these same services in your new town, scheduling them to begin as soon as you arrive there.
Don't forget to change your address and set up mail forwarding with the USPS. If necessary, update your contact information and other personal information with your new address for your credit cards and other online accounts.
Schedule the cancellation of the utilities at your current home for the date you plan to move out of your house. Call the utility companies in your new town and schedule a date for local providers to turn on your electricity, water, sewer, internet, cable, phone, and anything else you might need.
Remember, if you're moving out of state, you'll also need to get a new driver's license through the DMV and update your policy with your insurance company. Crossing state lines can result in big changes for your insurance premiums, so you may want to look at switching insurance providers for your home and auto policies.
Check out our full change-of-address relocation guide to make sure you don't overlook anything!
Make a budget
As important as it is to discuss and make a plan for moving, you cannot forget to make a moving budget.
This can only be done once you've talked to your employer about the relocation costs they're willing to cover. Budgeting may be easier if your employer plans to cover all your relocation costs, but we recommend creating a budget regardless of your circumstances.
Your relocation budget should include allowances for the following items:
Repairs to your current home to make it more marketable
Transportation fees for your vehicles
Gas and food money for your move
Plane tickets, if you plan to fly
Costs associated with your new living situation
Education fees (tuition, uniforms, books, etc.)
Our moving cost calculator will help you plan for these and other expenses based on your preferred moving options. With a more complete understanding of the costs your big move will incur,  you can budget appropriately so moving doesn't break the bank!
How Much do Movers Cost?
Get instant ballpark pricing. No email or phone required. It's fast, free, and easy.
So, should you relocate?
The decision whether or not to relocate ultimately comes down to your particular situation. By discussing the move with your family and employer, evaluating the costs and benefits of relocating, and considering what daily life will be like in your new location, you can make the right decision for your needs.
This isn't a decision to be made lightly. By carefully evaluating your options and thinking through the steps in this relocation guide, you can be confident that you've made the right decision when moving day arrives (or not).
Not what you were looking for?
Check out other categories that can help you find the information you need!
See All
Hide All