The Ultimate Relocation Guide
Relocating for a job means leaving behind a whole life and starting a new one.
Needless to say… it's a big decision.
However, whether you've made the decision or not, this guide will help you do your move or make your decision with ease and knowledge that you're doing everything right.
The first and most important decision to make for a smooth move is to be sure to work with a reputable mover.
Now, let's jump right into this relocation, shall we?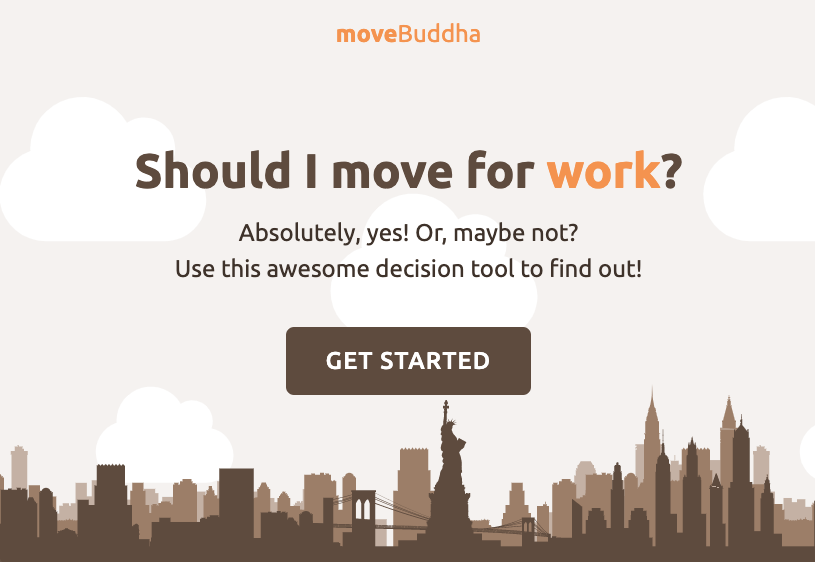 This is an age-old question that thousands of people have to answer every year. Whether or not you should move for work is challenging to decide. There are many different reasons why you should consider relocating for a job and reasons against it. It can be scary uprooting your family and starting over in a new town or new state.
There is an excellent tool you can use to determine if you should move to work. Check it out, input your information, and find out the answer. It could help you make the final decision about relocating for a job.
Otherwise, check out the ultimate relocation guide we have compiled in this post.
Relocation Questions to Ask Yourself
Before deciding whether or not you should relocate for a job, be sure to ask yourself the following questions:
Do the company and the job fit in your life?
Does relocating offer me better advancement opportunities?
Are relocation expenses going to be covered by the employer?
What type of job market does that area have?
What is the cost of living in that area?
Will there be an impact on my quality of life?
How will moving impact my family?
Will I have a support system in my new home?
Are you ready for the unknown?
Do you have a backup plan?
Where will your kids go to school?
What are you leaving behind?
What is there to do outside of work?
Will your spouse have a job?
What is the weather like?
What is the neighborhood like?
Do the benefits of relocating outweigh the obstacles?
Basic Steps for Relocating for Work
Below, you will find the most basic steps you should follow if you decide to relocate for work:
Stay organized and efficient
Understand your options
Visit and research the new location prior to the move
Find out the cost of living in the new location
Learn how to hire movers
Find out if your moving expenses are tax-deductible
Locate an affordable home
Decide on a moving date
Set a budget
Talk to Your Significant Other
If you are dating, engaged, or married; you need to talk to your significant other about the potential move and do so more than just one time. This needs to be an ongoing conversation that is in-depth and involves difficult questions and answers.
You need to be concerned about trailing spouse syndrome. This is when the spouse leaves their job with a new one not lined up when they move with you for your new job. You get to experience a new job, meet new people, and your spouse feels like they have been left in the dust. This can be avoided when you talk routinely with your spouse about the potential move, what's in it for them, and how the two of you can make it work.
Talk to Your Children
It's important to involve your children in the discussion about the move but only so much. It's very easy to move with children, but some ages are more difficult than others. For the most part, moving with kids under the age of eight is easier because there's less uprooting happening. Many people do not like to relocate for a job if they have teenagers because their lives are a lot more involved than young children.
Depending on the age of your children, you should talk to them. It's important that your children know a move is happening, but do not overwhelm them by talking to them about it often. This could cause them a lot of stress, worry, and anxiety that is unnecessary. It could also lead them to cause you a lot of worry about the move if they act out against it.
Can You Do a Trial Run?
It might not be a bad idea to ask your employer if a trial run is possible. Many companies will grant their best employees a trial run in a new location and new job because they don't want to lose those employees. The company could put you up in a home or hotel room for a set period so you can see what it's like in your new city or town.
Relocating an employee is costly. A failed relocation costs even more for the employee and the company.
Talk to Your Employer
We've told you to talk to your significant other and your children, but you cannot forget to talk to your employer.
This is one of the more important discussions you must have. Why? They are going to be paying for you to relocate, more often than not. Find out if they will be covering all relocation costs (moving company, gas, and other fees).
A company that contacted you will likely do everything possible to entice you to leave your current job and join them. At the same time, if you found an internal job posting that requires you to relocate, your employer should have no problem paying you to relocate.
Here's how to negotiate your relocation package.
Review and Plan Your Finances
If you have decided to relocate for your job, you need to review and plan your finances. Many banks have branches nationwide, but if you belong to a bank that is only regional, you will need to find a new bank where you move.
It's also important to have enough money at the ready for the move. Are you moving across the country? That will require a lot of expenses, especially if you are driving and not flying.
Go House Hunting In-Person
There's nothing more difficult than buying a new house simply by taking a virtual tour from the comfort of your current home. Will you like the aesthetics once you finally walk into the home? Will there be enough storage in the attic or basement for your belongings? You might not know this until it's too late.
Try with all of your might to house hunt in-person for your new home. Doing so will make it easier to find a home that you, your spouse, and your children will feel comfortable in when the time comes to move. If you are unable to house hunt in-person, consider renting a place for a couple of months in your new town. While renting, you can then examine the housing market and find a new home for your family.
Examine Schools for Your Children
Another important step in relocating for a new job is to examine schools for your children. Whether your kids attend public or private schools, you should research the local school district or available private schools before deciding to move for the job. If the schools local to your new town or city are not impressive, this could be the determining factor in declining to relocate for the job.
Again, if at all possible, tour potential new schools with your spouse and children so everyone can get a feel for how the children might adjust.
Build a Network
Have you decided to relocate for work?
If so, start building a network at your new place of residence. It's hard to make new friends, especially later in life. Join local groups. Obtain a membership to a local gym. Get a library card. These are all places where you can meet new people who like the same things as you.
The sooner you begin meeting new people, the easier it will be to build a social network much like the one you had in your old place of residence.
Transfer Mail, Utilities, and Other Items
Once you've decided to relocate for work, it's time to begin transferring important items such as your mail, subscriptions, and utilities. Cancel all the services in your name at your current home. Begin looking for these same services in your new town and schedule them for the first week you are in the home.
Don't forget to change your address and forward your mail. If necessary, log into all of your online accounts and update your mailing address and other personal information.
Cancel the utilities at your current home on the date you plan to be out of the house. Call the utility companies in your new town and schedule a date for service to start for electricity, water, sewer, internet, TV, phone, and anything else you might need.
As important as it is to talk about the possible move and put the plan in place, you cannot forget to budget for the move. This can only be done once you've talked to your employer about the relocating costs they will cover. If they cover all of your relocation costs, budgeting might not be as important. However, if the employer isn't covering most or all of the costs, you need to create a budget for the move.
Your relocating budget should include the following line items:
Repairs to your current home to make it more marketable
Transport fees for your vehicles
Gas for moving across the country
Money for food for a cross-country trip
Plane tickets if you are going to fly
How much you can afford for a new place to live
Education fees (tuition, uniforms, books, etc.)
Not what you were looking for?
Check out other categories that can help you find the information you need!