How Do Rental Truck Moving Companies Work?
Rental trucks are the go-to option for anyone moving on a budget.
It may not be the most convenient or glamorous way to move, but truck rentals have been affordably moving Americans for decades.
What is a rental truck?
While rental trucks are usually the cheapest way to move, freight trailers and portable storage containers have gained popularity as affordable alternatives that don't require driving.
Rental trucks are usually cheaper than freight trailers, but once you add in fuel and travel expenses, the two options often come out fairly close in terms of the total cost.
Moving containers tend to be a little pricier than rental trucks, but if you need temporary storage containers, they can be a really great option.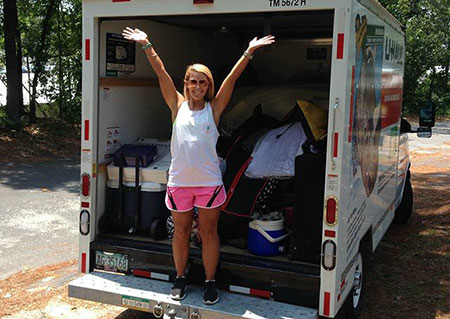 It can be hard to determine if renting a truck is the best way to move especially if you're moving long distance.
You'll need to look at the total cost of renting a truck, including the cost of your sanity, and compare it to the alternatives.
Luckily, we put together this truck rental moving guide to help you make the right decision.
If you don't feel like reading, use our moving calculator to get instant guidance on the best way to move.
Rental Truck Pros and Cons
Typically most affordable (not always)
Complete control over the move
Easy to also tow a car
Driving is a major hassle
Fuel and tolls not included
Insurance is limited
Labor not included
How much does a rental truck cost?
| | 1 bedroom | 2 – 3 bedrooms | 4 – 5 bedrooms |
| --- | --- | --- | --- |
| 250 miles | $900 – $1,400 | $1,100 – $1,700 | $1,800 – $2,700 |
| 1,000 miles | $1,300 – $1,800 | $1,800 – $2,700 | $3,200 – $4,100 |
| 2,500 miles | $1,800 – $2,700 | $1,900 – $2,900 | $4,500 – $5,800 |
Despite the advertisements for "Just $19.99 a day!" plastered all over rental trucks, it's unlikely you'll actually end up paying that much.
Even for small local moves, fuel, mileage fees, insurance, and other add-ons typically add up to at least $50-$60. Keep in mind that's just for the truck, with no labor included.
For long-distance or one-way moves, rental truck pricing is calculated differently. Rental truck companies will quote a flat rate which includes a set mileage allowance and a fixed number of rental days.
For example, if you're moving from New York City to San Francisco, the rental truck company may quote you around $3,000.
89% of users select this mover
That price will typically include up to 9 days of use for you to complete the 3,000-mile drive. It will also include a mileage allotment of roughly 3,300 miles.
The extra 300 miles is just in case you do some sightseeing or take a detour- how kind.
If you need extra days or extra mileage, that will come at an additional cost. You'll also need to factor fuel costs into the equation.
Considering most trucks get 8-10 miles per gallon when fully loaded, gassing up along the way can add a lot to your overall cost.
Another thing to consider when comparing a rental truck to other options is the cost of hotels and food. 9 days of hotels can get rather pricey. You'll want to map your trip carefully to find hotel deals.
Get instant ballpark estimates
Instantly compare prices for professional movers, moving containers, freight companies, and rental trucks.

Things to know before renting a moving truck
Takes notes, these rental truck tips could save you time and money.
Get online quotes first
Start your search by getting quotes online. Rental rates are typically quoted lower online than over the phone.
Take advantage of price matching
Most of the time, companies will beat or match their competitor's quotes to earn your business
Avoid peak moving times
Avoid renting on weekends, holidays, and at the beginning/end of the month if possible. Prices tend to be lower mid-week and mid-month when demand is lower.
Call the day before
You should book two weeks in advance, but make sure to call the day before to ensure your truck is still available.
Get insurance
It's unlikely that your regular auto insurance will cover rental truck accidents. All companies offer affordable and decent insurance options.
Get multiple quotes
Rates can fluctuate based on demand, so get quotes from all three companies.
Understand fees
Truck clean out fee, mileage fees, equipment use fees, return fuel fee, etc. Check out our fees section for more info.
Location reviews
Budget® & UHaul® both have partner networks. Rental policies and overall customer service can vary by location, so make sure to check reviews on specific locations.
Newest truck
Make sure to ask for the newest truck on the lot. Newer trucks are less likely to have maintenance issues and get the best gas mileage.
Plan for the worst
Your reservation may cancel at the last minute, or the truck could break down mid-move. Have a plan and emergency funds set aside ahead of time just in case something unexpected happens.

How Much do Movers Cost?
Get instant ballpark pricing. No email or phone required. It's fast, free, and easy.
What's included with a rental truck?
Renting a truck is pretty straightforward. For local moves, you pay for the mileage and number of days you use the truck.
For long-distance moves, rental truck companies will quote you a total cost which includes a fixed number of rental days and allowable mileage to complete your move.
Labor isn't included with the rental truck, but hiring some loading help is not hard.
If you're moving a car, you can also rent a car dolly to tow behind the truck.
Included
Not included
Fuel and tolls
Help loading or unloading (hire moving labor)
Parking permits, if necessary
Pads, straps, or blankets (available to rent)
Dolly or hand-truck (available to rent)
Insurance (coverage varies by company)
Packing supplies such as boxes, bubble wrap, etc.
How does a rental truck work?
You rent a truck for the number of days that you expect the trip to take, with a day or two padded on each end.
You're responsible for loading and unloading the truck, but you can always hire extra help. Most importantly, you're the one doing all of the driving!
45 days out – Hire some help
If you don't want to be the one loading the rental truck, now is the time to hire professional moving labor.
Don't wait much longer, or you may end up paying more!
7 days out – One week before the big move
Make sure you have gathered, bought, or rented all of the moving supplies that you'll need such as blankets, pads, straps, and moving boxes.
You don't want to be left empty-handed on a moving day!
Moving day
Make sure you have enough room to park the truck so that you can minimize the distance from your residence to the loading ramp.
In transit
It's up to you to drive the truck to your destination. If you have trouble with the truck, you'll have to wait until a mechanic can reach you.
Welcome home!
You made it to your destination and had to get everything unloaded. Don't forget that you can hire moving labor for this part as well.
Reminder: Make sure to clean the truck completely before returning it to avoid cleaning fees!
Which truck rental company is the best?
Penske®, UHaul®, and Budget® are the three largest national truck rental companies. As with most things moving, "the best" depends on what you need.
Compare rental truck companies
Here's some additional info to compare the major rental truck companies.
| | | | |
| --- | --- | --- | --- |
| Truck Sizes | 10′, 14′, 17′, 20′, 24′, 26′ | 12′, 16′, 24′ | 12′, 16′, 22′, 26′ |
| Car Tow | Car Dolly, Car Carrier | Car Dolly, Car Carrier | Car Dolly, Car Carrier |
| Trailers | Open and enclosed tow trailers | None | None |
| | | | |
| --- | --- | --- | --- |
| Mileage | $.40/mile beyond the allotted mileage | $.70/mile beyond allotted mileage, $.85/mile if not requested before move | Unlimited |
| Extra Rental Day Fee | $40/day if requested before pickup | $70/day | $50/day if requested before pickup |
| Late Return Fee | $50/day | $80/day | $100/day if requested after pickup |
| Truck Cleaning Fee | $25 | Ask dealer | Assessed at return |
| Additional Driver | None | $10/day or $29 for 8+ days | $10/driver (Family is free) |
| Gas Return Fee | $30 + $5/gallon | Ask dealer | $8/gallon |
| | | | |
| --- | --- | --- | --- |
| Payment Types | Credit card, cash | Credit card, cash, check | Credit card, cash, check |
| Deposit | No deposit w/ credit card, $100 deposit if cash | A refundable deposit is required at pickup; the amount varies | No deposit w/ credit card, $100 deposit if cash/check |
| | | | |
| --- | --- | --- | --- |
| Pick Up Location | Subject to change | Subject to change | Guaranteed |
| Locations | 15,000+ (Corporate + Franchises) | 2,800+ (Corporate + Dealers) | 2,000+ (Corporate + Partners) |
| Average Truck Age | Truck age can vary greatly | 30 Months | 24 Months |
| Rental Requirements | Valid Drivers License, 18+ | Varies by location; $ 25 fee for drivers under 23 | Valid Drivers License, 18+ |
| Same Day Rental | Yes | Yes | Yes |
Not what you were looking for?
Check out other categories that can help you find the information you need!
See All
Hide All