Penske Truck Rental Company Review
Overall Opinion of Penske Truck Rental: Penske is a good option for renting a moving truck for transporting items yourself either locally or long-distance (one-way). They have comparatively fewer options than may competitors such as trailers, mobile storage containers, and pickup style trucks. Pricing is transparent, they have many locations in most states, and they have an easy-to-use website.
See how Penske Truck Rental Compares to U-Haul.
Jump to the Penske review section that you're looking for:
Penske Truck Rental: Moving Services Available:
The company was founded in 1969 and is headquartered in Reading, Pennsylvania, and operates internationally. The company operates in the personal and commercial rental markets.

Personal Rentals: Individuals that are moving locally or across the country can rent from them. Rentals may be one-way or returned to the original rental location. To gauge the size, a 22-foot truck is suited for a three-bedroom move and a 26-footer is appropriate for a four or five-bedroom move.
All rental trucks are covered by a 24/7 roadside assistance plan. A $150 deposit is required for most rentals, with an exception for one-way rentals. All vans and trucks feature two-person bucket or three-person bench seating. Trucks can be used for towing and are equipped with a sturdy ramp. Other standard features include automatic transmission, anti-lock brakes, and air conditioning.
Automobile Towing Equipment: A tow dolly or car carrier can be used to transport a vehicle. All-wheel-drive and four-wheel-drive vehicles should be transported only with a car carrier.
Moving Supplies: Online ordering is available for moving boxes, wardrobe boxes, mattress bags, packing tape, etc. Orders of $25 or more are eligible for free shipping. Hand truck dollies are also available for rental.
Self-Storage Units: They have a system powered by SpareFoot for shopping a massive inventory of storage units. They also promote self-storage options offered by CubeSmart.
Moving Labor: Penske promotes loading and unloading help provided through Simple Moving Labor.
Commercial Rentals: They maintain a nice fleet of vehicles for commercial customers. (see image below) Larger organizations can establish a National Rental Account (NRA) that may include pricing discounts, consolidated billing. Truck drivers can use the Penske Driver™ app that is free and assists in complying with the Hours of Service (HOS) and electronic logging device (ELD) mandates.
Penske Truck Rental: Pros and Cons Summary:
The Good: Plenty of Locations Nationwide
Penske has locations in all states except Alaska and has many within each state. For example, (38) in Colorado, (55) in Washington State, (109) in Pennsylvania.
The Bad: Does Not Offer Pickup Trucks, Mobile Storage Containers, or Flatbed Options
Penske has a fairly streamlined offering of vehicles for personal rentals that includes a cargo van and four sizes of moving trucks. Many of their competitors offer pickup trucks, flatbed trailers, mobile storage units, etc.
---
Pros:
Penske has a tremendous U.S. location network across all the states. For example, more than 190 locations exist in Florida and more than 200 in California.
They are actively participating in the EPA's SmartWay Program that reduces fuel consumption, installed LED lighting, uses recycled materials, and reduces waste.
Most rental vehicles have slip-resistant wood floors in the cargo area and a translucent roof that allows natural light inside.
The Penske Truck Wizard (see image) is a useful and easy-to-use tool for calculating the size of the truck needed.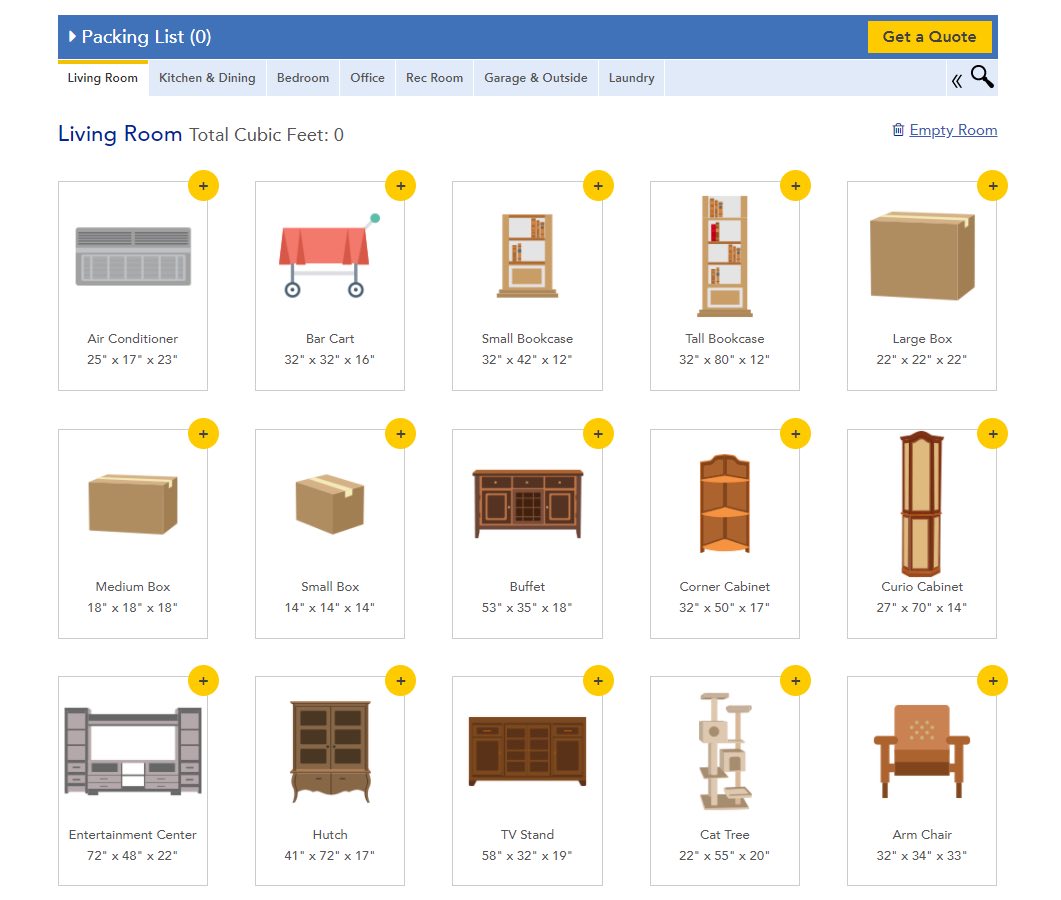 Cons:
Local (round trip) rentals require a security deposit that is usually $100
The trucks may not be used to tow trailers that are not rented through Penske
Sometimes the specified size of the truck in a reservation is unavailable and another size is substituted
Personal Truck Rental Pricing Estimates
| Model | Pick Up / Drop Off | Rates / Per Mile Charges |
| --- | --- | --- |
| Penske 26-Foot | Houston, TX (local) | $299.99 per day / .99 per mile |
| Penske 26-Foot | Houston, TX to Dallas, TX (one-way) | $207.00 includes unlimited mileage |
| Penske 26-Foot | New Orleans, LA (local) | $299.99 per day / .99 per mile |
| Penske 16-Foot | New Orleans, LA to Birmingham, AL (one-way) | $1,199 includes unlimited mileage |
| Penske 26-Foot | New Orleans, LA to Birmingham, AL (one-way) | $1,299 includes unlimited mileage |
| Cargo Van | Miami, FL (local) | $149.99 per day / .99 per mile |
| Penske 26-Foot | Miami, FL (local) | $99.99 per day / .99 per mile |
Insurance Coverage Options
Penske encourages customers to verify whether their existing automobile insurance or credit card actually provides coverage, which they explain is a "common misconception." Many of these policies have limitations based on gross vehicle weight and truck size. The types of coverage available from Penske include:
Limited Damage Waiver (LDW): The LDW protects the party that rents the vehicle from liability for any losses or damages to the truck or towing equipment
Personal Accident Insurance (PAI): This coverage provides accidental death and medical coverage for the renter and any passengers riding within the passenger compartment.
Supplemental Liability Insurance (SLI): This is coverage from third-party claims for accidents that results in bodily harm or property damage while operating the rental vehicle. Drivers must be 21 years old to purchase this coverage.
Cargo Insurance: Covers any belongings lost or damaged from accidents or natural disasters while the vehicle is operating. The maximum coverage available is $15,000 and doesn't apply to damage that occurs during loading or unloading.
Towing Insurance: This is collision coverage used for the damage created while attached to, towed by, or detached from a Penske truck rental. It also applies to cover a vehicle being loaded, unloaded, or transported by a tow dolly or carrier that was rented from Penske.
Discounts Offered
Active military members and college students may qualify for a 10% discount. Members of AAA are eligible for a 12% discount.
Customer Reviews & Feedback
They have a location in Atlanta with roughly 142 reviews and an overall rating of 4.1 of 5. The majority of the customer reviews were positive with a few exceptions.
The location on Craighead Road in Charlotte, NC has more than 100 reviews and an overall score of 4.1 of 5. Several customers complained that it took four or more days to have their security deposit refunded. Other negative feedback involved rental trucks that hadn't been cleaned in the passenger compartment.
On Yelp, they have a location in San Francisco with 140+ reviews and a rating of 3.5 stars out of 5. Several customers complained that their reservations were abruptly canceled on the date of pickup and others had a reservation for a certain type of vehicle that was unavailable on the pickup day.
The Better Business Bureau (BBB) page for the headquarters location shows a rating of A. They have received approximately 97 complaints received over the past three years and 36 over the past year. Nearly half of the complaints filed with BBB involved Penske's used truck sales division rather than a residential truck rental. Most of the rental-related complaints were related to customers that arrived to pick up a truck of a specified size that was unavailable.
Should You Consider Penske Truck Rental for a Move?
Yes. Penske is a viable option that offers late-model rental trucks, car trailers, and moving supplies for residential customers. Those seeking moving labor or self-storage units are simply referred to third-parties. Pricing is straightforward, their website is easy to navigate, and advanced reservations are guaranteed.
Not what you were looking for?
Check out other categories that can help you find the information you need!