U-Haul Truck Rental Company Review
Overall Opinion of U-Haul Truck Rental: U-Haul is among the nation's largest truck rental companies that offer very competitive base prices, a great variety of vehicles and accessories, and a good online platform and mobile app. Some of the primary concerns are that customer service tends to be mediocre and their rental agreements have various fees and charges that can be easily overlooked.

Compare U-Haul Truck Rental to the top U-Haul Competitors.

Jump to the U-Haul review section that you're looking for:
U-Haul Truck Rental: Moving Services Available: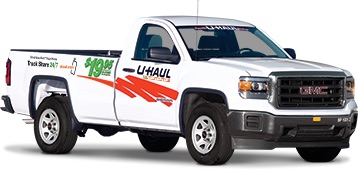 Pickup Trucks: These generally have an 8-foot bed, a towing capacity of 6,000 pounds, and seating for three people.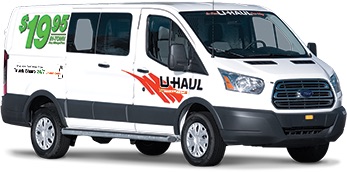 Cargo Vans: These typically have a 9 ½ foot interior depth with a 245 cubic foot capacity and seating for two people.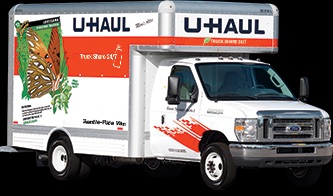 Moving Trucks: U-Haul's moving trucks generally are available in 10, 15, 17, 20, and 26-foot sizes. The towing capacities range from 6,000 to 7,500 pounds. The 10-foot trucks seat two people, while all others seat three. There is a per-mile charge of between .79 and .99 (cents) and renters should be aware that these vehicles average only 10 to 12 miles per gallon of unleaded fuel.
U-Haul Truck Share: This program can be summarized as a self-service option for renting a truck that is booked using a mobile device 24/7. Customers upload their photo, their driver's license, an image of the truck's mileage (odometer), fuel level, and any existing vehicle damage. Insurance options are also purchased online.
One-Way Truck Rentals: A one-way rental refers to renting a truck from one U-Haul rental site and returning the vehicle to a different location close to the destination. One-way rentals typically have a flat rate for 24-hours and a mileage allowance.
Trailer Rental: While making a reservation, customers may add a trailer unit. For example, they have tow dollies for front-wheel-drive car towing or car hauler units for all-wheel or four-wheel drive vehicles.
Moving Help: The Moving Help program is an online option for hiring labor (movers). A two-hour minimum applies to these orders.
You may also Store with U-Haul and use their U-Box program.
U-Haul Truck Rental: Pros and Cons Summary:
The Good: Plenty of U.S. Locations and Competitive Prices
With more than 20,000 locations, customers are likely to have a U-Haul site nearby and a strong probability of securing a one-way rental. The company posts its prices (which are attractive) prominently; however, the agreement should be closely reviewed to avoid unexpected add-on costs and fees.
The Bad: Some Locations Have Poor Customer Service and Operational Inefficiencies
Many customers complain that locations are understaffed, have rude employees and that long delays occur after arriving for an appointment to have vehicle components installed.
---
Pros:
Trucks are equipped with a wide EZ-Load Ramp and Gentle Ride suspension
The company has more than 20,000 U.S. rental locations
Corporate discounts are commonly available and sometimes offered by individual locations. Examples include a one-free month of self-storage, special promotions for military members, free shipping on moving supply orders, and more.
They have entered the mobile moving and storage container market with their U-Box program, which competes with PODS, SMARTBOX, and 1-800-Pack-Rat.
Cons:
Customer should closely review the terms and fine print to avoid unexpected add-on costs such as environmental fees
Despite, the advertised $50 "guarantee" reservations are typically not certain unless specified after booking a truck online. It is recommended that you call the rental location before arriving to confirm.
When making a reservation a nominal amount is charged to your credit or debit card as a "hold." Even if the reservation is canceled, the hold amount may take several days to be released from the account and may reduce available funds in that interim.
Renters must be 16 years old to rent trailers and 18 years old to rent trucks and both require a U.S. driver's license. A credit or debit card is typically needed for renting a vehicle; however, the rental may be paid for in cash at the drop-off location. Most locations will rent to those without a major credit card for local rentals, but at least a $100 cash deposit is required.
Pricing Estimates
LocationPickup TruckCargo Van10-Foot Truck17-Foot Truck26-Foot Truck
| | | | | | |
| --- | --- | --- | --- | --- | --- |
| Los Angeles | $19.95/day + .79 mile | $19.95/day + .79 mile | $19.95/day + .99 mile | $39.95/day + .99 mile | $39.95/day + .99 mile |
| Phoenix | $19.95/day + .59 mile | $19.95/day + .59 mile | $19.95/day + .79 mile | N/A | $39.95/day + .79 mile |
| Houston | $19.95/day + .69 mile | $19.95/day + .69 mile | $19.95/day + .89 mile | $39.95/day + .89 mile | $39.95/day + .99 mile |
| Chicago | $19.95/day + .69 mile | $19.95/day + .69 mile | $19.95/day + .79 mile | $39.95/day + .79 mile | $39.95/day + .79 mile |
| Philadelphia | $19.95/day + .89 mile | $19.95/day + .89 mile | $19.95/day + .99 mile | $39.95/day + .99 mile | $39.95/day + .99 mile |
Insurance Coverage Options
Safemove: This is a basic coverage plan exclusively for moving trucks that pay for accidental damage to the vehicle and/or belongings being transported, theft of a vehicle, and includes a basic medical and life insurance benefit. The maximum (limit) is $80,000 and the price is typically around $15. Safemove doesn't include liability coverage.
Safemove Plus: This also applies exclusively to moving trucks and includes all of the benefits of Safemove; however, $1 million in liability coverage is added. This plan costs roughly $30 per rental, which is about twice the price of the basic option.
Coverage for pickup trucks and cargo vans: The lone coverage option for these vehicles is the Collision Damage Waiver (CDW) which has a $150 deductible. In the event of accidental damage or theft, the customer would only be liable for $150. The cost is typically around $10 to $15 per rental.
Potentially Liability (Costs) For Damage Incurred
The image below from U'Haul's online rental platform provides estimated costs for damage to their moving trucks.
Customer Reviews & Feedback
They have a location in Chicago with more than 210 reviews and an overall rating of 3.6 out of 5. One of the primary complaints about this location is customer service. Examples include lengthy delays in finalizing paperwork during the registration process, delays in having hitches or back racks installed, etc. Several more positive postings mentioned that the location and the rental vehicle were both very clean.
A location in Boston has an overall rating of 2 out of 5 stars on Yelp. Several complaints involved the condition of the vehicles such as one with a broken side-view mirror and a rental trailer that had an inoperable taillight. Other posted concerns included discrepancies on the documented fuel and mileage and staff that appeared slow and poorly trained.
The Better Business Bureau (BBB) page for the corporate office in Phoenix has them rated as an A-. They have received approximately 612 complaints over the prior 12 months. The company has a "current alert" posted that explains how a governmental agency brought actions in court accusing them of using "untrained workers to fill propane cylinders for their customers."
Should You Consider U-Haul Truck Rental for a Move?
Overall, U-Haul is a good option for basic residential moves and long-distance one-way moving vehicle rentals. Be sure to read all the agreement terms closely.
Not what you were looking for?
Check out other categories that can help you find the information you need!