U-Pack 2022 Review: Costs & Services
Overall Opinion
U-Pack is one of the oldest and largest container moving companies out there.
It has multiple container sizes and an awesome pay-for-what-you-use policy with larger moving trailers.
It's a long-distance moving option, only available for moves over 100 miles.
We're so impressed by U-Pack that they even earned a spot on our list of the top moving container companies.
How much does U-Pack Cost?
Depending on the size and distance of your move, U-Pack offers different pricing options.
| | 1 BEDROOM | 2-3 BEDROOMS | 4-5 BEDROOMS |
| --- | --- | --- | --- |
| Local Move | N/A | N/A | N/A |
| < 250 Miles | $945 – $1,430 | $1,075 – $1,665 | $1,225 – $1,925 |
| Cross-Country | $1,485 – $2,570 | $2,420 – $3,885 | $3,535 – $6,635 |
For more on U-Pack pricing, see the section below.
Jump to the U-Pack review section that you're looking for:
About U-Pack

ABF U-Pack boasts having helped more than a million families move since the company launched in 1997. U-Pack is owned by the massive freight shipping company ABF, which lends shipping expertise to ensure your belongings get safely where you need them to go.
But U-Pack is a solid option for a long-distance move, and because of its simple website, numerous online features, and extremely transparent pricing, we gave U-Pack four out of five stars. Read on for a comprehensive review.
Pros & Cons
Generally less expensive than a full-service move.
Competitive pricing on 100 to 250-mile moves.
Pricing is extremely transparent with a no-hidden-fees guarantee.
Website is easy to use and offers instant quotes for all moves.
Fast delivery times with an online tracker.
Extra U-Pack moving services are easy to add on when you book your move online.
Belongings can be moved or stored (or both!).
Multiple container sizes.
You only pay for the space you use.
Someone else transports the containers — you just have to load and unload them.
Available in many rural areas and several countries.
Offers moving supplies (at an added cost).
Canceling within a week of your move means you'll have to pay a fee.
Local moves are not available.
Larger moving trailer can be tough to park and pack because of its size.
No on-site storage is available, and you only get three business days to load and unload your containers.
They only do moves that are 100 miles or more. If you're moving locally, we recommend PODS.
What services does U-Pack offer?
U-Pack is pretty similar to other moving and storage container companies, but with a few key differences. Here's what the company offers.
 U-Pack for Moving
If you're moving more than 100 miles, U-Pack will likely be an option for you (they don't offer services for moves under 100 miles).
You can enter information about your move online, or you can call and give the info to a service representative over the phone if you'd like. Based on your needs, they'll offer either a number of smaller "Relocubes," or a large moving trailer.
If you need more space than what's offered in a Relocube, but you don't need an entire trailer, they have an option to rent a trailer and just pay for the amount of space you use.
Your container gets delivered to your old address, where you have up to three days to load it. You can choose to add loading help to your U-Pack order in most locations.
Then, U-Pack ships your container(s) to your new address, where you have up to three days to unload. You can also choose to add unloading help to your order if you want to.
U-Pack for Moving With Storage
If you need a wider time frame between moving out of your old place and into your new home, U-Pack can store your belongings for you in a secure, climate-controlled facility. Storage fees are charged by the month and cannot be prorated. Storage rates vary by location and service centers.
While some other containers companies allow you to store your belongings on site, that's not an option with U-Pack. And while you can build storage into any long-distance move, local storage is not always available.
If you're looking for local storage (for example, during a remodel or renovation), moving quotes aren't available online, but you can call U-Pack to see what options you may have in your area.
U-Pack offers two types of containers: Small, 6-foot "Relocubes" and large, 28-foot moving trailers.
| | Relocub | Moving Trailer |
| --- | --- | --- |
| Capacity | Studio apartment | 3+ bedroom home |
| Popular Usage | Smaller moves, locations with limited parking | Larger moves |
| Types of Moves | Long-distance only | Long-distance only |
| Storage Available | Yes | Yes |
| Internal Dimensions | 5'10″x6'1″x7'9″ | 27'x8'x9′ |
| Cubic Footage | 305 cf | 1,800 cf |
| Container Material | Metal | Metal |
| Weight Limit | 2,500 lbs | 22,000 lbs |
All of U-Packs containers are made of metal and completely weatherproof. U-Pack Relocube sits against the ground, which makes them easy to pack.
Learn more about Relocube's in our full post. 
One of the great things about U-Pack is how widely available it is. There are U-Pack facilities in all 50 states, as well as in Canada and Puerto Rico. The company has a wider service area than many of its competitors, which means if you live in a rural area, U-Pack is likely still able to help you move.
U-Pack Moving Supplies
U-Pack really takes the stress out of moving by offering the option to add on just about any moving supplies you may need. For an additional cost, you can add any of these supplies to your reservation:
Moving blankets
Furniture pads
Bubble wrap
Packing paper
Packing tape
Stretch wrap
Mattress/furniture covers
Foam wrap
How much does U-Pack charge?
With U-Pack, when you enter your information online to get a quote, U-Pack defaults to the option that will cost you less, whether that's multiple small containers, or just using part of a larger moving trailer.
In the case of our sample move, it estimated we would need 13 feet of trailer space for a 2-bedroom apartment.
There's an option to add loading and unloading help if you want it (with the cost and time clearly laid out). The quote also includes instructions for updating the estimated cost if we use more or less than 13 feet of trailer space (in this quote, we were instructed to add or subtract $68 per foot as needed).
The quote includes taxes, fuel, and a ramp for loading and unloading.
U-Pack guarantees that price — there are absolutely no hidden fees, and what you see is what you pay.
Online Booking
You can book right away online, or hang onto the reference number for your quote and call in. Discounts are available for some people, like students and active military.
Once you book your move, you can make modifications to it at any time up to the day your containers are scheduled to be delivered. Unfortunately, if your plans change and you need to cancel your reservation, you could end up paying steep fees. If you cancel more than seven days before your scheduled reservation begins, there are no fees and you're eligible for a full refund. If you cancel within seven days, there's a $50 fee. And if you cancel within 24 hours of your scheduled drop-off date, there's a $150 fee. Always make sure to check your move dates to avoid any surprise moving costs.
Find other moving container companies and get a free quote from our list of the top container companies. 
Does U-Pack have good customer service?
U-Pack has an awesome website that provides instant quotes with transparent pricing. While it doesn't offer as many container sizes as some of its competition, it has an awesome pay-for-the-space-you-use policy when you rent a large moving trailer.
U-Pack is widely available throughout the U.S., as well as in Canada and Puerto Rico. If you're making a moderate- to a long-distance move, you should definitely get a quote from U-Pack.
There are a few things that put U-Pack behind the competition, though. Its services are not available for local moves at all. If you use the larger moving trailer, it can be difficult to park and pack because of its size. And you have only three days to load and unload your containers.
Overall, U-Pack has a great online presence.
U-Pack has been in business since 1997, so this is far from a fly-by-night operation. When it comes to moving pods reviews, it's always a mixed bag — moving is stressful and people tend to blame the moving company for anything that goes wrong.
Customer reviews on BBB (Better Business Bureau) vary by location. But a scroll through the results for U-Pack locations on the BBB website shows a lot of "A" and "A+" ratings.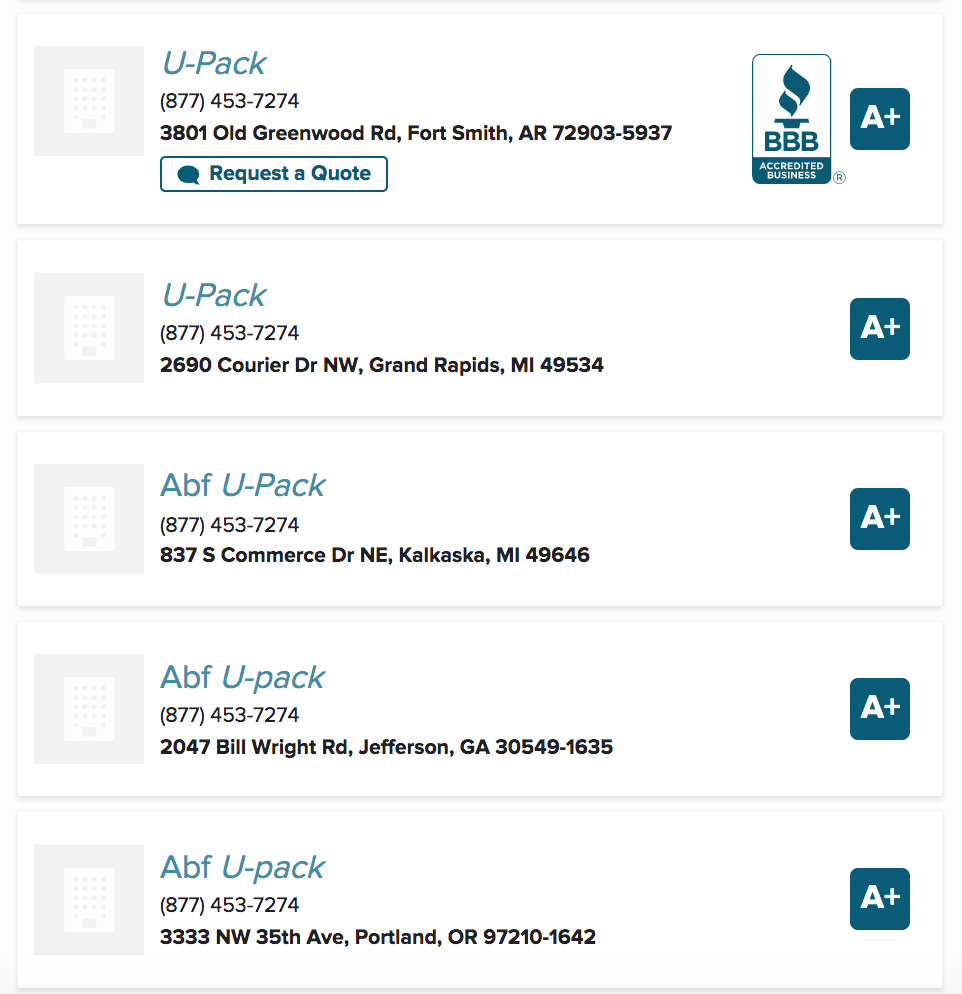 The U.S. Department of Transportation Federal Motor Carrier Safety Administration has seen one complaint against U-Pack in the last four years. A single complaint made in 2019 alleged the company had problems with deceptive business practices, prices/estimates, and shipping documents.
Our best advice is to take online reviews with a grain of salt, but carefully research your local U-Pack facility, since quality can certainly vary by location, even though U-Pack is an established and generally reputable organization.
The following is a summary of the categories (nature) of the complaints received.
| | |
| --- | --- |
| BBB Complaint Types | Number |
| Sales or Advertising | 3 |
| Collections or Billing | 6 |
| Deliver-Related Concerns | 34 |
| Warranty or Guarantee | 1 |
| Product or Service Problems | 29 |
Is U-Pack licensed and insured?
U-Pack provides catastrophic liability coverage at $3 per pound, up to $60,000 per trailer and $7,500 per Relocube. This is included in every reservation and covers your belongings in the case of:
Trailer or Relocube fire
Trailer overturn
Collision
Complete theft of the trailer or Relocube
You can also purchase optional, additional coverage from U-Pack to insure your belongings against loss or damage in the case of carrier negligence. There are several insurance tiers available.
| Cost | Coverage | Maximum |
| --- | --- | --- |
| $75 | $1 per pound | $20,000 per trailer or $2,500 per Relocube |
| $125 | $2 per pound | $40,000 per trailer or $5,000 per Relocube |
| $175 | $3 per pound | $60,000 per trailer or $7,500 per Relocube |
Be sure to check your homeowner's or renter's insurance policy before purchasing U-Pack's insurance — some policies protect your belongings during a move or in storage.
| | |
| --- | --- |
| Database | Listed (Y/N) |
| AI FMCSA? | Yes |
| SAFER FMCSA? | Yes |
| Licensing Insurance FMCSA? | Yes |
| Better Business Bureau (BBB) | Listed and Accredited |
U-Pack FAQs
Is U-Pack a Good Company?
Overall, yes, U-Pack is a good company. Many U-Pack customers have used them multiple times and claim in their reviews that U-Pack is a great company. U-Pack has been in business since 1997, and the company claims it has helped more than one million families move since its inception.
Is U-Pack Cheaper Than Pods?
When it comes to moving locally, U-Pack is not an option as they only provide services for moves of more than 100 miles.
If you are moving roughly 250 miles, the cost to use U-pack for one-bedroom ranges from $900-$1,300, while Pods charges $450-$800. PODs is more affordable for this type of move no matter how many bedrooms you need to pack up and move.
How Long Does U-Pack Take to Deliver?
Delivery times from U-Pack depend on the distance involved in the move and when they pick up your container. The closer to your current location you are moving, the quicker that the container will arrive.
If you are moving across the country, it will take a little more time, but U-Pack still boasts quick delivery dates.
The company also provides its customers with online tracking for their containers.
How Much Can You Fit in a U-Pack?
You have two options when using U-Pack to move: a 6-foot relocube or a 28-foot moving trailer. There are no in-between options.
For a full answer on this question, check out our full post. 
What are the Downsides of Using U-Pack?
As with any company in any industry, there are downsides to using U-Pack. They are as follows:
U-Pack only does long-distance moves. If you are moving within 100 miles of your current location, you won't be able to use their services.
If you cancel a scheduled move with U-Pack within one week of the move, you will need to pay a cancellation fee.
There is no on-site storage available. Loading and unloading of the trailers is limited to three days for each task.
The bigger trailer, which is 28 feet, is challenging to park and pack because of its sheer size. The trailer is eight-feet high inside.
What is the Difference Between U-Pack and Pods?
There aren't many differences between U-Pack and Pods as both companies offer storage containers and full-sized trailers for their clients. Both companies have been in the industry for roughly the same amount of time. And, Pods can be used for local moves, unlike U-Pack. Other differences between the two companies include the following:
Full refunds are available if you need to change or cancel your moving plans up to the day prior to what has been scheduled.
Facility and on-site storage options are available.
The minimum amount of rental time available is 30 days.
There are multiple container sizes from which to choose.
Is U-Pack Worth It?
Based on the sheer fact that U-Pack is more affordable than Pods when moving a multi-bedroom home, yes, U-Pack is worth it. If you need to move a studio apartment or a small condominium, it might not be worth spending the money on the U-Pack relocube, which is more expensive than a container from Pods.
Is U-Pack Waterproof?
U-Pack trailers and the relocubes are made of metal, which is typically waterproof. The best way to determine if your belongings will be safe from water damage during the move is to walk into the relocube or the trailer and check to make sure there is no light shining in from the outside. If you see light, then it is not waterproof and your items could suffer water damage if it rains during the move.
Does U-Pack Offer Packing or Unpacking Services?
Yes, U-Pack offers loading and unloading help should you require it. You specifically need to add these services to the order when you place it online with the U-Pack website.
Is U-Pack a Moving Company?
For the most part, yes, U-Pack is considered a full service moving company. They might not be a moving company in the traditional sense of the term, but U-Pack helps you move your items from one location to another via their relocubes and full-size trailers.
Who Should Consider U-Pack?
If you're moving long-distance, you should definitely check out U-Pack and get a quote to compare with other providers.
U-Pack is great for people who are moving between 100 and 250 miles (we found great pricing compared to the competition for that range of distance). It's also perfect for people who can load and unload their containers quickly (within three days) or want to easily add hired loading/unloading help to their reservation.
It's also a great fit for people who live in rural areas because U-Pack's coverage area is so extensive. If you need to move in Canada, or between the U.S. and Puerto Rico, U-Pack is probably a great option for you.
When choosing a moving container company, it's important to check all your options. Compare prices and get instant quotes from multiple professional movers you can trust.
Learn more about U-Pack and other moving containers:
Not what you were looking for?
Check out other categories that can help you find the information you need!