Moving Experience: Shiri's Move with U-Pack ReloCube
In the summer of 2023, Shiri and her 11-year-old daughter wanted a change of scenery. After a few months of planning, Shiri decided to make the bold move from Tarzana, California to Beaverton, Oregon.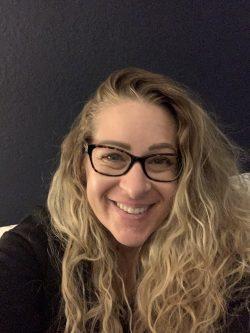 Shiri compared several options for the 955-mile move before ultimately deciding on the moving container company, U-Pack ReloCube. She also signed up for the moveBuddha Better Moves project to share her honest opinion about U-Pack in exchange for a $500 moving stipend.
While the third-party movers she hired weren't as great, Shiri had an outstanding experience with U-Pack — especially when you consider the fact that Shiri moved during peak season.
In this post, we'll look at how Shiri chose U-Pack and her experience with them before, during, and after her big move. We'll also throw in some helpful takeaways for anyone else planning a cross-country move.
Licensed
Insured
Price
rating
5 / 5
Check prices
Check Prices
93% of users select this mover
Move day takeaways for U-Pack Relocube customers
Communication: U-Pack was very communicative before the move, although there were a few communication hiccups because Shiri moved during peak moving season
Pricing accuracy and transparency: U-Pack knocked its estimate out of the park. Shiri didn't pay a dime over her estimate
Professionalism: U-Pack was incredibly flexible, helpful, and professional
Timeliness: U-Pack promptly picked up and delivered Shiri's two ReloCubes on time
Loss and damage: Shiri's belongings arrived safely at her new home
Would Shiri use U-Pack again? Yes, Shiri would definitely use U-Pack again
89% of users select this mover
Shiri needed help moving from Tarzana, California to Beaverton, Oregon
Shiri didn't want to continue keeping up with the rising costs of living in Tarzana, California. Eager for greener pastures, she and her daughter settled on relocating to Beaverton, Oregon, for a fresh start.
Shiri needed to move the contents of a two-bed, two-bath apartment (1,000 square feet) on a tight budget. She also wanted the process to be as smooth and seamless as possible.
For Shiri, that meant everything running on time and zero surprises during transit.
Shiri's move at a glance
| | |
| --- | --- |
| Move date | June 14, 2023 |
| Moved from | Tarzana, California |
| Moved to | Beaverton, Oregon |
| Distance | 955 miles |
| Move size | Three-bedroom, two-bathroom apartment (1,100 square feet) |
| Moving company | U-Pack Relocube |
| Moving quote | $2,540 |
| Actual cost | $2,540 |
Shiri got quotes from numerous full-service movers and container companies
Shiri had never planned a move of this magnitude before, so she took two-and-a-half months doing her homework. After checking Google, Reddit, and moveBuddha's post about the best moving container companies, Shiri made a list of potential movers.
At first, Shiri wasn't sure if she wanted a full-service mover or if a container company would be best. She started by gathering quotes from full-service movers to familiarize herself with the process.
All of the quotes were more than Shiri expected — she'd never planned a move of this size before, and the cost surprised her. But after gathering a few quotes from full-service movers, she realized she had a pretty good idea of the volume and size of her move.
Shiri used the full-service movers' estimates to submit more accurate quote requests with providers like U-Pack. This was a clever move that would later help Shiri book exactly the right amount of space.
She liked how clear U-Pack was about the different pricing options and square footage. While U-Haul was cheaper than U-Pack, Shiri would have been in charge of driving — and that didn't sound fun at all.
Ultimately, Shiri decided U-Pack was the right choice.
| | | |
| --- | --- | --- |
| Company | Estimated volume/weight | Estimated cost |
| U-Pack Relocube | 575 cubic feet | $2,540 |
| Budget Van Lines | 575 cubic feet | $4,350 |
| U-Haul | 575 cubic feet | $1,800 |
| PODS | 575 cubic feet | $4,800 |
Shiri chose U-Pack Relocube for its convenience, affordability, and customer service
89% of users select this mover
U-Pack ReloCube was the most budget-friendly option for the money. Shiri particularly liked the fact that U-Pack would move everything for her, so she didn't have to drive a U-Haul nearly 1,000 miles.
She also loved U-Pack's consistent and friendly customer service. They were one of the few companies that didn't pressure her, and Shiri appreciated that.
Shiri booked two ReloCubes for her move. U-Pack would drop the ReloCubes off at her house, give Shiri three days to pack, and return to transport the ReloCube to Oregon.
Shiri also hired a third-party moving company for loading and unloading. This can go well sometimes, but we generally advise people to hire a full-service mover instead of doing a piecemeal move to save a few bucks.
That's because a lot can go wrong during a move, especially when you have to juggle coordinating multiple companies. Sure, it'll save you some money, but it can also end up costing more in terms of time and effort.
Many people hire third-party labor to save money, but then experience damage and delays. If you don't want to worry about packing and loading, consider using a full service mover instead
Learn More
To prepare for the move, U-Pack gave Shiri a short checklist and packing directions, as well as a list of resources on its website. Shiri prepped for the move by selling larger furniture items that wouldn't fit in the ReloCubes. From there, she packed a little bit every day to be as ready as possible for moving day.
Moving day went quickly with U-Pack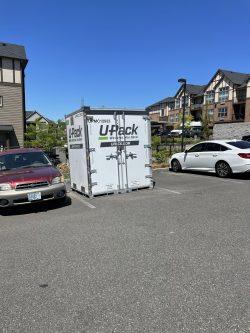 Before moving day, U-Pack sent Shiri her moving plan, which detailed her moving date and time, as well as the specs for the ReloCubes.
Knowing she had just three days to load the containers, Shiri soon realized she fell behind with her packing. She called U-Pack to confirm the due dates, but U-Pack was very accommodating and flexible.
They allowed Shiri to decide if she needed to push back her moving dates. Ultimately, she finished everything in time and didn't need to push back the delivery date, but she appreciated how U-Pack worked with her.
U-Pack called Shiri the day before delivery to firm up all of the details. They arrived at 4 PM on June 19, which was right on schedule.
Shiri helped U-Pack find a place for the ReloCubes, which took about 30 minutes. She admits it was a little challenging finding a place in the street to place the ReloCubes, but they figured it out.
Licensed
Insured
Price
rating
5 / 5
Check prices
Check Prices
93% of users select this mover
The third-party movers arrived on July 21 to help Shiri finalize packing the ReloCubes. She had a language barrier with a few of the movers, which made communication difficult. She also noted that the movers weren't as careful with wrapping and handling her stuff if she wasn't watching them.
All in all, it took the movers five hours to load the two ReloCubes, which took longer (and cost more) than Shiri planned because the movers charged by the hour.
Shiri did have one minor hiccup with U-Pack. They said they would call to confirm the pickup window to transport the ReloCubes, but that didn't happen. The driver called Shiri when he was outside of the building, which was a surprise.
While we understand why Shiri felt that way, it's important to remember that U-Pack is dealing with hundreds of moves every day in June.
This is peak moving season, so communication hurdles are more likely to happen with the higher volume of moves. If possible, try to move during the fall or winter.
Delivery was quick and efficient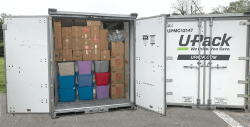 U-Pack provided Shiri with a tracking number during transit, but it wasn't working. If you want more accurate tracking during the move, place an Air Tag in each container to see its location in real-time.
U-Pack estimated it would take seven to ten days to transport Shiri's belongings. But on day five, U-Pack called Shiri to tell her the containers were ready for dropoff. Shiri loved the prompt delivery, which gave her more flexibility during the move.
U-Pack promptly delivered the ReloCubes to Shiri's address. Fortunately, Shiri had a better experience with the third-party movers she hired in Oregon. They unloaded the ReloCubes in just two hours, which kept Shiri's move on budget.
She did have to follow up with ReloCube to confirm when they would pick up the containers (again, a common theme if you move during peak season). She didn't have to be there for the pickup, which was nice.
Shiri's items all arrived safe and intact. She didn't have to pay U-Pack a dime more than their original estimate of $2,540.
However, the third-party movers cost more than she estimated, so the true total cost of the move was $3,960 when you account for labor.
89% of users select this mover
Our take on the move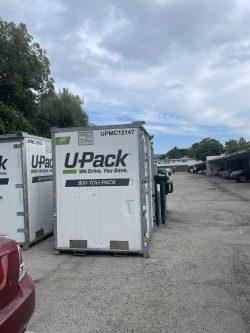 U-Pack did a great job with Shiri's move. Most of the hiccups that happened with U-Pack came down to moving during peak season.
To avoid communication issues, try to move during the fall or winter when moving companies have fewer moves. This way, they can dedicate more time and resources to your move.
Don't be afraid to be proactive, either. Shiri did the right thing by calling U-Pack any time she felt unsure or confused. This made for a smooth, hassle-free move.
Shiri did spend half an hour figuring out where to place her ReloCubes. This is something you need to do before delivery.
Moving container companies will provide container specs, so it's your job to find a delivery location before they show up. It's a good idea to get some traffic cones to block out parking areas, especially if you only have street parking.
Shiri also wanted more transparency during transit. It's common for tracking numbers to have a delay, so if you want more timely updates, place an Air Tag in your moving containers.
U-Pack was on-time and on budget for Shiri's move, which is the mark of a quality moving company. U-Pack managed to pull all of this off during peak season, too, which deserves a round of applause.
The verdict
Both Shiri and U-Pack did a great job with this move.
Shiri did experience issues with the company she hired for loading the ReloCubes. If you want loading, transportation, and unloading services, it's generally easier to hire a full-service mover instead of hiring different companies for each part of the move.
This worked out for Shiri, but other moveBuddha Better Move Projects participants haven't been as lucky. Shiri paid more for her loading crew because they charged by the hour, so it's best to go with a full-service mover if possible.
Shiri cleverly sourced quotes from full-service movers to get an accurate idea of the size and weight of her belongings. She used that information to book the right number of ReloCubes, which helped her save money.
All in all, Shiri would use U-Pack for future moves.
If you're planning a cross-country move, Shiri cautions you to focus on the packing process. Be proactive and use every spare moment you have to prep for pickup.
Here's how Shiri rated U-Pack's performance on a scale of 1 to 5:
Communication – 4
Timeliness – 5
Quote accuracy – 5
Overall experience – 5
Do you have an upcoming move? Share your moving story with the Better Moves Project to earn a $500 stipend. Sign up now.
Check out these helpful resources before signing off:
Not what you were looking for?
Check out other categories that can help you find the information you need!
See All
Hide All