Moving Experience: Ryan's Move with U-Pack & Mr. Car Shipper
Ryan and his family moved from Portland, Oregon to Westlake, Ohio in early June 2022.
Ryan considered his options and compared movers for nearly a month before hiring ABF U-Pack to move his household goods and Mr. Car Shipper to transport his vehicle.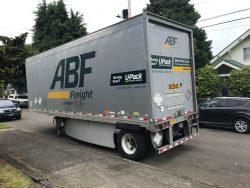 Rated the highest overall value among our Best Moving Container Companies, U-Pack offers the following:
Competitive prices
Nationwide coverage
8-foot ReloCube containers and 28-foot freight trailers to accommodate moves of all sizes
Customers only pay for the space they use, but typically, U-Pack only works for moves over 100 miles. This wasn't an issue for Ryan because he and his family moved cross-country.
To promote transparency in the moving industry and help anyone considering a move like his, Ryan participated in our Better Moves Project by documenting his experiences with U-Pack and Mr. Car Shipper.
In this post, we'll look at what went well (spoiler alert: nearly everything did), where improvements could have been made, and whether Ryan would use U-Pack and Mr. Car Shipper again.
Move day takeaways for U-Pack and Mr. Car Shipper customers
89% of users select this mover
Communication: Ryan was pleased with how U-Pack and Mr. Car Shipper communicated throughout his move
Pricing accuracy and transparency: Ryan's quotes were accurate, and he wasn't blindsided by any hidden fees
Professionalism: Each company met or exceeded Ryan's expectations
Timeliness: Ryan's household goods and vehicle were picked up and delivered on schedule
Loss and damage: Everything arrived in good condition
Would Ryan use U-Pack and Mr. Car Shipper again? Yes, he'd use both companies again and would recommend them to anyone planning a move like his
Long-distance moves with newborns aren't easy
Ryan, his wife, and their two kids made the 2,400-mile move to be closer to family and take advantage of Ohio's low cost of living.
Moving cost calculators are great budgeting tools for cost-conscious families on the move. Keeping expenses low was even more critical for Ryan because he was buying a new home, too. Luckily, his small shipment included miscellaneous furniture and approximately 75 boxes that only weighed about 4,200 pounds.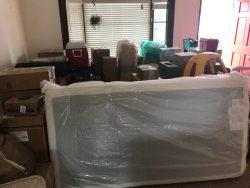 In addition to his family's comfort and safety, Ryan was concerned that:
His things wouldn't be picked up and delivered on time
He wouldn't have enough space on the trailer
His items would get lost, damaged, or mixed in with other shipments while in transit
Ryan prepared for his move by packing boxes and managing the stress the best he could.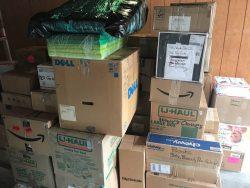 Ryan's move at a glance
| | |
| --- | --- |
| Moving from | Portland, Oregon |
| Moving to | Westlake, Ohio |
| Distance | 2,400 miles |
| Move size | 2-bedroom home, about 850 square feet |
| Moving companies | U-Pack and Mr. Car Shipper |
| Moving quote | U-Pack – $5,761.00 & Mr. Car Shipper – $1,625.00 |
| Actual cost | Mr. Car Shipper's quote was spot on, but Ryan paid slightly more than the estimate with U-Pack because the truck's built-in logistics tracks were spaced every other foot instead of every foot (more on this shortly) |
Ryan liked U-Pack's reputation, flexibility, and competitive quote
Licensed
Insured
Price
rating
5 / 5
Check prices
Visit Website
93% of users select this mover
Ryan and his wife relocated to Ohio well before their move date.
In the early going, they relied on moveBuddha and consumeraffairs.com to research options and vet prospective movers.
Ryan initially settled on 1-800-PACK-RAT after the company came through with a low quote of just $5,155. However, he changed his mind after reading in the contract that fuel surcharge and repositioning fees that weren't included in the estimate could increase his move cost significantly. PACK-RAT's representative offered to waive or discount some of these fees, but Ryan declined.
U-Pack's $5,761 quote wasn't the cheapest, but Ryan was impressed with the company's solid reputation and the positive reviews he found online.
In addition, Ryan liked that:
He'd only pay for the space he used on the moving trailer
He didn't need to worry about exceeding a weight limit on the trailer (unlike containers that have relatively low weight limits)
He could do almost everything online
He could put together a customized

hybrid move

by doing some of the work himself, leaving the driving to professionals, and hiring movers to help with loading and unloading
Ryan spoke with his insurance agent at Liberty Mutual and learned that his auto and renter's policy would provide limited coverage while his household goods and car were in transit, so he went with U-Pack's standard coverage.
Because moving heavy furniture and boxes isn't Ryan's idea of a good time, he hired Oregon Trail Movers to load the trailer in Portland. The company quoted Ryan $350 for a three-person crew for two hours. Ryan also hired movers to help with unloading in Ohio.
Most of Ryan's quotes were between $5,000 and $6,000
Ryan got quotes from four container companies and one full-service mover.
Here's how they stacked up:
| Company | Container size/estimated weight | Cost estimate |
| --- | --- | --- |
| Zippy Shell | 680 cubic feet | $5,009.00 |
| 1-800-PACK-RAT | 830 cubic feet | $5,155.25 |
| U-Pack | 864 cubic feet (space on a 28-foot freight trailer) | $5,761.00 |
| PODS | 835 cubic feet | $6,124.74 |
| North American Van Lines (full-service mover) | 6,500 pounds | $12,612.19 |
He also got these quotes to ship his car:
| | |
| --- | --- |
| Mr. Car Shipper | $1,625 |
| ACME Car Shipping | $1,675 |
Prices were higher than Ryan expected because fuel costs had increased since he got his quotes.
Each company communicated effectively before Ryan's move
Ryan's service providers contacted him before his move to confirm his reservation dates and details.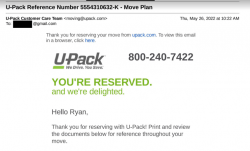 U-Pack's representatives answered Ryan's questions and provided helpful information about the following:
How much trailer space he'd need
How to load the trailer efficiently to maximize space usage and prevent shifting
Truck clearance requirements at origin and destination (though their trailers are 13 feet, 6 inches tall, U-Pack requires 14 feet of clearance)
Getting a street parking permit for the trailer in Portland
In addition to confirming his move details, Oregon Trail Movers accurately estimated how many moving blankets and cargo straps they'd need on moving day. Since the movers were loading U-Pack's freight trailer, Ryan was responsible for providing pads, straps, and stretch wrap.
Before move day, Ryan discovered a few drooping power lines while inspecting the truck's route to get to his home. Luckily, he got the utility company to raise them to at least 14 feet before the U-Pack driver delivered his trailer.
Move day couldn't have gone more smoothly
Ryan's service providers showed up on time on the appointed days.
Ryan wisely scheduled the crew from Oregon Trail Movers for the morning after the container was delivered. This is an excellent idea for hybrid moves because container companies often give customers wide service windows between 8 AM and 5 PM. Coordinating arrival times for two different service providers can be nearly impossible, and nobody wants to pay movers to sit around waiting for a container to arrive at origin or destination.
After sending Ryan a text with his ETA on the morning of May 31, the U-Pack driver arrived and dropped the trailer in front of his home. While the crew was loading, Ryan cleaned the apartment in preparation for the final walk-through with the property management company. Loading took an hour longer than expected, but Ryan couldn't have been happier with his crew's friendly demeanor and efficiency.
They put a minor chip in the front door, but the company owner said he'd gladly repair the damage when Ryan called in.
After loading, Ryan was surprised to discover that the logistics tracks in the trailer used for cargo securement were spaced every other foot instead of every foot.
Ryan loved U-Pack's "pay for what you use" policy. Still, he cautions other customers to take the logistics track spacing into account because he ended up paying slightly more than expected for floor space that he didn't use.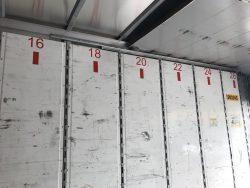 A week out, Mr. Car Shipper confirmed Ryan's services and dates by phone and email. The company also sent a detailed list to help him prepare his vehicle for transportation. Since Ryan and his family had already left for Ohio, he had a neighbor meet the driver from Diesel Express (Mr. Car Shipper's partner) on June 6.
The delivery process was nearly perfect
Diesel Auto Express delivered Ryan's car on time and in good condition just five days after pick-up in Oregon. U-Pack notified Ryan that his trailer had arrived at the local terminal 13 days after loading it in Portland.
However, when Ryan called to schedule the final delivery, U-Pack could only tell him that his trailer would arrive at his new residence between 8 AM and 5 PM. Ryan still hadn't heard from U-Pack by 4:30, and when he called for an update, he was told that the truck had just left the terminal and would arrive within the hour.
Unfortunately, there were low-wire issues in Westlake, too. Since Ryan couldn't get the utility company to raise the lines, he had to wait for the truck and lift them himself with a long-arm pool skimmer. We don't recommend this for obvious reasons, but as they say, you gotta do what you gotta do.
Thankfully:
The truck was able to drive under the wires
Ryan wasn't electrocuted!
The driver dropped the trailer in the perfect position to make unloading easy
Ryan's bulkhead and lock were intact
Unloading was fast and painless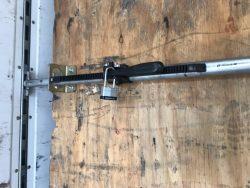 Ryan mowed the lawn while the movers unloaded the trailer.
That's multitasking.
A few things could have gone differently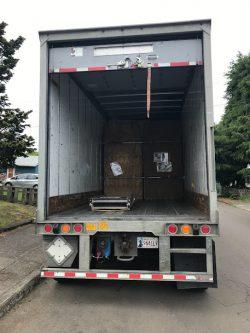 When it comes to moving, Ryan is one of the lucky ones.
Ryan's move was about as smooth as they get, but he wasn't thrilled about:
The nine-hour delivery window he got from U-Pack
Having to hold up utility wires with a pool skimmer (this wasn't U-Pack's fault)
Paying more than expected for a foot of trailer space he didn't use because the trailer's logistics tracks were every other foot instead of in 1-foot increments
The verdict – did Ryan's service providers make the grade?
89% of users select this mover
In a word – yes.
There weren't any big surprises or epic service failures, and all of Ryan's quotes were accurate. U-Pack, Mr. Car Shipper, and Oregon Trail Movers delivered positive moving experiences for Ryan and his family. Ryan felt U-Pack's quote was a bit pricey, but he got his money's worth in the end.
He'd use each company again and wouldn't hesitate to recommend them to anyone considering a move like his.
Ryan's advice for anyone planning a move like his
With his cross-country relocation in the record books, Ryan recommends:
Booking your move as early as possible (especially if you're moving during the peak summer season when capacity can be an issue)
Using a freight trailer because you only pay for the space you use
Taking the space of the bulkhead and logistics track positions into account when estimating space requirements and moving costs
Reading the fine print on contracts to make sure there aren't any hidden fees (there weren't any with U-Pack, but Ryan found a few on other company's quotes)
The downsides of freight trailers
Freight trailers are great options for DIY moves of all sizes.
That said, most have spring suspensions that can be tough on household goods. On the other hand, nearly all moving vans have much gentler air-ride suspensions. It's worth considering this if you're moving sensitive, fragile, and valuable items.
In addition, U-Pack trailers have deck heights of 48 inches. Trailers come with walk boards, but loading and unloading trailers is more difficult and dangerous than moving containers that rest directly on the ground.
Before signing off, check out these helpful posts:
Not what you were looking for?
Check out other categories that can help you find the information you need!
See All
Hide All