Cheapest Ways to Ship a Car Cross Country
For some, going the traditional route will be the cheapest way to ship their car. For others, thinking outside the box will be more affordable. See all of the cross country car shipping options you should consider.
While there are other options you should consider, the cheapest way to ship a car is usually open transport with terminal-to-terminal delivery. If you're moving, consider shipping your car with the moving company.
There is a lot more to this answer, however.
We will go deeper into all of the auto transport options you should consider, to have the best experience possible.
How Much to Ship a Car Cross County with a Car Shipping Trailer
Shipping a car by truck or by car carrier is by far the most common option. It's readily available and plenty of companies provide the service. Most cars shipped by car dealers are shipped by auto transport companies.
While it's the most common option, it not necessarily the cheapest way to ship a car cross county. In fact, the cost of shipping a vehicle by car shipping trailer can become expensive, if you require an enclosed carrier or door-to-door shipping.
The price of shipping a car with this option will vary depending on the options you desire. If you need a guaranteed pickup date, the cost will be higher compared to choosing a delivery window.
The cost to ship your car with this option will also depend on how far you're sending it. If you're going a shorter distance up to 500 miles, expect to pay about $2 per mile or around $600 for 300 miles.
When the shipping distance is between 500 and 1,500 miles, the cost is about $1 per mile. Longer distances of more than 1,500 miles will come in with a rate close to 60 cents per mile.
Prices vary from one carrier to another and the price goes up as you add options, such as specific delivery dates or an enclosed or open carrier.
Get a free quote from the best auto shipping companies to get a better idea of what your shipment will cost.
Drive or Tow it Yourself (Cheap, but Time-Consuming Car Shipping Option)
You can certainly drive or tow the car yourself instead of paying for a car shipping company. However, this option may not save you any money.
If you purchased a vehicle in another state hundreds of miles away, you will need to get there before you can drive the car home. This means you'll have to pay for airfare or you and another person will have to make the drive.
Costs can add up and will likely include:
Gas or airfare
Food
Lodging
Vehicle maintenance (if you drive)
Of course, handling auto shipping yourself will also cost you time. If you drive to pick up the vehicle, you will either need to rent a car dolly or trailer to tow the vehicle home. Bringing a second driver means you won't need to tow the vehicle, but you will need to pay for gas for both vehicles on the trip back.
Not all vehicles can be pulled with a tow dolly. If the vehicle you need to ship can be pulled with a dolly, you will need to rent one and you will need to have a vehicle capable of towing another vehicle. If the car you need to ship cannot be moved with a car dolly, you'll need to rent a flatbed car trailer.
The total cost to drive or tow the vehicle yourself varies, depending on your strategy. It will likely cost between $600 and $1,200 if the trip is more than 1,500 miles, plus your time.
---
Ship Your Car With Your Moving Company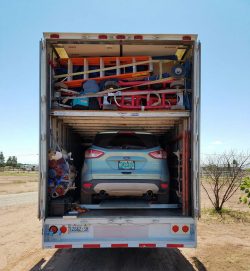 If you need to ship your car because you're moving, you may not need to hire a separate company. Moving companies also offer car shipping services. They may act as the broker between you and the car shipping company or they may actually offer the service as a part of moving cross-country.
This is exactly why you need to hire one of the best interstate moving companies. They will make sure you get the best all-around experience, including working with reputable car shippers.
A rogue moving company may just choose the cheapest car shipping company. Cheap usually means cutting corners and the cheapest car shipping company may not do it very well.
Sometimes, companies will actually ship the car in the moving truck! Ask your mover if this is an option for you.
---
How Much to Ship a Car Cross Country with Driveaway (Hiring a Driver)
Another rather popular choice for cheap car shipping is Driveaway or hiring a driver. When you hire a driver, you will be putting miles on the vehicle and you will be trusting someone else to drive your new vehicle to you.
Companies providing drivers do screen the drivers moving your vehicles. Some even require references and a deposit from each driver for your peace of mind. While this shipping option can be cheaper than a car shipping trailer, it comes with some risks.
During the summer it can be easier to find drivers as some will become drivers for a cheap way to get to a specific destination. However, drivers are not always readily available and you're taking the risk of a driver getting into an accident or having another issue with your vehicle.
Typically, the arrangement will have the driver paying for gas, food, and lodging, while the owner of the vehicle will pay for the insurance. When it comes to how much to ship a car cross county with Driveaway, the average will cost is about $1,100.
---
Shipping Car Cross Country by Train
One of the cheapest ways to ship a car is by train. It may only cost a few hundred dollars to move a vehicle by train, depending on the distance. If you need to move your vehicle more than 750 miles, this will likely be the cheapest car shipping option for you.
Just like the car shipping trailer option, the price will vary depending on the distance and the features you desire. For example, you may spend $1,500 to move a vehicle from Louisiana to Nebraska with door-to-door service if you ship by train. The price will be quite a bit less if you don't need door-to-door service or you don't need to move your vehicle as far.
One of the biggest benefits of moving your vehicle by train is the guarantee of an enclosed space. Most vehicles shipped by train will travel in enclosed cars. However, there are also some issues with shipping a car by train.
While the train is sitting at depots, vehicles may be vulnerable to vandalism. In addition, shipping by train may take longer compared to other options. Most train companies shipping vehicles intend the service for dealers moving many vehicles at once. It can be difficult to find an open spot and it's very difficult to ensure a specific shipping or delivery date.
Amtrak does offer a car transport service mainly for snowbirds. They can put their vehicle on the train and ride along from their destination to Florida or another popular winter destination. A trip from a station in Washington D.C. to a city near Orlando, Florida costs between $334 and $517 and takes about 18 hours.
How Much to Ship a Car Cross Country?
Answering this question depends on many factors:
Shipping option
Open or enclosed transport
Specific delivery date or delivery window
Door-to-door service or pick-up at a specific location
Distance
Type of Vehicle (SUV costs more than sedan)
The average cost of shipping a car cross country will range from about $500 to $1,500 depending on the options you choose and the distance of the trip. The cheapest option may not be offered in your area or may not provide the peace of mind you desire.
While handling car shipping yourself may seem like the cheapest option, it will likely be cheaper to ship your car by train if that's an option for you.
See Also: How to Ship A Car to Hawaii.