Will Moving Companies Ship My Car & Furniture Together?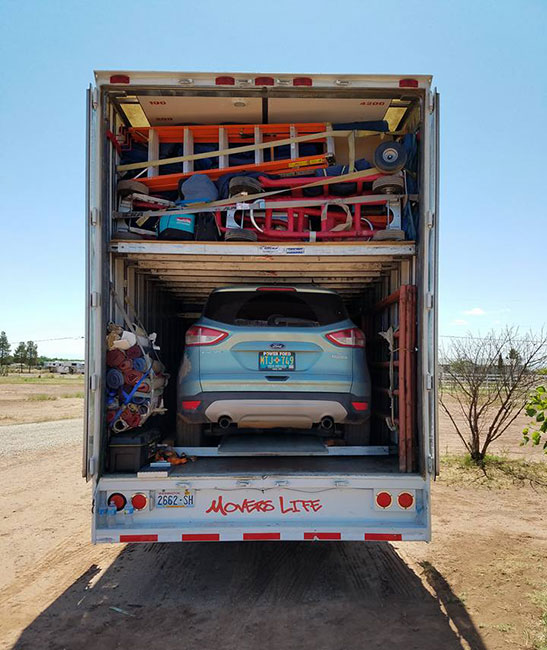 Moving across the country can be a
hassle
— and for a lot of people, the idea of needing to road trip to your new home can be undeniably daunting. Under certain circumstances, some moving companies will ship your car and furniture together. Assuming the company has the right equipment and expertise to ship cars, they may be willing to ship everything.
That being said, it's almost always more expensive to ship your car and belongings together.
Most of the time, you'll actually be able to save money by booking car shipping services separately.
Do moving companies even ship cars?
Cars require padding and special equipment to load into a moving trailer. While you can potentially load items inside your car, you can't stack stuff on top of them. Movers may use planks to try and recoup some of the area above the car, but even then, we're still talking about a lot of wasted space.
There's also the possibility of other items inside the moving truck shifting during transport. The last thing you want is for your couch to come crashing down on top of your classic car! Not to mention, certain types of vehicles, like SUVs and pickup trucks, probably aren't going to be able to fit inside a typical moving trailer anyway.
Because of these potential issues, movers generally suggest shipping your car separately.
The good news is that if you only want to work with one company for your move, you aren't necessarily out of luck. Manyreputable moving companies partner with licensed auto transport companies. While you'd still book your car transportation through your moving company, they would essentially act as a transport broker to partner with an auto shipper to transport your vehicle.
However, this often ends up being more expensive than if you were to hire a car transport service separately. The moving company will charge an extra premium for serving as an auto transport broker, resulting in a much higher car shipping quote than you'd get if you worked with a separate company.
Adding another provider into the mix can seem less than ideal. But this could easily lead to hundreds of dollars of savings, making it worth looking into.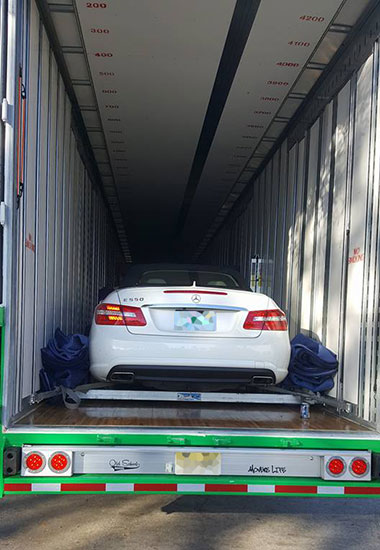 Pros and cons of different car shipping options
The auto transport industry offers a variety of options to move your car, whether you're going from Los Angeles to New York, or even all the way to Alaska or Hawaii! The following are some of the most common auto shipping services available — both when hiring car movers separately, or trying to manage everything through your moving company.
Open transport
Open carriers are what most people think of when they think of auto shipping. These large transport trailers are designed to haul several vehicles at once, in either a single-deck or double-decker configuration.
Open car carriers are generally more affordable than an enclosed trailer. However, your car is still potentially exposed to the hazards of the road, especially when it is stored on the lower portion of the trailer. That being said, your car still avoids the wear and tear it would get from being driven across the country.
Enclosed auto transport
An enclosed carrier offers added protection and privacy for transporting your vehicle. By storing your vehicle inside an enclosed trailer, you can have confidence that it won't get hit by rocks or broken into by vandals. This makes enclosed auto carriers an especially good option for luxury or classic cars.
Of course, with the added protection comes higher shipping prices. For most drivers, the added cost likely isn't going to be worth it.
Vehicle trailers
Towing your car on a trailer behind your moving truck is the cheapest option, but this is usually only an option for DIY moves. For example, you canrent an auto trailer from U-Haul to haul your vehicle behind your moving truck. However, these trailers have a weight limit of 5,290 pounds, and may not be suitable for larger vehicles.
Towing a vehicle behind the moving truck can be dangerous if you don't know what you're doing, which is why most people prefer to let a professional truck driver do the work.
Like open carriers, your vehicle is potentially vulnerable to damage from road hazards. You should also avoid packing items in your car when towing it on a trailer, as its contents could be more accessible to thieves.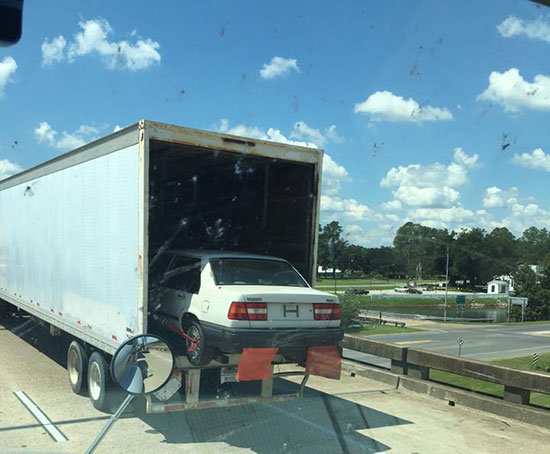 Some things to consider for vehicle shipping
Understanding the different types of vehicle shipping options your moving company or a car mover might offer is an important first step. But after you've decided how you want to transport your car, there are a few more things to be mindful of.
Our #1 Most Reliable Auto-Shipper
Ship your vehicle safely and easily
Get instant pricing for shipping your vehicle from Orland Hills to Orlando.
Check Prices
Selecting the best auto transport company
There's more to picking a car transport company than asking for a free quote. The best car shipping companies don't just offer your preferred type of car shipping services. They also offer adequate insurance coverage in case of damage to your vehicle during transportation. They have good customer reviews with the BBB and other reputable sources.
While you can certainly get a transport quote from your moving company for their car shipping services (when available), it's usually best to compare quotes from two to three other companies so you can see your options.
For example, while some auto shipping companies offer international shipping, as well as shipping to Alaska and Hawaii, others do not. Sherpa Auto Transport ships motorcycles and boats, as well as inoperable vehicles, while others only ship standard cars. Some transport carriers even offer a free car wash when your vehicle is delivered. Carefully review a shipping company's services to be sure they offer what you need!
Can you pack items inside your car?
Packing items inside your car can streamline your car shipping process and help you save space in the moving truck. However, it's not always the right option, particularly if you are using an open carrier or towing your car behind a moving truck.
The cargo insurance policy provided by most auto shipping companies does not cover personal items that you pack inside your car. Because of this, you should avoid packing valuable items inside your car, even when using an enclosed carrier.
Estimating car shipping costs
There are several factors that can increase or lower your transport costs. While many car shipping companies let you get an instant quote upfront through their website, you may need to call the shipper's phone number if you have speciality needs.
Your desired shipping experience will play a big role in your total costs. For example, if you select options like a guaranteed pickup date or on time, expedited delivery for your vehicle, you can expect to pay more. Alternatively, if you drop off and pick up your vehicle at the shipper's main hub or delivery location (known as terminal-to-terminal service), you can get a discount from typical door-to-door service.
Transporting specialty vehicles like classic cars or RVs may also result in higher costs due to increased carrier's insurance coverage or logistics needs.
As with typical moving companies, you can also expect your quote to vary based on the distance of your move, your starting and ending locations, and the time of year you are moving. Each of these factors can influence the demand for car movers — and higher demand means higher prices.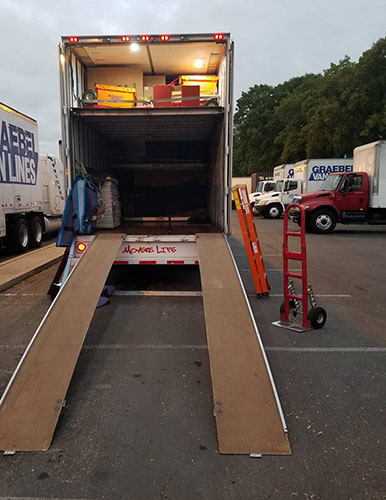 Figuring out your best auto transport options
Trying to get your car to your new home can be a hassle, especially for long distance and cross country moves. But with quality car shipping services on your side, relocating your vehicle doesn't have to be a major pain.
Not all movers offer auto transport services, but those that do can make it much easier to get everything to your new home. By evaluating your vehicle transport options, such as getting quotes from separate car shippers or seeing if your moving company also offers car shipment services, you can find the cheapest way to transport your vehicle and have peace of mind as you prepare for your move.
Not what you were looking for?
Check out other categories that can help you find the information you need!
See All
Hide All