AmeriFreight Review: Car Shipping Costs & Services
Overall Opinion: AmeriFreight goes above and beyond to make sure you get a great price. The company also has a fantastic reputation online, with great reviews and an A+ BBB rating. But their website is outdated and hard to navigate. Overall, we think AmeriFreight is definitely worth considering if you need to ship a vehicle, and we rated it 4 out of 5 stars.Be sure to check out our list of the best car shipping companies.

For 15 years, AmeriFreight has been offering hands-off, low-cost vehicle transport by shopping your quote to a number of shipping partners. AmeriFreight handles all of the details, and you just sit back and wait for your car, truck, boat, motorcycle, or other vehicle to get from Point A to Point B.

AmeriFreight is not a full-service mover, it's an auto shipper. Since most full-service moving companies don't offer vehicle shipping, so if your moving needs include shipping a vehicle (of any kind) to your new home, AmeriFreight might be the add-on service you need.

AmeriFreight is definitely a no-frills kind of business, which is both a pro and a con. It's dedicated to keeping prices low for its customers, but the cost of that is that the company's website is difficult to navigate and pretty lacking in information. For example, you can't find any specific information about the services AmeriFreight offers on its website.

But that dedication to low costs is definitely a positive for many movers. AmeriFreight offers a price matching program and a number of different discounts customers can take advantage of to help lower the cost of shipping their vehicle, and that's a huge plus.

AmeriFreight is an auto shipping business, so its offerings are limited. But for what it does offer, it's a solid, budget-friendly company that you should definitely check for a quote if you need to move a vehicle. That's why we gave AmeriFreight 4 out of 5 stars. Read on for our comprehensive review.
AmeriFreight Reviews: The Good and the Bad
If you need to move a vehicle as part of your move, there are a lot of options to consider. We think AmeriFreight is worth considering but weigh all these pros and cons first.
The Good: Price Matching and Discounts
AmeriFreight is dedicated to getting you the lowest possible price for shipping your vehicle. That includes a guarantee that they'll match a lower price if you find it — but only if it comes from a company that has an A+ rating from the Better Business Bureau and "above average" customer reviews, which is pretty subjective. Basically, AmeriFreight will match a lower price only if it comes from a shipping company that has a pretty stellar service record.
But that's not the only way AmeriFreight works to save you money. There are also a number of discounts available to qualifying customers.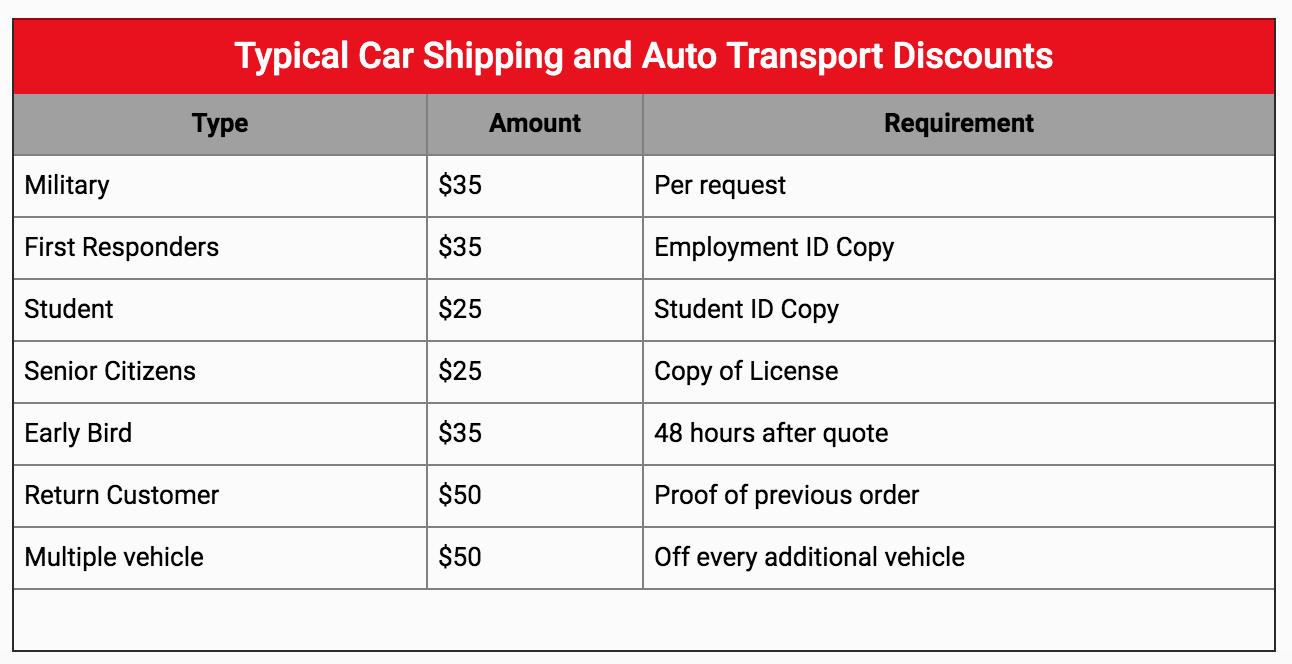 Keep in mind that there's a limit of one discount per customer (excluding the Early Bird discount, which can be combined with any other discount a customer qualifies for).
Basically, as long as you shop around and take advantage of any discounts you qualify for, odds are good that you'll get a very competitive price from AmeriFreight.
The Bad: Outdated, Confusing Website
Gone are the days when comparing quotes from moving companies meant calling them all on the phone. Today's customers want to be able to find the comparison information they need online, and AmeriFreight's outdated, bare-bones website doesn't make that easy.
You can get an instant estimate online, but the calculator for that is a little tricky to find — clicking "Instant Quote" will actually take you to a form that allows an agent to get back to you with a quote, not an instant estimate.
And the link in the menu for "Services" was actually broken at the time we were writing this review, so you couldn't actually see the page where AmeriFreight theoretically outlines all the services it offers.
We wish the entire site were better designed and easier to navigate because it would make finding information about moving with AmeriFreight much simpler to find.
AmeriFreight Reviews: Other Pros and Cons
There's a lot more to consider before hiring AmeriFreight to move your vehicle. Here are all the pros and cons.
AmeriFreight Pros
AmeriFreight Cons

Price matching and discounts make it easier to get a good deal.
Can ship just about any kind of vehicle, from cars and trucks to motorcycles to boats to RVs.
Damage protection plans allow 48 hours after shipping to inspect your vehicle and make a claim if needed.

Outdated website that's difficult to navigate.
You have to call to get an exact quote.
As an auto-shipper, services are limited.
Deposit required at booking.
AmeriFreight Services: Everything That's Offered for Your Move
Like we said, AmeriFreight isn't a moving company — it's an auto shipping broker. That means you can hire AmeriFreight to ship your vehicle, and AmeriFreight will shop the job to a network of freight drivers to find one who will take the job for the offered price.
With that said, AmeriFreight does offer a number of services to make shipping your vehicle as painless as possible.
Door-to-door deliveries
Your choice of an open or enclosed trailer
Insurance
Online price estimates
Shipping to Hawaii and Alaska
International shipping
One really nice thing about AmeriFreight is it can ship just about any kind of vehicle — cars and trucks, of course, but also motorcycles, boats or RVs. If you own those kinds of vehicles and you're moving, it might be tough to find a good option for getting them from your old address to your new one.
AmeriFreight's services can be added on to whatever other moving services you choose so all your belongings, including vehicles, make it safely to your new home.
Is AmeriFreight Furniture Shipping an Option?
In a word, no. AmeriFreight just ships vehicles, and while you may be tempted to lower the cost of moving the rest of your belongings by packing your car with items before it ships, that's prohibited. AmeriFreight asks that your car be clean and empty, or the carrier may refuse to dispatch it. You can transport up to 100 pounds of luggage with your vehicle for an extra cost.
How Much Does AmeriFreight Cost?
When it comes to shipping a vehicle long distances, it's hard to nail down an "average" price. And AmeriFreight operates as a broker, which means it shops your quote around to freight companies in its network to find one to take the job, which means AmeriFreight can't guarantee any prices.
With that said, AmeriFreight says it will likely cost between $450 and $2,000 to ship a mid-size sedan, in running condition, anywhere in the continental United States in an open carrier. Shipping the same car to Alaska or Hawaii will likely add $1,000-$2,000 to the price. Shipping in a closed carrier will increase the price by up to 80 percent.
Some other factors that affect the price of shipping a vehicle include:
Type of vehicle
Size of vehicle
Condition of vehicle
Type of shipping carrier
Whether the shipment is expedited
Availability of freight carriers on the needed route
Time of year
Gas/diesel rates
Pickup and delivery locations
The best way to get an idea of what your shipment will cost is to use AmeriFreight's Rate Calculator. Enter some basic information into the AmeriFreight application about your vehicle and moving needs, and the calculator will generate an instant price estimate, with an easy option to request a formal quote.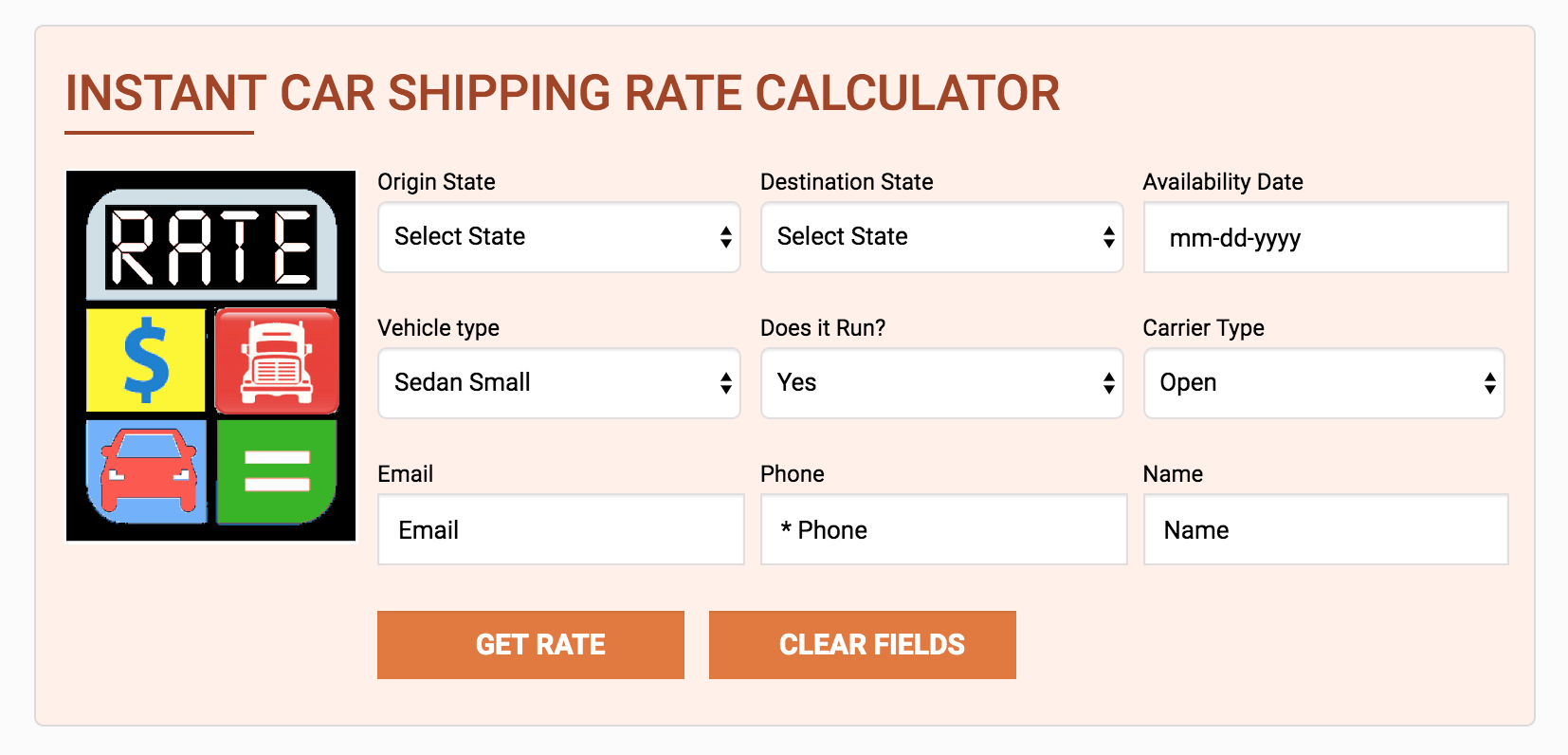 The quote may differ from the estimate, depending on what rate a service representative thinks a shipping company might accept for your needs. But online reviewers report that the difference between estimates and formal quotes is often small, sometimes just a few dollars, so it seems like the estimate will give you a good baseline for what to expect.
If you want to skip the online estimate process, you can always call the AmeriFreight phone number and go straight to the formal quote process. All the AmeriFreight contact information you need can be found here.
Getting a Quote and Booking with AmeriFreight
Once you request your formal quote from AmeriFreight, the company will get back to you with a number they think a shipping company will accept. There are a few different kinds of quotes available.
| | |
| --- | --- |
| Economy Saver Rate | This is a discounted rate at which AmeriFreight will try to find a carrier that will accept it. However, there's only a 30-50% chance a carrier will accept this rate, and it may need to be increased if it's not accepted. This is recommended for people who are on a tight budget without any serious time constraints. |
| Priority Preferred Rate | This is the average market rate for the shipment. There's a 95% chance a carrier will accept this rate, but still a possibility it will need to be increased if it isn't being accepted. This is the most popular type of quote AmeriFreight offers. |
| First Class Rate | This is a guaranteed rate. It will be higher than the other rates, but  AmeriFreight guarantees it will not increase, and that pickup will happen on a set day. This option is recommended for people with a strict time constraint or movers who need a fast, last-minute option. |
Once you choose what kind of quote you'd like, AmeriFreight will start shopping the job to its network of carriers. When one accepts the rate, you'll be able to review the specifics, like the pickup and drop-off dates and transit time, before you complete the booking.
One of AmeriFreight's biggest downsides is that the company requires a deposit at booking. You'll have to pay $250 when you complete your reservation.
If you need to modify your booking, like changing your moving dates, whether you can will depend largely on the carrier that accepted your booking. AmeriFreight promises to do its best to negotiated changes on your behalf. You can cancel a shipment at any time before the vehicle is picked up by the carrier, but if you cancel after accepting offers more than twice, you're not guaranteed a refund of your deposit. If you cancel after the carrier picks up your vehicle, you will be responsible to pay for the carrier's expenses, up to the full cost of the move.
You can pay for your shipment by cash (preferred) or cashier's check. You can also use a credit or debit card, but there are steep fees for doing so — 8.75% for a Visa or Mastercard, and 9.75% for any other card type. Payment must be made in full before your vehicle is delivered to its final destination, and generally, you'll be required to pay the full price of the shipment by 24 hours before the scheduled delivery date.
AmeriFreight Online Reputation and Reviews
With moving companies, you'll often find that online reviews are a really mixed bag. That's not the case for AmeriFreight — the company has a stellar online reputation.
Out of nearly 1,500 reviews, AmeriFreight has a 4.8-star average rating on Google.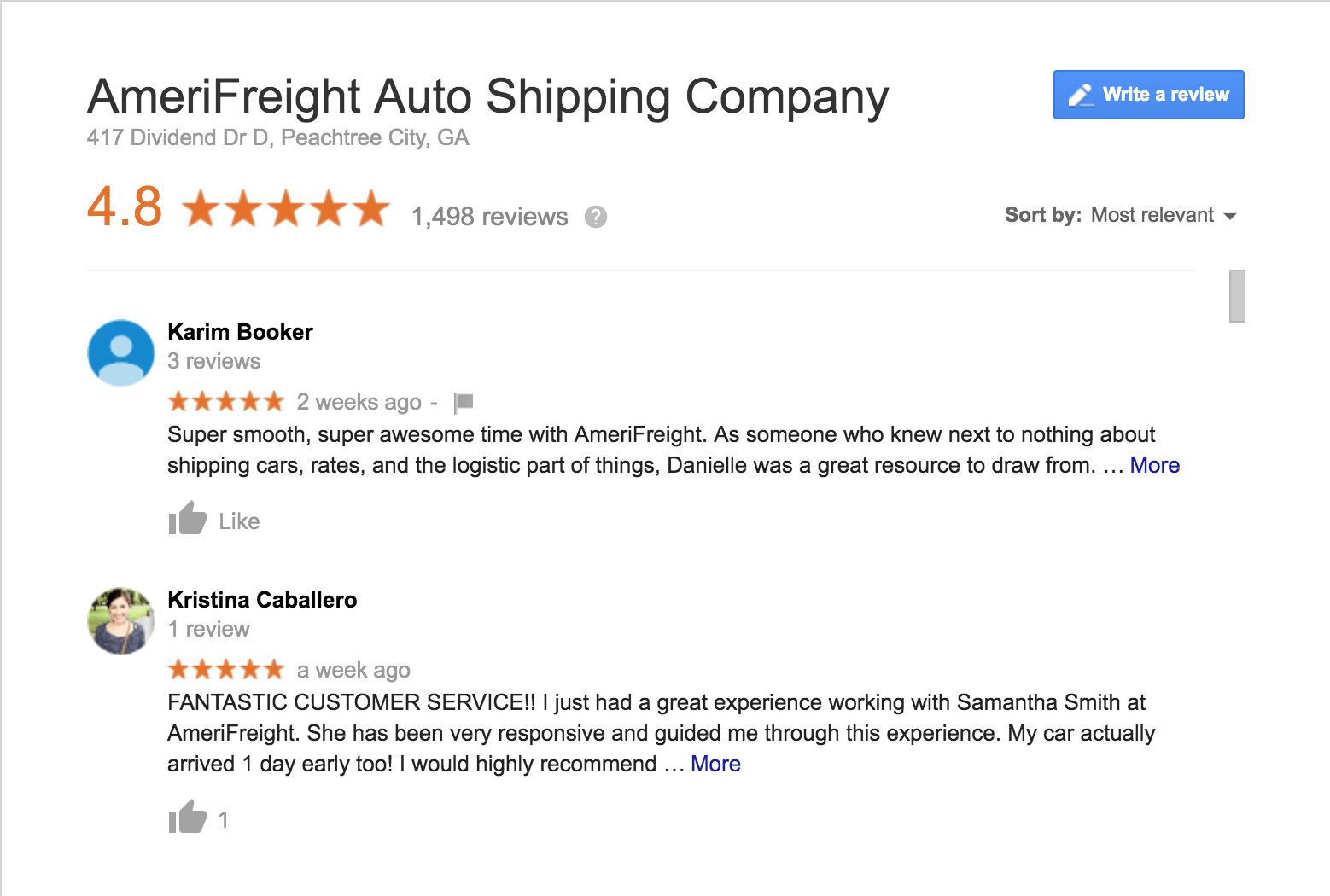 On the rare occasion that someone leaves a negative review, it seems like an AmeriFreight representative usually responds to the review to get more information and attempt to resolve the complaint.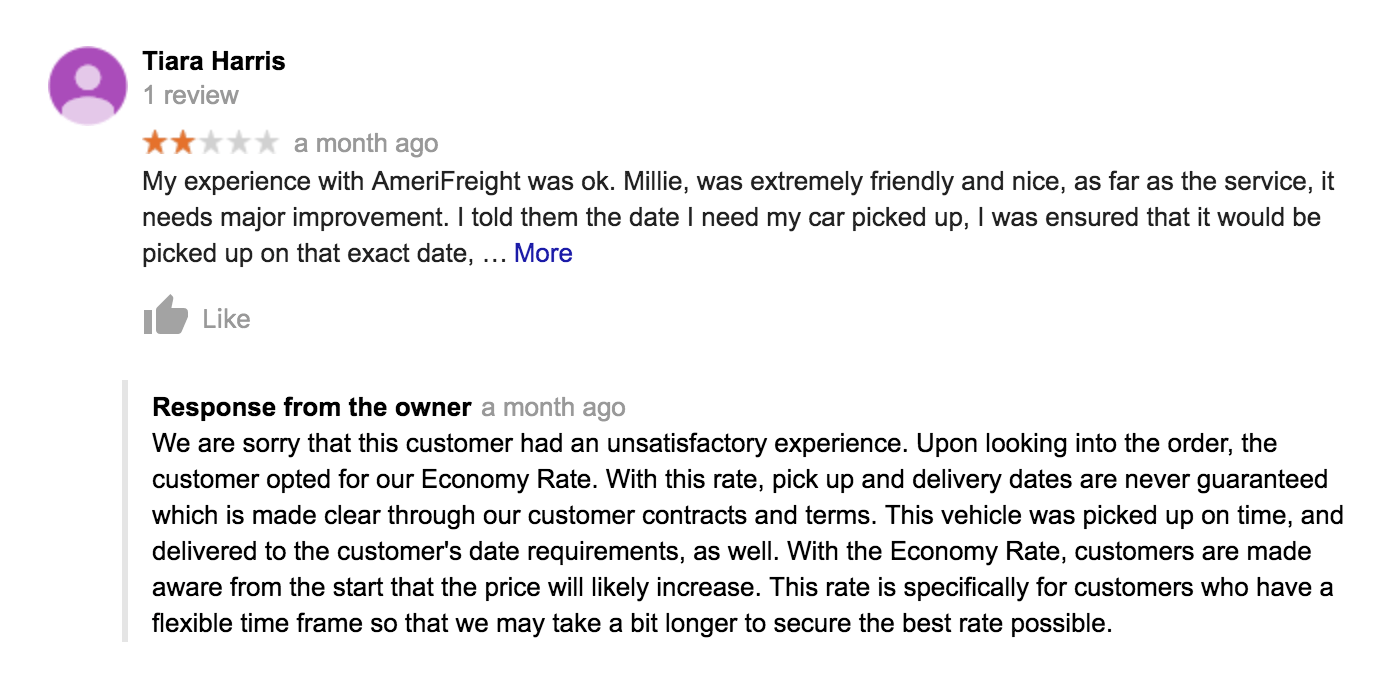 On the Better Business Bureau, AmeriFreight is accredited and has an A+ rating. Only four complaints against AmeriFreight have been filed with the BBB in the last four years, all for problems with a product or service, and all of them have been resolved by the company.
According to our research, the U.S. Department of Transportation Federal Motor Carrier Safety Administration has seen no complaints against AmeriFreight in the last four years.
Is AmeriFreight Right For Your Move?
AmeriFreight's services are limited, but it's clearly great at what it does offer, based on its stellar online reputation.
We think AmeriFreight is perfect for people who choose a moving company that doesn't offer vehicle shipping and need to add on services to move cars, trucks, boats, trailers, or RVs to their new home while the moving company handles the rest of their belongings. AmeriFreight's different quote types, discounts, and price matching mean it's one of the most budget-friendly options out there. These are the reasons we rated AmeriFreight #3 on our list of best car shipping companies.
Ready to book a company for your move? Compare prices and get instant quotes from multiple movers you can trust.
Not what you were looking for?
Check out other categories that can help you find the information you need!
See All
Hide All