Sherpa Auto Transport Review
Overall Opinion: Sherpa Auto Transport's marketing strategy is both wisely developed and somewhat refreshing in the auto transport industry. Brokers in the national vehicle (automobile) transportation business commonly operate using shady sales tactics that skirt the line of being dishonest. Sherpa promotes transparent and accurate pricing.Sherpa Auto Transport offers a Price Lock Promise that ensures the quoted price ends up being the final price. Although they have been in business for only a few years, online feedback shows they remain committed to high-quality customer service and are among the best options.Quick Links: 
Pros

Cons

Offers a Price Lock Promise that ensures that no unexpected pricing changes occur.
The Clean Car Guarantee ensures that the vehicle will arrive in perfect condition free from excessive dust and dirt, or Sherpa will give the customer reimbursement for a free car wash.
All carriers they use are thoroughly vetted and must carry a minimum of $1 million in liability coverage and $100,000 in cargo insurance coverage and formally include Sherpa Auto Transport as a certificate holder on these policies.

Car shipping services aren't currently available to Alaska, Hawaii, or any international destinations.
Terminal-to-terminal service is not available (exclusively door-to-door)
They don't offer services for transporting boats, motorcycles, RVs, or trailers
Don't offer storage services
Jump to the Sherpa Auto Transport review section that you're looking for:
About Sherpa Auto Transport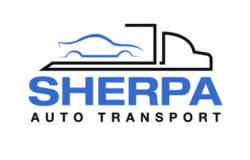 Founded in 2017 and based in Charlotte, North Carolina, Sherpa Auto Transport, LLC is a broker that specifically facilitates the transportation of cars, trucks, vans, and SUVs. The founder was inspired to create the company after having a very negative experience attempting to ship a vehicle.
The industry sees a lot of brokers that initially attract prospective customers by quoting very low prices and securing a deposit. Once the customer is "locked-in," these unscrupulous brokers inform the customer that the final price is higher, using one of several tactics.
Sherpa offers a broad range of auto transport services.
Open transport: The most affordable option involves transporting the vehicle in an open-air carrier. The primary downside is that the car will be exposed to the weather, dust, and possible airborne debris.
Enclosed vehicle transport: For an additional cost, customers can upgrade enclosed transport to have their vehicle transported in a fully enclosed car carrier. Enclosed trailers are recommended for antique cars.
Expedited transport services: For an additional cost, The company can accelerate the process of transporting the vehicle to the destination.
You can transport both operable and inoperable vehicles if they can brake, roll or steer.
Customers should prepare their vehicles and complete the following checks before pickup:
Provide all keys, including for the fuel door or trunk, if applicable
Confirm that fuel tank is at least ¼ full and any alarm system turned off
You should remove any aftermarket accessories and modifications and note them in writing
Confirm that tire pressure is sufficient and that doors, windows, brakes, and battery are functional
How much does Sherpa Auto Transport charge?
Their Price Lock Promise promotes transparency with no "bait-and-switch" tactics that ensure the quoted price remains unchanged. The organization doesn't advertise itself as the lowest priced or economy-oriented option; instead, they emphasize transparent pricing and excellent customer service.
Customers can either call the phone number directly for a rate quote or complete an online quote request form, and a representative will call. All formal quotes are all-inclusive. Prices are calculated based on a host of factors such as scheduling, vehicle size, weight, distance, and more.
Discounts may apply for students, military members, repeat customers, and those moving multiple vehicles; however, they don't present details regarding the discounts. Customers that choose the Carrier Payment option may qualify for a special rate when paying in cash or with a certified check.
The initial payment is made via credit card after they secure a carrier, and the balance is payable directly to the carrier upon the vehicle's delivery. Customers may also choose to pay the total amount via credit card (Mastercard, Visa, Discover, or American Express).
Cancellations made before a carrier is assigned are subject to a $25 fee. Cancellations after carrier assignment result in the forfeiture of any initial payment (deposit).
Visit their website (sherpaautotransport.com) or give them a phone call for a free quote based on your unique requirements.
What's Sherpa's customer experience like?
Some of their common customers are those who are moving, winter "snowbirds," military members that are relocating, car dealers, auto auctions, and those seeking delivery of a purchased vehicle.
Although they will facilitate transports on short notice, they advise customers to provide ample advanced notice for better scheduling availability and more favorable rates.
The carrier handling the transport will contact the customer roughly 24 hours in advance to confirm the pickup. Customers can access real-time updates on the vehicle during transport by contacting the service department over the phone. The carriers will provide a window for vehicle pickup and delivery of roughly 2-4 hours.
Customers must remove all personal items from the vehicle's interior, as the broker and carrier cannot assume responsibility for such belongings. Customers are encouraged to take photos or videos of their vehicle before pickup in the unlikely event of any damage during the car transport process.
If you notice any damage upon delivery, customers should put all details in writing on the Bill of Lading and promptly contact their office to initiate a claim. You must make all claims for damage no later than 7 days after delivery.
Any E-Z Pass or similar detectable toll collection device should be removed from the vehicle before the car shipment to avoid potentially incurring toll fees.
Customer support is available 7 days a week from:
Monday-Thursday: 8 a.m. to 9 p.m.
Friday: 8 a.m. to 8 p.m.
Saturday: 9 a.m. to 7 p.m.
Sunday: 10 a.m. to 8 p.m.
Overall, Sherpa has an outstanding online presence.
NOTE: Sherpa Auto Transport LLC should not be confused with Sherpa Moving and Storage, Inc., another DOT licensed company based in Oklahoma City, Oklahoma.
The company is registered on Google and has roughly 380 customer reviews with an overall star rating of 4.7 out of 5. A company representative does personally respond to any negative posts to resolve the problem.
On Yelp, Sherpa has over 60 4 or 5-star reviews, which is well above average on the platform.
The organization has accreditation from the Better Business Bureau (BBB) since 2018 and currently has an overall rating of A+. The BBB has received 4 complaints over the past 3 years and 1 complaint in the past year, which is impressive compared to most competitors.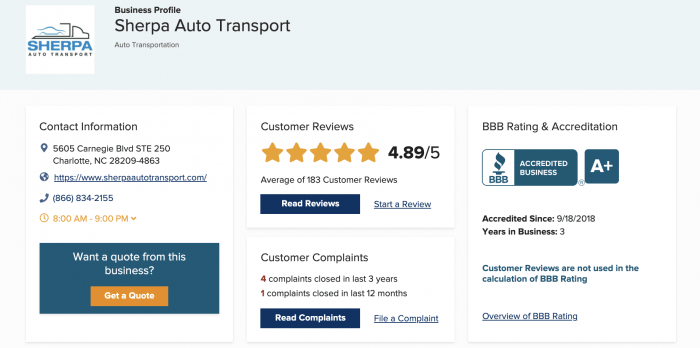 The following is a summary of the categories (nature) of the complaints received.
| | |
| --- | --- |
| BBB Complaint Types | Number |
| Sales or Advertising | 0 |
| Collections or Billing | 0 |
| Deliver-Related Concerns | 0 |
| Warranty or Guarantee | 1 |
| Product or Service Problems | 3 |
Is Sherpa licensed and insured?
The Sherpa Auto Transport company is a Federal Motor Carrier Safety Administration (FMCSA) licensed auto transport broker authorized for hire to transport motor vehicles. The company also maintains a bond as required for liability coverage. (MC#51106)
| | |
| --- | --- |
| Database | Listed (Y/N) |
| AI FMCSA? | Yes |
| SAFER FMCSA? | Yes |
| Licensing Insurance FMCSA? | Yes |
| Better Business Bureau (BBB) | Listed and Accredited |
Monster includes the federally mandated minimum valuation coverage for all transported belongings at no additional charge.
This provides coverage of .60 per pound per item up to a maximum of $10,000 without a deductible. For example, a customer receives $30 in compensation for a 50-pound piece of damaged or lost furniture.  Customers must complete a high-value article inventory form for any items valued beyond $100 per pound.
Additional Insurance is available for customer purchase from several sources. Full Value Protection is available directly through Monster or by using MovingInsurance.com up to 72 hours before your move. Full Value Protection requires written disclosure of the value of all items in the inventory. Pricing options may vary based on the deductible amount chosen.
Customers should review their existing homeowner's or renter's insurance policies to check if they include any moving-related coverage.
Should You Consider Sherpa for Auto Shipping?
Sherpa Auto Transport has developed a winning formula for differentiating itself from other third-party (brokers). They facilitate the transportation of passenger vehicles cross-country. Customers and provide an accurate initial quote. The motor carriers that they use have proper insurance and have reputations for honesty and reliability.
The company offers unique benefits that add value, such as their Clean Car Guarantee. Customer satisfaction levels are high, and Sherpa Auto Transport appears to be an excellent option if you want a stress-free car shipping experience.
For more help choosing the right vehicle shipping company, check out our complete list and reviews of the best car shipping companies.
Check out some other reviews of car shippers:
Not what you were looking for?
Check out other categories that can help you find the information you need!
See All
Hide All