5 Best Interstate Movers Of 2019
We researched over 500 interstate moving companies, cross-referencing verified customer reviews, license data, insurance data, and federal complaint records to find you the most trusted and reputable long distance moving companies in the industry.
#1 Best Interstate Mover 2019
Get a quote
Fast, easy, no commitment
(866) 212-1255
#1 Best Interstate Mover 2019
American Van Lines (USDOT# 614506) started in 1995 with only two trucks and a single location. The company has grown to become a nationwide mover with over 70 trucks servicing all 48 states. Despite their rapid growth, American still feels like a family owned business.
This year, Newsweek Magazine commissioned an independent survey and found American Van Lines ranks as one of America's Best Customer Service 2019 in the Moving Services category. Wow!
Their focus on customer service and affordable pricing put them at the top of our list!
Get a quote
Fast, easy, no commitment
(866) 212-1255
Get a Quote
Services
Professional Drivers
Packing & Unpacking
Loading & Unloading
Moving Supplies
Moving Insurance
Storage
The Good
Excellent customer service scores
Best pricing we've seen
Can handle last minute moves
Various options to get a quote (video, app, phone)
Private storage options available
Can handle antiques, pianos, fine art, etc.
Member of top industry organizations
The Bad
May require a deposit at booking
Customer Reviews
Washington, DC
South Texas
1 bedroom
1,600 mi.
$2,900
I googled American Van Lines and they had good reviews on Yelp and the Better Business Bureau. They were also responsive and gave me a reasonable price quote. Some of the other van line companies insisted on sending somebody to my house to do the measurements and the estimates in person which I didn't have time for but American Van Lines was able to do it when we needed to. The rep who assisted me with my purchase was helpful, responsive and she always called me back. She never left me hanging, which was rare. It was a great experience especially compared to the horrible experience with the other moving companies.
I was on the top floor of an old 1920's building in Washington, DC and they needed to move my one bedroom full of stuff. It was over 3,000 pounds of furniture and belongings, so they needed to move that out and down. Since I was in the city, they couldn't bring their semi-truck in, so they needed to go to U-Haul and get a shuttle vehicle to move all that stuff in. They were able to do all of that and then, they drove that 1,600 miles to South Texas. The crew was quick, pleasant, professional and good communicators. We liked them. The rep who assisted me with my move knew what I was talking about. She didn't get any of the information mixed up which could happen when you are coordinating a bunch of different moves for a bunch of different people. She was able to keep everything straight so, it was easy. I never feared when I called her that she didn't know who I was.
Lemoore, CA
Pompano Beach, FL
2 bedrooms
2,824 mi.
$3,000
I researched moving companies and I got American Van Lines on one of the searches I did online. They're about five miles from where I live and their rates were good, so I went with them. The moving coordinator had very good customer service and I was kept informed with everything. I moved from Reno to Lemoore, California first and I dropped off a bunch of stuff there. Then about a month later or six weeks later, I was moving stuff from Lemoore to Pompano Beach. On both times, the gentleman who loaded the trucks was very nice and there were no damage. The move to Lemoore was right on time. The other one, I expected to get my things about a week or a little sooner than what was written on the contract which is about three weeks but it took almost all that time to get here. But other than that, everything was fine.
Brick, NJ
Coconut Creek, FL
3 bedrooms
1,252 mi.
$6,900
I was moving from New Jersey to Florida. I knew somebody who used American Van Lines and this company came referred to them. Marcus, the moving coordinator, was wonderful. Whenever I left a message, he was able to call me back promptly. Like him, the consultant answered all my questions. Everything was explained thoroughly, as well, including the price. This was my first time doing a big move like this on my own, so as nerve-racking as it was, they were wonderful. And since I wasn't in my place, they knew I had a time to keep my stuff in storage for the month. We had that arranged and it worked out perfectly.
Boca Raton, FL
Bedford, NH
2 bedrooms
1,492 mi.
$3,800
Everything about our experience with American Van Lines was really good. We moved from Boca Raton, Florida to Bedford, New Hampshire, which was approximately 1,500 miles, and it took a couple of weeks. It was some time in the middle of August and we got our stuff towards the end of August. The leader of the crew that picked us up was the same guy who delivered our furniture, and he was really good. In some instances, he went above and beyond what would have been expected and we appreciated all of his help.
moveBuddha Review
As number one on our list, it goes without saying we really like American Van Lines (AVL). Unlike other large van lines, AVL has kept their operation lean. This allows them to offer high quality services at very affordable prices.
We can't focus enough on American's customer service. Every moving company is going to have some bad reviews. Mistakes happen, especially in the moving industry. But rarely do you see the owner of a large van line stepping in to make sure customers leave happy. Their focus on customer satisfaction is rare in the moving industry.
Other than great service and pricing, AVL is also able to accommodate last minute long distance moves. By using AI technology, they're able to give customers accurate and binding estimates in minutes. Their focus on efficiency allows them to service last minute moves other companies can't.
The only drawback we could find is sometimes AVL requires a deposit to book. We haven't seen complaints about this policy so it's safe to say AVL handles deposits fairly.
American Van Lines is an impressive company. The moving industry is changing. Costs are rising and a lot of moving companies struggle to offer competitive rates while maintaining service. AVL seems to have this formula figured out.
#2 Best Interstate Mover 2019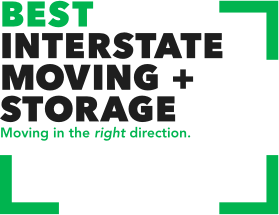 Get a quote
Fast, easy, no commitment
(888) 572-6831
#2 Best Interstate Mover 2019
Best Interstate Moving & Storage, (USDOT# 2903060), is the solution we've desperately been looking for in the moving industry. They make booking a move as easy and transparent as booking a flight.
Best Interstate partners with over 15 moving companies across the country. Their brokered network allows them to negotiate rates that no one else can. All while maintaining a high level of customer service.
Get a quote
Fast, easy, no commitment
(888) 572-6831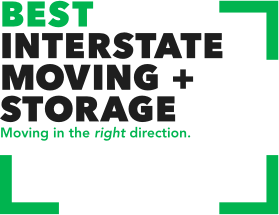 Get a Quote
Services
Professional Drivers
Packing & Unpacking
Loading & Unloading
Moving Supplies
Moving Insurance
Storage
The Good
Negotiates quotes on your behalf keeping prices low
$300 discount when using their AI-powered in-home estimate tool
Can service most domestic moves within 48 hours
Excellent option during peak demand times
Storage options available
The Bad
May require a deposit at booking
Interstate moves only
Quality can vary between carriers
Customer Reviews
Washington, DC
Philadelphia, PA
2 bedrooms
140 mi.
$3,450
Fantastic experience. I was able to get through on the phone to a live person when I initially called then given an account manager I could call directly which was helpful. We got our inventory done over the phone in less than 10 minutes and boom we were scheduled for a pick up window. The movers themselves were incredibly courteous and understanding. I don't like to sit around and watch so I helped where I could but when they knew something was heavy they insisted on moving it and my back has them to thank for not being sore next day. Everything came out of the truck safe and sound and they were very innovative in getting the large furniture up stairs and through small doorways. I was genuinely impressed by their swiftness and efficiency. The foreman was very easy to talk to when there were specific instructions I needed to give. Really a great, personalized experience that I will recommend.
Indianapolis, IN
Virginia Beach, VA
3 bedrooms
743 mi.
$6,900
We had our previous company fall through, and we found ourselves in need of a truck in 3 days, to move 730 miles! Mae was able to walk me through the process and get our inventory detailed. We set everything up on Friday afternoon around 3pm. Saturday we were in constant communication with Tequela. The movers (Helix) were supposed to arrive Wednesday, but the weather wasn't ideal, so Thursday morning two Helix movers were able to pack up the entire truck in 4.5 hours. They departed at 1pm and they were professional/well mannered. The next day, the crew of 3 delivering our belongings called with a delivery time of 12:30/1:00pm. They arrived at 12:30 and began unpacking. The only hold up was Best Interstate approving the payment amount because the movers were so fast! We got them paid, and they departed at 5:30pm with everything put together in the correct rooms. Tequela, again, was in constant communication and was able to answer any questions we might have. We will be buying a house next year, and this is the moving company we will use, and recommend to others.
3 bedrooms
1,082 mi.
$7,500
About 3 months ago my husband and I decided to move due to better opportunity. We had no time between trying to find a place, interviews, finding a great school for the kids so we came to the conclusion we were going to use a moving company. I reached out to a friend of mine who moved about a year back because I remembered her mentioning how great her moving company was. As soon as she told me the name I looked them right up and called, pricing was reasonable and so was delivery time. Only complaint I have is the three day pick up window but other than that everything went a lot better than I anticipated. Crew showed up on time, greeted me and my husband and did a walk through of the home with me. Very professional guys!! Clean cut with great attitude. On delivery our things arrived in the same condition they left in and they put everything where we asked. I appreciate Best Interstate and their hard working crew!! Thank you
Ann Arbor, MI
New Haven, CT
2 bedrooms
691 mi.
$4,100
Moved from Ann Arbor, MI to New Haven, CT in July 2018. Best was helpful, called several times to check inventory and ensure pick up and delivery went well. Was not happy with movers they picked. Insisted they arrive early to pack up our things and then arrived later than they said they would without providing explanation. Also charged more than price quoted by Best.
moveBuddha Review
A major cost for long distance moving companies is empty truck space. Anytime a mover has a truck running empty they're losing money. This is where Best Interstate Moving & Storage (BIMS) comes in.
BIMS has partnered with over 15 of the top independent moving companies in the country. They help moving companies keep their trucks full, and in return get access to heavily discounted rates. This means you can get access to some of the best moving companies in the country for a lower price than if you went direct. Think Travelocity, but for moving!
BIMS also makes getting an accurate quote easy. With their AI powered in-home estimate tool, you simply scan the rooms you're moving. Then artificial intelligence builds an inventory list of all your items. Very cool!
Instead of spending an hour on the phone walking around your house, getting a binding quote only takes 10-20 minutes. Best part, you can do it whenever is most convenient.
BIMS has access to a lot of truck capacity. Way more than the average moving company. This allows them to book interstate moves with only 48-hour notice. Best is also an excellent option if you're planning to move during the busy summer season when most movers are booked out.
Bottom line: we don't usually recommend brokered moving services like BIMS. While the idea sounds good, quality is usually an issue. But Best Interstate Moving & Storage seems to have finally figured this model out. They offer access to some exceptional moving companies at very low rates. BIMS has been a desperately needed solution in the industry and we're happy to give them the number 2 spot on our list.
#3 Best Interstate Mover 2019
Ekomovers (USDOT# 2460035) is one of our highest rated cross country moving companies because of their dedicated truck system and focus on customer service. They provide some of the fastest and most accurate shipping times for cross country moves in the industry.
Get a quote
Fast, easy, no commitment
Get a Quote
Services
Professional Drivers
Packing & Unpacking
Loading & Unloading
Moving Supplies
Moving Insurance
Storage
The Good
Single, dedicated truck per move
Fast, direct shipping to your destination
Coast-to-coast long distance moving services
Flat rate, competitive pricing
Accept all major credit cards
10+ years in business
Plant a tree for every move and utilize recycled boxes
The Bad
Larger moves may require 2 trucks
Require a 20% deposit to book
Customer Reviews
Pocatello, ID
Dunes City, OR
9,000 lbs.
752 mi.
$8,300
Excellent company. Packed the truck with great care - zero damage.
Pittsburgh, PA
South Jordan, UT
2 bedrooms
1,849 mi.
$5,500
They haven't responded to our request to pay for a few broken items, but other than that it was a great experience.
Boynton Beach, FL
Los Angeles, CA
1 bedroom
2,699 mi.
$3,800
Arlington, VA
Louisville, CO
2 bedrooms
1,676 mi.
$5,790
They were excellent to work with. Driver and helper were extremely careful and conscientious, worked quickly and fulfilled everything that they said they would. I would use them again and recommend them in a heartbeat.
Newport Beach, CA
Seattle, WA
1 bedroom
1,182 mi.
$4,380
We were very pleased with EkoMovers overall. Only one item was damaged. EkoMovers called about making the move earlier than we had scheduled, but they accommodated our need to move on the original date. We would definitely recommend them.
2 bedrooms
1,788 mi.
$6,455
I was very pleased with Eko Movers and am grateful to MoveBuddha for connecting me with such a great moving company.
We were very happy with EkoMovers. They were significantly cheaper than similar full-service movers, and we could not have been more pleased with their professionalism and service. They were consistently on time (early actually) and worked nonstop loading and unloading.
Oklahoma City, OK
Seattle, WA
Studio apartment
2,004 mi.
$4,800
EkoMovers got our business because they responded immediately by phone and email versus a few days later, & a week later for other companies. EkoMovers email was complete and included quote, moving checklist, insurances, moving rights & responsibilities. Especially appreciated that we had a dedicated truck. Sarah in the office, and Junior, the mover, were very pleasant to deal with. Our goods arrived in perfect condition as promised.
3 bedrooms
1,715 mi.
$9,800
Did bad job packing, ran out of boxes and tape and didn't go get any more. Didn't bring anyone else on moving day who was strong enough to load a truck, I had to call the company to get them to find another person to load the heavy items. One person just sat on her phone smoking all day.
Elizabeth B.
— Spring 2018
Park Ridge, IL
Clearwater, FL
4 bedrooms
1,206 mi.
$8,500
moveBuddha Review
While Ekomovers isn't a household name in the moving industry, their unique system of 26 foot trucks coupled with a focus on customer service has earned them the second spot in our interstate mover rankings.
Unlike traditional van line moving companies, Ekomovers uses a network of 26 foot trucks to service state-to-state moves. This means you get a dedicated truck with faster delivery times than most other long distance movers. Your goods are also never transferred from truck to truck, a feature we love about Eko.
The only drawback is for larger moves you may need 2 trucks which will increase your price a good bit. But speaking of pricing. Since you reserve the entire truck, Eko offers flat rate estimates and their pricing is very competitive with major moving companies.
We don't like the fact they require a 20% deposit to book the move. We also aren't thrilled the full valuation insurance is offered through a third party. However, we haven't seen a lot of complaints referencing these issues so customers don't seem to be finding them a problem.
Overall, we found Ekomovers to be a reputable and affordable option if you're moving out of state.
#4 Best Interstate Mover 2019
Braha Moving Systems (DOT# 2357509) is one of the highest rated long haul moving companies we've ever worked with. moveBuddha customers are always wowed by Braha's high level of customer service and attention to detail. Due to their smaller size, Braha is frequently booked up which is the only reason they come in at 5th on our list.
Get a quote
Fast, easy, no commitment
Get a Quote
Services
Professional Drivers
Packing & Unpacking
Loading & Unloading
Moving Supplies
Moving Insurance
Storage
The Good
High touch service
Very competitive pricing
1 month free storage offered
All major credit cards accepted
The Bad
Limited availability on long distance moves
Full value insurance is offered through a 3rd party
Customer Reviews
New York, NY
Ann Arbor, MI
The final price was exactly as they had stated, which was great- but there was some miscommunication around whether they accepted credit cards. Still, they did a good job and everything made it safely!
New Hyde Park, NY
Fort Lauderdale, FL
4 bedrooms
1,296 mi.
$9,600
Moving Buddha was a great help in assisting me with our move from New York to Florida. They made me feel comfortable and were knowledgeable about the moving market, including auto transport. They helped me in the selection of the most cost effective and responsible moving company. I decided to go with BRAHA. These guys were great and there packing was very diligent and organized. I would refer them again.
Charleston, SC
Chicago, IL
2 bedrooms
915 mi.
$4,100
Minneapolis, MN
Creve Coeur, MO
2 bedrooms
548 mi.
$4,549
Braha Moving Company was one of the best and most affordable options. Our movers were efficient, on time, and respectful. They took time handling our items with care. Would definitely recommend them.
2 bedrooms
1,018 mi.
$4,000
Everything went perfectly! I absolutely will use Moving Buddha and Braha Moving Systems again!
Normally I don't trust that online startups can deliver exactly on everything they promise, but this company truly goes above and beyond.
Chicago, IL
Vernon Center, NY
3 bedrooms
727 mi.
$6,400
We moved our 2 bedroom home and an extensive woodworking shop from Chicago to Upstate NY. Braha managed it all with minimal bumps, bruises, or breakage, and they did it for a price that was well below the competition. Our closing on the new property was also delayed by over two weeks and they were very flexible, keeping our belongings in storage for free during that time. Most of the employees speak English as a second language, but this didn't present itself as a major barrier in most cases, although sometimes all parties to the conversation had to explain ourselves a few times to get the point across.
Our experience was not without its hitches, but I've made a number of major moves in my lifetime and I've learned to keep my expectations realistic. For instance, they charged an exorbitant amount ($700) to the final cost when I asked them to take two rain barrels (50 gallons each). They added almost nothing to the overall weight and didn't take up that much more room. Nevertheless, we'd saved so much on their original price, I decided not to complain.
New York, NY
San Francisco, CA
Studio apartment
2,914 mi.
$3,800
They were incredibly responsive over email and phone and delivered the materials in the ideal time frame. I packed all the boxes but nothing arrived broken or damaged. Really happy you steered me towards them -- thank you!
moveBuddha Review
Braha Moving Systems is a relative newcomer into the long distance moving game, but the company was founded by industry veterans with ambitions to build a world class long distance moving company.
Despite their small size and brief history, customers absolutely love Braha. In fact, we probably wouldn't have even considered Braha for this list had it not been for the incredible number of overwhelmingly positive reviews we've received about Braha over the past 2 years.
The company offers affordable rates when compared to other, larger van line quotes. Something we can all appreciate considering how expensive moving is. And if you're in NYC, they also offer a month of free storage.
One drawback to Braha, due to their size they do have limited national coverage and availability for long distance moves. We recommend you submit your information to them well in advance. We also didn't like that Braha offers their full value protection coverage through a third-party insurance company. This tends to make submitting a claim more difficult, although we haven't seen any complaints regarding claims issues from Braha customers.
If Braha Moving Systems continues to offer such incredible service as they grow we could see them at the top of our list of interstate movers in a few years time. Absolutely get a quote from them.
#5 Best Interstate Mover 2019
Get a quote
Fast, easy, no commitment
(888) 317-5062
#5 Best Interstate Mover 2019
Air Van northAmerican, (USDOT# 70851), is an excellent choice for long distance moves. With over 85 years in business and a network of 1,500 local agents covering all 50 states, Air Van northAmerican is one of the largest moving companies in the US. They are also the highest rated nationwide moving company among moveBuddha customers.
Get a quote
Fast, easy, no commitment
(888) 317-5062
Get a Quote
Services
Professional Drivers
Packing & Unpacking
Loading & Unloading
Moving Supplies
Moving Insurance
Storage
The Good
Highest rated by moveBuddha users
Handle both local & long distance moves
Offer "Binding not-to-exceed" estimates
1,500+ locations covering all 50 states
Online shipment tracking
85+ years in business
The Bad
Need to book well in advance
Customer Reviews
1 bedroom
2,748 mi.
$7,000
North American was well worth the cost for a transactional move. Overall very pleased.
Greenville, SC
Los Angeles, CA
4 bedrooms
2,334 mi.
$4,378
Overall I had a good experience - the company was responsive and helpful, and I felt comfortable that they would deliver everything in good condition. They were quick to deliver my stuff, and gave me clear feedback on how I could minimize costs.
My contact there was also particularly helpful on the move in day when there was only one person moving in 90% of the stuff and I got worried about how he would handle the large furniture.
I have to say, it was a bit odd just to have one guy doing the majority of the work at the end, but he moved relatively quickly and someone did come help with the large items. In any case, I was able to call my contact and express my concerns, which were immediately addressed.
Fairfax, VA
East Lansing, MI
3 bedrooms
591 mi.
$8,515
The final price was below the estimate and the crews on both ends were very good.
2 bedrooms
1,388 mi.
$3,700
The insurance comes out with addition tax or fees, but not much though. Some minor damages and the claims take a few weeks and still waiting. Amazing driver took some extra leg work instead of charging me the shuttle fee, big savings there.
Anacortes, WA
Columbia, MD
2 bedrooms
2,834 mi.
$5,500
They were a day later than expected, but no big deal. Bad weather that they had to contend with. The whole team did a good job. I honestly am not sure that it all got here because a month later I haven't opened all the boxes yet. They properly adjusted the cost down when we shipped less than estimated.
moveBuddha Review
The results are in and moveBuddha customers love Air Van northAmerican Van Lines. We consistently see Air Van northAmerican earning top marks across the board, especially in the areas of customer service and honest pricing.
One thing we really like about AirVan northAmerican is the company offers "Binding Not-To-Exceed" estimates. These estimates give you the piece of mind that you won't be charged more than the estimate but also allow your price to be reduced later on if your move ends up being smaller they adjust the price. That's an honest estimate!
The company also has a huge array of services they offer including storage, fragile item crating, piano/hot tub moving, full packing/unpacking, and more. With 85 years of experience, there's nothing AirVan northAmerican hasn't moved at this point.
Something we found frustrating about North American is they book up quickly, especially during the summer. If you don't call well in advance (2 months or so) don't be surprised if they don't have any availability.
The top 5 interstate moving companies in 2019 are: