Western Van Lines Company Review
Overall Opinion of Western Van Lines: The company misrepresents itself as being a full-service carrier that uses labor that they employ and trucks that they own. They are actually a broker that contracts with third-parties to render all its services. Freight brokers are a norm for the industry; therefore, this misrepresentation is simply an effort to boost the organization's image in the eyes of potential customers.
Western Van Lines also has falls short in maintaining customer satisfaction. Their customer reviews are overwhelmingly negative with excessive delivery delays, unresponsive customer service, and disputes on pricing.
Compare Western Van Lines to the moving companies on our list of best interstate moving companies.
Jump to the Western Van Lines review section that you're looking for:
Western Van Lines: Moving Services Available:
This company asserts they are located in Boise, Idaho, and provides full-service long-distance moving and storage services for residential and business customers. Another company, Western Van & Storage in Kent, Washington, prominently denounces any affiliation with Western Van Lines on their website, as the two organizations are commonly misidentified.
Further, Western Van & Storage explains that Western Van Lines is a DBA name for Swift Van Lines. Several other websites also reference this Swift Van Lines/Western Van Lines affiliation and a photo on Yelp confirms this by posting a written contract.
Long-Distance Household Moves: The organization claims to have boosted its fleet of trucks to more than 40 to better ensure they can handle moving jobs—even on short notice.
Packing Services: Customers are encouraged to have all the packing of belongings completed by their professionals; however, it is not required. They will professionally pack all items using the appropriate materials to prevent damage during transport and even unpack the belongings after arriving at the destination.
Storage Solutions: Moving customers may be eligible for 30 days of complimentary storage. Longer-term storage options are also offered as well as climate-controlled units.
Corporate Moves and Relocation: Business customers have access to multiple dedicated trailers as needed for large corporate relocations or moving projects. Ample short-term storage space is available for companies who have a delay before their new location is available.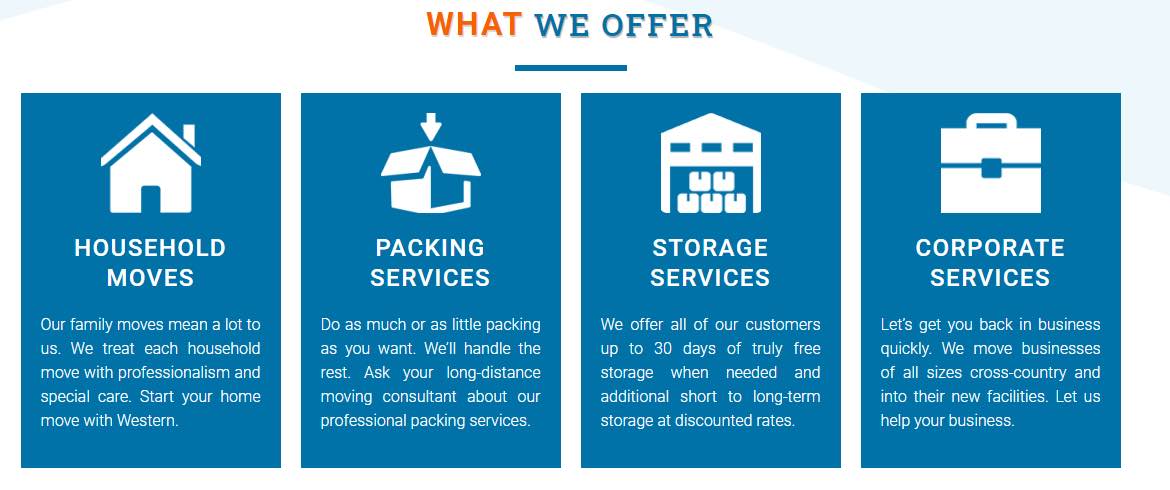 Western Van Lines: Pros and Cons Summary:
The Good: Offers Long-Distance Moving Services Nationwide
The organization is focused on long-distance moves and promotes a nationwide service area.
The Bad: Unethical Business Practices
The organization misrepresents itself as being a full-service carrier with an extensive fleet of vehicles. The reality is that Western Van Lines functions exclusively as a broker that facilitates moves using various carriers.
---
Pros:
Their webpage cites many years of experience in the industry and now boasts of completing more than 1,200 projects each month
They assert that all the work is performed by in-house staff using company vehicles
The organization claims to be very active in philanthropy by supporting Habitat for Humanity, The American Cancer Society, and other causes
Cons:
Does not offer local moving services or partial services such as labor only, truck rentals, etc.
International shipping services are not available
The website's free moving quote tool is generating an error message—not a good sign
The company address in Idaho is located in a building with a bank on the first floor and flexible and temporary office space upstairs (no suite # listed)
The company website currently is promoting long-distance moves for as low as $1,499. The online moving quote tool was inoperable. Estimates are available by calling their 800 number and speaking with a sales representative. They don't make any mention of available property coverage or insurance plans.
A disgruntled customer uploaded a written agreement she had completed for a move from Coral Springs, Florida to Breckenridge, Colorado in September of 2020. This document confirms that Swift Van Lines operates as Western Van Lines for business purposes and is located in Miami.
Payment Terms
Customers are required to make a 20% deposit using a credit card or money order to secure a reservation. Next, 50% of the remaining balance must be paid before the truck is loaded at the pickup location using cash, credit card, or a cashier's check. The remaining balance must be paid in full by the scheduled arrival date and before the belongings are unloaded.
An upfront deposit over 10% could be considered a red flag of a scammy moving company.
Standard Service (S.S.) vs Premium Guaranteed Service (P.G.S.)
The agreement specifies that the dates of pickup and delivery are not guaranteed. With S.S., the customer is provided with an estimated date of delivery; however, the carrier is afforded up to a maximum of 30 days to deliver the trailer to the destination. Customers may purchase P.G.S. for an additional charge to have a guaranteed delivery date.
This is among the core problems with their overall customer satisfaction. The sales representative is motivated to get the agreement signed and likely doesn't properly address the S.S. vs P.G.S. because the customer may be reluctant after realizing that the delivery date is not guaranteed.
Customer Reviews & Feedback
There is currently no Google review listing for Western Van Lines in Idaho or elsewhere.
The company has a rating of merely 1 of 5 stars on Yelp. Several customers complained of problems with receiving their shipments on time. In some cases, the items received belonged to other customers. A few customers made allegations that the company abruptly changed (increased) the price of the move after the truck was loaded.
The Better Business Bureau (BBB) provides some clarification regarding the organization, which is not BBB accredited and has an overall rating of a C. The company is listed as being headquartered in Miami, Florida and roughly 25 complaints have been logged in the last 12 months. Many of the complaints are scathing and suggest that the company lacks any shipment tracking methods.
The BBB has posted a consumer alert for Western Van Lines based on a lengthy "pattern of complaints." Two of the primary allegations involved price increases that were not disclosed in the agreement and cases where the customer didn't receive the belongings that were moved. In October 2020, the BBB initiated contact with Western Van Lines regarding these concerns and continues to monitor the organization's business practices.
Several BBB complaints alleged that the company representatives weren't promptly returning phone calls to customers who had not received their shipment on the scheduled date of arrival at the destination. In some cases, the customer was given conflicting reports on the status of the shipment by different customer support representatives. An unidentified representative from the company did respond to several of these complaints with very brief explanations.
Should You Consider Western Van Lines for a Move?
Western Van Lines has a lengthy list of customer complaints and shouldn't be considered as a viable option. No organization is expected to operate flawlessly at all times; however, this company seems to make bad situations worse. Many customers allege that the status of their shipments remains unknown for days and that company representatives make further promises that are not kept.
Customer feedback suggests that the organization presents itself well during the initial sales process. After the agreement is signed, they tend to show overall indifference and often escalate the customer's concerns. It is brokers like Western Van Lines that are largely responsible for giving this industry a bad reputation.