Perennial Van Lines Review
Overall Opinion
Perennial Van Lines a Florida-based broker that facilitates interstate residential and commercial moves.
The organization has been in business since approximately 2018 and has a decent web presence with a fair number of credible customer reviews or feedback.
Although their profile on the Better Business Bureau (BBB) suggests they have some room for improvement, they have consistently average to high ratings on their various review sites.
For even more long-distance moving companies, check out our list of the top interstate moving companies of 2021.
How does Perennial Van Lines Review compare to other professional movers?
Jump to the Perennial Van Lines Review review section that you're looking for:
About Perennial Van Lines Review
Based in Delray Beach, Florida, Perennial Van Lines LLC is a licensed broker authorized for transporting household goods and is properly bonded. They provide residential, corporate, and commercial moving services for people moving cross-country, but not locally. The company website (perennialvanlines.com) is easy to navigate and gives users some general information about their services but doesn't list many specifics about the company itself.
Offers interstate (long-distance) moving services to destinations nationwide except for Alaska and Hawaii
The website has some good free tips and other informational resources for people preparing for a move.
Does not currently offer local or international moving services
The website lacks detail, and its overall web presence boasts average reviews and ratings (Facebook, Yelp, etc.)
They don't mention the availability of customer insurance (valuation) coverage.
Perennial Van Lines Review offers a broad range of services
Residential moves: Customers will benefit from having an assigned coordinator that acts as a central facilitator of their move.
Interstate moving: They offer interstate (long-distance) moving services to destinations nationwide except in mainland USA.
Commercial moving and relocation: Business customers can choose many customized options for any company moving and relocation projects. They will provide packing, loading, and transportation of files, large equipment, and furniture. They have experience disassembling desks and large conference tables when needed.
Packing and Unpacking: Customers have the option of having the company provide professional packing and unpacking services.
Automobile transport: Perennial will facilitate the transportation of cars, motorcycles, and other vehicles.
Storage services: Temporary storage options are available; however, no specifics are listed regarding storage.
Piano moving: They have the training and specific staff to move pianos and similar oversized, valuable, and awkward items.
Boxes and packaging supplies: Provide high-quality boxes, packaging material, and other supplies needed to transport belongings safely
Custom crating: Professionals will create customized wooden crates to prevent any damage to specific items.
How much does Perennial Van Lines charge?
Prospective customers can receive a free "express quote" using the form on their website, which requires speaking with a representative. 
The company positions itself as a hassle-free option for movers and does not actively promote itself as specializing in offering the lowest bottom-line prices.
Customers are eligible for a refund of their deposit if they notify the organization using [email protected] within 24 hours after placing their order.
Deposits are non-refundable if the anticipated pickup date is less than five business days away. Deposits will remain on file as a credit toward a future move within 12 months if you cancel beyond the refundable 24-hour period.
To finalize a moving order, customers can use the website payment tool for making their deposit via credit card or electronic check.
Does Perennial Van Lines have a good online reputation?
Perennial Van Lines currently has a Better Business Bureau (BBB) rating of B-. They are listed as having been in business for two years and are not currently BBB accredited.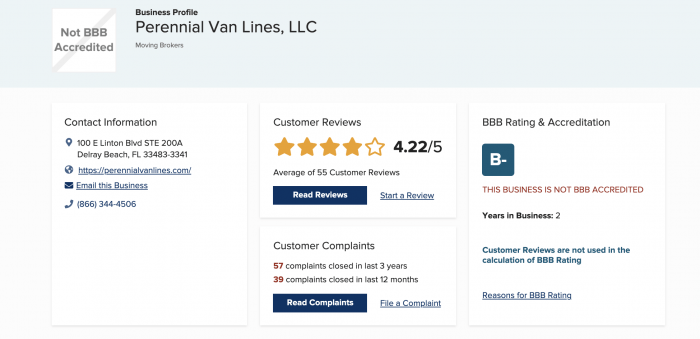 The BBB has received approximately 57 complaints in the past three years and 39 over the past year.
The following is a summary of the categories (nature) of the complaints received.
| | |
| --- | --- |
| BBB Complaint Types | Number |
| Sales or Advertising | 12 |
| Collections or Billing | 2 |
| Deliver-Related Concerns | 14 |
| Warranty or Guarantee | 0 |
| Product or Service Problems | 29 |
The company does have a business profile on Google with nearly 500 reviews and an overall rating of 4 out of 5.
They also have social proof on their website, boasting 5-star reviews on Google and Facebook. They do not appear to have a Yelp profile.

The company website features graphics suggesting they have a Price Plus Promise and Friends Program, but the links do not take you to a window or page that explains them.
Is Perennial Van Lines licensed and insured?
Perennial Van Lines Inc is a moving broker licensed by the Federal Motor Carrier Safety Administration (FMCSA) to transport property and household goods. They do have a bond in place as necessary for liability insurance.
They don't provide much more information on their own website about their registrations.
| | |
| --- | --- |
| Database | Listed (Y/N) |
| AI FMCSA? | Yes |
| SAFER FMCSA? | Yes |
| Licensing Insurance FMCSA? | Yes |
| Better Business Bureau (BBB) | Listed (Not Accredited) |
For more information on how moving company regulations, and why we choose to look at these databases, check out our post on how moving companies are regulated. 
Should You Consider Perennial Van Lines for a Move?
Perennial Van Lines is an emerging moving broker that seems to be experiencing some growing pains, as is reflected in their BBB profile. While they might be a convenient option for people living in Florida, it's essential to research and decide if they are a company you want to work with.
For more help choosing the right moving company and to get a free moving quote, check our picks of the top-rated interstate moving companies.
Check out other reviews of some of the best movers:
Not what you were looking for?
Check out other categories that can help you find the information you need!
See All
Hide All