uShip Review: Costs, Services, and Reputation
Here's the bottom line: uShip is great for shipping cars, animals, and large objects if your timeline is flexible and you're willing to wait for a good deal, but we don't recommend it for moving your whole home.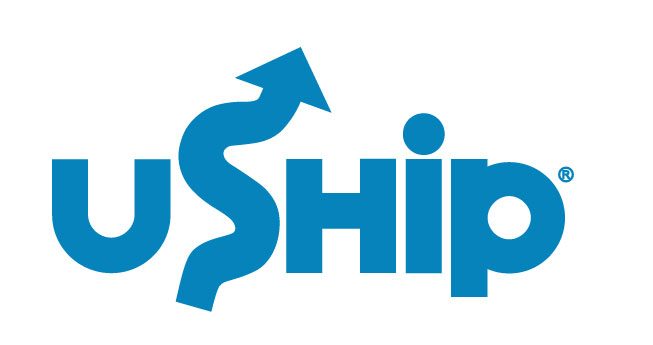 Licensed
Insured
Price
rating
3.9 / 5
Check prices
Check Prices
93% of users select this mover
At A Glance
Online marketplace that connects people with movers and transporters
Multiple providers compete for your move by offering bids or name your own price
Make complex moves simpler and more organized
Secure payment methods once you choose a driver
read our full review
Check prices
Check Prices
93% of users select this mover
Moving comes with a lot of variables: the distance you travel, how many boxes it takes to pack up your home, what they weigh, and whether you hire a packing crew or do it yourself, to name a few. But there's one truth that seems to be consistent across all moves — there are a lot of details to figure out.
Because moving requires a lot of emotional and financial resources, uShip aims to streamline the process at a competitive price point. Think of uShip as a shipping broker. They connect you with moving service providers without the hassle of you calling and requesting quotes from everyone.
uShip allows movers to rent extra truck space at discounted rates. That means shipping space that would otherwise go to waste gets filled, putting some extra cash in your pocket. And you can get an extra budget-friendly long-distance shipping option to take your household items from Point A to Point B.
For larger moves, uShip isn't a great option. You're probably better off using a long-distance moving company or renting a moving container. The leftover truck space offered by uShip isn't usually enough to accommodate all your stuff unless you move a small apartment's worth of belongings.
Plus, you have to work with the truck driver's existing schedule, which may not fit the timeline for your move if you have deadlines or constraints.
Overall, uShip is awesome if you want to ship your car or piano across the country, but it might not meet your needs for a larger move.
For those reasons, we gave uShip's service a 3.5 out of 5 star rating, which earned its spot as one of our 5 best car shipping companies.
Keep reading our comprehensive uShip review to dig into the pros and cons of working with a moving broker service, what you can expect from the process, and the shipping options available.
Pros & cons of moving with uShip
Perfect for shipping cars, single furniture items, pianos, boxes, large items or equipment.
You can find deals that are significantly cheaper than booking directly with moving companies.
Can help you organize multiple parts of a complicated move.
Provides a secure way to pay your driver once you choose one.
You have to work within the timeframe and space a truck driver already has available.
You don't know what prices you can get until you get a bid or someone accepts your offer.
Drivers aren't always professional or reputable.
You may not find a driver and route that fit your moving needs, which leaves you back at square one.
89% of users select this mover
Key takeaways
uShip (US DOT #: 2998976) is an online marketplace of independent movers and moving companies with extra space on their trucks to transport additional items.
Due to its marketplace concept, uShip can be more affordable than full- and self-service moving companies, but customers are limited to the truck's existing route and schedule.
Customers can compare bids and shipment details in real-time, making it easy to shop around and find the best moving services.
Jump to the uShip review section that you're looking for:
uShip pricing: How much it costs to move
Long-distance moves are rarely cheap. The average cross-country move using a moving company costs around $4,700. With uShip, you can ship your belongings across the country at a much more affordable rate.
uShip isn't a moving company —it's a shipping marketplace that connects people who need to transport things with truck drivers with extra space on their rigs. If you can find a reputable driver with enough space for your stuff and travel plans that fit your move, you can save money when compared to other moving service providers.
Looking for a full-service moving company instead? Check out our list of the best interstate moving companies.
Learn More
uShip doesn't offer quotes except for car shipping. Instead, you can make an offer for how much you want to pay for the move and wait to see if a driver will accept it, or you can accept bids from drivers who can transport your things. For this reason, shipping costs can vary tremendously, and they're difficult to estimate.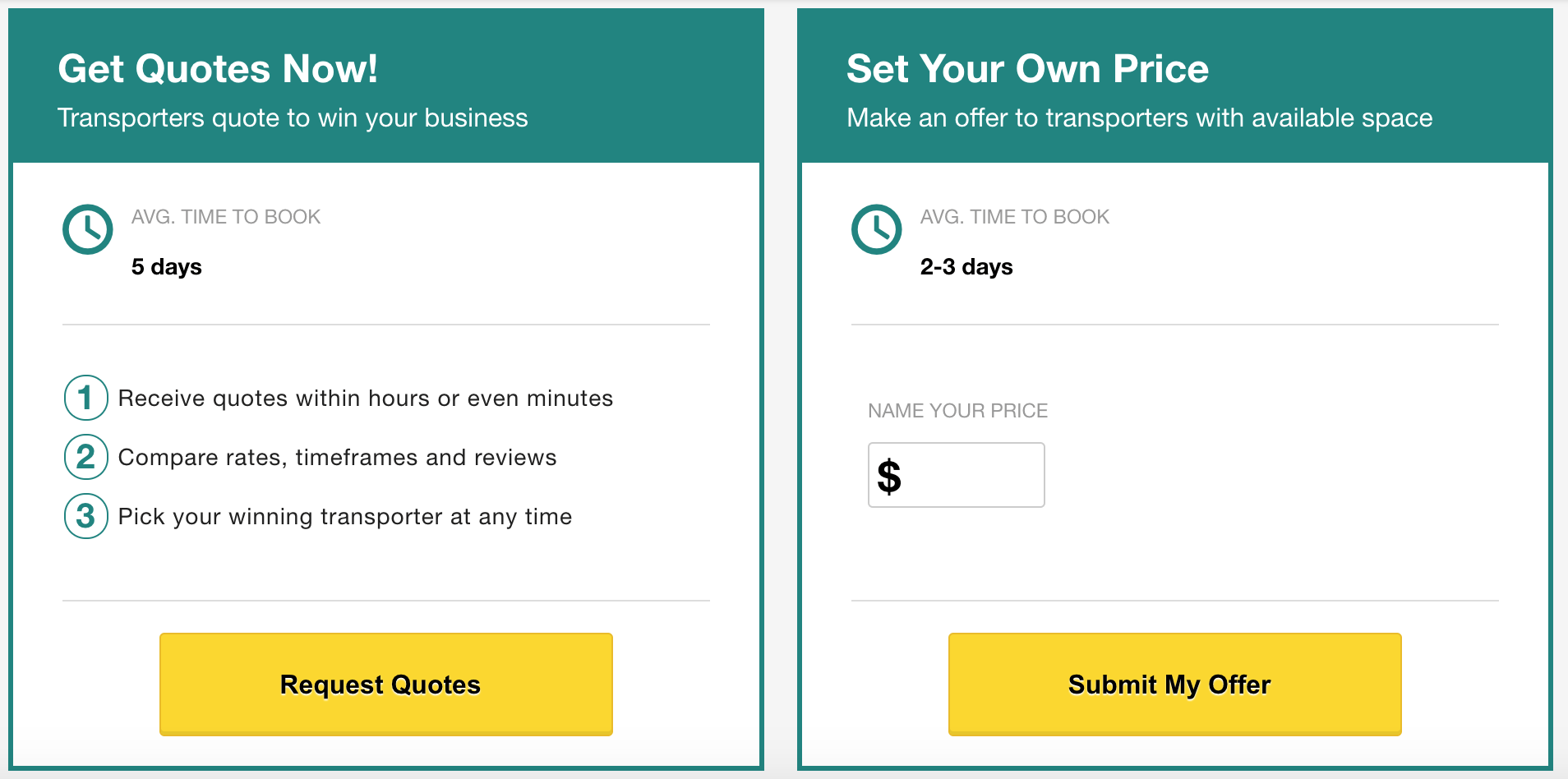 For example, we saw one listing for moving 20 boxes from Meridian, Idaho, to Santa Ana, California, which is a total of 854 miles. The listing had two bids: $275 and $563. That's a great deal! Hiring a moving company to ship 20 boxes that distance will likely cost considerably more (closer to $1,200, on average). As you can see, if you find a truck driver who can meet your moving needs, there's a huge potential for savings with uShip.
One thing to watch out for is that uShip adds a service fee to your quoted rate. The company doesn't disclose the fee for some shipments until the check-out process. That fee can range from $25 to $150, so we wish uShip was more transparent.
For service requests, such as shipping a single couch, uShip will provide a graph showing the low, average, and high shipping prices people have paid for similar items. For home moves, it doesn't provide that information.
Below are some of the price ranges we found from quotes on listed moves. Keep in mind that prices are entirely up to the providers. As such, costs can vary greatly.
| | | | |
| --- | --- | --- | --- |
| | 1 Bedroom | 2-3 Bedrooms | 4-5 Bedrooms |
| LOCAL MOVE | $275 – $600 | $350 – $725 | $1,200 + |
| < 250 miles | $400 – $1,000 | $1,250 – $2,500 | Not enough quotes to find a good range |
| Cross country | $580 – $2,500 | $2,500 + | Not enough quotes to find a good range |
If you're thinking about listing a move, we always recommend taking a look at our moving cost calculator, so you're armed with comparable estimates for your moving needs.
uShip offers a wide variety of services
89% of users select this mover
uShip isn't just for moving ordinary household items. It originally made a name for itself as an auto transport company and marketplace, but it's grown to offer various shipping services.
Now, uShip allows people to make listings looking for transport basically anything, including (but not limited to):
Vehicles
Motorcycles
Recreational vehicles (RVs)
Boats
Household items
Large pieces of furniture
Freight
Animals
Heavy equipment
Jacuzzis and hot tubs
You can list pretty much anything you need transported on uShip's marketplace and it's up to shippers to decide if it fits their existing schedule and space limitations. But it's important to note the caveat that there's no guarantee a truck driver will bid on or accept the shipment.
With that said, uShip isn't a full-service moving company, so you're not likely to find packing or extra services. If you want packing and loading services at a more affordable price point, we'd recommend a service like HireAHelper over uShip.
Is Insurance included in a uShip move?
Insurance coverage is up to each provider on the uShip marketplace, and it's your responsibility to ensure your driver is adequately insured before you hire them. You can contact your insurance company to determine your coverage if you have an existing homeowners or renter's policy.
If you don't have a homeowners or renter's insurance policy to protect your belongings in transit, uShip partners with Roanoke Insurance Group to provide optional cargo insurance. The cost for coverage depends on the value of the goods you're insuring, which you'll enter at the time of booking. Deductibles may vary.
The Ship with Confidence Guarantee provides extra peace of mind if you don't have a Protection Plan for your shipment. If you don't receive services or your items are delivered damaged, uShip may reimburse up to $500.
89% of users select this mover
How uShip stacks up against the competition
uShip acts as a go-between between you and a third-party provider that transports your belongings, but it's not really a substitute for full- or even self-service moving solutions. If you have complicated needs or a strict timeline, we'd recommend one of our preferred interstate moving companies like International Van Lines or American Van Lines.
uShip is, however, an excellent and usually affordable option for moving a few items, especially over long distances.
While uShip allows users to leave reviews of those providers on its website, it's ultimately up to you to research the person you're hiring. Unfortunately, the company doesn't do background checks on its movers, so some customers may have fallen victim to scams.
On Trustpilot, uShip is rated 4 out of 5 stars, with more than 90% of the reviews calling the company "excellent" or "great." Most negative reviews center around people having problems with the shipping providers, not uShip. uShip responds to most negative reviews with additional customer support avenues.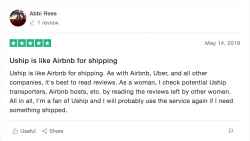 uShip has been accredited with the Better Business Bureau (BBB) since 2005 and has an A+ rating. However, there have been 49 BBB complaints filed against the company since 2019, Of those, the company only resolved 18 complaints to the customer's satisfaction.
All we can say is do your research to vet your driver before you pay them or hand over your belongings. uShip might be a legitimate company, but it doesn't do much legwork to ensure its customers have a satisfactory experience.
How moving with uShip works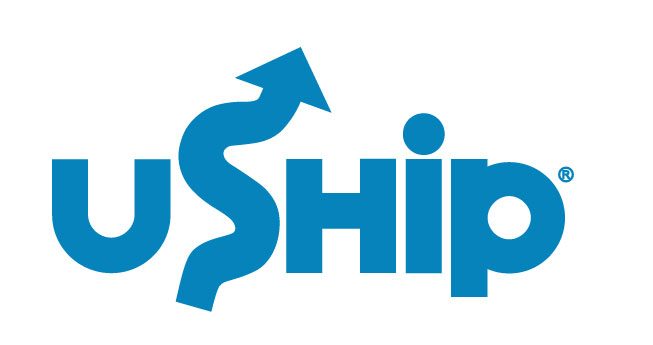 Licensed
Insured
Price
rating
3.9 / 5
Check prices
Check Prices
93% of users select this mover
At A Glance
Online marketplace that connects people with movers and transporters
Multiple providers compete for your move by offering bids or name your own price
Make complex moves simpler and more organized
Secure payment methods once you choose a driver
read our full review
Check prices
Check Prices
93% of users select this mover
When you post your listing on the website or uShip app, you can either open it up for bids from shippers or offer a set price to see if someone will accept it. You'll want to include an inventory of all the items you intend to move, so bidders can make an informed estimate.
Then, you wait. If a driver bids on or accepts your asking price, you'll get notified within your account on the website or uShip mobile app.
Once you've received bids, you can further discuss your shipping services with the driver you want to hire. You'll find pages for individual vendors that include uShip driver customer reviews, overall rating, and other important details, but it's ultimately up to you to decide whether a driver is trustworthy and professional enough to hire.
After you select a service provider, you can head out to checkout, but it's important to know you'll have to pay for your services upfront.
You pay the driver through uShip's platform, so payment is secure. The cost and included shipping services are entirely up to you and the driver you hire, so don't be afraid to haggle. Every quote will include different shipping services, so you'll want to prioritize communication before hiring them so you know exactly what you're getting for the price.
From there, you can arrange pick-up and drop-off and set your delivery location through the platform. The shipping process can vary considerably because you'll work with an independent vendor. We recommend proactive communication to ensure a smooth shipping process.
Some uShip freight shipping providers participate in the Ship with Confidence Guarantee, which allows customers to receive a full or partial refund if their belongings don't reach their destination within the displayed transit window.
uShip is perfect for people who want an affordable moving solution for bulky items and have the time to vet providers
uShip is ideal for people moving on a shoestring budget. The nature of the marketplace requires you to have some flexibility in your moving dates, which isn't realistic for many movers.
uShip is also a better option for people with tiny apartments or few items because the marketplace monetizes trucks' spare space. As such, it's harder to accomodate larger homes and moves with many large items.
If you're using another moving company but need to transport just your car, animal(s), or large pieces of furniture, uShip might complement your existing moving plans.
But for most people, uShip isn't a practical option for an entire home move. Still, it doesn't hurt to list on the uShip marketplace and see what happens. Maybe you'll get lucky and score a great deal with a reputable mover.
Want to look at other options for your move? Compare prices and get instant quotes using our guide on finding the best moving companies.
89% of users select this mover
FAQ
How much of a fee does uShip charge?
uShip doesn't have a set service fee. Instead, the uShip fee is set based on the type of item you ship. When you post a listing, you will see the service charge marked clearly on any bids you receive.
How much does uShip charge per mile?
uShip's shipping costs depend on various factors, including distance, types of items, and current fuel prices. In general, the further you ship, the cheaper it will be per mile.
For example, a move of fewer than 200 miles may incur a charge of about $3 per mile, but these costs may dip below $1 per mile for moves over 1,000 miles.
How long does uShip take to deliver?
uShip's delivery ranges can depend on distance, weather, road conditions, the number of stops the driver makes, and the logistics of pick-up and drop-off locations.
However, uShip provides a general time frame based on miles traveled:
| | |
| --- | --- |
| Distance in Miles | Calendar Days |
| 0 – 200 | 1 – 2 |
| 200 – 600 | 2 – 4 |
| 600 – 1000 | 3 – 5 |
| 1000 – 1500 | 4 – 6 |
| 1500 – 2000 | 5 – 7 |
| 2000 – 2400 | 6 – 8 |
| 2400+ | 7 – 9 |
Does uShip have a cancellation policy?
uShip's cancellation policy allows customers to reschedule or request changes at any time at uship.com or through the mobile app. While uShip doesn't have a cancellation fee, some service providers might. When you request cancellation, you'll receive additional information from the mover you booked.
uShip provides a full refund to the original payment bed after it processes the request. The cancellation process typically takes between three and seven business days.
Not what you were looking for?
Check out other categories that can help you find the information you need!
See All
Hide All