uShip Review: Moving Costs, Service Options
Overall Opinion
uShip is great for shipping cars, animals, and large objects, if your timeline is flexible and you're willing to wait for a good deal.
For moving a household, you might score a great deal, but it'll probably be tough to find an arrangement that suits your needs on uShip.
Get a quote on UShip!
How does uShip compare to other professional movers?
Company
Quote
Rating
Price

Safeway Moving

Best Overall Value

Get A Quote

American Van Lines

Best industry reputation

Get A Quote

International Van Lines

Best customer service

Get A Quote
Jump to the uShip review section that you're looking for:
About uShip
While moving comes with a lot of variables — the distance you travel, how many boxes it takes to pack up your home, what they weigh, whether you hire a packing crew or do it yourself — there's one truth that seems to be consistent across all moves: They're expensive.
Because moving is costly, there's a real opportunity in the market for companies that seek to make moving more budget-friendly. That's uShip's ultimate goal.
uShip allows movers to rent extra truck space at discounted rates. Shipping space that would otherwise go to waste gets filled, putting some extra cash in the driver's pocket, and people looking for extra budget-friendly long-distance shipping have a chance to get a great deal on getting their stuff from Point A to Point B.
For larger moves, uShip is not a great option. You're probably better off using a long distance moving company or moving container.
Unless you're moving a small apartment, the leftover truck space you'll find on uShip is usually not enough to accommodate all your belongings.
Plus, you have to work with the truck driver's existing schedule, which may not fit the timeline for your move. uShip is awesome if you want to ship your car or piano across the country, but for a full move, it might not meet your needs.
For those reasons, we rated uShip's service 3 out of 5 stars. Read on for our comprehensive review.
Perfect for shipping cars, single furniture items, pianos, boxes, large items or equipment.
You can find deals that are significantly cheaper than booking directly with moving companies.
Can help you organize multiple parts of a complicated move.
Provides a secure way to pay your driver once you choose one.
You have to work within the timeframe and space a truck driver already has available.
You don't know what prices you can get until you get a bid or someone accepts your offer.
Drivers aren't always professional or reputable.
You may not find a driver and route that fit your moving needs, which leaves you back at square one.
The Good: This Is Budget-Friendly Moving
Making a long-distance move is not cheap. The average cost to move cross-country using a moving company is around $4,700. With uShip, there's the opportunity to score a cross-country move for much less.
uShip isn't actually a moving company–it's a marketplace that connects people who need to transport things with truck drivers who have extra space on their rigs. If you can connect with a reputable driver who has enough space for your stuff and is traveling on a route that fits your move, you can have your stuff shipped at a (potentially steep) discount.
uShip doesn't offer quotes; rather, you can either make an offer for how much you want to pay for the move and wait to see if a driver will accept it, or you can accept bids from drivers who are able to transport your things.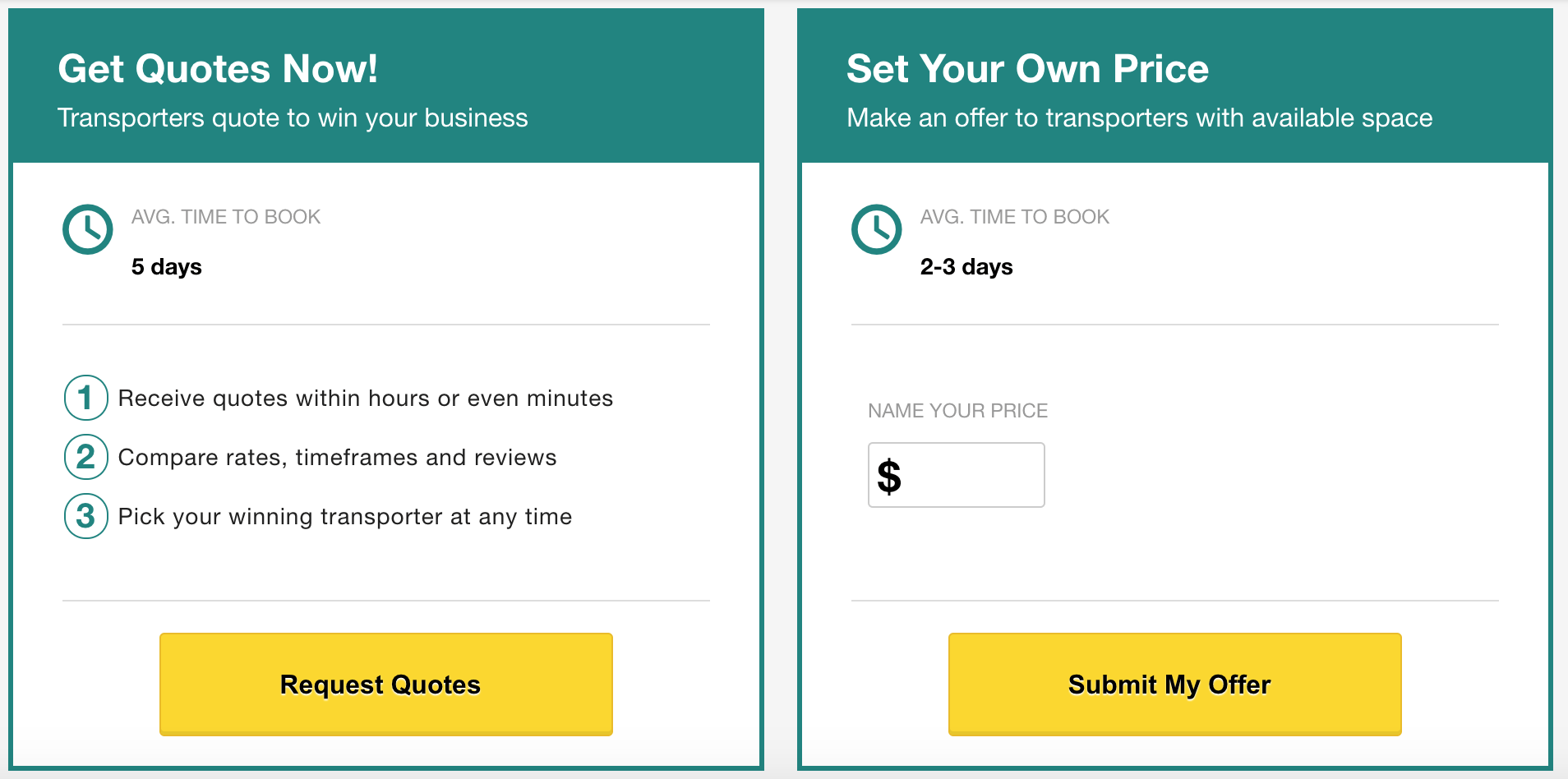 For example, one listing we saw was for moving 20 boxes from Meridian, Idaho to Santa Ana, California, a total of 854 miles. The listing had two bids–one for $275, and one for $563. That's a great deal!
Hiring a moving company to ship 20 boxes that distance is likely to cost considerably more (closer to $1,200 on average). As you can see, if you find a truck driver who can meet your moving needs, there's a huge potential for savings with uShip.
uShip is perfect for small moves with very flexible timelines.
The Bad: You Have to Move on Someone Else's Terms
Here's why uShip isn't likely to be the most practical option for most moves:
Since you're shipping your stuff in extra space on trucks that are on existing routes, you don't get to pick the dates or the amount of space available. You just have to hope you find someone who can fit into the timeline for your move and has enough space to fit everything you're moving.
When scrolling through move listings on uShip, we saw many that had been live for days or weeks with no bids or inquiries. It's possible that you list your move, but no one can accommodate your needs.
Here's the other downside to uShip that gives us serious pause:
The service only connects you to a truck driver, and it's up to you to research that driver and decide whether they're reputable enough to be trusted with your stuff. uShip has a review system where people can rate the drivers they've used, but when looking at reviews for the company, lots of users complain about drivers being unprofessional or even downright shady.
Check prices on UShip!
How Does uShip Work?
uShip isn't actually a moving company. It's a marketplace where you can post the requirements of your move to see if a truck driver with extra space is able to transport your belongings along a route they're already driving.
uShip isn't just for moving–in fact, that's not its primary service at all. It originally made a name for itself as a site where people could get instant estimates and be connected to shipping companies that transport cars. Now, uShip allows people to make listings looking for transport for basically anything, including (but not limited to):
Vehicles
Boats
Household items
Large pieces of furniture
Freight
Animals
Heavy equipment
Jacuzzis and hot tubs
Pretty much anything you need transported, you can list on uShip's marketplace, with the caveat that there's no guarantee a truck driver will bid on or accept the shipment.
When you make your listing, you can either open it up for bids from truck drivers and companies, or you can offer a price to see if someone will accept it. Then, you wait. If a driver bids or accepts your asking price, you'll get notified within your account on the uShip website, or via the uShip app if you have it.
Once you've received bids or have drivers interested in your offer, you can choose the one you want to hire. uShip has pages for individual vendors and drivers that include uShip driver reviews, but it's ultimately up to you to decide whether a driver is trustworthy and professional enough to hire.
You pay the driver through uShip's platform, so payment is secure. The amount of the payment, and what it includes, is entirely up to you and the driver you hire. Every quote or bid is likely to include different things, so make sure you communicate at length with a driver before hiring them so you know exactly what you're getting for the price.
uShip Availability
Whether uShip is available in your area is entirely dependent on whether any truck drivers on the marketplace have routes that go from your old home to your new one and have spare space to take on your shipment.
The good news is that the trucking industry in the U.S. is huge, and uShip reports that it works with 788,000 truck drivers, moving companies, and shipping providers.
One of the main drawbacks to using uShip is that you're looking for extra space on trucks. So for large moves, like 3+ bedroom homes that often require an entire truck themselves, uShip might not fit the bill. You're likely to have better luck if you're moving a smaller home or apartment.
With that said, uShip can be great for people who have complex moving needs.
Say, for example, you're using a container company for your move, and your grand piano won't fit in the containers. uShip might be able to help you with just that aspect of your move. Or, if you're driving the moving truck and need to transport your car separately to the new address. Or if you need to ship pets or livestock to your new home. Or if you're downsizing and to transport a piece of antique furniture to a relative because it won't fit in your new house.
If you're downsizing before your move and only planning to ship the essentials, uShip may be a good fit for that. We found uShip to be a great, budget-friendly choice for shipping 20-30 boxes.
uShip isn't necessarily the best choice for handling your entire move, but if there's one part of it that doesn't fit into your moving plan, uShip may be a good place to find help.
How Much Does uShip Cost: uShip Bidding and Offers
uShip only provides cost estimates if you're shipping a car. For anything else, you can either offer the price you're willing to pay or accept bids from truck drivers and providers. You won't know what the cost of shipping your items will be until you make a deal with a driver or provider.
One thing to watch out for is uShip adds its own service fee to the amount you pay, and for some shipments, the fee isn't revealed until the check-out process. That fee can range from $25 to $150, so we wish uShip was more transparent about it. In marketplace quotes for home moves, the service fee is generally included in the quoted price you see.
For some searches, like if you just need to ship a single couch, uShip will provide a graph that shows the low, average, and high prices people have paid for similar shipments. For home moves, it doesn't provide that information.
Here are some of the price ranges we found from looking at quotes on listed moves, but keep in mind that prices are entirely up to the providers and can vary greatly.
Check prices on UShip!
| | 1 bedroom | 2-3 bedrooms | 4-5 bedrooms |
| --- | --- | --- | --- |
| Local move | $275 – $600 | $350 – $725 | $1,200 + |
| < 250 miles | $400 – $1,000 | $1,250 – $2,500 | Not enough quotes to find a good range |
| Cross country | $580 – $2,500 | $2,500 + | Not enough quotes to find a good range |
What's Included In a uShip Move?
Again, what's included in your move is up to the provider's offer. It may be a fully DIY situation, where you're required to pack and load everything yourself. The driver or company may help with loading. Or something in between. Check the details of your quote carefully so you know what you're getting.
Is Insurance Included In a uShip Move?
Having liability insurance is up to each provider on the uShip marketplace, and it's your responsibility to ensure your driver is properly insured before you hire them.
If you don't have a homeowner's or renter's insurance policy that will protect your belongings in transit, uShip partners with Roanoke Insurance Group to provide optional cargo insurance you can add to your booking. The cost for coverage depends on the value of the goods you're insuring, which you'll enter at the time of booking.
Is uShip Legitimate? Online Reviews, Reputation, and More
Here's the thing we really don't love about uShip. The company itself is certainly legitimate. But the company itself isn't who's moving your stuff.
uShip acts as a go-between to get you in touch with a third-party provider who actually transports your belongings. While uShip allows users to leave reviews of those providers on its website, it's ultimately up to you to do your research to find out if the person you're hiring is trustworthy and reputable.
On Trustpilot, uShip is rated 4 out of 5 stars, with more than 90 percent of the reviews saying the company is "excellent" or "great." Most of the negative reviews center around people having problems with the shipping providers, not with uShip. uShip responds to most negative reviews to offer customer service help.
Get a quote on UShip!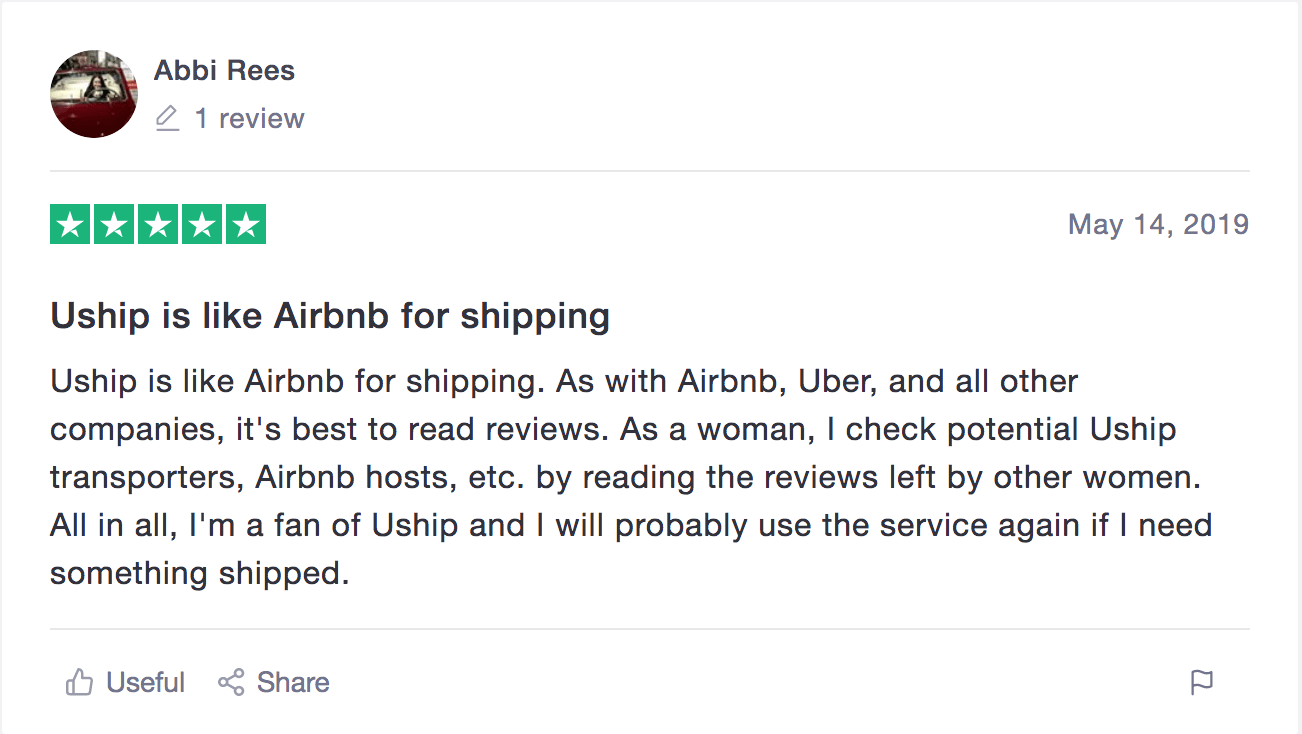 uShip has been accredited with the Better Business Bureau since 2005, and currently has an A+ rating. However, there have been 48 BBB complaints filed against the company since 2016, and of those, only 11 have been resolved to the customer's satisfaction.
All we can say is do your research to vet your driver before you pay them or hand over your belongings. uShip might be a legitimate company, but it does not guarantee that the drivers who use its marketplace are qualified, trustworthy professionals.
Is uShip Right For Your Move?
uShip is definitely for people who are looking to move on a shoestring budget. But the nature of the marketplace requires that you have some flexibility in your moving dates, which isn't realistic for many movers.
uShip is also a more likely option for people with very small apartments or homes, since the marketplace is for spare space on trucks and larger homes, will be tougher to accommodate with just leftover space.
If you're using another moving company, but need to transport just your car, animal(s) or large pieces of furniture, uShip might be great to complement your existing moving plans.
But for most people, uShip isn't a practical option for a full home move. Still, it doesn't hurt to make a listing on the uShip marketplace and see what happens. Maybe you'll get lucky and score a great deal with a reputable mover.
Want to look at other options for your move? Compare prices and get instant quotes from multiple movers you can trust.
Not what you were looking for?
Check out other categories that can help you find the information you need!