PODS Review: Costs & Service Options
Overall Opinion
PODS brings flexibility to self-pack moves. It offers a good variety of container sizes–more than its competition.
But the availability of containers can be a problem unless you're planning your move months in advance. PODS pricing can also be higher when compared to competing brands for long-distance container moves.
See where PODS ranks on our best moving pod companies list.
PODS (Portable On Demand Storage) pioneered the storage container moving industry, which allows movers to pack their own belongings into shipping containers which are then transported by the company to the destination. The company has been in the container moving and storage game since 1998, making it one of the most established companies out there.

PODS is great for people who want to take their time moving; need storage before, during, or after their move; and are looking for a budget-friendly moving option.

If you're moving during high season, make sure to book your PODS as soon as you know your move date, since containers in your area may book up ahead of time.

We rated PODS 5 out of 5 stars. Read on to see if it's a good fit for your move.

Want to receive $500 to put toward your move? Check out the Better Moves Project by moveBuddha to learn how!
Pros & Cons
Generally less expensive than a full-service move.
Flexible change and cancelation policy with full refunds available if your plans change.
Accommodates a long moving window with 30-day minimum rentals
Belongings can be moved or stored
Multiple container sizes.
Someone else transports the containers — you just have to load and unload them.
Available in almost any state and several countries.
Some information isn't available online. We were required to call for a quote for a long-distance move.
Long-distance moves must be made by phone while local moves can be booked online
Availability can be limited during busy season. PODS is currently in all states except Alaska, North Dakota, Wyoming and Montana
PODS Review: The Good and the Bad
What sets PODS apart from its competition? What makes us want to head straight to another moving company? Here's what we love, what we don't, and the pros and cons you'll want to consider before choosing PODS.
The Good: Tons of Flexibility
We found PODS to be one of the most flexible moving companies out there. Moving is stressful no matter what, and a number of PODS' features can help alleviate at least a little bit of that stress.
With most moving options, you're paying by the day or the hour. That puts a lot of pressure on you to get all of your belongings out of the old house, into the truck, and move into the new home as quickly as possible. But PODS reservations are a minimum of 30 days long (with the option to extend if you need even more time), which means you can take your sweet time packing your stuff in, and packing it back out once the containers arrive at your new address.
PODS also comes with the option to store your stuff, either onsite at your old or new home, or at a PODS storage facility. There's no limit to how long you can use your PODS containers to store your belongings, as long as you pay the monthly fee, which ranges from $109.99 to $159.99 depending on the size of the container and whether you're storing it on your property or at a PODS storage facility. Once you're ready to take your stuff out of storage, PODS will still move the containers to wherever you need to unpack them.
If your plans change, you have up until the day before your reservation to modify or cancel it and still get a full refund. Moving can be a hectic time, and sometimes plans need to change on the fly. PODS has a lot of features that make it easy to change your plans without a lot of stress (or extra costs).
The Bad: Limited Availability
We love how flexible PODS are…but book your POD in advance.
Weekend deliveries, especially in the most popular times to move like spring and summer, should be booked in advance since their availability may be limited during these times.  That means for a last-minute move, you may need to come up with a backup plan if there are no PODS for your move dates.
Of course, on the flip side, this could be a good positive signal for movers. PODS are in high demand. But it does mean that you'll need to know in advance when you are planning to move and be sure to make arrangements accordingly.
PODS Review: Other Pros and Cons
You've seen our favorite (and least favorite) features. Here's what else you might consider before choosing PODS for your move.
The 3 PODS Services
PODS can be used for either moving or storage–or both!
They offer these different services to customers and each one works slightly differently, depending on how you're using the containers.
Option 1: PODS for Moving
You schedule a day to have your containers delivered. The company brings them to your home and drops them off.
You pack the PODS yourself, either immediately or over time as you prepare for your move.
Then, the PODS company transports them to your new home, where you also unpack them (again, how quickly you unpack is ultimately up to you).
Lastly, you schedule a day to have your containers picked up after they're unpacked, at least 30 days after they were delivered. PODS can be used for local or long-distance moves, but international moves are not currently supported.
Option 2: PODS for Storage
An even simpler option is using PODS strictly for storage.
You schedule a day to have your containers delivered, then pack them with whatever needs to be stored. The PODS can stay with you where they were delivered (e.g., at your house) or the company can come to pick them up and keep them securely at a PODS storage facility.
With either option, you will be billed monthly for as long as you use your containers for storage.
Option 3: PODS for Moving and Storage
Depending on your circumstances, you may want to use PODS for both moving and storage. For instance, if you're planning to move somewhere new but have a small gap between when you need to be out of your old place and when you can move into the new one.
PODS can help with that too.
You simply schedule a day to have your containers delivered, then pack them yourself.
From there, they are left onsite, moved to a PODS storage facility, or moved to your new address. In any case, you can continue to use them for storage as long as you need and unpack them when you're ready.
This option is great for anyone who needs to move, but doesn't have a final destination yet, like if you're moving for a new job, but haven't yet found a house or apartment in the new city.
PODS Sizes and Availability
PODS has a few different options for containers, so you can find what best fits your needs. 16-foot and 7-foot containers are available for both local and long-distance moves, and 12-foot containers are available for local moves only.
| | 7-foot | 12-foot | 16-foot |
| --- | --- | --- | --- |
| Capacity | Studio apartment | 2-3 bedroom home | 3-4 bedroom home |
| Popular Usage | Small moves | Local storage & moving | Single family homes |
| Types of moves | Long distance only | Local only | Local and long-distance |
| Storage available | Yes | Yes | Yes |
| Internal dimensions | 6'6″x6'x7'6″ | 11'6″x7'x7'6 | 15'6″x7'6″ |
| Cubic footage | 390 cf | 749 cf | 1,008 cf |
| Container material | Metal | Metal | Metal |
| Weight limit | 5,200 lbs | 4,700 lbs | 4,200 lbs |
PODS containers are available in more than 20,000 cities in the U.S., Canada, and Australia. But there are some states where PODS aren't available:
Alaska
Montana
North Dakota
Vermont
West Virginia
Wyoming
How Much Does PODS Moving Cost?
While you can enter information about your move on the PODS website, for most moves (including all long-distance moves), you can't actually get a quote online — you'll instead receive a reference number that you can use to get your quote when you call PODS service number.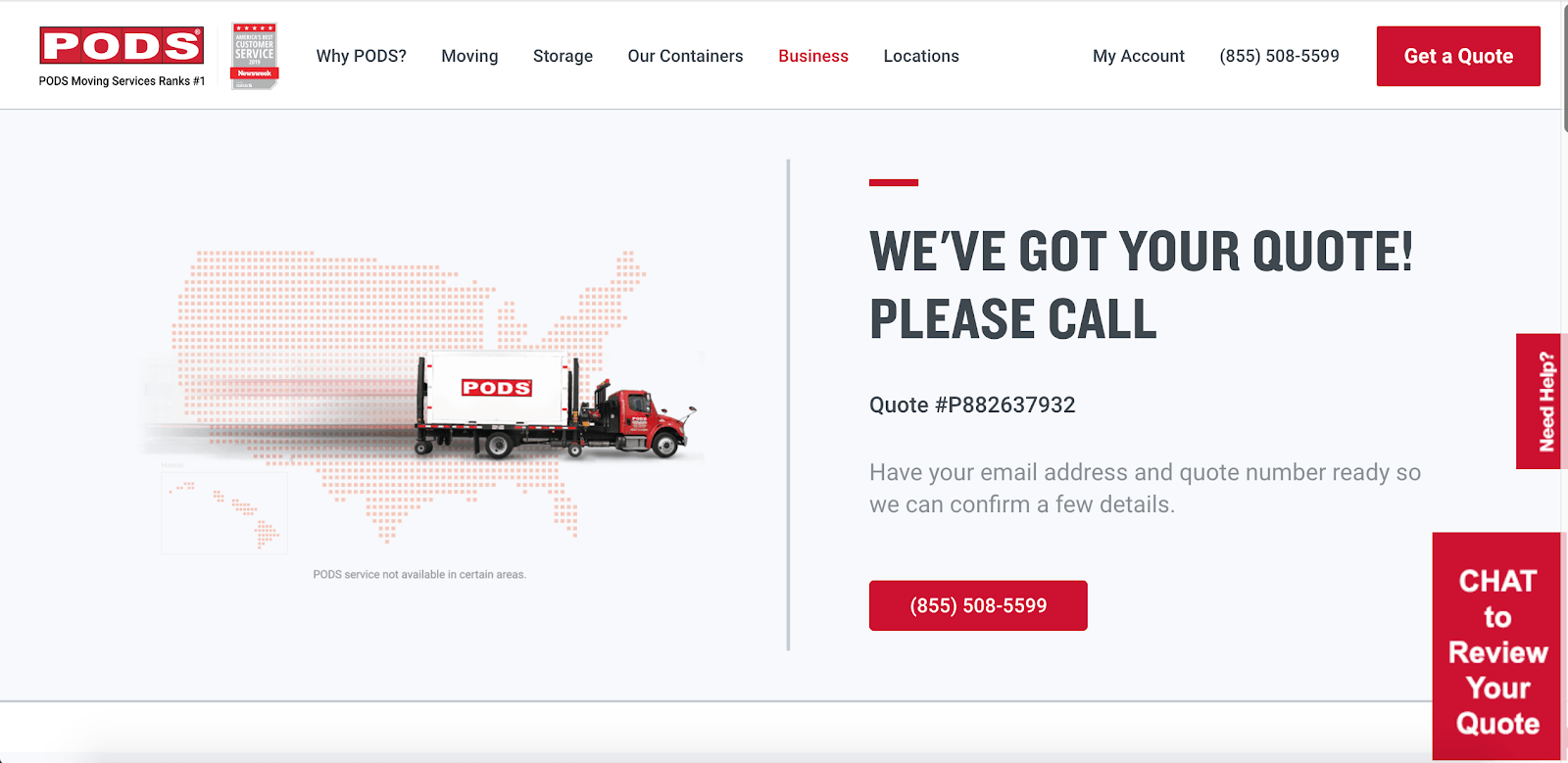 The cost of your move with PODS depends on a number of factors:
Size of PODS you use
The distance they need to travel
The region(s) you're in
Availability of the PODS you want to use
How long you reserve your PODS
On average, a local move with PODS is likely to cost between $200 and $800, while a long-distance move can cost anywhere from $450 to $7,600. The website Moving 101 found the average cost for a local move with PODS to be $666, and the average PODS moving cost long distance to be $3,230. But since there are so many factors that can influence the cost of your move, don't base your own budget on those averages — get an actual quote for your specific moving or storage needs.
| | 1 bedroom | 2-3 bedrooms | 4-5 bedrooms |
| --- | --- | --- | --- |
| Local move | $200 – $400 | $300 – $650 | $300 – $800 |
| < 250 miles | $450 – $800 | $750 – $1,900 | $900 – $2,100 |
| Cross country | $2,000 – $4,000 | $3,000 – $4,900 | $5,500 – $7,600 |
PODS collects payment for reservations in three installments:
| | |
| --- | --- |
| First Payment | Five days before your containers are delivered, you'll be charged for the cost of delivery, liability coverage and one month of onsite storage. |
| Second Payment | Five days before your scheduled shipping date, you will be charged for the cost of transit. |
| Third Payment | At the end of your reservation, you'll be charged for the cost of picking up the containers, or for the second month of storage if you opt to keep them for longer. |
Take Advantage of Student Discounts:
If you are currently enrolled at an accredited university, PODS is offering a 10% off student discount on your next move or storage project. PODS rarely offer such large discounts, so make sure to take advantage of this offer if you are a student.
Check out our full article on How Much Does PODS Cost? for more info.
Need Moving Supplies? PODS Offers Those Too
To be more of a one-stop shop, PODS offers moving supplies if you need them. For an added cost, you can add to your reservation:
Tie-downs
Locks
Lifting straps for large items
Rubber bands
Bubble wrap
Mattress bags
Packing paper
Tape
Stretch wrap
Moisture absorbers
Moving blankets
Moving boxes
PODS, unfortunately, does not offer local movers. If you want to hire someone to load and unload your containers, you'll have to look for a third-party moving company.
What About Insurance for PODS?
PODS offers two types of insurance:
Container-only insurance ($10 per month per container) covers any damage to the PODS containers while they're on your property. This includes damage from weather and natural disasters.
Content protection insurance covers the containers and all your items that are inside them. Unfortunately, this doesn't cover water damage, so if rain or snow manages to seep into your container, you won't be covered.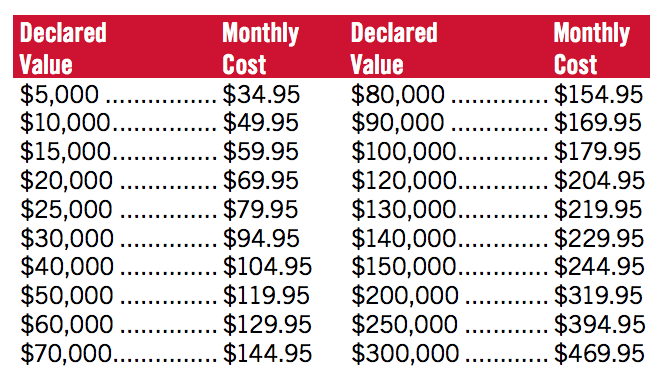 Image via PODS.com
Depending on the policy, your homeowner's or renter's insurance might cover your belongings while they're being stored or moved with PODS.
PODS Reviews: Are They Reputable?
Online reviews for PODS are mixed. Because there are many local PODS locations, they tend to have wildly different ratings from one city to the next. Perhaps the best indication of overall satisfaction from past customers is the aggregate reviews for the service (nationally) found on Facebook.
The PODS Facebook page shows an average rating of 3.2 out of 5 stars.
Taking a quick glance at most of the reviews online, the biggest complaints seem to center around scheduling issues and getting in contact with PODS customer service. Even those who left a poor overall rating often mentioned that the service itself–the containers, storage, and moving–went according to plan.
Representatives from the company respond to most reviews and offer contact information for people who left negative reviews to get in touch with a representative offline.

It is up to individual PODS locations in different states to claim their listings online. Some do, and some don't. Also, some locations are accredited by the Better Business Bureau, and others aren't. BBB ratings also vary by location. For the most accurate information pertaining to your own move, you'll have to check the BBB website for your local PODS branch to see whether it's accredited, what its rating is and whether it has any active complaints filed against it.
According to our research, the U.S. Department of Transportation Federal Motor Carrier Safety Administration has seen no complaints against a PODS branch in the last four years.
The PODS company itself is certainly not a fly-by-night organization. They've been in operation for more than 20 years in the US and the company has grown to cities all over the country.
That being said, there are individual locations that may be less reliable than others. It's probably worth looking into your local branch and the reviews they've received before deciding whether or not to rent a PODS for your move.
Is PODS Right for Your Move?
PODS is great for people who don't want to shell out for a full-service move and also don't want to drive a huge truck themselves. Packing your belongings yourself helps keep the cost low, and have someone else transport the PODS adds ease and convenience to your move.
PODS is also great for people who need to store their belongings between moving out of one home and moving into another. Storage at a PODS facility can be built seamlessly into the process of moving with PODS.
Overall, it seems to be a pretty good middle-of-the-road solution. Among container moving services, we also ranked PODS in the top 3 vendors because of their longevity, service, and reliable quality.
Ready to book a company for your move? Compare prices and get instant quotes from multiple movers you can trust.
Not what you were looking for?
Check out other categories that can help you find the information you need!