PODS Review: Costs & Service Options

Licensed
Insured
Price
rating
4.8 / 5
Check prices
Visit Website
93% of users select this mover
At A Glance
30 days storage included
Local and long distance moving options
Unlimited loading/unloading time
Store on property or at a facility
learn more
Check prices
Visit Website
93% of users select this mover
When Kyle got a new job requiring him to move 1,400 miles on short notice, he had to find a moving company fast.
Without an apartment lined up, he knew he needed a solution that was budget-friendly, offered flexible storage, and didn't involve driving a truck.
After lots of searching, Kyle booked PODS. The company's reasonable pricing, positive online reviews, and storage options made PODS a perfect fit.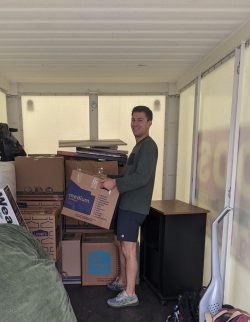 And when it was all said and done, Kyle gave PODS 5 out of 5 stars for quote accuracy, on-time service, and overall experience.
At moveBuddha, we've compiled hundreds of customer reviews like Kyle's to give readers an accurate picture of real moving experiences.
While Kyle's move was a big success, there's a lot you should know before booking with PODS.
In this post, we'll lay out ways to save money, what to expect on move day (with pictures from actual moves), and tips to avoid common problems when moving with PODS.
First, let's make sure PODS is the right choice for your move.
Want to receive $500 to put toward your move? Check out the Better Moves Project to learn how!
The Pros and Cons of PODS
Generally less expensive than a full-service move
Multiple container sizes
PODS containers are available for moving and storage
PODS offers local and long-distance moving services
Flexible change and cancelation policy with full refunds
30-day minimum rentals mean free storage for most customers
Professionals handle all the driving
Available in most states and several countries
You can book local moves online but have to make long-distance move reservations by phone
Early booking is a must because containers go quickly
PODS aren't currently available in Alaska, North Dakota, Wyoming, Montana, West Virginia, or Vermont
Still not sure if PODS is the right choice for your move? Check out our PODS competitor section to see how other moving container moving companies stack up.
Jump to the PODS review section you're looking for:
Is PODS affordable?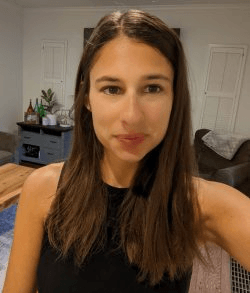 When Bethany moved from California to Virginia in 2022, PODS came through with a $4,209 quote that was hundreds lower than the competition.
Bethany paid the amount she quoted by PODS, and PODS delivered her moving container on time without loss or damage. PODS' prices are usually competitive, but sometimes there are less expensive options.
Here's a breakdown of the average cost with PODS by distance and move size:
| | 1 bedroom | 2-3 bedrooms | 4-5 bedrooms |
| --- | --- | --- | --- |
| Local move | $200 – $400 | $300 – $650 | $300 – $800 |
| < 250 miles | $450 – $800 | $750 – $1,900 | $900 – $2,100 |
| Cross country | $2,000 – $4,000 | $3,000 – $4,900 | $5,500 – $7,600 |
Recap:
Local moves with PODS generally cost between $200 and $800
Long-distance moves can cost anywhere from $450 to $7,600 (and sometimes more)
Averages are great for budgeting, but nothing takes the place of real-world examples. Ryan got the following quotes for his long-distance move in the summer of 2022.
| Company | Container size/estimated weight | Cost estimate |
| --- | --- | --- |
| Zippy Shell | 680 cubic feet | $5,009.00 |
| 1-800-PACK-RAT | 830 cubic feet | $5,155.25 |
| U-Pack | 864 cubic feet (space on a 28-foot freight trailer) | $5,761.00 |
| PODS | 835 cubic feet | $6,124.74 |
| North American Van Lines (full-service mover) | 6,500 pounds | $12,612.19 |
Ryan almost went with PODs, but he chose U-Pack because he could book a cavernous 28-foot freight trailer and only pay for the space he used.
On the other hand, Hassan chose PODS for his Navy Permanent Change of Station move from Pennsylvania to Washington State because he liked the company's reasonable quote and positive online reviews.
Just keep in mind that moving container costs vary based on these factors:
What size container(s) you use
How many containers you use
The distance between your old and new residences
Whether you need additional storage past 30 days
If you need additional services like packing material and moving equipment
If you purchase additional content protection plan coverage
How PODS stacks up against the competition
PODS is hard to beat when it comes to competitive pricing, national coverage, and reliable service, but there are better options for some customers.
Here's how PODS compares to other top-tier competitors:
| | | | | | |
| --- | --- | --- | --- | --- | --- |
| | PODS | U-Pack | 1-800-PACK-RAT | ZIPPY SHELL | MOVING PLACE |
| Container sizes | 8, 12, and 16-foot containers | 6-foot ReloCube containers and 28-foot trailers | 8, 12, and 16-foot containers | 10 and 15-foot containers | 28-foot and 53-foot trailers |
| Loading times | Unlimited | Three days each for loading and unloading | Unlimited | Unlimited | Various options allow for up to three days each for loading and unloading |
| Move types | Local and long-distance moves | Moves over 100 miles only | Local and long-distance moves | Local and long-distance moves | Moves over 250 miles only |
| Storage availability | Yes, at your place or theirs (not climate controlled) | Only ReloCubes can be used for storage, and they can only be stored at a company facility (not climate controlled) | Yes, at your place or theirs (some 1-800-PACK-RAT storage facilities are climate controlled) | Yes, but only with 15-foot containers at a company facility (all Zippy Shell storage facilities are climate controlled) | Temporary storage for up to three months, but only at a company facility (unspecified) |
Recap:
PODS is best for long-term storage, on-site storage, and local moves
U-Pack may be a better option on big moves because freight trailers have tons of space
If parking space is a concern, consider Zippy Shell's street-legal containers
PODS, Pack Rat, and Zippy Shell all allow for unlimited loading time
U-Pack only handles moves over 100 miles
Moving Place only does moves over 250 miles
Here's how PODS compares to the competition in coverage area and local and long-distance move pricing:
| | | | | | |
| --- | --- | --- | --- | --- | --- |
| | PODS | U-PACK | 1-800-PACK-RAT | ZIPPY SHELL | MOVING PLACE |
| Average local move cost* | $200 – $800 | Not available for local moves | $150 – $790 | $190 – $750 | Not available for local moves |
| Average long-distance move cost* | $450 – $7,600 | $900 – $6,600 | $910 – $6,900 | $500 – $7,000 | $1,100 – $4,700 |
| Coverage area | About 45 states | All 50 states, Canada, and Puerto Rico | About 29 states | About 29 states | Continental U.S. |
*These figures are averages based on data from moves of various sizes and distances, so please be aware that your actual cost may be more or less than what's listed here.
Want more information? Check out these head-to-head container company comparisons:
Customers choose PODS for affordability, reputation, and multiple container sizes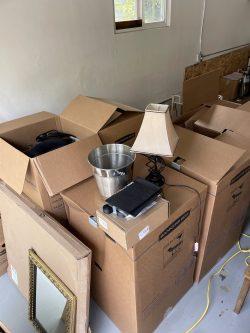 We love PODS because Better Moves Project participants like Bethany consistently give the company high marks for timely service, transparent pricing, and accurate quotes.
Bethany's choice to use PODS boiled down to the company's solid reputation, easy quote process, and best-in-class pricing. Bethany felt like she got her money's worth because PODS communicated effectively throughout her move and delivered her container in 19 days on a 2,800-mile move during the peak summer season.
Another big advantage PODS has over truck rental companies is that professionals handle the driving.
Many DIY moves go off without a hitch, but driving a clunky moving van isn't for everyone. Learn more about out how renting a truck compares to a moving container.
Getting a quote with PODS is easy
Hassan and Bethany appreciated how easy getting a moving quote from PODS was, and chances are you will too.
Just keep in mind that PODS only provides instant online quotes for local moves. If you're moving out of state, you'll need to call in and speak with a customer service representative first.
89% of users select this mover
This may seem like a needless hassle, but trust us; it's well worth the time and effort because it allows you and your PODS representative to discuss your move details, which means there's less likelihood of something getting overlooked.
To get the ball rolling on her move, Bethany entered her basic move information into PODS' online quote form and then spoke with a representative to review the details. With a low quote for the services she needed, Bethany didn't waste time reserving her container with PODS.
PODS offers 8, 12, and 16-foot containers for moving and storage
With three convenient container sizes, PODS has you covered whether you're moving across town or to another state, even if you need storage.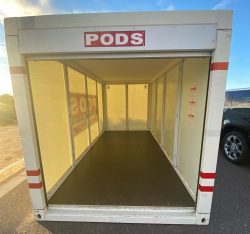 PODS customers can choose from the following three container sizes:
| | 8-foot | 12-foot | 16-foot |
| --- | --- | --- | --- |
| Capacity | Studio apartment | 2-3 bedroom apartment or home | 3-4 bedroom home |
| Best for | Small moves | Local storage & moving | Single-family homes |
| Types of moves | Long distance only | Local only | Local and long-distance |
| Storage available | Yes | Yes | Yes |
| Exterior dimensions (L x W x H) |  8′ x 7′ x 8′ | 12′ x 8′ x 8′ | 16′ x 8′ x 8′ |
| Interior volume | 402 cubic feet | 689 cubic feet | 835 cubic feet |
| Container material | Metal | Metal | Metal |
| Weight limit | 5,200 lbs | 4,700 lbs | 4,200 lbs |
Recap:
8-foot containers are best for small apartment moves
12-foot containers are available for local moves only
16-foot containers are best for multi-bedroom homes
All containers can be used for on and offsite storage
All PODS containers are waterproof
16-foot containers have lower weight limits than smaller 8 and 12-foot units
Bethany chose an 8-foot container because she was only moving the contents of a minimally furnished apartment.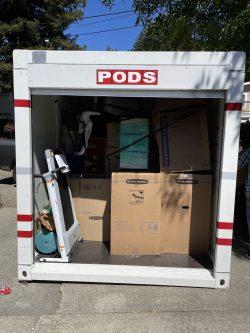 Whatever size makes the most sense for your move, all PODS containers are weather resistant and made of heavy-duty steel and aluminum to protect your belongings.
Interior walls are either impact-resistant polymer or wood paneling, and containers have built-in tie-down rings that make it easy to secure your items with rope or heavy-duty logistics straps to prevent shifting during transit. In addition, customers provide their own locks, which means they're the only ones with the keys.
One significant advantage moving containers have over freight trailers, is that they're placed directly on the ground, so there's no need to use ramps during loading or unloading.
Customers love PODS' multiple service options
PODS can be used for moving, storage, or both!
Here's how moving and storage works with PODS:
Option 1: PODS for Moving
After getting your quote, you schedule a day to deliver your empty container to the residence you're vacating.
A PODS driver will deliver it on the appointed day, and you can either load it yourself or hire a local mover or labor-only company like HireAHelper to help.
When it's loaded, PODS will pick it up and transport it to your new home or apartment across town or in another state.
When it arrives, you unload it and schedule to have it picked back up when it's empty
Remember that each container comes with a 30-day reservation so that you can take your time loading and unloading.
Option 2: PODS for Storage
Storage jobs are a breeze with PODS too.
The process is similar to moving, but after your container is loaded, you can choose to store it on your property or at one of PODS secure facilities.
With the former, you can store items for as long as you like and call PODS to pick up the container once it's empty. If you keep it at a PODS facility, you need to call in and schedule a delivery time when you're storage term has ended.
With both options, you'll be billed monthly for as long as you use your containers for storage.
Option 3: PODS for Moving and Storage
Depending on your circumstances, you may want to use PODS for both moving and storage. For instance, if you're planning to move somewhere new but have a small gap between when you need to be out of your old place and when you can move into the new one.
PODS can help with that too.
You simply schedule a day to deliver your containers, then pack them yourself.
From there, they are left on site, moved to a PODS storage facility, or moved to your new address. In any case, you can continue to use them for storage as long as you need and unpack them when you're ready.
This option is great for anyone who needs to move but doesn't have a final destination yet, like if you're moving for a new job but haven't yet found a house or apartment in the new city.
How payment works with PODS
PODS makes the payment process transparent and predictable.
After booking her moving and giving PODS her credit card information, Bethany was charged in three automatic payments on move day, after move day, and the day her container was delivered in Virginia.
PODS moving and storage customers generally make payment in the following three installments:
| | |
| --- | --- |
| First payment | You're charged for delivery, liability coverage, and one month of onsite storage five days before your empty container is delivered. |
| Second payment |  You're charged for transportation five days before your scheduled shipping date. |
| Third payment | At the end of your reservation, you're charged for the cost of picking up the containers or for the second month of storage if you opt to keep them longer. |
PODS offers moving supplies too
We all think of cheap moving boxes when it's time to relocate, but they're just the tip of the iceberg when it comes to preparing for a smooth move.
Thankfully, PODS is truly a one-stop-shop because customers can buy or rent the following items:
Locks
Cargo tie-downs
Lifting straps for large items
Rubber bands
Bubble wrap and stretch wrap
Moving boxes, tape, and packing paper
Mattress bags
Moisture absorbers
Moving blankets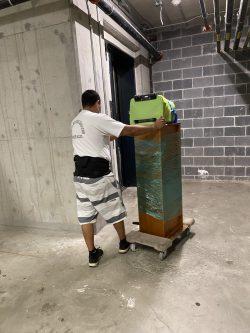 Another thing we love about PODS is that they make it easy for customers to put together hybrid moves by adding labor for packing, loading, unloading, or all three.
To add labor, you just need to enter your zip code and click FIND HELP, after which PODS will send you phone numbers and estimate links for three highly rated labor-only companies that service your area.
Bethany rounded up a few friends to help with loading in California because movers were too expensive, but she booked unloading help in Virginia through HireAHelper for $331.
Need insurance? PODS has you covered
PODS delivered Bethany and Hassan's household goods without loss or damage, but you'll want to consider insurance before the big day.
For added protection and peace of mind, PODS customers like knowing that they have the following options to cover their items while they are being moved and stored.
Container-only insurance ($10 per month per container) covers any damage to the PODS containers while they're on your property. This includes damage from weather and natural disasters.
Content protection insurance covers the containers and all your items inside them. Unfortunately, this doesn't cover water damage, so you won't be covered if rain or snow manages to seep into your container.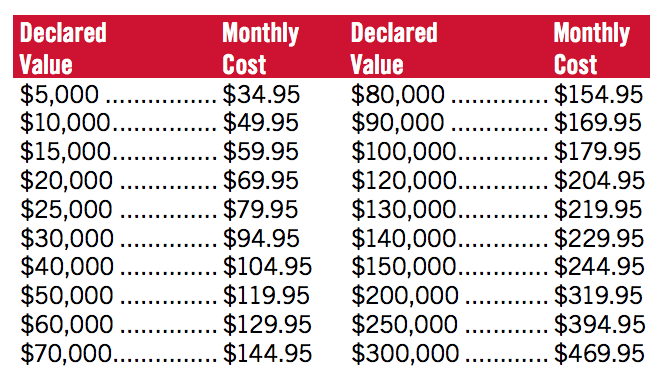 Image via PODS.com
Depending on the policy, your homeowner's or renter's insurance might cover your belongings while they're being stored or moved with PODS.
PODS online reputation varies from location to location
PODS online reviews are mixed because the company has so many service centers across the country, but reputation and positive online reviews were both determining factors for Bethany and Hassan.
It's up to individual PODS locations in different states to claim their listings online. Some do, and some don't. Also, some locations are accredited by the Better Business Bureau, and others aren't. BBB ratings also vary by location. For the most accurate information pertaining to your own move, you'll have to check the BBB website for your local PODS branch to see whether it's accredited, what its rating is, and whether it has any active complaints filed against it.
To determine PODS's overall online reputation, we considered feedback from customers like Hassan and Bethany and factored that into the reviews posted on the PODS Facebook page, which averaged 3.2 out of 5 stars.
The biggest complaints seem to center around scheduling and communication issues. Still, it's worth noting that many customers who left mediocre or poor reviews mentioned that their container was well-maintained, their quote was accurate, and the move itself went according to plan.
Who should consider PODS?
PODS is great for customers who:
Don't want to shell out big bucks for full-service movers
Don't want to drive a moving truck
Want to save money and get the services they want by doing a hybrid move
Want to take their time loading and unloading
Are moving locally or to another state
Need storage for 30 days or more (containers can be stored onsite or at a company facility)
Overall, PODS is a solid choice for local and long-distance moves with and without storage.
Not surprisingly, PODS made our list of the Best Moving Container Companies because the company is reliable and consistently provides accurate quotes for moves of all kinds.
The verdict – do customers think PODS is worth it?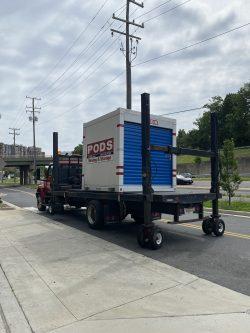 Bethany couldn't have been happier with PODS's service on her move from California to Virginia.
To recap, PODS:
Came through with the lowest of the three quotes
Communicated effectively throughout her move
Provided an accurate estimate
Delivered her household goods on time and without loss or damage
However, Bethany noticed that PODS prices increased between when she started planning her move and when she actually booked it. She recommends you book your container move with PODS as early as possible to avoid price increases and capacity issues.
PODS also delivered Hassan's household goods without loss or damage, but his container arrived in Washington state far later than expected. Because his move was already behind schedule, Hassan hired movers to help unload, but it cost him an extra $500.
Before signing off, check out these helpful resources:
Not what you were looking for?
Check out other categories that can help you find the information you need!
See All
Hide All