Zippy Shell Review: Costs and Service Options for Moving & Storage
Here's the bottom line: Our customers rave about Zippy Shell, and we think anyone hoping to combine the autonomy of DIY with the convenience of supportive professional movers can't go wrong with this cost-effective moving solution.
Best for city to city moves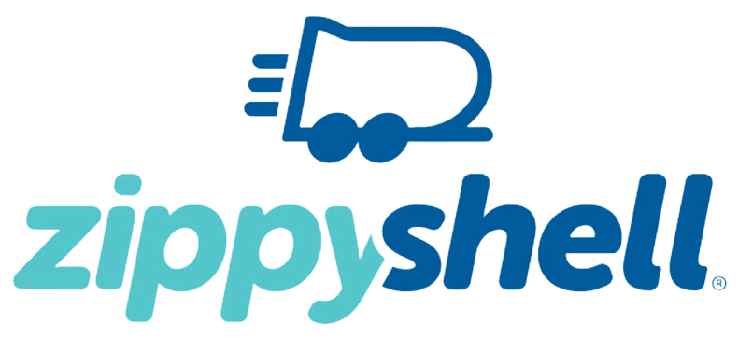 Licensed
Insured
Price
rating
4.2 / 5
Check prices
Visit Website
93% of users select this mover
At A Glance
Available for local and long distance moves
Street legal containers perfect for city parking
Innovative metal cage containers that promote airflow
Expedited and guaranteed delivery options
read our full review
Check prices
Visit Website
93% of users select this mover
For your convenience, Zippy Shell's portable storage containers are street-legal, making them especially helpful for moves in urban landscapes where parking can be a nightmare. Plus, you can choose to load the containers on your own or opt to add extra services to minimize the burden of packing.
When she moved from Florida to Virginia in 2022, Danielle ruled out full-service movers because they were prohibitively expensive, and an 800-mile road trip in a rental truck wasn't particularly appealing.
Zippy Shell's personable customer service earned Danielle's confidence, and she received a competitive quote for a moving container that fit all her needs.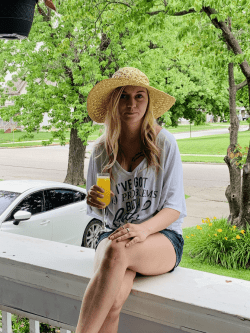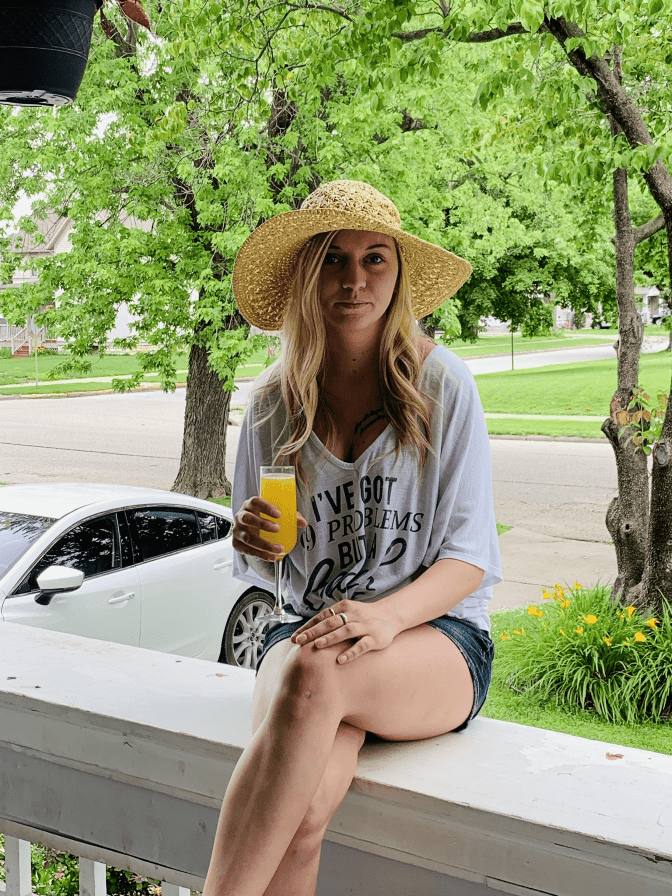 Danielle had an easy moving experience, but if there's one thing we've learned in the moving industry, there isn't a singular one-size-fits-all moving company for every situation.
At moveBuddha, we've compiled hundreds of stories like Danielle's to give readers an accurate idea of what moving looks like in the real world.
In this article, we'll help you develop a better understanding of Zippy Shell's reputation, services, and pricing model so you can choose the best moving company for your needs.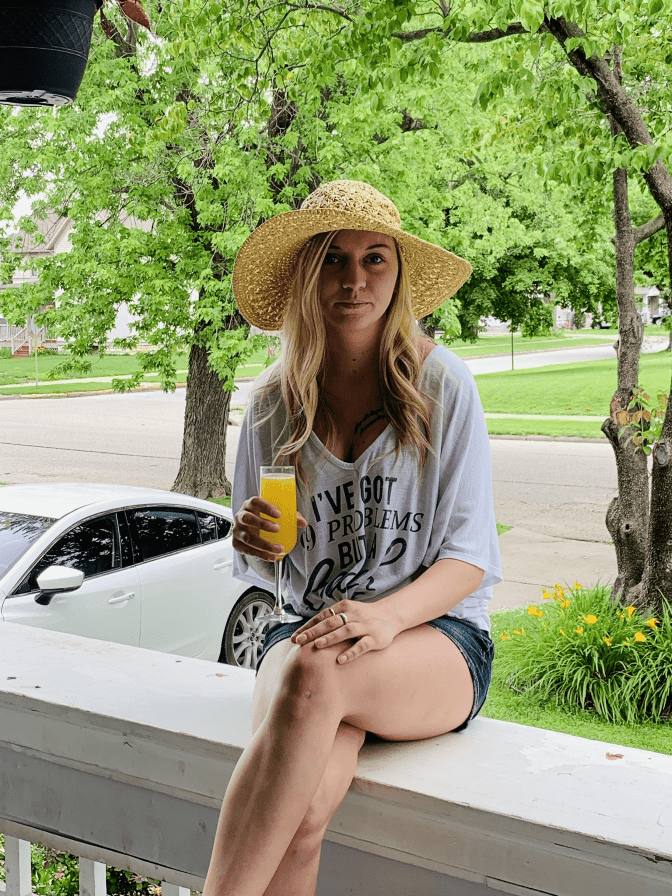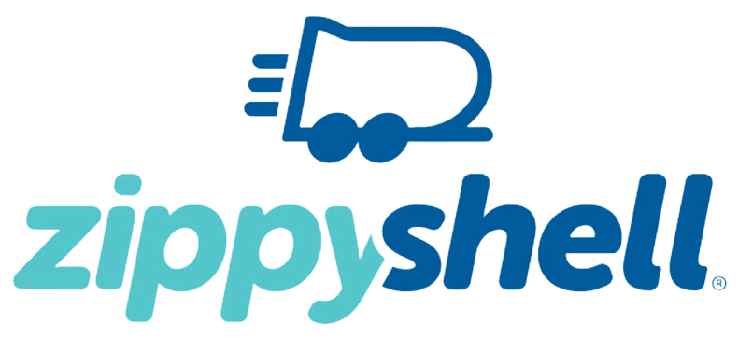 Recommended
Danielle's Move with Zippy Shell
n mid-August of 2022, Danielle and her fiancé moved from Virginia Beach, Virginia, to Tampa, Florida.<br /> Danielle ruled out full-service movers because they were too pricey, but she got quotes from multiple truck rental and moving container companies. In the end, moving containers made the most sense, and Zippy Shell came through with the lowest price and best pre-move customer service.
Read The Full Story
Pros & cons of moving with Zippy Shell
Generally less expensive than a full-service move
Street-legal containers are perfect for city parking
Containers delivered in weatherproof trailers
Climate-controlled storage facilities
Innovative metal cage containers promote airflow
Available for local and long-distance moving and storage
30 days of free storage with all long-distance moves
Easily add loading and unloading labor to your order
Professionals handle the driving
Website doesn't contain much information
Limited to service in 33 U.S. states
No online quotes (have to call in for an estimate)
Services and costs vary by location
$299 fee if you cancel within 10 days of your scheduled service
Only two or three days for loading/unloading
Customer service representatives sometimes provide information that contradicts what's on the website
Can't keep containers on your property indefinitely like you can with other container companies
Availability can be limited
Still not sure if Zippy Shell is the right choice for your move? Check out our Zippy Shell competitor section below to see how the company stacks up against other top-notch moving container companies.
89% of users select this mover
Key Takeaways
Zippy Shell (USDOT:3270381) provides convenient portable storage options for people looking for a cost-effective packing and delivery solution for their upcoming move.
They offer storage and delivery for local, interstate, and long-distance moving. Customers can also opt for additional services such as packing or short-term storage if necessary.
Zippy Shell's mesh-walled containers and climate-controlled trailers create a secure environment for household goods without jeopardizing the items' safety.
Our customers love Zippy Shell for their portable storage solutions, local and interstate services, and climate-controlled trailers.
Learn More
Jump to the Zippy Shell info you're looking for:
Zippy Shell pricing: how much it costs to move
Zippy Shell doesn't offer online quotes, but you can fill out a form with your information to receive a personalized estimate by email.
You can also call the customer service number at 1-888-947-7974 to receive a quote over the phone. Zippy Shell calculates costs by considering the storage container size and distance for a given move.
The following table shows the average prices for moves of various sizes and distances using Zippy Shell:
| | 1 bedroom | 2-3 bedrooms | 4-5 bedrooms |
| --- | --- | --- | --- |
| Local move | $190 – $240 | $300 – $630 | $350 – $750 |
| < 250 miles | $500 – $920 | $730 – $1,600 | $1,100 – $3,100 |
| Cross country | $1,800 – $3,900 | $2,800 – $4,500 | $5,200 – $7,000 |
Monthly Storage Costs
If you're not ready to move all your belongings into your new home right away, or you're simply looking for long-term storage options for precious items, Zippy Shell offers competitively priced monthly storage.
Charges vary by location, and Zippy Shell also outsources to partner storage facilities so the cost may be further determined by whether the facility is owned by the company or by a third party.
You may pay month to month if you're looking for short-term storage, but long-term storage requirements kick in after 45 days. If you want to store your belongings for more than 45 days, you'll be responsible for paying the entire balance of your planned storage time by the 45th day of storage.
In general, Zippy Shell's monthly storage unit costs are on par with the rental rate for a move (minus the transport and delivery fees). As a reminder, Zippy Shell doesn't provide quotes online. All interested parties will be required to contact the company by phone to receive a personalized price estimate.
We've prepared sample storage quotes for two U.S. cities to give an idea of potential costs. Both quotes are for the 15-foot container option.
| | | |
| --- | --- | --- |
| | Atlanta, GA | Port St. Lucie, FL |
| Monthly Cost | $296.77 | $347.66 |
Just remember that:
Zippy Shell may not store your belongings at a local facility; the facility may be near your old address, your new address, or somewhere in between.
There's no guarantee that you'll have access to your items while they're in storage.
How Much do Movers Cost?
Get instant ballpark pricing. No email or phone required. It's fast, free, and easy.
Michelle's Zippy Shell experience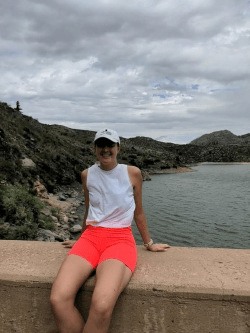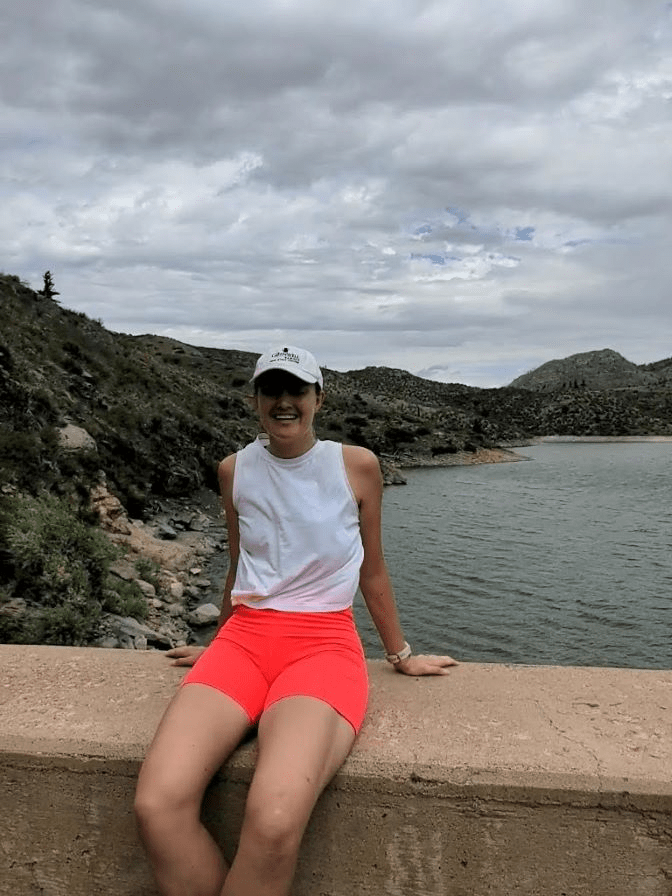 After finishing grad school in New Jersey, Michelle and her fiancé moved back home to Colorado in the summer of 2022.
Michelle was determined to keep her moving costs as low as possible, but she wanted to work with an experienced service provider that could communicate effectively and live up to its commitments.
Michelle got quotes from three moving container companies and one full-service mover to ensure she got the best deal.
Here's how those quotes compared:
| Company | Service type | Estimated cost |
| --- | --- | --- |
| U-Box | Moving container | $1,800 |
| Zippy Shell | Moving container | $3,090 |
| American Van Lines | Full-service move (8 feet of floor space on a moving van) | $3,100 |
| U-Pack | Moving container | $6,000 |
Michelle considered each estimate carefully, but in the end, Zippy Shell came through with the container and services she needed for a price she could afford.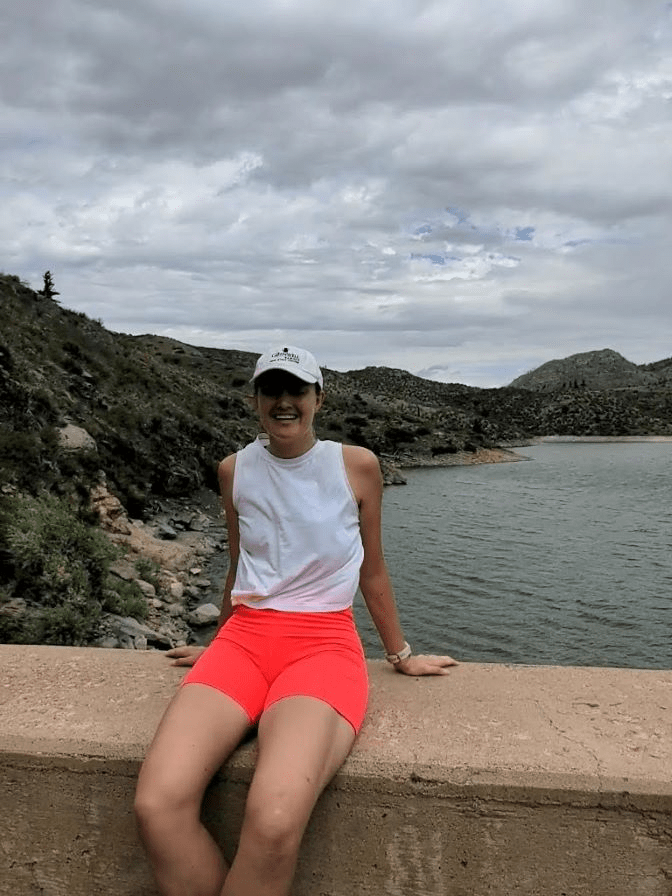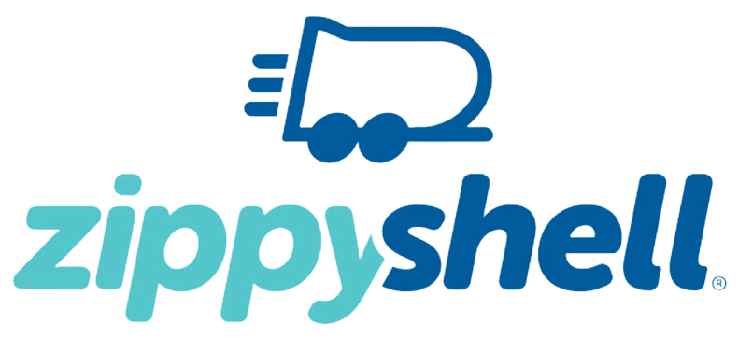 Recommended
Michelle's Move with Zippy Shell
After a stint as a grad student in New Jersey, Michelle and her fiancé moved back home to Fort Collins, Colorado, in the summer of 2022. Michelle considered various options, but Zippy Shell came through with the best mix of competitive pricing and professional customer service. .
Read The Full Story
Zippy Shell offers a wide variety of services
Zippy Shell makes moving and storage easy. Before selecting your move-out date and reserving a container with Zippy Shell, you can choose either door-to-door or terminal-to-terminal service.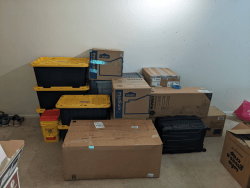 Here's how it works:
Option 1: Door-to-door service
Zippy Shell will deliver the empty container(s) to your old address.
You load it yourself or hire movers through Zippy Shell to help (Zippy Shell partners with local moving companies, so prices and services will vary by your location).
If you're moving locally or out of state, Zippy Shell will pick up your loaded container and drop it off at your new residence.
If you need storage, you can keep your container onsite for a limited time or store it at a company facility indefinitely.
Option 2: Terminal-to-terminal service
You take your household goods to the nearest service center and load the container there (or hire labor to help).
If you're moving, Zippy Shell will transport your container to your new home or apartment.
If you need storage, your container can be stored at a company facility indefinitely.
When you're ready to retrieve your belongings, you schedule a date to go to the facility and pick everything up.
Note: Customers may also be able to choose terminal-to-door and door-to-terminal service to fit their particular needs.
Want to know how much your move will cost with Zippy Shell or competitors? use our Moving Cost Calculator to compare quotes.
Learn More
Real-life examples
Danielle and Michelle both chose door-to-door moves without storage.
For her long-distance move, Danielle's container made the 813-mile trip from Virginia to Florida in about two weeks.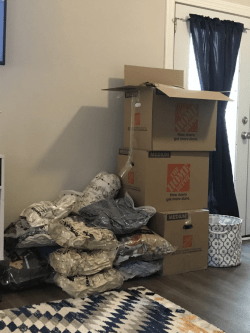 On the other hand, Michelle experienced multiple delays due to miscommunication and other scheduling issues.
In the end, she and her fiancé scheduled an "out by owner" appointment and retrieved their things themselves because they weren't sure when Zippy Shell would be able to deliver their container.
Zippy Shell's warehouse staff went out of their way to be as accommodating as possible, but Michelle and her fiancé had to rent a moving van and complete the last portion of their move themselves, even though they paid for door-to-door service.
Their experience isn't typical, but it's worth keeping in mind if you're moving during the peak spring or summer seasons. Peak moving season creates additional demands and service issues, but proactively asking questions can help you adjust your expectations.
Also, keep in mind that:
Terminal-to-terminal moves may not be very convenient, but they are cheaper than door-to-door moves.
You can only request one Zippy Shell container at a time — but don't worry, the company will bring you another if you fill up the first one and need more space.
Zippy Shell doesn't offer loading or packing services with its typical container rentals, but customers can rent moving blankets and other packing supplies to streamline the process.
89% of users select this mover
Two convenient container sizes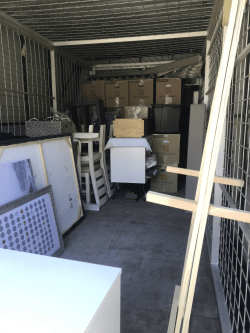 Danielle and Michelle both used 15-foot containers for their moves, because they were moving the contents of multi-bedroom residences.
Both ended up with excess space in their containers, but it's better to be safe than sorry. In their cases, Zippy Shell's 10-foot containers weren't available because they're reserved specifically for local moves, and Danielle and Michelle both made interstate moves.
Here's the lowdown on Zippy Shell's 10- and 15-foot containers:
| | 10-foot | 15-foot |
| --- | --- | --- |
| Capacity | Studio or one-bed apartment | 2-3 bedroom home |
| Popular usage | Small, local moves | Local and long-distance moving and storage |
| Types of moves | Local only | Local and long-distance |
| Storage | No | Yes |
| Internal dimensions | 9'7″ x 6'4″ x 6'4″ | 15'7″ x 6'4″ x 6'4″ |
| Interior volume | 385 cubic feet | 625 cubic feet |
| Container material | Metal cage (image below) | Metal cage |
| Weight limit | 4,500 lbs | 4,500 lbs |
Note: According to Zippy Shell, their 10-foot containers are only available at a few locations across the country.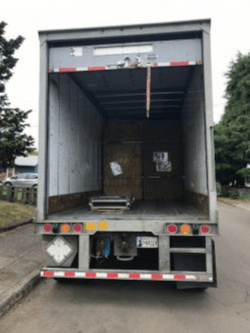 The 15-foot containers are Zippy Shell's cornerstone product. These containers are narrower than most competitors' containers and generally fit in standard parking spaces, which makes them ideal for people relocating to major metropolitan areas where shipping containers are often not permitted.
Some customers are skeptical of Zippy Shell's containers' mesh walls, but the company assures its customers that they're a perk –– not a negative.
Although Michelle was disappointed when her container showed up on moving day and wasn't made of solid metal, the unique mesh containers are designed to promote airflow.
Damage isn't any more common with mesh-style containers than with solid metal containers, so the container's material shouldn't be a dealbreaker if you're considering Zippy Shell.
Storage with Zippy Shell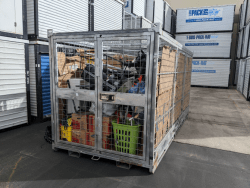 Every long-distance move comes with 30 days of free storage when you choose Zippy Shell.
Storage isn't automatically included on local move quotes, but you may be able to call in and add it to your order, depending on where you're moving to and from.
In many cases, you can rent Zippy Shell containers for long-term storage if you're willing to keep the container on your property. Placing the container on your property is likely to result in significant cost savings compared to keeping it in a facility.
But if there's no storage facility in your area, you may want to consider another company such as PODS.
Zippy Shell's insurance options
We suggest asking your insurance agent if your renters or homeowners insurance will cover your items while they're being moved or stored.
If not, Zippy Shell offers the following insurance plans:
| | Standard coverage | Plus coverage | Premium coverage |
| --- | --- | --- | --- |
| Cost | $0 | $149 per month | $399 per month |
| Coverage amount | $50,000 | $50,000 | $50,000 |
| Deductible | $5,000 | $2,500 | $1,500 |
Please note that these costs and coverage limits apply to each container and that coverage is extended to:
Water damage
Damage resulting from natural shifting during transit
Any damage that happens during the loading or unloading of the containers
Each content protection plan includes $50,000 of coverage, but deductibles and premiums vary.
How Zippy Shell stacks up against the competition
We love Zippy Shell for cost, convenience, and flexibility, but they're not the best fit for every customer.
Ryan got a quote from Zippy Shell for his move from Oregon to Ohio, but he ended up booking a 28-foot freight trailer with U-Pack because he needed lots of space and only wanted to pay for what he used.
The following chart highlights some key differences between the biggest names in moving and storage containers:
| | | | | | |
| --- | --- | --- | --- | --- | --- |
| | Zippy Shell | U-Pack | PODS | 1-800-PACK-RAT | Moving Place |
| Container sizes | 10 and 15-foot containers | 6-foot ReloCube and 28-foot trailer | 8, 12, and 16-foot containers | 8, 12, and 16-foot containers | 28-foot and 53-foot trailers |
| Loading/unloading times | Two to three days | Three days | Unlimited | Unlimited | Various options allow for up to three days each for loading and unloading |
| Move types | Local and long-distance moves | Moves over 100 miles only | Local and long-distance moves | Local and long-distance moves | Moves over 250 miles only |
| Storage availability | Yes, but only with 15-foot containers at a company facility (all Zippy Shell storage facilities are climate controlled) | Only ReloCubes can be used for storage, and they can only be stored at a company facility (not climate controlled) | Yes, at your place or theirs (not climate controlled) | Yes, at your place or theirs (some 1-800-PACK-RAT storage facilities are climate controlled) | Temporary storage for up to three months, but only at a company facility (unspecified) |
Here's how Zippy Shell's prices compare to the competition:
| | | | | | |
| --- | --- | --- | --- | --- | --- |
| | Zippy Shell | U-Pack | PODS | 1-800-PACK-RAT | Moving Place |
| Average local move cost | $190 – $750 | Not available for local moves | $200 – $800 | $150 – $790 | Not available for local moves |
| Average long-distance move cost | $500 – $7,000 | $900 – $6,600 | $450 – $7,600 | $910 – $6,900 | $1,100 – $4,700 |
| Coverage area | About 29 states | All 50 states, Canada, and Puerto Rico | About 45 states | About 29 states | Continental U.S. |
Though service is only available in 33 states, Zippy Shell partners with 1-800-PACK-RAT to provide coverage in areas where it doesn't have facilities.
Our research found that Zippy Shell has limited availability, and it can be difficult to schedule service if you're not near a branch. If you think location might be an issue, we recommend calling Zippy Shell directly with your current and future zip codes at the ready.
Want even more information on how container companies measure up? Check out these head-to-head comparisons:
How moving with Zippy Shell works
89% of users select this mover
Zippy Shell primarily communicates with customers over the phone or by email. Customers often complain about communication delays or miscommunications, but these issues can be remedied by proactively asking questions and setting reasonable expectations with your local branch.
The company's contact information is readily available on their site, but you can also fill out a contact form or send a letter if you'd prefer they reach out to you.
Unlike some of their competitors, Zippy Shell doesn't offer a pricing or delivery guarantee, but their customer service representatives are accommodating and will do everything they can to make things right should delays happen.
Zippy Shell's booking and moving process is simple:
After you schedule your move, Zippy Shell will deliver your container.
You'll have two to three days to fill the container by yourself or by hiring third-party labor.
Zippy Shell will pick up your container at your scheduled time and deliver it to your new location.
Zippy Shell's payment process
Zippy Shell only accepts payment by credit card, but customers like Michelle and Danielle generally appreciate how straightforward and transparent the process is.
Here's when you can expect to pay:
| | |
| --- | --- |
| First payment | Zippy Shell will collect 50% of your total move cost two business days before your containers are scheduled to be delivered |
| Second payment | Zippy Shell will collect the remaining balance when your container arrives at destination or on the 31st day after delivery (whichever comes first) |
Zippy Shell centers customer convenience and communication

Reading customer reviews is an essential part of doing your due diligence when shopping for a moving company. Even when the process doesn't go perfectly, customers typically report positive moving experiences with Zippy Shell.
Danielle gave Zippy Shell top marks for pricing and communication but only 3 out of 5 stars for timeliness.
Her things were delivered within the agreed-upon delivery window, just not quite as early as she would have liked. Fortunately, Danielle's move was a success by nearly every other measure, and she gave Zippy Shell a solid "4" for overall experience.
When unplanned delays happen, Zippy Shell makes it right
Michelle's move from New Jersey to Colorado didn't go as smoothly, but timing may have been partly to blame because she moved during the peak summer season, when full-service movers and container companies experience huge surges in business.
Zippy Shell could have communicated more effectively during Michelle's move, but they did reduce her bill by $200 to help offset some (not all) of the cost to rent a moving truck.
Zippy Shell is perfect for people who…
We recommend Safeway for people who want cost savings and professional delivery. With competitive prices, two container sizes, and flexible service options, it's no wonder that so many customers choose Zippy Shell over the competition.
Better Moves Project participants like Danielle generally have positive experiences.
On her move from Virginia to Florida, Zippy Shell came through with the following:
Solid communication
An accurate quote
On-time service
No loss or damage
Another reason Zippy Shell and similar portable storage companies are so popular is that professionals handle the driving, so you can simply transport yourself to your new home without the stress of also having to transport your belongings.
On a recent DIY move from Georgia to New York, Chandra had two tire blowouts on the trailer she'd rented to tow her vehicle. One of the blowouts was in the middle of the night, and she and her son found themselves on a lonely stretch of highway. These equipment issues added time, stress, and expense to Chandra's move.
This frustration couldn't have happened with a moving container company like Zippy Shell, because customers can get where they need to go by car, bus, train, or airplane while letting licensed commercial drivers handle the transportation.
Zippy Shell's innovative metal cage containers are changing the way people move from city to city. Imagine not having to worry about parallel parking on a busy city street, but instead having a portable storage container dropped conveniently near your door.
The company also makes it easy to book moving labor and purchase additional insurance to protect your items if you need it.
Zippy Shell is worth considering if:
You're moving locally and live near a service center
You're moving from one urban center (like Chicago) to another (like Manhattan), where many other types of moving containers are prohibited
You need to store your items in a climate-controlled facility
You can pay via credit card
You find three days adequate for loading and unloading
You find driving a clunky moving van less-than-desirable
You don't have the budget to pay for full-service movers
If you're still trying to find a mover that fits your needs, we recommend circling back to our moving calculator or checking out our best interstate moving companies to learn more about your options.
FAQ
Is Zippy Shell owned by 1-800-PACK-RAT?
Zippy Shell is the sister company of 1-800-PACK-RAT. The two companies work together to meet the needs of movers across the country, whether they're in the market for long-term storage, packing assistance, or pickup/drop-off of the company's trademark portable storage containers.
How much stuff can fit in a Zippy Shell container?
Zippy Shell's 15-foot storage container fits 3-4 rooms of furniture and belongings. The container's internal dimensions are 15'7″ x 6'4″ x 6'4″. The company also offers 10-foot containers for smaller, local moves, but availability may be limited to certain locations.
When you request a quote, your customer service representative can help you decide the best storage container for your needs. If necessary, you can always request an additional container after you've filled your first.
How many Zippy Shell locations are there?
Zippy Shell operates 67 locations in 33 U.S. states. You can find Zippy Shell storage warehouses in:
Alabama
Arizona
California
Colorado
Connecticut
Florida
Georgia
Idaho
Illinois
Indiana
Iowa
Kentucky
Louisiana
Maryland
Massachusetts
Michigan
Minnesota
Missouri
Nevada
New Jersey
New Mexico
New York
North Carolina
Ohio
Oklahoma
Oregon
Pennsylvania
South Carolina
Tennessee
Texas
Utah
Virginia
Washington, D.C.
Not what you were looking for?
Check out other categories that can help you find the information you need!
See All
Hide All