U-Box vs PODS vs U-Pack: The Ultimate Moving Container Smackdown
Overall opinion: In the ultimate moving container smackdown between U-Box, PODS, and U-Pack, we know who we'd book: U-Pack. U-Pack offers fast shipping and excellent national coverage with the experience of freight company ABF handling the logistics. Their pricing is super transparent, and generally beats the competition for medium-distance moves. The only downside is that U-Pack isn't available for local moves.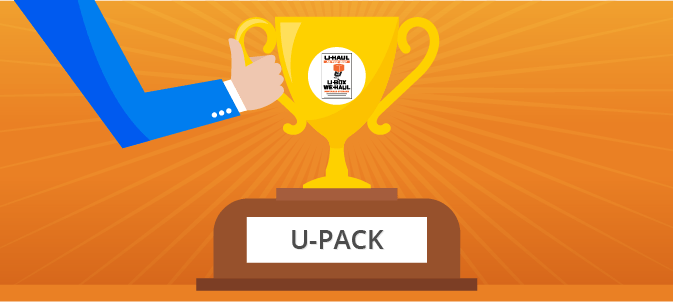 We ranked U-Pack amongst the top moving container companies—see how it stacks up against other container moving companies, and read on for our container company smackdown.Container moving companies offer a fantastic service: the ability to save money by DIY-ing some of your move, but without having to drive a giant moving truck anywhere.

Container moving and storage companies will most often deliver the containers to your place so you can pack your belongings yourself (and save the money it would have cost to have movers pack for you), then handle the huge logistical hassle of shipping the containers to your new address, where you can unpack them.

U-Pack, U-Box or PODS vs a moving company (like, the full-service kind)? For the budget-conscious mover, there's no contest there.

It's no wonder container companies have fast become a large part of the moving industry—they offer a great middle-of-the-road solution for people who don't want to shell out for a full-service move, but also can't or don't want to have to drive a truck or haul a trailer.

But with all that growth comes a lot of competition. People have tons of choices for container moving companies—how do you possibly pick the right one?

If you're looking to book a container moving and storage company but having trouble choosing the one that's right for you, you've come to the right place. We've compared services, costs, containers, and more for three of the biggest names in the container game: U-Haul U-Box, PODS, and ABF U-Pack.

We've picked our favorite, but we've also compared a lot of information so you can pick your favorite and book your move with confidence. Read on for the ultimate moving container smackdown.
U-Box vs PODS vs U-Pack: Meet the Competitors
One of the best places to start when comparing different moving companies is looking at the pros and cons of using each. Here are the things we love and hate about each of these three companies, as well as all the other pros and cons we can think of.
U-Haul U-Box Pros and Cons
Read our comprehensive review of U-Haul U-Box here.
What we love: U-Box is a product of U-Haul, and there's hardly a moving company on the planet that has the same amount of experience and trust behind is as U-Haul. We love that U-Box has a ton of option add-on services so you can keep your move as DIY as possible, or create something that's between a DIY move and a full service one. And U-Box offers competitive prices, so for the budget conscious, it's a great option to check out.
What we hate: Of all the container companies we've reviewed, U-Box has the worst containers. They only come in a single size (small) and they're made of treated plywood instead of metal, which gives us concerns about how durable and weatherproof they are.
U-Box Pros
U-Box Cons

You don't have to drive a huge U-Haul truck or haul a trailer if you don't want to
U-Haul pioneered DIY moves, and it's one of the biggest and most experienced brands out there
You only have to pay for the containers you use
You can save even more by packing/unpacking at a U-Haul facility instead of having containers dropped off and picked up
It's easy to get a quote on their website
Prices generally beat out full-service movers and other container movers
U-Box is one of the only container moving companies that can help you with an international move—they  can ship to just about any port

They only offer one container size, and it's much smaller than what you can get at other container moving and storage companies
There have been reports that the plywood boxes can easily break in transit. We're also not confident that plywood will protect our stuff from the elements as well as metal would
U-Box doesn't offer great online support options—in most cases, you'll have to pick up the phone to talk to a service representative
PODS Pros and Cons
Read our comprehensive review of PODS here.
What we love: Every PODS reservation is a minimum of 30 days, which means you can take your time packing and unpacking, or take advantage of free storage on your property or in one of their facilities. Plus, their cancelation and modification policies give you a ton of flexibility to take your time or change your moving timeline.
What we hate: PODS are so popular, they tend to sell out of containers up to six months ahead of time, especially if you're trying to book a move on a weekend or during spring and summer, A.K.A. peak moving times.
PODS Pros
PODS Cons

Usually less expensive than a hiring full-service movers
Flexible change and cancelation policy offers full refunds if you need to change your plans
30-day minimum rentals allow you to take your time packing and unpacking
Your PODS can be moved right away, left on your property as storage, or stored in a facility
Multiple container sizes
You don't have to drive a clunky truck—PODS handles the transportation
Locations in most states and several other countries
30 days of storage included at no extra cost
Local and long-distance moving options
Various levels of insurance coverage
Nationwide locations
Online quoting, booking, and shipment tracking
Military discount

The PODS website doesn't offer all the information you may need, so you might have to call for service
No long-distance quotes are given online
Most bookings have to be made by phone—there's no online option
Availability can be limited for last-minute moves and during peak moving season because PODS often  sell out far in advance
Need space to park container
Pricing can be higher than the competition
U-Pack Pros and Cons
Read our comprehensive review of U-Pack here.
What we love: U-Pack may not offer as many container sizes as PODS, but you can rent a 27-foot trailer and only pay for the space you use, which guarantees you'll have enough space but still get the best possible price.
What we hate: U-Pack only accommodates long-distance moves. If you're moving under 100 miles, you'll have to go to a competitor.
U-Pack Pros
U-Pack Cons

Less expensive than a full-service move
Extremely transparent pricing with a guarantee that there will be no hidden fees
Clean, easy-to-use website that offers instant quotes
Fast container delivery with an online tracker
You can add on extra services when you book your move
Multiple container sizes
Monthly storage
You only pay for the space you use if you book a large trailer
Someone else does the driving; you just have to pack and unpack
Available in many rural areas other companies don't serve, as well as internationally
Competitive pricing on 100 to 250-mile moves

Stricter cancellation fees than some of the competition mean you'll pay steep fees if you cancel within a week of your scheduled move
No local moves
Tend to be more expensive for cross-country moves
27-foot trailers can be tough to park and load because of their  size
You only get three days to pack and unpack your containers, and onsite storage isn't currently offered
No local moving options
U-Box vs PODS vs U-Pack: Services and Availability
One of the most important things to compare between moving companies is what services they actually offer. That will show you which one is the best fit for your own moving needs, since every move is unique.
Here's how services offered by U-Box, PODS, and U-Pack stack up.
U-Box
PODS
U-Pack
Moving
✔
✔
✔
Storage at a Facility
✔
✔
✔
Storage on Your Property
✔
✔
Storage Between Destinations During a Move
✔
✔
✔
Delivery and Pickup of Containers
✔
✔
✔
You Pack the Containers
✔
✔
✔
Professionals Pack the Containers
Available as an add-on service
Available as an add-on service
Available as an add-on service
Limited Time to Pack Containers
✔

(Up to three business days)

Shipment of Containers to New Address
✔
✔
✔
Insurance Included
✔
Insurance Available to Purchase
✔
✔
✔
Free Cancelation or Modification
✔

(Up to the day of your move)

✔

(Up to the day before your move)
Also important to take into account is where these companies have availability—if they don't serve the area where you live, you'll have to choose a different company. Here are the service areas for U-Box, PODS, and U-Pack.
| | | | |
| --- | --- | --- | --- |
| | U-Box | PODS | U-Pack |
| Available in the U.S.? | All 50 states | In 44 states | All 50 states and Puerto Rico |
| Available in Canada? | Yes | Yes | Yes |
| Available internationally? | Yes – you can ship a U-Box to almost any international port | Yes, in Australia | No |
When it comes to services, U-Box and PODS are some of the best options, because they offer storage on your own property, unlimited packing and unpacking time, and flexible modification or cancelation of your booking—all services U-Pack does not offer.
Where U-Pack comes out on top, though, is in availability. While U-Pack doesn't operate outside the U.S. and Canada, it does serve Puerto Rico, something many moving companies don't offer. And U-Pack's 50-states coverage extends to many rural areas where it can be difficult or expensive to get other container companies to do drop-offs and pickups.
U-Pack vs PODS vs U-Haul U-Box: Container Contest
When booking a container company, one of the biggest considerations should be the containers themselves. This is the category where clear winners and losers start to emerge in our ultimate moving container smackdown. Here's how the three companies compare.
U-Box
PODS
U-Pack
How many container sizes are available?
1
3
2
What are the container sizes?
8-foot
7-foot

12-foot

16-foot

5'10" U-Pack Relocube
27' trailers(only pay for the space you use)
Storage available for all container sizes?
Yes
Yes
Yes
Cubic footage available?
280 cf
390-1,008 cf
305-1,800 cf
Container material?
Treated plywood
Metal
Metal
Obviously at the bottom of the list in terms of container quality is U-Box, which only offers small, plywood containers. Compare that to multiple sizes of metal containers you can get from either PODS or U-Pack—there's really no competition there.
While we love that PODS offers three different container sizes, that's still not as flexible as U-Pack's policy that you can rent a 27-foot tractor trailer and pay only for the space you end up using. This guarantees you'll have enough space for everything you own, and that you won't pay for any space you're not using. There's no better deal than that in this industry.
U-Box vs PODS vs U-Pack: Cost for Services
On that note, let's talk about the cost. Cost is a major factor for most people when choosing a company, but when it comes to moving containers, cheapest is not necessarily the best. Let's take a look at average costs for these three companies and how they compare.
Cost for a Local Move (< 100 miles)
| | | | |
| --- | --- | --- | --- |
| | U-Box cost | PODS cost | U-Pack cost |
| 1 bedroom | $150 – $600 | $200 – $400 | Not Available for Local Moves |
| 2-3 bedrooms | $300 – $700 | $300 – $650 | Not Available for Local Moves |
| 4-5 bedrooms | $300 – $800 | $300 – $800 | Not Available for Local Moves |
Cost for a Medium-Distance Move (< 250 miles)
| | | | |
| --- | --- | --- | --- |
| | U-Box cost | PODS cost | U-Pack cost |
| 1 bedroom | $450 – $1,000 | $450 – $800 | $900 – $1,300 |
| 2-3 bedrooms | $700 – $2,000 | $750 – $1,900 | $1,100 – $1,700 |
| 4-5 bedrooms | $800 – $3,000 | $900 – $2,100 | $1,200 – $1,900 |
Cost for a Long-Distance Move (Cross-Country)
| | | | |
| --- | --- | --- | --- |
| | U-Box cost | PODS cost | U-Pack cost |
| 1 bedroom | $1,200 – $3,500 | $2,000 – $4,000 | $1,500 – $2,500 |
| 2-3 bedrooms | $2,500 – $4,500 | $3,000 – $4,900 | $2,400 – $3,900 |
| 4-5 bedrooms | $4,000 – $7,000 | $5,500 – $7,600 | $3,500 – $6,600 |
Here's why you should take these prices with a grain of salt (and why we're not declaring a winner on cost): Average costs are not necessarily even close to reflective of what a move will cost with any of these companies.
So many factors go into calculating the price for a moving quote, the only way to get a price estimate that's accurate for your move is to take all your information to each of these companies and get an individualized quote.
You should always shop around and check out multiple movers anyway, and we think U-Box, PODS, and U-Pack are all worth getting a quote from, just to know what your options are.
For more info on pricing check out our moving estimate calculator.
U-Box vs PODS vs U-Pack: Which Company Is Right For You?
Our pick for the best container moving company out there is U-Pack, but that doesn't necessarily mean it's the right choice for you. These are all solid, trustworthy companies and during your move planning process, it's a good idea to get a quote from all three of them, plus other options, to fully understand the wide range of services and prices available for your moving needs.
If you're ready to start comparing, get instant quotes from multiple movers you can trust, all at one site.
Not what you were looking for?
Check out other categories that can help you find the information you need!