1-800-PACK-RAT Review: Moving Costs, Service Options
Overall Opinion
1-800-PACK-RAT is a direct competitor to other popular container moving companies (the Pack Rat vs. PODS competition is fierce) but offers services in fewer locations.
With that said, their simple online portal for local moves, multiple container sizes and competitive prices make them well worth checking out and comparing with other providers in your area.
Check out how 1-800-PACK-RAT ranks verse the competition on our best moving container companies list.
1-800-PACK-RAT, also known as Pack Rat, has been in business since 2003. Since then, the company has spread to more than 200 locations in 29 states. It offers competitive pricing for people who don't want to pay for a full-service move — the DIY-style container system means you pack your stuff, but someone else does the driving.
Reservations come with 30 days of free storage, either on your property or at a Pack Rat facility. That makes Pack Rat a great choice for people who are moving on a flexible timeline or need to move out of one place before they find a new one.
Pack Rat offers convenient online services we love — but only for local moves. Using Pack Rat for a long-distance move means spending a lot of time on the phone. And some reviewers complained about a fuel surcharge they weren't warned about upfront. Still, Pack Rat's pricing is competitive, and the company allows haggling, so you might be able to get a better deal than what's initially quoted.
Overall, we found Pack Rat to be a solid option if you're within its coverage area. Read on for the full review.
1-800-PACK-RAT Review: The Good and the Bad
There are a lot of options out there for container moving and storage. Before you choose 1-800-PACK-RAT, you'll want to know what sets it apart from the competition — both in good and bad ways. Here are all the pros, cons, and everything in between.
The Good: Excellent for Local Moves
The service where Pack Rat truly excels is local moves.
When booking a local move, you can call for a quote, or enter all your information online to get an instant quote and book right then.
There are also more container sizes available for local moves.
But our favorite feature is an online management tool that lets you schedule pickups and drop-offs, modify your reservation dates or addresses, make payments, and other tasks related to your move. Why doesn't every moving company offer a tool like this?
Unfortunately, the flip side of this is that Pack Rat is not as great for long-distance moves. The online portal isn't available for long-distance moves, and you can't get a quote for a long-distance move online, either.
Pretty much everything for a long-distance move has to be done over the phone, which means a lot of time (much of it spent waiting for available service representatives) and hassle.
The Bad: Availability is Limited… Like, Seriously Limited
Pack Rat is only available in the United States, so international moves are completely out. And it's only available in 29 states, so even for a stateside move, you may be out of luck.
If Pack Rat doesn't have a location near you, you might be able to book your move anyway — just expect to pay more for delivery and fuel costs since the containers will have to travel farther to get to you.
But in many places (namely states in the western half of the country), Pack Rat is simply unavailable and recommends going to its partner UPack for service instead.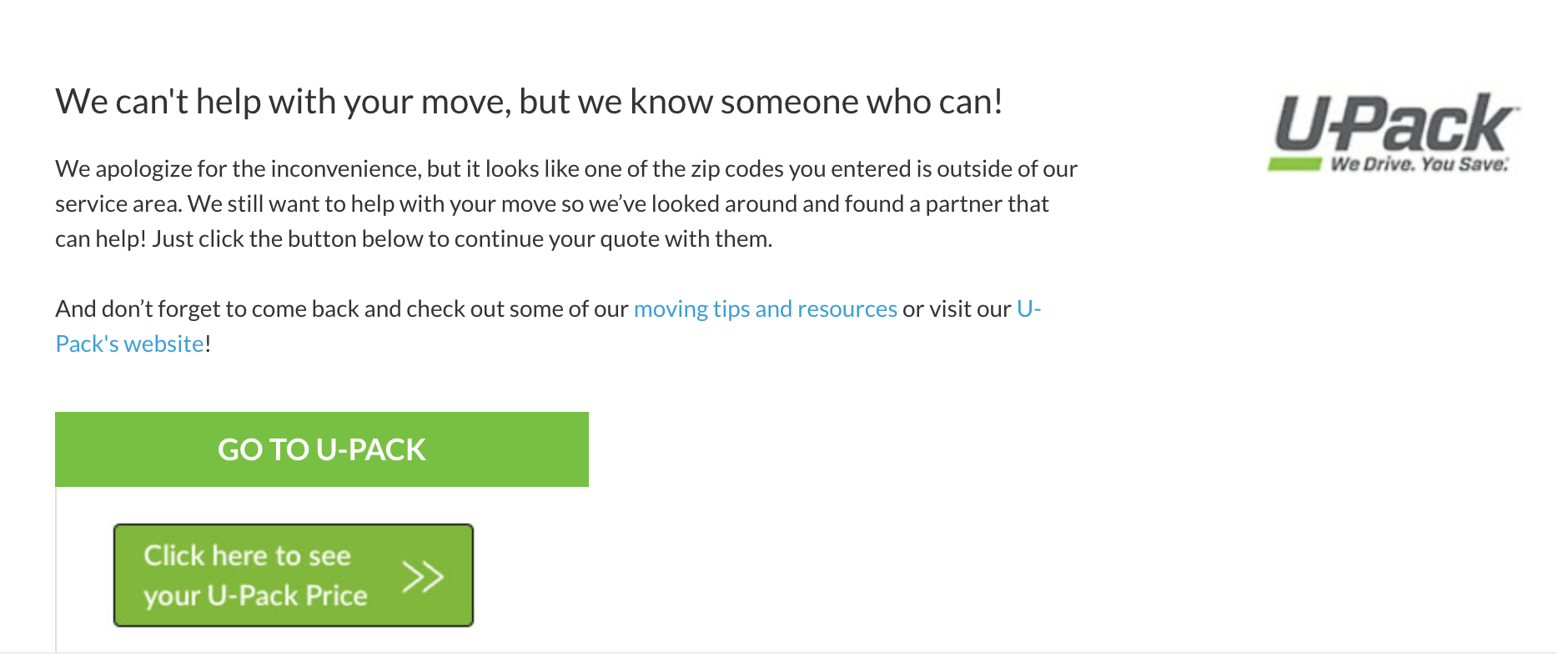 1-800-PACK-RAT Review: Other Pros and Cons
Those are our favorite and least favorite features that come with booking 1-800-PACK-RAT for a move. But what else should you consider? Here's our full breakdown of the company's pros and cons.
Generally less expensive than a full-service move
Flexible change and cancelation policy (if you cancel more than 48 hours before your scheduled move) with full refunds available if your plans change
Accommodates a long moving window with 30-day minimum rentals
Belongings can be moved or stored
Barn-style container doors make packing easier
Multiple container sizes
Someone else transports the containers — you just have to load and unload them
Offers moving supplies (some supplies are even free for long-distance moves)
Insurance plan included, with the option to up your coverage
Some information isn't available online. We were required to call for a quote for a long-distance move
Many bookings must be made by phone; there's no option to book online
Only available in 29 states, and not available for international moves. Some states can't be accommodated at all, and others will require higher fees because the containers have to travel farther to get to you
Long-distance moves have a fuel surcharge that can increase the total price of the move
No deliveries are available on Sundays
The 3 1-800-PACK-RAT Services
PODS vs Pack Rat vs UPack: How does 1-800-PACK-RAT compare to the other container moving players in the market?
What Pack Rat offers is pretty similar to what you get at PODS or UPack — they're the competition (and UPack partners with Pack Rat in a lot of places).
Like other container moving companies, you can use Pack Rat for moving, storage, or a combination of the two.
Option 1: 1-800-PACK-RAT for Moving
Moving with Pack Rat is pretty simple.
You schedule a day to have your containers delivered to your home, where you pack them with your belongings yourself (this DIY-style moving helps keep the price low). You can pack immediately, or you can take your time — you can keep the containers on your property as long as you want to.
A 1-800-PACK-RAT driver will transport the containers to your new address — you don't have to do any driving. You unpack them when you're ready.
Once they're empty, you schedule a time for the company to pick the containers up.
Option 2: 1-800-PACK-RAT for Storage
You're not moving, but you need to store your belongings for a remodel or renovation? Pack Rat can help with that, too.
Like with the moving option, you schedule a day for a company representative to deliver your containers. You pack them yourself – again, taking as long as you need. When you're done, you can either keep them to store belongings on your own property, or call and have them picked up and transported to a secure, climate-controlled storage facility, where they can stay indefinitely.
For as long as you use your Pack Rat containers for storage, you'll have to pay a monthly fee. Monthly Pack Rat rental fees vary by location (we saw $180 per month in the Chicago area, and $230 per month in Denver, to get an idea), and if you store your belongings in one of Pack Rat's facilities, there will be additional storage fees depending on your location. There are also transport fees for having the containers dropped off and picked up.
Option 3: 1-800-PACK-RAT for Moving and Storage
One of the great things about container companies is how flexible they can make your move. If you need storage during the moving process, Pack Rat can provide that.
You schedule a day to have your containers delivered, then pack them. Then, you call Pack Rat and have them transported to a storage facility. It can be a facility near your new address so your containers are close by for when you arrive. Or, if you don't know where you're going yet, you can store them near your old address.
The containers can stay in storage as long as you need them to. When you're ready to finish your move, you just call Pack Rat and let them know when and where to deliver the containers for you to unpack, then schedule a day to have them picked up.
Getting a Quote and Booking with 1-800-PACK-RAT
One area where we think Pack Rat could offer better service is with its quote and booking processes. Here's how it works.
If you want a quote online, you head to Pack Rat's website, enter some basic information, like where you're moving from and to, and the date you want your containers. There's also a field to enter a Pack Rat promo code, which you can often get from right on the homepage, depending on what kinds of promotions are running at the time.
Based on your zip codes, Pack Rat will let you know whether service is available in your starting and ending locations. If it's not, it'll give you an affiliate link to use at UPack instead.
If Pack Rat is available where you are, you can continue the booking process — if you're making a local move.
If you're moving long-distance, that's the end of what you can do online. You'll receive a reference number, and you'll have to call in to get any further with your quote.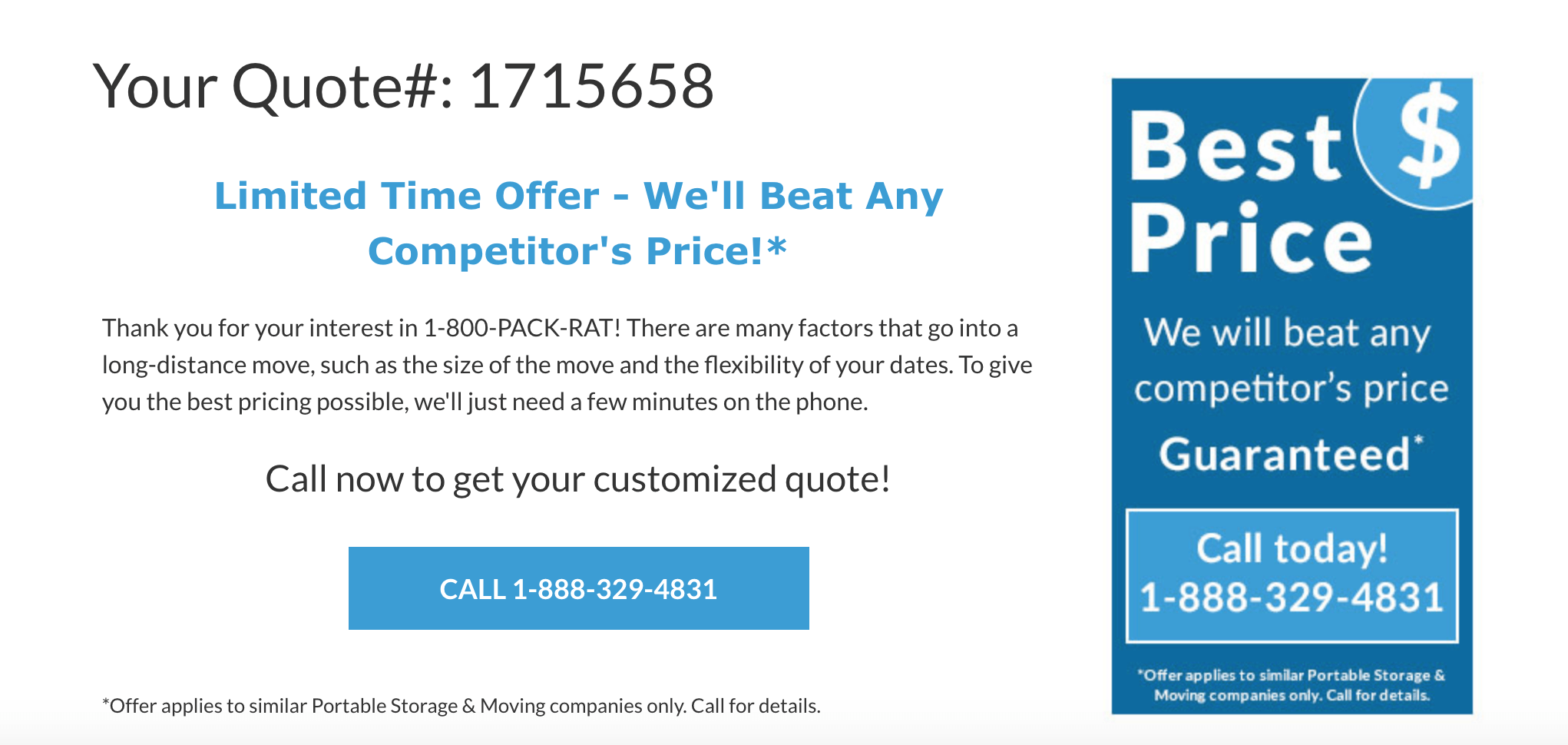 If you're moving locally, you can see options for container sizes and prices online. If you want to use the smallest container size (8 feet), or use a mix of container sizes, you can't continue online and will have to call. Otherwise, you can review rental, transport, and delivery fees for 12- and 16-foot containers and choose how many you'd like to reserve.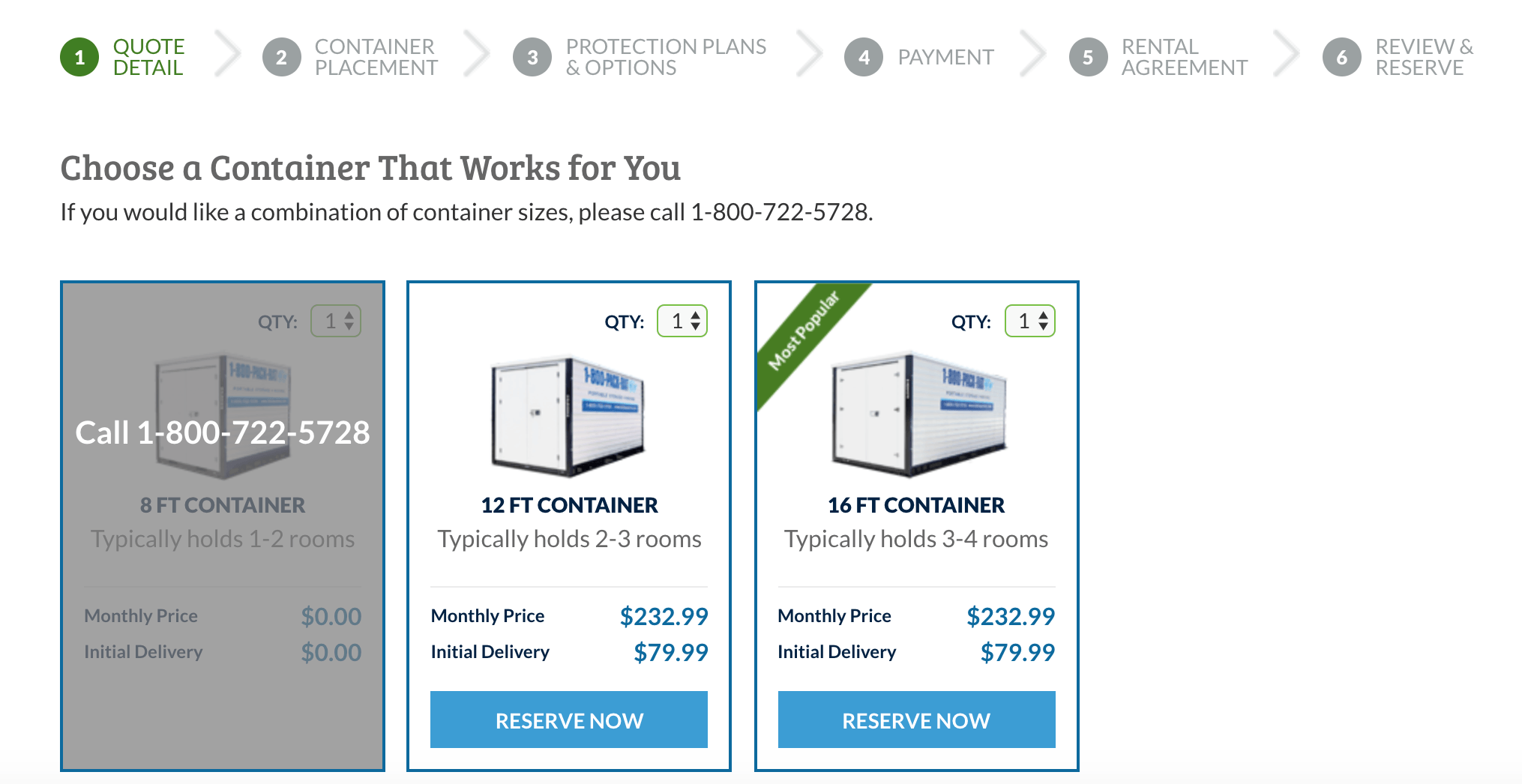 If you're happy with the options and prices online for your local move, you can finish your reservation and pay online and you're done! Otherwise, you'll have to call a service representative.
Pack Rat doesn't have the most flexible cancelation policy among moving container companies, but it still shouldn't cost you, unless your plans change at the very last minute. You have until 48 hours before your scheduled delivery to cancel with no charges and get anything you've paid so far refunded. If you cancel within 48 hours, though, expect to pay steep cancelation fees and potentially mileage. One reviewer mentioned that her cancelation costs came out to about $500 per container.
1-800-PACK-RATS Container Sizes and Availability
Pack Rat offers several different container sizes — more than some competitor companies. It also uses containers made out of solid steel, which offer weatherproof protection for your stuff. 8- and 16-foot containers can be used for moving long-distance, while 12-foot containers are for local moves only.
| | 8 ft | 12 ft | 16 ft |
| --- | --- | --- | --- |
| Capacity | Studio/small apartment | 2-3 rooms of furniture | 3-4 rooms of furniture |
| Popular Usage | College students | Apartments | Single-family homes |
| Types of Moves | Local & long-distance | Local moves only | Local & long-distance |
| Storage Available | Yes | Yes | Yes |
| Internal Dimensions | 8'3″x7'3″x6'10" | 11'10″x6'11″x7'7″ | 15'10″x6'11″x7'7″ |
| Cubic Footage | 404 cf | 620 cf | 830 cf |
| Container Material | Metal | Metal | Metal |
| Weight Limit | 4,000 lbs | 6,000 lbs | 6,000 lbs |
1-800-PACK-RAT has locations in 29 states. If there's no location in your state, you may still be able to move with Pack Rat, but your costs will likely be higher. In some areas, Pack Rat is simply not available. The only way to know for sure if this company is an option for you is to head to their site and enter your zip code.
How Much Does 1-800-PACK-RAT Moving Cost?
Everyone's move will come with a different quote because the cost Pack Rat quotes you is based on a number of factors:
Size and number of containers
Availability of containers
Your distance from a Pack Rat facility
The distance between zip codes
The flexibility of your dates
Here's what we found to be the average cost for different types of moves.
| | | | |
| --- | --- | --- | --- |
| | 1 bedroom | 2-3 bedrooms | 4-5 bedrooms |
| Local Move | $150 – $500 | $200 – $630 | $340 – $790 |
| < 250 miles | $465 – $910 | $660 – $1,900 | $1,000 – $3,400 |
| Cross Country | $1,200 – $3,800 | $2,400 – $4,600 | $5,100 – $6,900 |
Keep in mind that estimates given by Pack Rat don't seem to include a fuel surcharge that gets assessed after the move is complete. Numerous online reviews complain about being surprised by this unexpected charge.
Another important note: Pack Rat actually allows haggling if you're booking your containers by phone. Many reviews note that the representatives will sometime initiate this, saying the cost looks high and they'd like to try to bring it down. If you receive a quote, definitely ask about lowering the price, because it seems like Pack Rat is willing to work with customers in this arena.
What's Included In Your 1-800-PACK-RAT Quote?
Your quote will include the cost to deliver your containers, 30 days container rental, and the cost of transporting them, either to your new address, a storage facility, or both, depending on what you've reserved in your booking.
If you're moving long-distance, Pack Rat will include 20 moving blankets per container.
What About Insurance for 1-800-PACK-RAT?
No insurance is included with your Pack Rat reservation — not even liability for the containers while they're in your possession. If you want to add that, it'll cost an extra $9.99 a month per container.

1-800-PACK-RAT Reviews: Are They Reputable?
Pack Rat has been in the moving business for more than 15 years. They're an established company with a long history of providing these services.
Online reviews for Pack Rat can be mixed, but that goes for any moving company. Users can also rate and review each individual franchise location on Google, Yelp, and TripAdvisor, which makes it hard to get a feel for an overall sentiment toward Pack Rat online.
Individual Pack Rat locations also have their own Better Business Bureau pages, so Pack Rat's BBB accreditation and ratings will vary. Your best bet is to search for BBB and review pages for your local Pack Rat facility. Do your research to see if they seem reputable and professional before you book.
According to our research, the U.S. Department of Transportation Federal Motor Carrier Safety Administration has seen three complaints against 1-800-PACK-RAT since 2018. Topics for the complaints include:
Shipment Documents
Estimates/Final Charges
Loss and Damage
Claim Settlement
Consumer Complaint (Deceptive Business Practices)
Is 1-800-PACK-RAT Right for Your Move?
Pack Rat seems to be a great choice for anyone making a local move in a city that has nearby Pack Rat locations.
If you're making a long-distance move, Pack Rat might still be a good choice for you if you don't want to pay for a full-service moving company. Just be sure to price check it against the competition, and watch out for unexpected costs, like the fuel surcharge.
If you need storage mid-move, Pack Rat makes it simple to add that onto an order. Overall, Pack Rat offers a solid middle-of-the-road option for movers.
Ready to make a reservation for your move? Compare prices and get instant quotes from multiple movers you can trust.
Not what you were looking for?
Check out other categories that can help you find the information you need!