Moving Experience: Kyle's move with PODS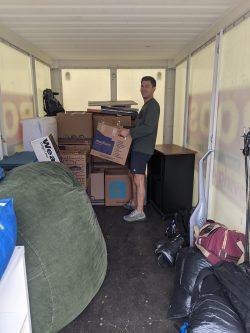 Kyle and his girlfriend recently made a work-related move from Scottsdale, Arizona, to Kirkland, Washington.
Their perfect move was predictable, budget-friendly, and stress-free. They did not want to have to wait for their items to make the 1,400-mile journey.
Kyle considered various options but ultimately decided to focus on finding a top-notch moving container company, and PODS came through with the best mix of prices and services.
PODS pioneered moving and storage containers all the way back in 1998, and customers like their lenient cancelation policy, large national coverage area, and three convenient container sizes. However, early booking is a must because capacity can be an issue during the peak summer moving season.
While searching for the best service provider, Kyle found moveBuddha and agreed to participate in our Better Moves Project by sharing his experience with PODS. In this post, we'll look at Kyle's move from every angle to see if PODS lived up to his expectations.
Move day takeaways for PODS customers
Communication: Kyle gave PODS 4 out of 5 stars for communication throughout his move
Pricing accuracy and transparency: PODS provided an accurate quote for Kyle's long-distance move, and he wasn't blindsided by any hidden fees or last-minute charges
Professionalism: PODS lived up to its service commitments and delivered a solid overall value
Timeliness: Kyle's container arrived at his new home within the agreed-upon delivery window
Loss and damage: Nothing was lost or damaged on Kyle's move
Would Kyle use PODS again? Yes, Kyle would use PODS again on a future move
Kyle needed help moving from Arizona to Washington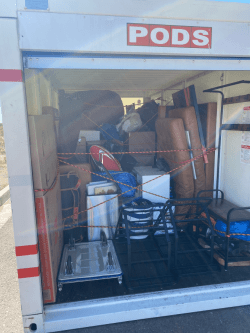 Kyle knew he'd probably have to move after finishing grad school in Arizona, so he had nearly a year to consider his options and plan his relocation. That said, things really began falling into place when he and his girlfriend got new jobs in the Seattle area.
Their shipment consisted of about 40 boxes and miscellaneous furniture that only weighed about 2,000 pounds, but they were apprehensive about making the long drive with their friendly but high-strung dog.
Kyle's move at a glance
| | |
| --- | --- |
| Move date | November 9, 2022 |
| Moved from | Scottsdale, Arizona |
| Moved to | Kirkland, Washington |
| Distance | 1,400 miles |
| Move size | Two-bedroom apartment (four total rooms) |
| Moving company | PODS |
| Moving quote | $3,252 |
| Actual cost | $3,252 |
Kyle got four moving container quotes
Kyle's move details began firming up about three months out. He and his girlfriend started by creating a rough budget (our Moving Cost Calculator is a great budgeting tool) based on the combined value of their relocation stipends.
When it was finally time to vet service providers, they relied on moveBuddha, Reddit, and individual moving company websites. They considered renting a truck from U-Haul, but a long drive in a moving van with an anxious dog wasn't particularly appealing.
They also wouldn't be able to use the truck for storage while they searched for a new place in Washington. On the other hand, full-service movers were too expensive.
In the end, they decided to use a moving container because they could save money, leave the driving to professionals, and take advantage of the free storage most container companies (like PODS) include in their long-distance moving quotes.
Once they'd settled on moving containers, they got the following quotes:
| Company | Container size | Cost estimate |
| --- | --- | --- |
| Zippy Shell | 16-foot | $2,900 |
| PODS | 16-foot | $3,252 |
| U-Pack | Freight trailer | $5,285 |
| UNITS | 16-foot | $5,800 |
The PODS quote process for Kyle included entering his basic information into the online form and call in for a brief consultation. Then a PODS representative sent an estimate via email.
PODS' quote included the following:
Door-to-door transportation
30 days of storage
$10,000 insurance
Kyle chose PODS for price and reputation
Two of Kyle's quotes were far too high, but his PODS and Zippy Shell estimates were about what he expected.
After a careful analysis, Kyle booked his move with PODS because their price was reasonable and they had lots of positive online reviews.
89% of users select this mover
He had two positive customer service experiences and one that wasn't so great, but he was confident that PODS would be able to pick up and deliver his household goods safely, on time, and budget. To make sure everything was covered adequately, Kyle paid to up his coverage from $10,000 to $20,000.
PODS contacted him several times before the big day to confirm his move details and verify that there'd be ample space for the container and delivery truck.
Kyle prepared by packing and getting organized
Kyle and his girlfriend began decluttering and downsizing by getting rid of things they couldn't ship and no longer needed.
Decluttering and donating items you don't want is an often-overlooked moving tip and can make moving day much more manageable.
They were also concerned about a semi-valuable rock collection that required special packing, but they decided to move it in the car with them.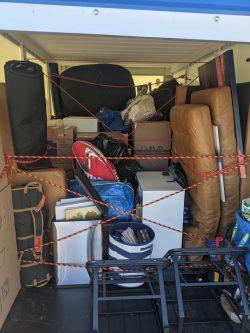 They'd initially been told their credit card wouldn't be charged until the day before their service date, but PODS did a pre-authorization about two weeks out.
This miscommunication didn't turn out to be a big deal, and PODS didn't charge the card until later, but Kyle would have preferred knowing about the preauthorization beforehand.
PODS reached out again via email the day before their container was scheduled to be delivered to reconfirm everything and let them know what time to expect it.
Kyle and his girlfriend were confident that they'd selected the best company and that their planning and diligence would pay off, but they knew that a lot could happen between Arizona and Washington.
Moving day went relatively smoothly
Kyle got a courtesy call on move day, letting him know that the driver was en route with the container. As promised, it arrived just a few minutes after 7 AM, right at the beginning of the delivery window.
Once the container was in place close to Kyle's apartment, he and his girlfriend got down to the tedious business of filling it with their boxes and furniture. The process took about eight hours with lots of rest and drink breaks.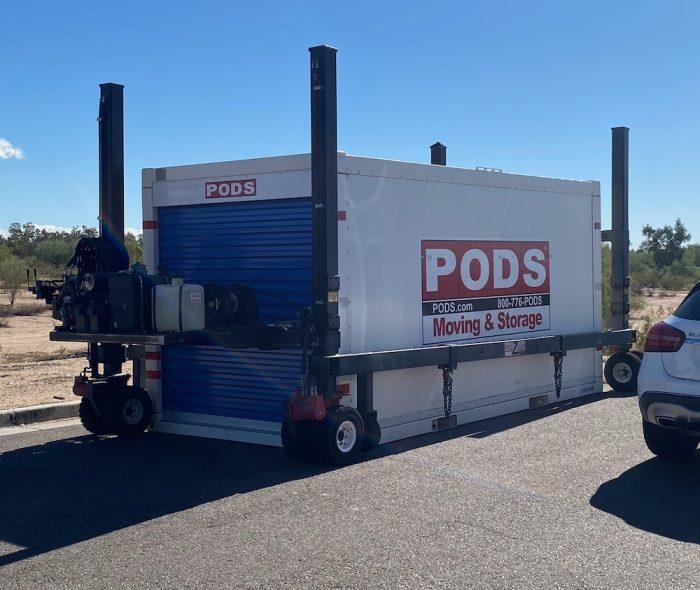 The loaded container was originally scheduled to be picked up on the evening of the 10th, but Kyle was informed that the driver would arrive sometime between 10 AM to noon instead.
This wouldn't have been a problem, but they'd planned on using that day to finish loading, and since they couldn't, they had to work until nearly 11 PM the night before to ensure everything was done.
This miscommunication didn't throw a huge monkey wrench into their schedule, but if PODS had stuck to the original game plan, Kyle and his girlfriend could have knocked off earlier, gotten a good night's sleep, and finished up at a leisurely pace the following day.
Kyle's container was delivered on time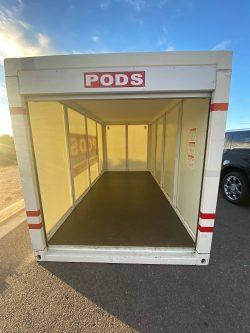 There wasn't any communication from PODS while Kyle's container was in transit, but he could go online and use the company's shipment tracker to see where his "stuff" was whenever he liked.
Kyle attempted to schedule a final delivery online when his container arrived in Washington, but he had to call in due to a technical glitch. Thankfully, his things arrived on schedule about three weeks after leaving Arizona.
They unloaded the container in the morning and were thrilled to discover nothing had been damaged on the long trip. Including their move with PODS, hotels, and gas for their personal vehicle, Kyle's move cost about $3,500.

Final thoughts – did PODS make the grade?
Kyle's long-distance move with PODS was a success by nearly every measure, but it would have been nice if they'd picked up his loaded container during the original service window. However, it's worth noting that PODS did pick it up on the agreed-upon date, just a few hours earlier in the day.
There was also a minor miscommunication about payment, but this didn't turn out to be a big problem either. In the end, PODS came through with an accurate quote, timely service, and all-around professionalism that Kyle and his girlfriend appreciated.
Here's how they rated PODS' performance on a scale of 1 to 5:
Communication – 4
Timeliness – 5
Quote accuracy – 5
Overall experience – 5
The numbers speak for themselves, and while we're on the topic, Bethany also had a positive experience with PODS on a recent move from California to Virginia.
Kyle wouldn't change much about his move, but he wishes he'd started packing sooner. Packing almost always takes longer than expected. For anyone planning a move like his, he suggests setting aside as much time as possible.
In hindsight, he's just glad the whole thing is over and that he and his girlfriend can focus on getting settled in and starting their new jobs.
Before signing off, check out these helpful posts:
Not what you were looking for?
Check out other categories that can help you find the information you need!
See All
Hide All