Moving Experience – Batool's Move with 1-800-Pack-Rat
In late February of 2022, Batool (and her sons) moved from Woodland, California to Austin, Texas for a new job opportunity.
After considering full-service movers and moving containers, Batool decided that 1-800-Pack-Rat (Pack Rat) offered the best mix of price and services.
After nearly two decades in business, Pack Rat now has hundreds of locations in nearly 30 states.
Pack Rat's 8, 12, and 16-foot containers are great options for those who'd rather not:
Shell out big bucks for professional movers
Deal with the added hassle and risk of driving a moving truck
To help others considering a relocation like hers, Batool participated in our Better Moves Project.
This post will look at what went well, what didn't go so well, and whether Batool would use Pack Rat again.
For more information, check out our in-depth review of 1-800-Pack-Rat.
Move day takeaways for 1-800-Pack-Rat customers
Communication: Pack Rat didn't communicate effectively while Batool's container was in transit
Pricing accuracy and transparency: Pack Rat's quote was accurate
Timeliness: Batool's container was delivered on time but very late in the day (this caused some issues with her movers)
Loss and damage: Some children's furniture got damaged during Batool's move
Would Batool use 1-800-Pack-Rat again? Maybe, but only if she couldn't find a less expensive option
Batool's move at a glance
| | |
| --- | --- |
| Moving from | Woodland, California |
| Moving to | Austin, Texas |
| Distance | 1,788 miles |
| Moving company | 1-800-Pack-Rat |
| Moving quote | $3,400 (for the container only) |
| Actual cost | $4398.48 (including movers in California and Texas) |
Batool needed help moving from California to Texas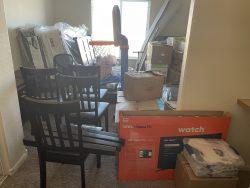 Batool began the screening process by calling local movers and doing online searches a month before her move date
She used moveBuddha to compare moving container companies and read up on helpful moving tips like how to pack fragile items for a long-distance move.
Batool wasn't moving any specialty items, but she was eager to avoid unnecessary damage.
She was also concerned that the contents of her 1-bedroom apartment wouldn't fit into her 8-foot moving container. Luckily space wasn't an issue.
1-800-Pack-Rat offered the best mix of services and affordability
Batool originally got five quotes and booked a moving container with U-Pack. 
However, she canceled her order when Pack Rat came through with a better quote.
Based on the size of her apartment, Pack Rat provided a $3,400 quote for an 8-foot container.
Pack Rat representatives answered Batool's questions and described how the move process would work.
Afterward, she prepared by:
Staying organized
Packing
Trying not to let the stress get to her
Batool also booked movers at origin and destination because she didn't want to load and unload the container herself.
Moving day was relatively smooth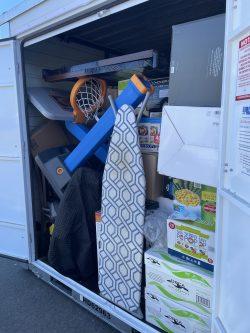 Pack Rat delivered Batool's empty container on time, and the movers arrived ten minutes early at 8:50 AM.
The crew had all the materials and equipment necessary to complete the job quickly and efficiently. Batool packed last-minute items while they worked. 
The crew loaded the container in just two hours, but Batool wasn't sure if everything was adequately padded.
Batool paid for the container with her credit card and the movers with cash.
There were a few issues on delivery day
Communication with Pack Rat ground to a screeching halt after Batool's container was picked up in California.
While en route, she wasn't sure if it would be delivered on time.
Ultimately it was, but the driver damaged the container while unloading it from the truck.
In addition, it arrived so late in the day that Batool had to reschedule her movers for the following day.
In the end, the movers unloaded Batool's household goods quickly, but some of her son's furniture was damaged.
Pack Rat didn't follow up after the move, and Batool isn't sure if she'll file a damage claim. 
The verdict – what could have gone differently
Batool felt like she paid too much for what she got.
This was primarily due to the inconvenience of rescheduling the movers in Texas and the damage to her son's furniture.
Batool attributes the latter to poor wrapping by the movers in California and rough handling by the driver in Texas.
Batool experienced stress and damage during her move, but she admits it was mostly a positive experience.
Her advice for anyone considering a move like hers includes:
Shopping around
Getting multiple quotes
Asking lots of questions
Making sure the movers protect everything adequately before loading it into the container
Batool might consider using 1-800-Pack-Rat on a future move, but only if she couldn't find a better, more affordable alternative.
Before you go, check out these helpful moving container posts
Not what you were looking for?
Check out other categories that can help you find the information you need!
See All
Hide All