Moving Experience: Desmond's Move with 1-800-PACK-RAT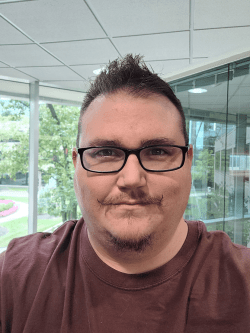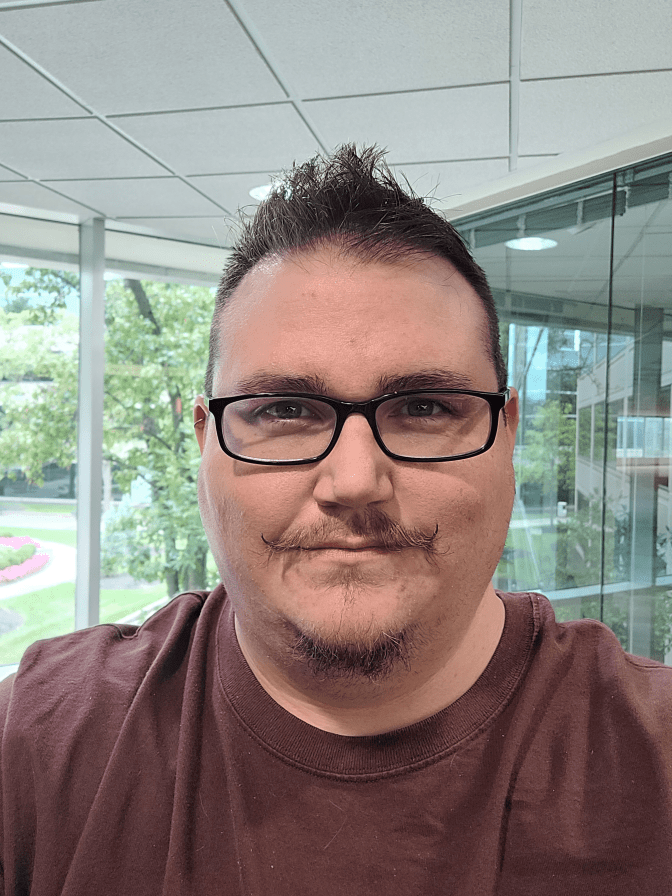 In September 2022, Desmond, his partner, and their four cats moved from Lafayette, Oregon, to Waynesville, Ohio.
Desmond considered renting a truck from U-Haul and hiring full-service movers, but in the end, 1-800-PACK-RAT came through with a competitive moving container quote for the services he needed. Nowadays, more and more savvy consumers like Desmond are choosing hybrid moves by using moving containers, hiring labor for loading and unloading, and leaving the driving to professionals.
So did Desmond have a positive experience with 1-800-PACK-RAT, or does he regret not going with a different service provider?
To take advantage of a $500 relocation stipend and help anyone planning a move like his, Desmond participated in our Better Moves Project by sharing his experiences with 1-800-PACK-RAT. In this post, we'll look at what went well on his move, what didn't, and what he'd do differently next time around.
Move day takeaways for 1-800-PACK-RAT customers
89% of users select this mover
Communication: 1-800-PACK-RAT communicated adequately throughout Desmond's move
Pricing accuracy and transparency: Desmond's final move cost was within a few hundred dollars of the original estimate
Timeliness: 1-800-PACK-RAT moved Desmond's household goods within the agreed-upon timeframe
Professionalism: Desmond liked 1-800-PACK-RAT's overall professionalism and attention to detail
Loss and damage: A few items got damaged during a minor delivery mishap (more on this shortly)
Would Desmond use PACK RAT again? Yes, 1-800-PACK-RAT's estimate was accurate, and Desmond's household goods were delivered on time and in generally good condition
Desmond needed help moving from Oregon to Ohio
Desmond had an exciting new job offer in the Buckeye State, but he only had a month to find a mover and get his household goods packed and shipped across the country. To complicate things even more, he moved during the peak summer season when capacity can be tight even with the best full-service movers and moving container companies.
Price was an issue (our moving cost calculator is a great budgeting tool), but Desmond was willing to pay more for an experienced and reliable company. He decided to do the packing himself to save money, but he was worried that he wouldn't have enough time to get everything done.
Most of Desmond's items were relatively easy to pack, but he had an antique heirloom table made by his great-grandfather, a few vintage video game systems, and some large framed artwork that needed special attention.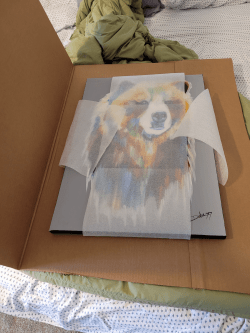 Desmond's move at a glance
| | |
| --- | --- |
| Move date | September 19, 2022 |
| Moved from | Lafayette, Oregon |
| Moved to | Waynesville, Ohio |
| Distance | 2,300 miles |
| Move size | 3-bedroom home (about 2,000 square feet) |
| Moving company | 1-800-PACK-RAT |
| Moving quote | About $7,048 |
| Actual cost | $7,310.44 |
Desmond got multiple quotes before choosing 1-800-PACK-RAT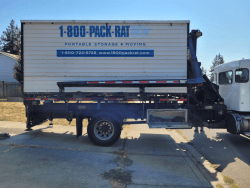 Desmond knew about his move a month in advance, but it only took him a week to get multiple estimates and select 1-800-PACK-RAT.
He relied on moveBuddha, This Old House, Google, and the Better Business Bureau during the vetting process, but he ruled out full-service movers after reading a few eye-opening posts about common moving scams. He also considered renting a truck, but a 2,300-mile drive in a clunky moving van with four cats wasn't particularly appealing.
Here's how Desmond's quotes compared:
| Company/move type | Estimated weight/equipment type | Estimated cost |
| --- | --- | --- |
| Allied Van Lines (full-service) | 5,695 pounds | $8,337 |
| 1-800-PACK-RAT (moving container) | 16-foot container | $7,048 |
| Interstate Van Lines (full-service) | 4,264 pounds | $6,670 |
| American Van Lines (full-service) | 3,717 pounds |  $5,783 |
| U-Haul (DIY) | Rental truck | $4,119 |
Though Desmond got some of his quotes online, with 1-800-PACK-RAT, he called in and spoke with a helpful account manager who walked him through the moving process. 1-800-PACK-RAT's quote wasn't the cheapest, but Desmond liked that the company had a good reputation and that its containers were made entirely of metal and delivered by custom trucks that minimized tipping and shifting.
1-800-PACK-RAT offers multiple insurance options, but Desmond decided not to purchase additional coverage.
Desmond prepared by getting organized, packing, and downsizing
With his container and move dates reserved, Desmond prepared by hiring movers to help with loading, scheduling a junk removal, renting moving equipment like pads, straps, and a dolly, and periodically packing boxes.
Because he was worried about his vintage video game components, he wrapped them in bubble wrap and packed them inside heavy-duty plastic bins.
After he booked his move, 1-800-PACK-RAT confirmed his move details and provided helpful information about how to pack the container properly.
Moving day went according to plan
Licensed
Insured
Price
rating
4.45 / 5
Check prices
Check Prices
93% of users select this mover
At A Glance
Barn-style container doors make packing easier
Available for both local and long distance moves
$10k insurance included with option to purchase more
Free lock provided for container door
read our full review
Check prices
Check Prices
93% of users select this mover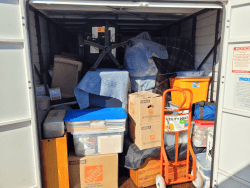 Desmond's empty container and his loading crew from Cherry City Movers showed up on time on the appointed days, and each company communicated proactively to let him know when to expect them.
After a quick look around, the movers got to work padding loose items and loading everything into the container. While they worked, he answered their questions, occasionally went outside to see how things were progressing, and tried to stay out of the way.
It took the crew from Cherry City just three hours to load everything into the container. This was an hour longer than expected, but Desmond couldn't have been happier with their performance, so the modest cost increase wasn't a big deal.
Delivery day was relatively painless, too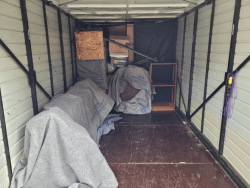 Desmond's moving container arrived at his new residence in Ohio just 14 business days after it left Oregon. It's worth noting that this is a speedy turnaround time on a 2,300-mile move.
Unfortunately, the delivery driver was new, and one of the securement chains slipped off the container while he unloaded it from the truck. This caused it to tilt to one side more than it should have, but he eventually got it offloaded safely and positioned where Desmond wanted it.
Desmond and his partner spent the weekend unloading the container and getting everything situated in their new home. A few items were damaged, but it wasn't anything out of the ordinary. Desmond thinks that some of the damage may have occurred when the container tilted, but he admits that he didn't have enough moving blankets for the movers to pad everything properly. If he'd rented more, some or all of the damage may have been avoided despite the mishap.
Desmond called 1-800-PACK-RAT when the container was empty to schedule a pick-up, but it remained in his driveway for two extra days because one of the company's trucks was out of service. Desmond had to go out of town for work, but 1-800-PACK-RAT picked the container up while he was away and didn't charge him for the two days.
The verdict – did Desmond's service providers make the grade?
89% of users select this mover
Yes, 1-800-PACK-RAT delivered a positive moving experience on a tight schedule at the tail end of the peak summer moving season.
Here's how Desmond rated 1-800-PACK-RAT on a scale of one to five:
Communication – 4
Timeliness – 4
Pricing accuracy – 5
Overall experience – 4
He'd consider using 1-800-PACK-RAT again, but he'd take a look at less expensive options as well.
Desmond's advice for anyone planning a move like his
Desmond spent more than he wanted to, but he got a good bang for his buck with 1-800-PACK-RAT, and he liked the peace of mind that came from working with a well-known national company.
For anyone considering using moving containers, Desmond suggests the following:
Hiring professional movers to help with loading and unloading (if there's room in your moving budget)
Renting more moving blankets than you think you'll need (it's better to have too many than not enough)
In hindsight, Desmond also wishes that he would've been more selective during the decluttering and downsizing process. He regrets getting rid of a few things he shouldn't have because he didn't think there'd be enough room in the container. However, the crew from Cherry City was so efficient that there was extra space left over.
Desmond also thought he could fit more "stuff" in his car than he actually could, but because the loaded container had been hauled away the day before, he had no choice but to get rid of some things.
Before signing off, check out these helpful posts:
Not what you were looking for?
Check out other categories that can help you find the information you need!
See All
Hide All