Moving Experience: Jason's Move with U-Pack
Jason recently made a 2,800-mile work-related move from Corvallis, Oregon to Seneca, South Carolina.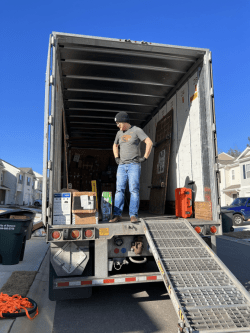 In addition to uprooting his family and starting a new job, Jason wasn't sure how he'd get his household goods from Point A to Point B on time, on budget, and without loss or damage.
Since interstate movers were too expensive and he didn't want to drive a rental truck across the country, Jason focused on getting quotes from industry-leading moving container companies like U-Pack and PODS.
After comparing their estimates and considering his move from every angle, Jason booked a 28-foot moving trailer with U-Pack.
U-Pack's low quote and solid reputation were big plusses, and Jason liked that he'd only pay for the space he used on the trailer.
To cash in on a $500 relocation stipend and to help anyone planning a move like his, Jason participated in our Better Moves Project by documenting and sharing his experiences with U-Pack.
In this post, we'll look at what Jason liked about working with U-Pack (hint: he had a great experience), where improvements could have been made, and what he learned along the way.
Move-day takeaways for U-Pack customers
89% of users select this mover
Communication: Jason gave U-Pack 5 out of 5 stars for effective communication throughout his move
Pricing accuracy and transparency: Jason's moving costs came down because he used less trailer space than expected
Professionalism: U-Pack's customer service representatives and drivers were friendly, helpful, and efficient
Timeliness: Jason's household goods were delivered within the agreed-upon delivery window
Loss and damage: Nothing was lost or damaged on Jason's move
Would Jason use U-Pack again? Yes, Jason had a great experience with U-Pack
Jason needed help moving from Oregon to South Carolina
Jason didn't have any specialty items like pianos or hot tubs. They were nervous navigating the uncharted territory because he and his family had never moved so far away.
They worried about their possessions getting lost or damaged while in transit. They were also concerned that they'd get hit with mid-move cost increases and wouldn't be able to move into their new place on schedule. Needless to say, Jason was determined to work with a reputable and experienced company that could communicate effectively, provide an accurate estimate, and live up to its service commitments.
In the months leading up to his move, Jason focused on preparing a moving budget, getting organized, and trying to find the best service provider to get his family's possessions moved efficiently and affordably.
Jason's move at a glance
| | |
| --- | --- |
| Move date | December 15, 2022 |
| Moved from | Corvallis, Oregon |
| Moved to | Seneca, South Carolina |
| Distance |  2,800 miles |
| Move size | 4-bedroom home, about 2,200 square feet |
| Moving company | U-Pack |
| Moving quote | $6,109 for an entire 28-foot trailer |
| Actual cost | $4,561 (Jason only used 15 feet of floor space) |
Jason only got quotes from U-Pack and PODS
Jason began searching for the best moving solution about two weeks out.
He liked that U-Pack and PODS are well-known national companies with excellent reputations and that they offer multiple equipment options and cover nearly all of the country.
With these kinds of credentials, it would all boil down to who could provide the lowest quote for the equipment and services he needed.
Thankfully, Jason found moveBuddha early in the process. This was a big deal because the website allowed him to compare U-Pack and PODS side-by-side in one convenient location.
With his list of proposed movers whittled down to just two companies, Jason got the following quotes:
| Company | Equipment type | Cost estimate |
| --- | --- | --- |
| U-Pack (freight trailer) |  28-foot trailer | $6,109 (with a $75 coupon) |
| PODS (container) |  16-foot container | $7,550 |
| PODS (container) | 16 and 12-foot container | $12,838 |
Jason got two quotes from PODS because he wasn't sure if a 16-foot container would be big enough, but he felt pretty confident that space wouldn't be an issue with a U-Pack freight trailer.
U-Pack's $6,109 quote included the following:
Door-to-door transportation
A sturdy metal ramp
Bulkhead equipment like plywood and load locks (so Jason's household goods could be separated from other shipments)
All applicable fees, taxes, and surcharges
Basic coverage of $0.10 cents per pound for lost and damaged items (up to $2,000 maximum)
a $75 discount coupon
Jason also got the following quotes for labor and having his car moved:
| Company | Service | Cost estimate |
| --- | --- | --- |
| AmeriFreight (car transport) |  Automobile transportation | $2,000 |
| LLAMA Movers (labor movers) |  Loading in Oregon | $996.13 (for 3.25 hours of labor) |
Jason chose U-Pack for price and convenience
Licensed
Insured
Price
rating
5 / 5
Check prices
Visit Website
93% of users select this mover
Jason liked that U-Pack's customer service representatives always took the time to answer his questions. In addition, they provided lots of helpful information from trailer parking requirements and ramp set-up tips. They also gave him advice on the proper way to load furniture and boxes to prevent shifting and damage.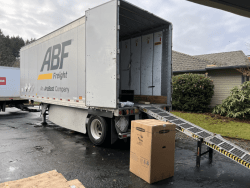 U-Pack's quote for a 28-foot trailer was more than $1,400 lower than PODS's quote for a 16-foot container. Best of all, Jason would only have to pay for the space he used on the trailer.
The decision to use U-Pack was a no-brainer, and Jason and his wife were confident that they'd be able to reduce their moving costs even further by:
Doing the packing themselves
Disassembling beds and tables
Each of Jason's service providers reached out to confirm his move details in the days leading up to his move.
Moving day went as planned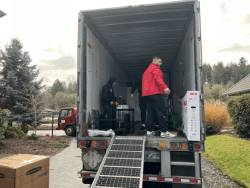 U-Pack's driver called with an ETA on the appointed day and arrived with the trailer a few hours later.
Since U-Pack could only give Jason a multi-hour delivery window beforehand, he wisely scheduled the crew from LLAMA Movers for the following day so he wouldn't have to pay them to twiddle their thumbs if the trailer showed up later than expected.
The following morning Jason woke up early, got his home as organized as possible, and set up the ramp so the movers could hit the ground running when they arrived.
The crew showed up promptly at 9 AM and got down to business after taking a quick look around. While they worked, Jason answered their questions, tidied up, and packed a few last-minute items. When loading was finished three hours later, Jason called U-Pack to schedule a pick-up and waited for the driver to arrive so they could put the bulkhead into place.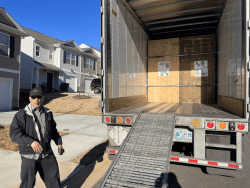 Jason's trailer arrived in South Carolina in just 12 days
U-Pack moved Jason's trailer more than 2,800 miles in just 12 days.
We all want our "stuff" as soon as possible when we move, but this is definitely a quick turnaround time on such a long-distance household goods move.
Jason and his wife didn't hire movers in South Carolina to help with the unloading. Moving everything from the trailer into their new home was relatively quick and uneventful. Plus, nothing got lost or damaged between the West Coast and East Coast.
The verdict – did U-Pack make the grade?
89% of users select this mover
Jason's long-distance move with U-Pack was about as perfect as moves get.
Jason's household goods were picked up and delivered on time and without loss or damage, and Jason paid about $1,500 less than the quoted price because he used far less trailer space than expected. Believe it or not, Jason didn't mention any areas where he felt improvements could have been made in his Better Moves Project survey.
In fact, he gave U-Pack 5 out of 5 stars in the following key areas:
Communication
Timeliness
Quote accuracy
Overall experience
So, would Jason use U-Pack again and recommend the company to friends, family members, and coworkers?
Yes, he loved U-Pack's super-competitive quote, top-notch customer service, and quick cross-country transit time.
If there were one thing he would have done differently on his end, Jason would have started packing a week earlier to ensure that everything was ready to go a day or two before the trailer and moving crew arrived.
Before signing off, check out these helpful posts:
Not what you were looking for?
Check out other categories that can help you find the information you need!
See All
Hide All