PODS vs U-Pack (Head-to-Head): Comparing 2 of Our Top Picks for Container Moving
Overall opinion: This is a close one, but we'd choose U-Pack over PODS. While PODS is one of the longest-running and best-known container moving companies in the world, U-Pack's super-transparent pricing, fast shipping times, and excellent national coverage put it just ahead of the competition here. That doesn't mean we wouldn't pick PODS, though—in some cases, it is the better choice, and you should definitely carefully compare both these top-quality companies with your moving needs in mind. Read on to learn more.If you haven't yet, be sure to check out our list of the best moving container companies to see how we rate a number of different container moving solutions.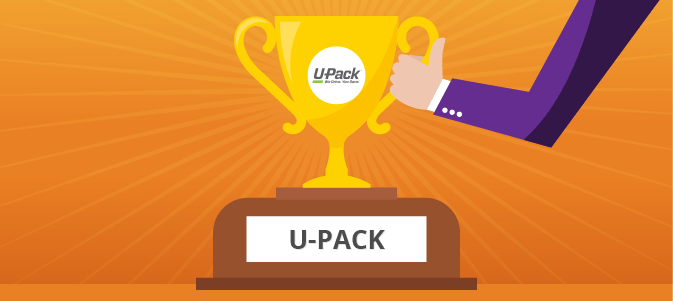 U-Pack and PODS both have age and experience behind them. PODS pioneered the container moving and storage industry back in the 1990s. And U-Pack is owned by shipping giant ABF, so you know the company has the freight experience to get your belongings safely to where you need them to go. As far as experience goes, you can trust that both these companies know what they're doing.That means that to choose between the two, you really have to examine the details. While they offer a very similar service on the surface, when you look into both companies, you find the small differences in what they offer, what they charge, and the value you're getting for your money.Part of choosing a moving company is carefully examining each option to find the company that offers services you need at a good price point for your budget. To help, we've compiled pros and cons, services, container information, prices, availability, and more about both PODS and U-Pack.

Read on to see which company might be the right choice for your move.
PODS vs U-Pack: Pros and Cons
Let's start with the basics: The pros and cons of each company. These are our favorite and least favorite features about each of these companies, plus lists of the pros and cons you should consider. Take a look, then read on for more comprehensive reviews.
PODS Pros and Cons
Read our full review of PODS here.
See our full breakdown of PODS cost here.
What we love: PODS offers a ton of flexibility. Its minimum 30-day rentals mean you can really take your time packing and unpacking, or take advantage of storage if you need it. While many moving companies will charge you steep fees if you need to change or cancel your reservation, PODS allows changes or cancelations with full refunds up to the day before your containers are scheduled to be delivered. There's a lot of peace of mind in that, especially during something as stressful as moving.
What we hate: PODS are so popular, you'll likely have to make a reservation far in advance if you want to use this company. During peak moving times (mainly spring and summer), PODS can be sold out for up to six months in advance. For renters or people who are moving for a new job opportunity, it may not be possible to book that early, which means PODS may not be an option.
PODS Pros
PODS Cons

Container moves are generally more affordable than full-service movers
Military discounts
Flexible change and cancelation policy
Long moving window that can be extended as needed
Moving and storage offered
Onsite storage is available
Multiple container sizes available
You pack and someone else drives
Great nationwide availability, and some international availability
Online shipment tracking
Various levels of insurance coverage available

Website is lacking some important information
Some quotes can't be given online, which means you'll have to call
Many bookings have to be made by phone — there's no online option to book long-distance moves
Often sold out so your reservation needs to be made far in advance
Need space to park container
U-Pack Pros and Cons
ABF U-Pack: Long Distance Moves With Seriously Competitive Pricing
Read our full review of U-Pack here.
What we love: U-Pack really strives to keep its pricing transparent, and in an industry that's rife with hidden fees and surprise charges, that's very refreshing. In fact, U-Pack offers a no-hidden-fees guarantee in addition to a booking system that clearly lays out exactly what your paying for and how much each part will cost. If you check out online U-Pack reviews, it's easy to see that people love this price transparency.
What we hate: U-Pack is only available for people who are moving more than 100 miles. The company doesn't offer local moves at all. So if you're just relocating across town, you'll have to hire a different company.
U-Pack Pros
U-Pack Cons

Container moves are generally more affordable than full-service
No deposits or hidden fees guarantee, plus transparent pricing for all bookings
Clean, easy-to-use website that offers instant quotes for all moves
Online tracker to check on your containers while they're in transit
Fast shipping times
Add-on services available to customize your move
Multiple container sizes available, and if you choose the largest container, you only pay for the space you use
You pack and someone else drives
Excellent national coverage, which means if you live in a rural area, U-Pack is a good choice
Monthly storage is available

Stricter cancelation policy than some other companies (including PODS). If you cancel within a week of your move, expect fees
No local moves
8-foot tall containers can be difficult to park and pack because of their size
No onsite storage
Only up to three business days to pack and unpack
More expensive on long-distance moves
PODS vs U-Pack: Services and Availability
If you've looked into U-Pack, PODS, or other container moving and storage companies, you're probably familiar with the basic services most of them offer, because they all have a pretty similar basic business model.
Here's how it usually works: You schedule a time to have your moving pods delivered to the home you're moving out of. You pack up all your belongings and load them into the containers yourself. Then, a professional driver picks them up and handles all the transportation to get them to your new home, where they're dropped off so you can unload them yourself.
Basically, it's pretty close to a DIY move, since you do all the packing and loading, which helps keep the cost lower than a full-service move. But container companies take one of the most intimidating parts of DIY moving out of the equation: You don't have to haul a trailer or rent and drive a big moving truck. That's why container moving companies are so popular — they blend DIY and full-service moves to create a type of move that appeals to many people… at an appealing price point.
Both PODS and U-Pack operate in very similar styles. But that doesn't mean the services they offer are identical. Here's what you can get if you book a move with one of these companies.
PODS
U-Pack
Moving
✔
✔
Storage at a Facility
✔
✔
Storage on Your Property
✔
Storage Between Destinations During a Move
✔
✔
Delivery and Pickup of Containers
✔
✔
You Pack the Containers
✔
✔
Professionals Pack the Containers
Available as an add-on service
Limited Time to Pack Containers
✔

(Up to three business days)

Shipment of Containers to New Address
✔
✔
Insurance Included
✔
Insurance Available to Purchase
✔
✔
Free Cancelation or Modification
✔

(Up to the day before your move)
PODS vs U-Pack: Where Are Services Available?
Availability is another important factor to consider when choosing a moving company. You'll have to make sure that both your starting and ending locations are within a company's service area if you want to book with that company.
Luckily, both PODS and U-Pack have great coverage, though U-Pack's is a little better. In a handful of states that don't have a PODS location, or in particularly rural areas, U-Pack is more likely to be able to handle your move.
Here's how availability stacks up for PODS and U-Pack.
| | | |
| --- | --- | --- |
| | PODS | U-Pack |
| Available in the U.S.? | In 44 states | All 50 states and Puerto Rico |
| Available in Canada? | Yes | Yes |
| Available internationally? | Yes, in Australia | No |
PODS vs U-Pack: Who Has Better Containers?
The container is where your stuff will be placed. You have to be able to trust that it's sturdy, weatherproof, and will keep your belongings safe so they arrive at your new home in one piece.
Both PODS and U-Pack use high-quality metal containers that fit the industry standard for container moving and storage companies. They both also offer multiple sizes to choose from. While PODS has more sizes available than U-Pack, that doesn't necessarily make it the winner here. U-Pack actually offers more flexibility by having 27-foot shipping trailers you can choose — and only pay for whatever space you use. This ensures you get exactly as much space as you need without paying for extra containers.
Here's how PODS' and U-Pack's containers compare.
If you want to see a comparison of all moving container companies check out our best moving pods list
PODS
U-Pack
How many container sizes available?
3
2
What are the container sizes?
7-foot

12-foot

16-foot

5'10" U-Pack Relocube
27' U-Pack trailer (only pay for the space you use)
Storage available for all container sizes?
Yes
Yes
Cubic footage available?
390-1,008 cf
305-1,800 cf
Container material?
Metal
Metal
PODS vs U-Pack: How Much Does a Container Move Cost?
We know that one of the most important considerations you'll make when choosing a moving company is how much it costs. While there's a lot more that goes into the decision and you should never just go with the cheapest option regardless of other factors, moving is expensive, and the price tag plays a huge role. We get that.
But since the price will be a major factor, we did our best to gather some cost information for both PODS and U-Pack. There is one big caveat, though. There are a ton of factors that go into pricing a move: The distance you're moving, your starting and endpoints, how much stuff you have, gas prices at the time of the move, what time of year it is, etc., etc.
The prices we have listed below should not be taken as actual estimates. To get an accurate idea of how much moving with each of these companies will cost, you have to get a personalized quote using the details of your own move. Consider these prices to be a starting point for your planning, but get a quote from both PODS and U-Pack before you make any decisions based on price.
And if you're looking for something a little more accurate, have a look at our moving cost calculator for a better idea on pricing.
Cost for a Local Move
| | | |
| --- | --- | --- |
| | PODS cost | U-Pack cost |
| 1 bedroom | $200 – $400 | Not Available for Local Moves |
| 2-3 bedrooms | $300 – $650 | Not Available for Local Moves |
| 4-5 bedrooms | $300 – $800 | Not Available for Local Moves |
Cost for a Move < 250 Miles
| | | |
| --- | --- | --- |
| | PODS cost | U-Pack cost |
| 1 bedroom | $450 – $800 | $900 – $1,300 |
| 2-3 bedrooms | $750 – $1,900 | $1,100 – $1,700 |
| 4-5 bedrooms | $900 – $2,100 | $1,200 – $1,900 |
Cost for a Cross-Country Move
| | | |
| --- | --- | --- |
| | PODS cost | U-Pack cost |
| 1 bedroom | $2,000 – $4,000 | $1,500 – $2,500 |
| 2-3 bedrooms | $3,000 – $4,900 | $2,400 – $3,900 |
| 4-5 bedrooms | $5,500 – $7,600 | $3,500 – $6,600 |
PODS vs U-Pack: Which Container Moving Company Is Right For You?
While U-Pack is our top pick for container moving and storage companies, that does not mean it has to be yours. As you can see, there are a ton of different factors to consider when choosing a moving company, and some article on the internet can't just make that choice for you — you have to choose the company that's the best fit for your needs and budget.
PODS and U-Pack are both solid choices that are worth your consideration, but they're not the only companies you should compare. There are a ton of other container moving companies that are just as reputable. And have you compared your options for DIY and full-service moves?
To start your search for the right moving company, how about comparing instant quotes for a ton of different companies you can trust with MoveBuddha?
Not what you were looking for?
Check out other categories that can help you find the information you need!