PODS vs U-Pack (Head-to-Head)
THE VERDICT: U-Pack barely edges out PODS. U-Pack's transparent pricing, quick delivery times, and extensive national coverage for long distance moves put the company ahead of the competition.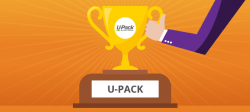 U-Pack and PODS are heavyweights in the moving and storage container niche.
PODS pioneered the use of portable containers nearly three decades ago
U-Pack is backed by shipping giant ABF
Though the companies offer similar services, there are subtle differences.
We compiled pricing, service, and availability data to help you decide whether to use PODS or U-Pack.
Before reading on, check out these helpful resources:
How much will your move cost?

– Our moving cost calculator is a great resource. Just enter your move dates, origin and destination cities, and the estimated size of your move, and let the magic algorithms do the rest
Best interstate movers – The moving industry is full of shady players. With so much at stake, it's worth hiring a top-rated long-distance mover with verified customer reviews

Best moving container companies

– It's simple. You load and unload, they drive, and you save big bucks
How the moving container business works
It couldn't be easier –
1. You get quotes online or over the phone
2. You schedule a time to have your empty container(s) delivered
3. You load the container at your own pace (or hire labor through a company like HireAHelper)
4. The company transports your container to your new home
5. You unload it
6. They pick it up when it's empty
PODS vs. U-Pack: pros and cons
Let's start with the pros and cons.
Take a look, then read on for more comprehensive reviews.
PODS: multiple container sizes, lenient change, and cancellation policies
PODS pros
PODS cons

Container moves are generally more affordable than full-service movers
Military discounts
Flexible change and cancelation policy
Big moving windows that can be extended as needed
Containers can be used for moving and storage
On and offsite storage is available
Multiple container sizes
You load and unload and leave the driving to professionals
Great nationwide (and some international) coverage
Online shipment tracking
Various insurance options

The website lacks some basic information
Some quotes can't aren't available online, which means you'll have to call
Many bookings have to be made by phone — there's no online option to book long-distance moves
Often sell out during peak times, so reservations should be made well in advance
Need ample space for the container
 What we like:
PODS offers tons of flexibility
30-day rentals mean you can take your time loading and unloading and use your container for storage
Full refunds on date changes and cancellations made at least one day before your scheduled service date
All-around peace of mind
What we don't like:
Capacity may be an issue during peak times
It may be necessary to book your container up to six months before your move (this isn't feasible for most customers)
Read our full review of PODS here.
Check out our in-depth breakdown of PODS pricing here.
U-Pack pros and cons
ABF U-Pack: long-distance moves with seriously competitive pricing
U-Pack pros
U-Pack cons

Container moves are generally more affordable than full-service moves
No deposits or hidden fees – transparent pricing on all bookings
An easy-to-use website that offers instant quotes for all moves
Online shipment tracking
Fast transit times
Add-on services available to customize your move
Multiple container sizes
With 28-foot freight trailers, you only pay for the space you use
You load and unload and leave the driving to professionals
Excellent national coverage – U-Pack is a great option for customers in rural areas
Monthly storage is available

Stricter cancelation policy than PODS. If you cancel within a week of your move, expect fees
No local moves
8-foot tall containers can be challenging to park, load, and unload
No onsite storage
Only three business days for loading and unloading
More expensive on long-distance moves
What we like:
Transparent pricing with a no-hidden-fee guarantee
Customers can choose from moving containers and freight trailers
Online quotes for all moves
Fast transit times
What we don't like: 
No local moves or moves under 100 miles
Tall containers make loading and unloading tricky
Read our full U-Pack review here.
PODS vs. U-Pack: services and availability
PODS
U-Pack
Moving
✔
✔
Storage at a Facility
✔
✔
Storage on Your Property
✔
Storage Between Destinations During a Move
✔
✔
Delivery and Pickup of Containers
✔
✔
You Pack the Containers
✔
✔
Professionals Pack the Containers
Available as an add-on service
Free time for loading, unloading, and storage
Up to 30 days
Up to three business days
Shipment of Containers to New Address
✔
✔
Insurance Included
✔
Insurance Available to Purchase
✔
✔
Free Cancelation or Modification
✔

(Up to the day before your move)
Takeaways –
PODS customers have 30 days for loading, unloading, and storage
You can't store U-Pack containers on your property
U-Pack has strict cancellation and change policies
PODS vs. U-Pack: where are services available?
Coverage area is another factor worth considering when choosing a container company.
| | | |
| --- | --- | --- |
| | PODS | U-Pack |
| Available in the U.S.? | In 44 states | All 50 states and Puerto Rico |
| Available in Canada? | Yes | Yes |
| Available internationally? | Yes, in Australia | No |
Before deciding on a container company, confirm that your origin and destination locations are in their service area.
Takeaways –
U-Pack services more states than PODS
Both companies service Canada
PODS vs. U-Pack: who has better containers?
Moving containers should be sturdy and weatherproof to keep your items safe during transit.
PODS and U-Pack use high-quality metal containers that are available in multiple sizes.
Here's how they stack up:
PODS
U-Pack
Number of different container sizes 
3
2
What are the container sizes?
7-foot

12-foot

16-foot

5'10" U-Pack Relocube
27' (interior length) U-Pack trailer – only pay for the space you use
Storage available for all container sizes?
Yes
Yes
Interior space (in cubic feet) 
390-1,008
305-1,800
Container material
Metal
Metal
 Takeaways –
PODS has three metal container sizes to choose from
U-Pack customers can choose Relocubes or freight trailers
With freight trailers, customers only pay for the floor space they use
PODS vs. U-Pack: how much do container moves cost?
We get it; price is important.
Cost for local moves
| | | |
| --- | --- | --- |
| | PODS cost | U-Pack cost |
| 1 bedroom | $200 – $400 | No local moves |
| 2-3 bedrooms | $300 – $650 | No local moves |
| 4-5 bedrooms | $300 – $800 | No local moves |
Cost for moves under 250 miles
| | | |
| --- | --- | --- |
| | PODS cost | U-Pack cost |
| 1 bedroom | $450 – $800 | $900 – $1,300 |
| 2-3 bedrooms | $750 – $1,900 | $1,100 – $1,700 |
| 4-5 bedrooms | $900 – $2,100 | $1,200 – $1,900 |
Cost for long-distance moves
| | | |
| --- | --- | --- |
| | PODS cost | U-Pack cost |
| 1 bedroom | $2,000 – $4,000 | $1,500 – $2,500 |
| 2-3 bedrooms | $3,000 – $4,900 | $2,400 – $3,900 |
| 4-5 bedrooms | $5,500 – $7,600 | $3,500 – $6,600 |
Just remember, these are "ballpark" figures. Your actual move costs will vary based on:
Your origin and destination locations
When you move
How much you have
Average fuel cost at the time of your move
Which company you use
PODS vs. U-Pack: which moving container company is right for you?
U-Pack is our top pick for several reasons, but other companies may be a better fit for some customers.
In the end, PODS and U-Pack are both solid choices. Check out the following two posts to see what recent participants in our Better Move Project said about their moves.
Not what you were looking for?
Check out other categories that can help you find the information you need!
See All
Hide All