Moving Experience: Steve's Move with U-Pack
Steve recently relocated from Garden City, New York to Weeki Wachee, Florida to start a new job and move into a new home.
Afterward, he participated in our Better Moves Project where he shared a first-hand account of his experience of his move with U-Pack.
In this article, we'll break down what went well, where improvements could've been made, and whether he'd use U-Pack again.
As a perennial leader in the moving container business, U-Pack's competitive pricing and nationwide coverage are hard to beat.
Depending on move size and distance, U-Pack offers 6-foot ReloCube containers and 28-foot freight trailers. With the latter, customers only pay for the floor space they use. On the downside, trailers are only available for moves over 100 miles.
For more details on how U-Pack's process, pricing, and services work, check out our in-depth U-Pack review.
Takeaways U-Pack customers should know on moving day
Communication: In a few instances, U-Pack could have communicated more effectively, but the company made up for it with prompt, professional service
Pricing accuracy and transparency: There were no hidden fees with U-Pack, and Steve's final price was the same as he'd been quoted
Container parking issues: There weren't any container placement issues at origin or destination. At both locations, the drivers asked Steve where he'd like the container and which way he wanted the doors facing
Timeliness: U-Pack lived up to its service commitments at both ends of Steve's move
Would Steve use U-Pack again? Yup
Steve needed help moving into his new home in Florida
With a new job and a new home more than 1,000 miles away, Steve needed help moving 1 to 2 bedrooms of furniture and boxes from the Empire State to the Sunshine State.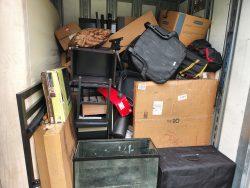 Most of Steve's belongings are standard household items, but he did move a statue, some artwork, and a few valuable musical instruments and amplifiers.
Since nearly everything was already packed in a storage unit, Steve just needed to move it to his home so he could load it into the ReloCube on move day.
Steve wasn't apprehensive about his move, but he wanted everything to be safe and secure during transit.
Steve's move at a glance
| | |
| --- | --- |
| Moving From | Garden City, New York 11530 |
| Moving to | Weeki Wachee, Florida 34614 |
| Distance | 1,110 miles |
| Moving Company | U-Pack |
| Moving quote | $2,582 |
| Actual cost | $2,582 |
Steve chose U-Pack for affordability and reputation
Steve decided to move to Florida six months before his actual pick-up date, but it only took him a day to find a mover.
He started by reading online moving company reviews on the PODS and U-Pack websites.
Then after discovering moveBuddha.com, he submitted estimate requests and received two quotes by email.
Of these, U-Pack's price of $2,582 was the lowest. Steve also considered U-Pack's reputation, its affiliation with ABF Freight System, and the company's handy shipment tracking feature.
Steve didn't purchase any additional services and opted for U-Pack's basic liability coverage of $250 per container.
Move coordination was generally easy and efficient
After booking his move with U-Pack, Steve didn't need any additional assistance. However, shortly after reserving his container, he got a helpful email that included:
Parking requirements
Packing and loading tips with links to tutorial videos
As move day drew near, Steve received a pick-up confirmation via email and a follow-up phone call a few days before his Relocube was dropped off.
After loading his container, Steve called U-Pack to schedule a pick-up.
Though he'd been told to expect a call-back to confirm a pick-up window, he never got one. At this point, Steve only knew that the driver would arrive between 8 AM and noon, as stated on the contract.
Luckily, Steve was already awake when the truck showed up just before 8 AM.
Besides the drivers who dropped off and picked up his ReloCube, Steve had no communication with anyone at U-Pack.
This wasn't a problem since everything went as planned, but he would have preferred a narrower time window and getting a call when the driver was en route.
That morning he'd planned on adding the comforter he'd used the night before, but the driver loaded the container onto the truck while he was in the bathroom. Steve had to spend an extra $70 to send the comforter through the mail, but he doesn't blame U-Pack for this minor glitch.
Delivery was quick and painless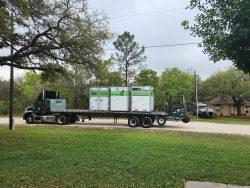 Steve's container was delivered on time nine days after it left New York.
He was contacted by a U-Pack representative the day the container arrived in Florida to confirm delivery for the following day.
That morning, he got a text informing him that his container was on the way.
Before unloading the container from the truck, the driver asked Steve how and where he'd like it positioned.
U-Pack didn't contact Steve after the move, but he did speak with a representative to schedule a pick-up when the container was empty.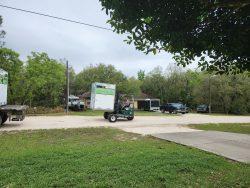 Steve's verdict: How did U-Pack stack up?
To recap, Steve would have liked a smaller service window when the driver picked up his loaded container.
Likewise, if the driver had notified him when he arrived, Steve could have added the comforter and saved 70 bucks.
In the end, Steve was happy with U-Pack's prompt and professional service, accurate estimate, and overall value, and he'd consider using them again on a future move. 
Steve's suggestions for customers considering U-Pack
Even though a few items weren't packed very well, nothing got damaged during the move.
At delivery, Steve discovered that a bit of water had leaked into the front of his container. Nothing got wet, but he suggests placing sensitive items toward the back of the container to prevent water damage.
In addition, he recommends using sturdy small and mid-size boxes instead of large ones to make loading easier and maximize space usage.
Want to learn more about U-Pack? Check out these posts:
Not what you were looking for?
Check out other categories that can help you find the information you need!
See All
Hide All