U-Haul U-Box Review: Is U-Box the best deal?
Overall Opinion
U-Box offers flexible moves at budget-friendly prices, and you can customize your moving experience in multiple ways to make it as DIY or as full-service as you want.
However, multiple reviewers have complained about the poor quality of the containers, and that they're only available in one (small) size.
See where U-Box ranks on our best moving container companies rankings.
You know U-Haul already. The orange and white trucks that dominate the local moving game. However, with their U-Box program, they've also entered a totally different moving style.U-Box is U-Haul's answer to PODS. These are moving container companies which is essentially the middle point between hiring a professional mover and just renting your own truck.
U-Haul will deliver the container to your home, you pack and load, and they will deliver to your new home.
Now that you understand the difference between U-Box and a normal U-Haul truck, here are more resources that will help.
Moving cost calculator: The moving method you choose comes down to budget. Use our quick and easy calculator to help estimate how much your move should cost.
Best moving container companies: We already mentioned PODS but there are other U-Box competitors. Take a pick from the best using our expertly-curated list.
Best professional movers: Looking for the easiest moving option? Let the professionals do it. But choose wisely, these are our picks of reliable movers to handle your move.
Overall, we gave U-Box a B rating. Read on for our full, comprehensive review.
Jump to our breakdown of U-Box cost
You don't have to drive a huge U-Haul truck, and you can have the containers transported or haul them yourself
U-Haul is one of the biggest, most experienced, most trusted brands in moving
You only pay for the containers you use
You can pack and unpack at a U-Haul facility to bring the price down
It's easy to get a price quote online
Prices generally beat out full service movers andother container movers
U-Box is one of the only container moving companies that will ship your stuff overseas
There's only one size of container available, and it's smaller than the competition
Some users have reported that the containers are poor quality, break easily, and don't adequately protect your stuff
Online customer service leaves a little to be desired
U-Haul U-Box Review: What We Love, and What We Don't
U-Haul has decades of DIY moving experience. But how does its container moving service, U-Box, hold up to the larger company's reputation? And how does it stack up against other container moving services? Here are the pros and cons you should consider before moving with U-Box.
The Good: Plenty of Flexibility Without Increased Costs
One of the things we love about U-Box is how much flexibility it offers. In a move, plans can change often and fast, and U-Box won't penalize you for that–you can modify or even cancel your reservation up to the day the containers are scheduled to be dropped off, and still get a full refund. The company asks that you try to call at least 24 hours in advance, but you're still eligible for a refund even if you miss that window.
The other flexibility U-Box offers that we're big fans of is the ability to order as many containers as you want, but only get charged for the ones you use. If you end up with too many, U-Box will pick up the unused containers, and you don't have to pay for them. That's a huge help for people who aren't sure exactly how much space they'll need for everything they plan to move.
The Bad: U-Box Containers Don't Stack Up
Compared to other container moving services, U-Box doesn't offer as much variety. It has only one size of container available: U-Box dimensions are 8 x 5 x 7 feet, which is only big enough to fit a king-sized bed. Compare that to PODS, for example, which offers containers in three sizes up to 16 feet long.
But the size isn't the only problem with U-Box's containers. Unlike other container options, which are made of weather-proof materials, U-Box containers are made of treated plywood and come with a weatherproof cover — basically a tarp designed to fit over the box.
During a long-distance move, U-Box containers are enclosed in a truck. They are loaded inside a tractor trailer, so your container is never directly in rain or snow.
Additionally, when the container is in storage, it is kept inside a facility. When at your home, the vinyl cover is on.
Several users who have reviewed U-Box have noted that the boxes are not great quality, and described experiences in which they broke in transit.
The 3 U-Box Services
While the name U-Haul is practically synonymous with moving, that's not the only service U-Box offers. You can use these containers for moving, storage, or both.
Option 1: U-Box for Moving
You can either have your containers delivered to pack onsite, or you can transport your belongings to a U-Haul facility and pack the containers there. Self-delivery options are only available for local moves.
All containers that are moved long-distance are shipped in an enclosed tractor-trailer for protection.
The minimum reservation is 30 days, so you can take as much time as you need to pack the containers–either do it immediately or over time as you prepare for you move.
Then, you can have the containers shipped by U-Haul, or you can transport them yourself with a U-Haul U-Box trailer. Once they arrive at their destination, you unpack them (again, taking as much time as you need to do so).
If they get delivered to a U-Haul facility, you unpack them and you're done! If they get delivered to your new home, you unpack them there and either transport them to the U-Haul facility where they're scheduled to be dropped off, or schedule a day to have a driver pick them up for you.
Option 2: U-Box for Storage
While U-Box containers are great for shipping items to your new home, they can also be used simply to store your belongings.
The process is pretty similar to the one above, for moving. You order as many U-Box containers as you need. You can pick them up, have them delivered, or head to a U-Haul facility and pack them there. Then, they're stored–either on your property or in a U-Haul storage center–until you're ready to unpack your stuff. You pay a monthly fee and can use the containers for storage for as long as you need them. All rates, including the monthly fee varies by market
Option 3: U-Box for Moving and Storage
Moving, but haven't quite found a place in the new city yet? Need a little time between closing on your old house and moving into the new one? U-Box has a great solution for any situation like these: You can seamlessly combine the moving and storage options.
Simply follow the moving process above. Pack your containers, and store them at your place or in a U-Haul facility. When you're ready to move in and unpack your new place, have the containers delivered there, whether it's one month or six months later. You just pay monthly for as long as you need your containers for storage.
U-Box Sizes and Availability
U-Box containers only come in one size: 8 x 5 x 7 feet, or big enough to fit a king-size bed. This is a downside compared to the competition–many container companies offer multiple sizes. The small size of the U-Box containers might make it hard to fit some large pieces of furniture, like pianos or large wardrobes.
What U-Box lacks in sizing options, it makes up for in widespread availability. U-Box containers are available from more than 20,000 U-Haul locations in all 50 U.S. states and across Canada.
But here's where U-Box really stands out from the competition: The containers can be shipped internationally. U-Haul will create a custom shipping itinerary to get your containers to almost any port in the world. Once there, if it's a place where U-Haul trucks and trailers are available, they might even be able to transport your containers to your final destination. Otherwise, it's on you to unpack your belongings at the port so the containers can be sent back to North America.
How Much Does Moving With U-Box Cost?
U-Box makes it easy to get an estimated quote for your move online.
Costs will vary based on a variety of different factors, like:
How far you're moving
The state or region you live in/are moving to
How long you need to keep the containers
U-Box also offers a ton of ways to customize your reservation and bring the cost down, like:
Packing and unpacking at a U-Haul location, rather than at your home
Picking up the containers yourself instead of having them delivered
Hauling the containers yourself instead of having U-Haul ship them (only available for moves under 50 miles)
To get an idea of what moving with U-Box costs, we requested online quotes for a local move (within 50 miles) and a long-distance, interstate move (from Idaho to Illinois). For reference, these quotes are for a 2-bedroom apartment, which U-Box estimates would require around three containers. Keep in mind that because of all the customizations and factors that help determine the cost, your move may cost more or less than this example.
The local move was estimated at 1,367.85, plus the cost of delivery, which is optional (you can pick up the containers yourself or pack them at the U-Haul location).
Also note that moves under 50 miles won't show a shipping fee when getting a quote online.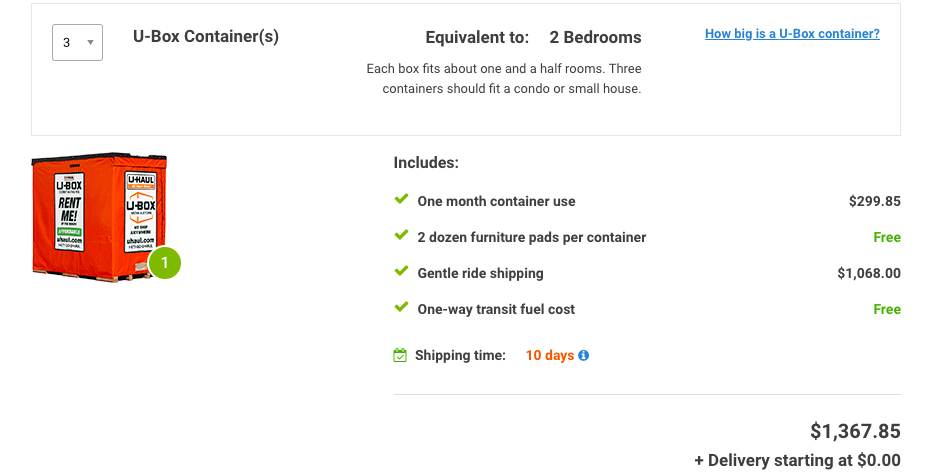 The long-distance move came out to $4,229.85, plus the optional cost of delivery.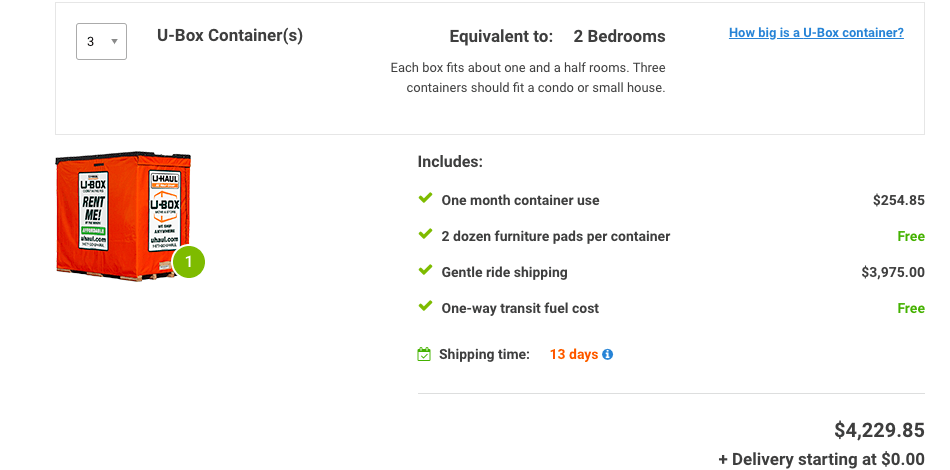 Each estimate includes the cost of shipping the containers from the old address to the new one, one month of container rental, and 24 furniture pads per container.
International moves are a little more complex. If you need to ship your containers overseas, U-Haul will create a custom itinerary and quote, so you can't get a quick quote online.
| Moving Distance | Cost to move 2-bedroom apartment | Cost to move 4-bedroom house |
| --- | --- | --- |
| Local (under 50 miles) | 1,367.85 + delivery | $1,967.70 + delivery |
| Long-distance | $4,229.85 + delivery | $5,771.70 + delivery |
| International | Call U-Haul for quote | Call U-Haul for quote |
If you choose to pack and unpack the containers at a U-Haul location, that's it. The quote is the full cost of your move.
If you choose to haul the containers yourself, U-Haul will provide a trailer tailor made to fit a U-Box container for as low as $5 per day. You'll need a vehicle that can tow at least 3,000 pounds.
If you want your containers delivered to your first address and picked up from your second address after they're unpacked, it'll add at least $79, up to a few hundred to your reservation, depending on your location and how many containers you need.
U-Haul also offers the option of adding full-service delivery and loading. With this option, U-Haul contracts with a local moving company who deliver the containers and pack them for you. For our hypothetical 2-bedroom apartment, this would add about $350 to the reservation.
| Delivery Options | Cost |
| --- | --- |
| Pack/unpack at a U-Haul facility | Free |
| Pick up containers at a U-Haul facility | $5 per day for trailer rental |
| Have containers delivered to your old address and picked up from your new one | Starts at $79 |
Need Insurance for U-Box?
Some homeowner's or renter's insurance policies cover your belongings while they're being moved or stored in a container like a U-Box. Check into that first, but if you don't already have coverage or want to add additional coverage, U-Box insurance offers coverage for up to $20,000 of your belongings.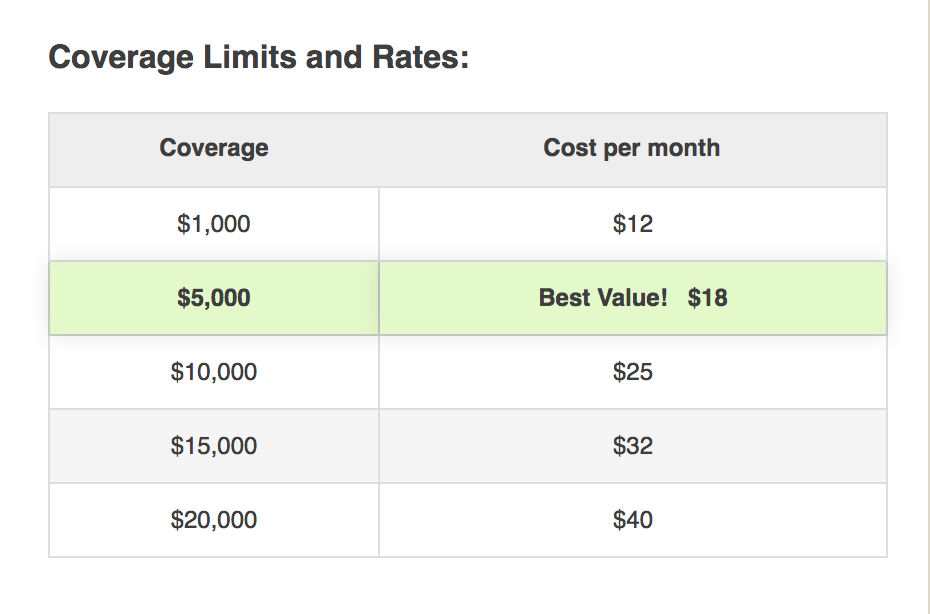 U-Box Reviews: Are They Reputable?
U-Haul has more than 20,000 locations, and each local location has its own pages for Google, Yelp and TripAdvisor reviews. That means there's not a central place to find an online rating for U-Box or U-Haul as a whole. But after looking at several locations' Google business pages, we found reviews to be largely positive, and ratings for individual locations to typically average around four stars.
We didn't find that U-Haul tends to respond to reviews, either positive or negative.
U-Haul has been in operation since 1945, and they're one of the most established and trusted brands in moving. But with that said, some branches are likely more reputable or of a higher quality than others. It can't hurt to search for your local branch and read reviews before making a U-Box reservation.
One other customer experience we felt we should note: When we contacted U-Haul via its online chat to ask a few questions about U-Box, it took 22 minutes for a representative to respond. Then, when we didn't answer within three minute (because we weren't watching the chat window that closely after more than 20 minutes of waiting), the representative disconnected the chat. If you need to reach U-Haul customer service, the phone might be a better option than live chat on their website.
Is U-Box Right for Your Move?
U-Box is a great choice for anyone with a smaller home and not a lot of huge pieces of furniture who needs to move on a budget. There are so many options U-Box offers that can lower the price, so you can truly customize the experience to fit your needs and what you can afford.
Like any container company, U-Box is also great for people who need to store their belongings mid-move, since storage can be seamlessly built into the cost of a move with U-Box. U-Box's $90-per-month storage costs are very reasonable, compared to the rest of the market.
Overall, U-Box is a good budget option that offers a few services you can't find with the competition (like overseas shipping).
Ready to book a company for your move? Compare prices and get instant quotes from multiple movers you can trust.
Not what you were looking for?
Check out other categories that can help you find the information you need!