U-Haul U-Box Review: Is U-Box the best deal?
Here's the bottom line: U-Haul U-Box containers may be smaller than providers like PODS, but the price and availability make it a compelling option for DIY movers and anyone needing storage.
89% of users select this mover
We spoke to real-life U-Haul U-Box moving customers and asked them about their experiences for our Better Moves Project. Jamon's experience moving from Springville, Utah, to Tampa, Florida, went off without a hitch. He and his wife only had about 1,000 pounds of belongings, so everything fit well in the portage storage container U-Haul provided.
Nancy had about as many belongings as Jamon when she moved from Quincy, Massachusetts, to Minneapolis, Minnesota. She was concerned about keeping moving costs as low as possible but didn't want to risk loss or damage. She experienced a few issues throughout her moving process, but she was ultimately satisfied and paid $180 less than her original quote.
Both customers say they'd recommend U-Haul U-Box to other movers who want to forgo moving truck rentals. Keep reading to delve into our review, including U-Box's services, advantages and disadvantages, and more about Nancy and Jamon's moving experiences.
Pros & cons of moving with U-Haul U-Box
Option to hire professional movers to transport containers or haul them yourself
Unparalleled nationwide availability, with more than 22,000 locations across North America
You only pay for the containers you use
You can pack and unpack at a U-Haul facility to reduce costs
It's easy to get a quote online or in-person
Average costs beat out full-service movers and other container movers
One of the only container moving companies that will ship your stuff overseas
There's only one size of container available, and it's smaller than the competition
Some customer reviews report that the containers are poor quality, break easily, and don't adequately protect your stuff
U-Haul historically has poor customer service
Key takeaways
U-Box is U-Haul's (USDOT#2220242) moving container company with flexible services that can reduce the average cost of your move.
U-Haul is one of the most recognizable brand names on the planet. The company has a presence in every U.S. state and 10 Canadian provinces, making it ideal for domestic and international moves.
U-Haul's wide availability and vast network make U-Box ideal for movers interested in hybrid moving options.
89% of users select this mover
Jump to the U-Haul U-Box info you're looking for:
U-Haul U-Box pricing: How much it costs to move
U-Box makes it easy to get an estimated quote for your move online.
The average cost varies based on a variety of different factors, like:
How far you're moving
Origin and destination locations
How long you need to keep the containers
U-Box also offers a ton of ways to customize your reservation and bring the cost down, like:
Packing and unpacking at a U-Haul location, rather than at your home
Picking up the containers yourself instead of having them delivered
Hauling the containers yourself instead of having U-Haul ship them (only available for moves under 50 miles)
To get an idea of what moving with U-Box costs, we requested online quotes for a local move (within 50 miles) and a long-distance interstate move (from Idaho to Illinois). For reference, these quotes are for a two-bedroom apartment, which U-Box estimates would require around three containers. Keep in mind that because of all the customizations and factors that help determine the cost, your move may cost more or less than this example.
U-Haul estimated the local move at $1,367.85, plus the optional delivery cost. If you forgo delivery, you can pick up or pack the containers at the U-Haul location.
Also, note that moves under 50 miles won't show a delivery fee when getting a quote online.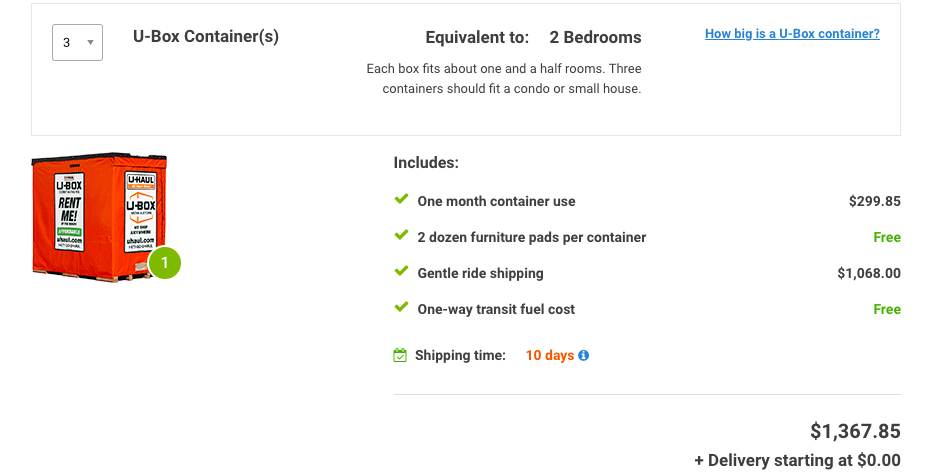 The long-distance move costs $4,229.85, plus the optional delivery cost.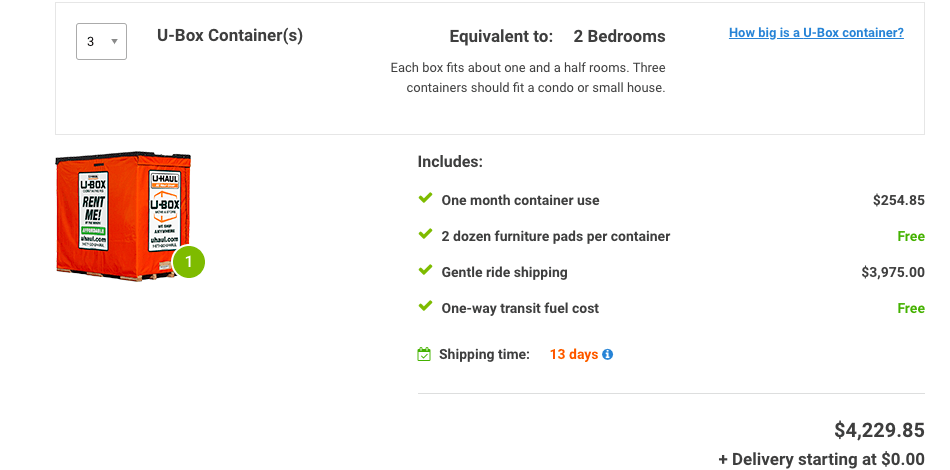 Each estimate includes the cost to ship containers from the old address to the new one, the 30-day rental fee, and 24 furniture pads per container.
International moves are more complex. If you need to ship your containers overseas, U-Haul will create a custom itinerary and quote, so you can't get a quick quote online.
| Moving Distance | Cost to move 2-bedroom apartment | Cost to move 4-bedroom house |
| --- | --- | --- |
| Local (under 50 miles) | 1,367.85 + delivery | $1,967.70 + delivery |
| Long-distance | $4,229.85 + delivery | $5,771.70 + delivery |
| International | Call U-Haul for quote | Call U-Haul for quote |
If you choose to pack and unpack the containers at a U-Haul location, that's it — the quote is the full cost of your move.
If you decide to haul the containers yourself, U-Haul will provide a trailer tailor-made to fit a U-Box container for as low as $5 per day. Your vehicle will need to have a towing capacity of at least 3,000 pounds to support the U-Box.
If you want your containers delivered to your first address and picked up from your second address after unpacking, it'll add at least $79 to your reservation, depending on your location and how many containers you need.
U-Haul also offers full-service delivery and loading. With this option, U-Haul contracts with local professional movers who deliver and pack the containers for you. For our hypothetical 2-bedroom apartment, this service would add about $350 to the reservation.
| Delivery Options | Cost |
| --- | --- |
| Pack/unpack at a U-Haul facility | Free |
| Pick up containers at a U-Haul facility | $5 per day for trailer rental |
| Have containers delivered to your old address and picked up from your new one | Starts at $79 |
U-Haul U-Box offers a wide variety of services
The name U-Haul is practically synonymous with moving and rental trucks, and U-Box containers just expands on these offerings. You can use these containers for moving, storage, or both.

Licensed
Insured
Price
rating
4.15 / 5
Check prices
(800) 468-4285
93% of users select this mover
At A Glance
More than 20,000 locations with prominent pricing
Rental options include everything from pick-up trucks to 26-foot moving trucks
Gentle-Ride Suspension add protection to avoid damaging your items during transit
U-Box moving containers available if you don't want to drive
read our full review
Check prices
(800) 468-4285
93% of users select this mover
Option 1: U-Box for moving
You can have your containers delivered to pack onsite or transport your belongings to a U-Haul facility and pack the containers there. Self-delivery options are only available for local moves.
All long-distance containers ship in an enclosed tractor-trailer for protection.
The minimum reservation is 30 days, so you can take as much time as you need to pack the containers — either immediately or over time as you prepare for your move.
Then, you can have the containers shipped by U-Haul or transport them with a U-Haul U-Box trailer. Once they arrive at their destination, you unpack them (again, taking as much time as needed).
If they get delivered to a U-Haul facility, you unpack them, and you're done! If they get delivered to your new home, you unpack them there and transport them to the U-Haul facility or schedule a day to have a driver pick them up.
Option 2: U-Box for storage
While U-Box containers are great for shipping items to your new home, they're also an excellent self-storage option.
The process is pretty similar to the one above for moving. You order as many U-Box containers as you need. You can pick them up, have them delivered, or head to a U-Haul facility and pack them there. Then, they're stored on your property or in a U-Haul storage center until you're ready to unpack your stuff.
You pay a monthly fee and can use the containers for storage as long as needed. All rates, including the monthly fee, vary by market, so confirm pricing with your desired locations.
Option 3: U-Box for moving and storage
Are you moving but haven't found a place in the new city yet? Do you need a little time between closing on your old house and moving into the new one? U-Box has a great solution for any situation. You can seamlessly combine moving and storage options to ensure your rental fits your needs.
Simply follow the moving process above. Pack your containers, and store them at your place or in a U-Haul facility. When you're ready to move in and unpack your new place, have the containers delivered there, whether it's one month or six months later. You just pay monthly for as long as you need your containers for storage.
U-Box Sizes and Availability
U-Box containers only come in one size: 8 x 5 x 7 feet, 257 cubic feet. It's big enough to fit a king-size bed or a small one-bedroom apartment.
The container size is a downside compared to the competition. Many container companies offer multiple sizes. U-Box containers' small size might make it hard to fit large furniture, like pianos, dressers, or wardrobes.
What U-Box lacks in sizing options, it makes up for in widespread availability. U-Box containers are available from over 20,000 U-Haul locations in all 50 U.S. states and Canada, making them ideal for cross-country and international moves.
But here's where U-Box stands out: you can use these containers for international moves. U-Haul will create a custom shipping itinerary to get your containers to almost any port in the world.
Once there, if U-Haul trucks and trailers are available, they might even be able to transport your containers to your final destination. Otherwise, you'll need moving help to unpack your belongings at the port so the containers can be sent back to North America.
Related: Best Interstate Moving Companies
89% of users select this mover
Insurance
Some homeowners' or renter's insurance policies protect your belongings while being moved or stored in a portable storage container like a U-Box. Check into that first. If you don't already have sufficient coverage, U-Box insurance offers coverage for up to $20,000 of your belongings.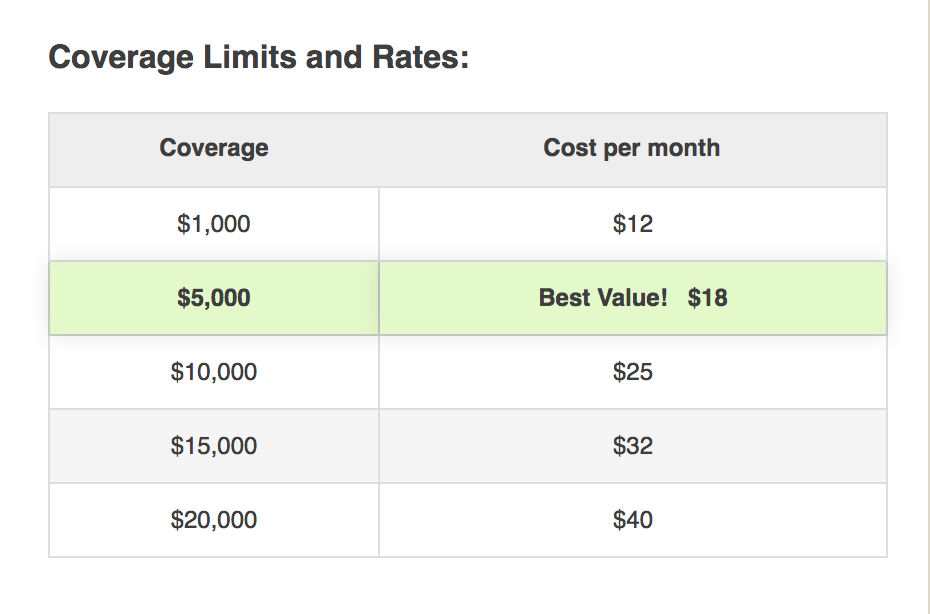 How U-Haul U-Box stacks up against the competition
Nancy requested a moving quote from PODS containers before deciding U-Haul U-Box was right for her. PODS offered more container sizes, but in the end, Nancy knew she was minimalist enough to go with U-Box's smaller size.
Her U-Box quote was competitive and got her attention. Here's how it compares to PODS:
Nancy wanted to request more moving quotes but ultimately decided against it when she noticed it was more difficult to get online quotes from the competitors.
Jamon requested quotes from U-Box, 1-800-PACK-RAT, PODS, and U-Pack. In the end, U-Box returned the most competitive quote at $2,650. On the day of his move, he paid exactly what he was quoted.
Overall, both customers had a positive experience and would recommend U-Box to anyone with a similar-sized move. They were both satisfied with communication, pricing, professionalism, and timeliness.
Compare U-Box to its competitors in the table below.
We recommend requesting several moving quotes using our moving cost calculator to get the best value for your upcoming relocation or storage needs.

Recommended
Jarom's Move with U-Haul U-Box
In mid-June of 2022, Jarom, his wife, and their dog made a work-related move from Springville, Utah to Tampa, Florida. Since they were only moving about 1,000 pounds of boxes and furniture, Jarom booked a portable moving container with U-Box.
Read The Full Story
How moving with U-Haul U-Box works
Because U-Haul U-Box is so flexible, you can customize your move to fit your schedule and needs. You can book online for everything except international moves, but Jamon called U-Haul directly leading up to his move to confirm all the details.
Jamon's moving container arrived right on time on his moving date, and it took less than two hours to load. After U-Box picked up his container, they texted him delivery updates. His items arrived unscathed and right on time in Tampa, even though he had purchased optional insurance.
The delivery drivers wanted to save time picking up the container, so they offered to unload his belongings free of charge. Talk about a steal!
Nancy didn't communicate as closely with U-Box, and on the day of her move, the container couldn't be placed in the right spot due to issues getting a parking permit. She wishes she had known about parking permits before she booked her reservation, but it wouldn't have impacted her final decision —it would have allowed her to prepare better.
As such, she had to have the container delivered to the nearest U-Haul location and arrange to get her belongings from there to her new home by herself. This wrinkle in her plan saved her about $180 from her original quote.
U-Haul doesn't offer a pricing guarantee because the final costs are calculated at the end of the move. Nancy's items arrived in Minnesota a full 10 days before they were expected, so she had to keep her items at U-Haul's storage facility until her new home was ready.
If you're interested in U-Box's moving services, you can request an online quote, call U-Haul directly, or visit your nearest location.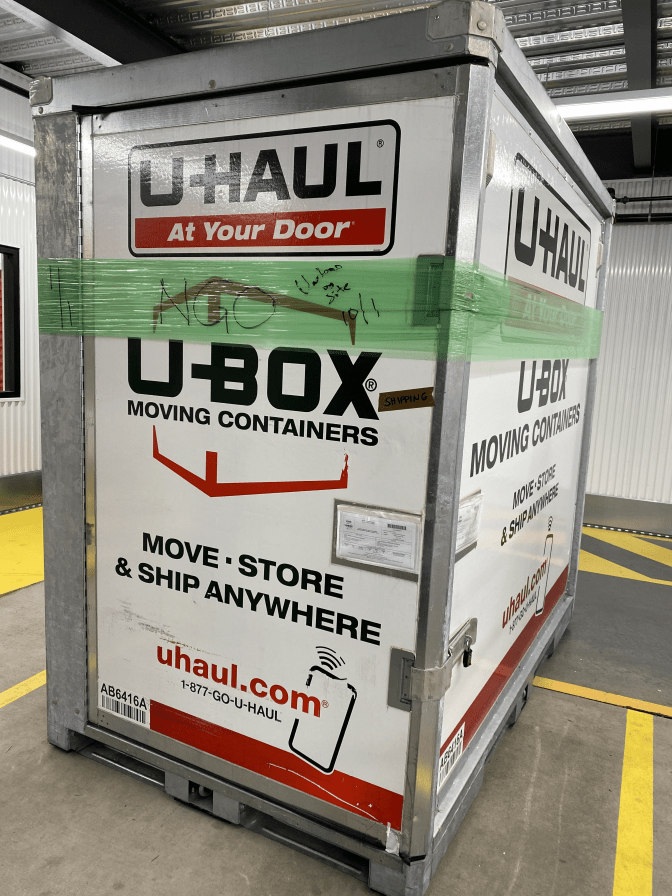 Recommended
Nancy's Move with U-Haul U-Box
In the fall of 2022, Nancy and her fiancé, Alex, moved from Quincy, Massachusetts, to Minneapolis, Minnesota, to be closer to their families and to take advantage of the city's relatively low cost of living. Nancy considered a few providers, but ultimately, U-Box (U-Haul's moving container division) came through with the cheapest quote for the services she needed.
Read The Full Story
U-Haul U-Box is perfect for people who don't need a huge container size
U-Box is a great choice for anyone with a smaller home and not many huge pieces of furniture. It's also excellent for anyone who needs to move on a budget. U-Box offers many options that can lower the price, so you can customize the experience to fit your needs and what you can afford.
Like other moving container companies, U-Box is great for people who need to store their belongings mid-move since storage can be seamlessly built into the cost of a move with U-Box. U-Box's monthly fees are very reasonable, especially compared to its competitors.
Overall, U-Box is a good budget option that offers a few services you can't find with the competition (like overseas shipping).
Related: Best Long Distance Moving Companies
Ready to book a company for your move? Compare prices and get instant quotes from multiple movers you can trust.
FAQ
What isn't allowed in a U-Box?
There are a few items you can't put in a U-Box for safety and legal reasons.
The following items are restricted by U-Haul U-Box:
Ammunition
Animals
Butane bottles
Explosives
Firearms
Fireworks
Food
Gasoline
Heaters
Liquids
Plants
Propane tanks
Torches
Is the U-Box waterproof?
U-Boxes come with a weatherproof cover you can use while they are on your property. It isn't necessarily waterproof, but it is water-resistant. When your items are in U-Haul's possession, the company will store the U-Box in a secure storage facility or covered tractor-trailer until drop off.
What size bed can fit in a U-Box?
The U-Box is big enough to fit a queen or king-size mattress. While it may be smaller than other portable storage containers, its compact size makes it ideal for U-Haul customers who only want to take the essentials or DIY folks without moving help.
Not what you were looking for?
Check out other categories that can help you find the information you need!
See All
Hide All