Moving Experience: Nancy's Move with U-Box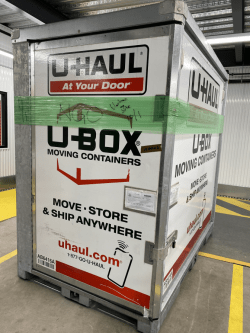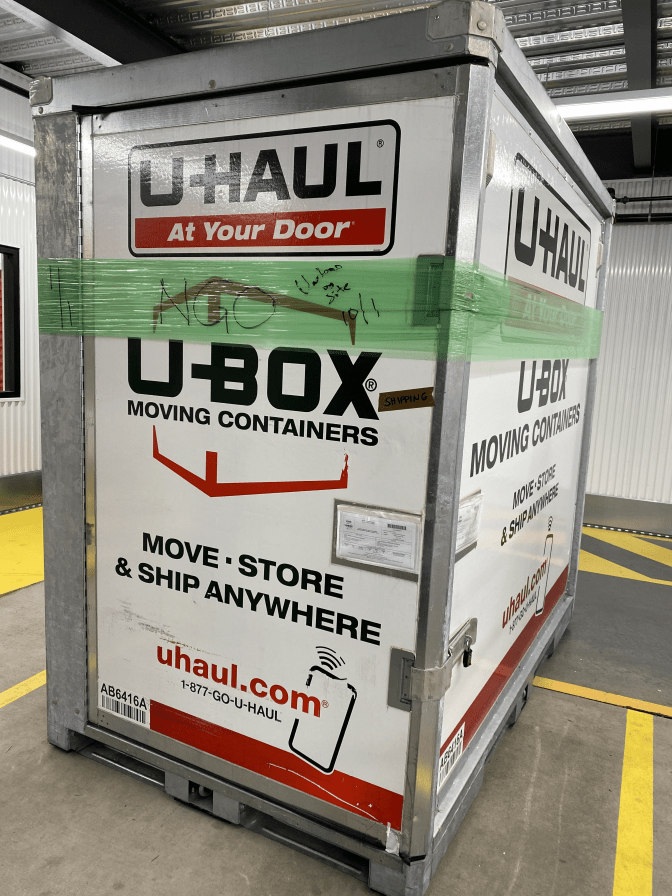 In the fall of 2022, Nancy and her fiancé, Alex, moved from Quincy, Massachusetts, to Minneapolis, Minnesota, to be closer to their families and to take advantage of the city's relatively low cost of living.
Nancy considered a few providers on our best moving container companies list and used our moving cost calculator to prepare a preliminary budget. Ultimately, U-Box (U-Haul's moving container division) came through with the cheapest quote for the services she needed.
U-Box is a solid choice for anyone interested in putting together a hybrid move. Still, Nancy experienced late-move issues because the City of Minneapolis wouldn't issue a container parking permit. So, did Nancy have a positive moving experience with U-Box, or does she regret not working with a competitor like PODS or U-Pack?
To cash in on a $500 relocation stipend and help anyone planning a move like hers, Nancy participated in our Better Moves Project. In this post, we'll look at what went well on her move, what didn't, and what she learned along the way.
Move day takeaways for U-Box customers
Communication: U-Box communicated effectively throughout Nancy's move, but she felt that the parking permit for the container should have been a bigger priority and addressed earlier in the moving process
Pricing accuracy and transparency: Nancy paid $180 less than the initial quote because she didn't get the door-to-door service she was expecting
Timeliness: U-Box delivered Nancy's moving container about ten days earlier than expected
Professionalism: Despite the parking permit issue (which wasn't U-Box's fault), Nancy gave the company high marks for professionalism
Loss and damage: Nancy didn't experience any loss or damage on her move with U-Box
Would Nancy use U-Box again? Yes, Nancy would consider using U-Box again if she moves in the future
Nancy and her fiancé needed help moving from Massachusetts to Minnesota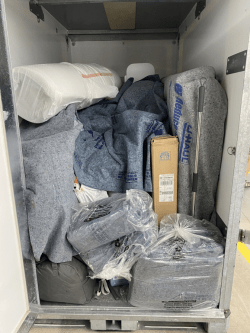 Nancy and Alex relocated to Minneapolis about two months before their move date.
They were only moving ten boxes and miscellaneous household items that weighed less than 1,000 pounds, but they were determined to keep costs low and to work with a company that could pick up and deliver their items on time without loss or damage.
Moving containers made the most sense, but the aforementioned parking permit issue made their move more tedious and time-consuming than it should have been.
Since they were driving their car to Minneapolis, they decided to take fragile and personal items and their puppy with them. 21-hour drives with energetic puppies can be trying, but they found a number of dog-friendly hotels along the way and spent an extra night on the road to minimize daily driving time.
Nancy's move at a glance
| | |
| --- | --- |
| Move date | October 1, 2022 |
| Moved from | Quincy, Massachusetts |
| Moved to | Minneapolis, Minnesota |
| Distance | 1,400 miles |
| Move size | Minimally furnished 1,500 square foot home |
| Moving container company | U-Box |
| Moving quote | $1,797 |
| Actual cost | $1,614 |
Nancy only got one other quote before choosing U-Box
Nancy and Alex weighed the pros and cons of using moving containers vs. renting a truck and even considered selling everything that wouldn't fit in their car and replacing it after moving into their new place. However, they decided to go with moving containers because they didn't want to drive a moving van or spend tons of money replacing things in perfectly good condition.
Before making her decision, Nancy also got a quote from PODS. Here's how her quotes compared:
Because they're minimalists at heart, U-Box's 8-foot container seemed like the way to go. They also liked that they could pay for their move in installments and get an instant online quote by entering the following information:
Proposed move date
Origin and destination addresses
Service type (Nancy chose door-to-door transportation without storage)
Whether she wanted to purchase add-ons like insurance or moving labor
She considered a few other companies but crossed them off her list because they didn't offer online quotes. Nancy opted to purchase additional Safestor Mobile coverage ($5,000 for $18) to cover her items from named perils like hurricanes, earthquakes, and vermin infestation.
Nancy and Alex prepared by buying packing material,
downsizing and decluttering
, and packing a few boxes at a time to ensure everything was done when the container arrived on September 17th. Thankfully, packing was relatively easy because they had the original boxes for their electronics and small appliances.
Container parking was an issue on Nancy's move
U-Box told Nancy they'd need to work together to get a parking permit for the moving container in Minneapolis. Nancy was responsible for taking pictures of the proposed parking area to submit with the application at least five days before the container was scheduled to be delivered.
Nancy assumed the application was just a formality, but the city didn't grant a parking permit. No explanation was given, but Nancy and her U-Box rep assumed it was because it would have been placed on a relatively busy street and may have impeded traffic.
Whatever the case, U-Box had to deliver the container to the nearest U-Haul facility instead of directly to their new apartment. The cost of hiring movers was prohibitively expensive, so they rented a truck from U-Haul and moved everything from the container to their new apartment themselves.
This wasn't a huge deal, but it added time, labor, cost, and inconvenience they hadn't accounted for.
Moving and delivery day went relatively smoothly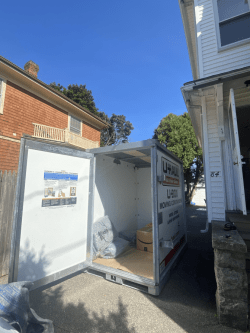 U-Box delivered Nancy's empty container on September 17th. Since it was right at their front door, loading took just a few hours.
After U-Box picked it up, Nancy, Alex, and their puppy set out on their 1,400-mile road trip. Delivery was still a few weeks away, but U-Box kept in contact via text while they were on the road.
Their container arrived in Minnesota on the 22nd, far earlier than expected, but Nancy and Alex couldn't move into their new place until October 1st. They reserved a truck with U-Haul and called the day before to confirm that it and their container would be placed side-by-side to make trans-loading as easy as possible.
All told, this process and delivery to their new apartment were relatively quick and easy, and nothing had been lost or damaged on the long trip.
Nancy's advice for anyone considering a container move with U-Box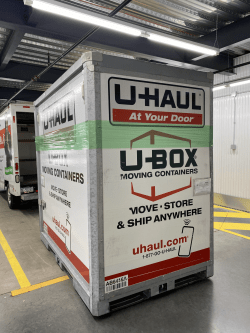 Nancy wasn't told about the need for a parking permit in Minneapolis until after she'd booked her move. She probably would have used U-Box anyway, but she would have preferred knowing about it beforehand.
She also felt that the application should have been submitted earlier, though this was largely out of her and U-Box's hands. Parking permits aren't always necessary, but Nancy suggests tackling the issue early on if you're moving from or to a city where they're required.
In addition, Nancy thinks she may have been overzealous while downsizing before her move. In hindsight, she would have moved a few more things if she'd known there'd be extra space in the container.
And lastly, Nancy recommends the following:
Doing thorough research and getting multiple quotes
Considering full-service movers if there's room in your budget
Coordinating pick-up and delivery dates to coincide with travel and move-in dates
Asking prospective service providers how long you have to load and unload your container
The verdict – did U-Box make the grade?
Nancy's move wasn't perfect, but U-Box delivered her household goods on time, on budget, and without loss or damage.
Here's how Nancy rated U-Box on a scale of 1 to 5:
Communication – 5
Timeliness – 5
Pricing accuracy – 5
Overall experience – 4
Nancy may have given U-Box '4' stars for overall experience because of the parking permit issue. However, it's likely that the permit was denied due to limited parking and potential safety issues.
Before signing off, check out these helpful posts:
Not what you were looking for?
Check out other categories that can help you find the information you need!
See All
Hide All