Moving Experience: Michelle's Move with Zippy Shell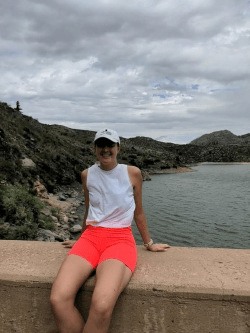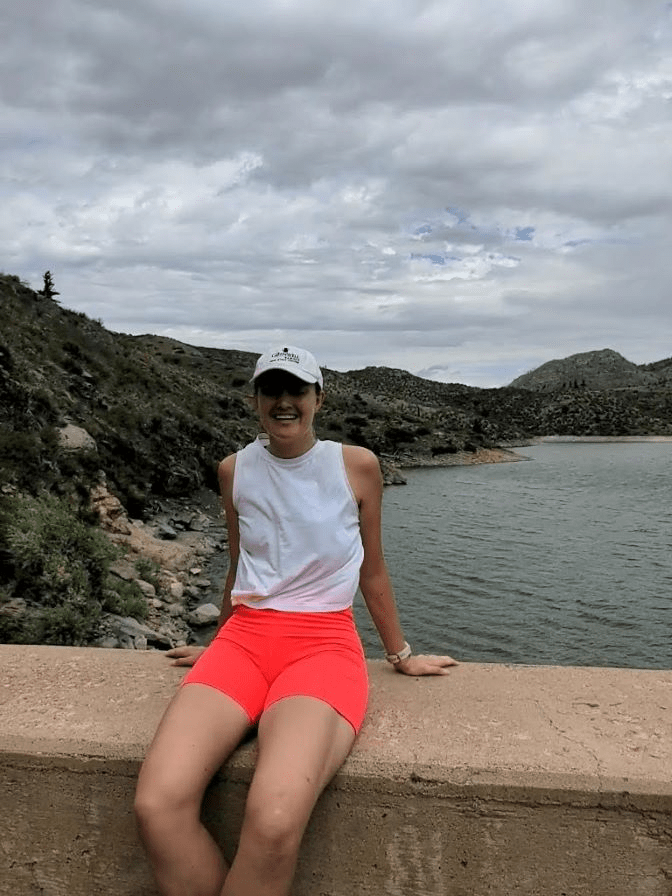 After a stint as a grad student in New Jersey, Michelle and her fiancé moved back home to Fort Collins, Colorado, in the summer of 2022.
Michelle considered various options, but Zippy Shell came through with the best mix of competitive pricing and professional customer service. 
Zippy Shell's unique street-legal containers are perfect for urban spaces where parking is limited and can be used for local and long-distance moving and storage. Services aren't available in every state, but the company partners with 1-800-PACK-RAT to accommodate customers moving outside their coverage area. So did Zippy Shell deliver a positive experience for Michelle, or was her move a big disappointment?
Spoiler alert: not everything went according to plan.
To promote transparency and help anyone considering a move like hers, Michelle participated in our Better Moves Project by documenting her experiences with Zippy Shell.
In this post, we'll look at Michelle's move from every angle and see what she'd do differently next time around.
Move day takeaways for anyone considering Zippy Shell
Communication: Communication from Zippy Shell was good early on, but it went downhill quickly after Michelle booked her move
Pricing accuracy and transparency: Zippy Shell's quote was accurate, but Michelle spent extra money renting a U-Haul to pick her things up from the warehouse because the company kept delaying her delivery
Timeliness: Michelle gave Zippy Shell poor marks for timeliness because she didn't get the door-to-door service she was expecting
Professionalism: Michelle didn't feel like Zippy Shell treated her fairly or professionally
Loss and damage: A few items got damaged, but this probably wasn't Zippy Shell's fault because Michelle and her fiancé did their own packing and loading
Would Michelle use Zippy Shell again? Michelle didn't have a positive experience with Zippy Shell, and she wouldn't use the company again
Michelle needed help moving from New Jersey to Colorado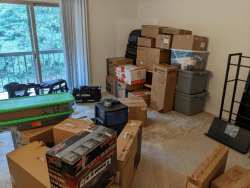 Michelle's move was relatively small, and she didn't have any specialty items like pianos or hot tubs.
Her shipment included miscellaneous furniture and about 40 boxes that weighed approximately 1,000 pounds, but Michelle moved during the peak summer season when full-service movers and moving container companies are stretched to their breaking points. Needless to say, service issues are far more common in the summer than in the fall and winter.
Michelle's priorities included affordability, effective communication, and on-time service. 
Michelle's move details
| | |
| --- | --- |
| Move date | August 8, 2022 |
| Moved from | West Windsor, New Jersey |
| Moved to | Fort Collins, Colorado |
| Distance | About 1,800 miles |
| Move size | 3-bedroom home (shared with another couple) |
| Moving company | Zippy Shell |
| Moving quote | $3,090 |
| Actual cost | About $4,000, including the U-Haul truck and lost work time (more on this shortly) |
Michelle got multiple quotes before selecting Zippy Shell
Michelle knew about her move three months in advance, but it only took two weeks to find a mover.
She found much of what she needed on moveBuddha, but she also checked out U-Haul and Zippy Shell's websites for additional information. Michelle contacted between five and ten companies for quotes and asked them if they'd price match to ensure she got the best possible deal.
After lots of phone time and negotiation, she narrowed her pool of prospective movers down to four companies.
Here's how their quotes compared:
| Moving company | Service type | Estimated cost |
| --- | --- | --- |
| U-Box | Moving container | $1,800 |
| Zippy Shell | Moving container | $3,090 |
| American Van Lines | Full-service move, 8 feet of floor space on a moving van | $3,100 |
| U-Pack | Moving container | $6,000 |
Michelle considered pricing, services, and availability, but she ultimately booked a 15-foot moving container through Zippy Shell.
Zippy Shell's estimate included the following:
A fuel surcharge
Local pick-up and delivery and long-distance transportation (packing, loading, and unloading were up to Michelle and her fiancé)
$10,000 of insurance
30 days of free storage at the destination warehouse
Michelle described Zippy Shell's staff as "very helpful" early on, and she liked that they sent a number of emails containing helpful information on how to pack boxes and load the container.
She and her fiancé prepared by staying organized, packing boxes, and rounding up friends to help with loading. Having enough labor was especially important because they only had three hours to load the container. Most container companies give customers a full day or more, so this is definitely worth asking about if you're considering Zippy Shell.
Michelle paid a 50% pre-move deposit, with the remainder being due at the time of delivery.
Moving day went pretty smoothly
Zippy Shell's driver called on the appointed day (August 8th) to let Michelle know he'd arrive with the container at about 11 AM.
This was exactly when she was expecting them, but she would have appreciated a confirmation call a few days ahead of time. In addition, Michelle didn't like that her container was different than the one she was expecting. Her sales representative originally told her she'd get a solid metal container, but hers (picture below) had wire-mesh construction with a metal frame.
Thankfully, everything else went according to plan.
Michelle, her fiancé, and their helpers loaded everything into the container in about two hours.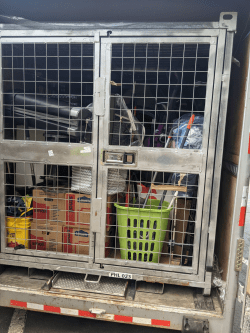 Communication was poor while Michelle's items were in transit
Zippy Shell didn't communicate proactively after Michelle's container was loaded, and when she called in, nobody at the customer service center could give her any concrete information.
Ten days later, she was notified that her container had arrived at the warehouse in Colorado and that she needed to call to schedule final delivery. But when she did, she was put on hold for more than an hour and eventually told that the soonest available delivery time was several days out. Over the next four days, Michelle experienced poor communication and multiple delivery postponements.
She and her fiancé weren't sure how many more delays they'd have to endure, and they were eager to get settled into their new place. Michelle pressed the issue by working her way up the chain of command to the company's territory manager.
A new delivery day was finally scheduled, but by mid-afternoon, her container hadn't arrived, and she hadn't heard from Zippy Shell. When she called, she was told that it would be there in three or four hours, but by 8 PM, it still hadn't shown up. She called again the following day but was told that they weren't sure where her container was or when it would be delivered.
"Delivery" wasn't what Michelle expected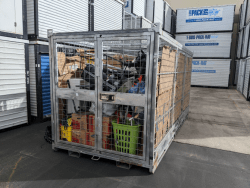 By the end of the fourth day, Michelle and her fiancé had had enough, so they decided to schedule an "out by owner" appointment and retrieve their things themselves. This was the best solution under the circumstances, but it meant that they'd have the added hassle and expense of renting a truck from U-Haul.
Michelle's original quote from Zippy Shell included door-to-door service, but this isn't what she got.
After renting a truck, she and her fiancé drove to the warehouse expecting a big argument. Thankfully, the staff gladly moved the container into the parking lot so they could unload their items and reload them onto the U-Haul truck. This process took a few hours, after which they drove to their new home and unloaded everything one last time.
What could have gone better on Michelle's move
Poor communication was the most persistent issue on Michelle's move, but she also had to fork out extra money for a U-Haul truck and move her furniture multiple times.
Zippy Shell probably would have delivered the container to Michelle's new home eventually, but she had no way of knowing when, and she no longer trusted the information she was being given. In the end, she took matters into her own hands to resolve the situation in the best way possible.
The customer service representatives she dealt with were pleasant, but nobody seemed to know where her container was or when it would be delivered. For a company with a solid reputation like Zippy Shell, she found this surprising and frustrating. Michelle was also disappointed that she didn't get the container she expected. This wasn't a big problem, but it was another case of her not getting what she paid for.
Zippy Shell knocked $200 off the final bill to compensate Michelle for the aforementioned issues, but it didn't cover the cost of the U-Haul or lost work time.
Our take on Michelle's move
Timing may have been partly to blame for the service issues on Michelle's move. To recap, she moved during the peak summer season when full-service movers and container companies experience huge surges in business. In fact, they often book more business than they can handle, and when they do, service can suffer.
Whatever the case, Zippy Shell could have communicated more effectively and given Michelle accurate information, even if it wasn't what she wanted to hear.
The company did reduce her bill by $200, but Michelle felt that they should have covered the cost of the U-Haul.
Michelle's suggestions for anyone planning a move like hers
Michelle wishes she would have spent more time looking at online reviews for Zippy Shell and the warehouse in Colorado where her container wound up. If she had, she thinks she might have spotted red flags and decided to go with another service provider. She also regrets placing so much emphasis on cost. She thinks she may have had a better experience if she'd worked with one of the companies that provided a higher quote.
Not surprisingly, she wouldn't use Zippy Shell again or recommend the company to anyone else. On the bright side, she and her fiancé are all settled into their new place, and they don't plan on going anywhere anytime soon.
Before signing off, check out these helpful posts:
Not what you were looking for?
Check out other categories that can help you find the information you need!
See All
Hide All