Top 15 Places To Find Free Moving Boxes
Between the internet and a variety of local shops, there are plenty of places to hook you up with that precious cardboard commodity on the cheap.
One thing people rarely realize until they're moving: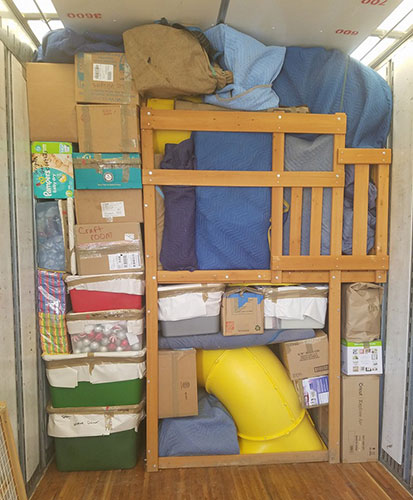 Boxes are kind of expensive.
Who would have thought a little cardboard could be so pricey? But it turns out the average move typically requires a few hundred dollars worth of packing materials.
Luckily, in this post, we lay out 15 places where you can score free moving boxes.
Before we jump right in, there is one important thing to mention when choosing where to get boxes.
If you're moving locally (30 miles or so) most boxes will serve you just fine – the freer the better.
However, if you're moving out of state you'll want to be a little more careful when searching for boxes. Loose packing is the number one way items get damaged during a move and boxes play a big role.
If you use boxes that are made of weak cardboard or use too many different shapes and sized boxes it can make packing everything tightly a challenge.
To help make sure you find the best boxes we've included some notes on quality and size for the typical boxes at all 15 places on this list.
If you end up wanting to buy some boxes, we recommend checking out the professional box packages at UBoxes.com.
Alright, here's a quick list if you want to jump around. Otherwise, scroll through and we'll get started.
1) Always Check on Craigslist
Quality: Mixed bag
Craigslist is a dumping ground for free stuff and moving boxes are no exception. People frequently post "curb alerts" letting you know when and where they'll be leaving free boxes out on the curb.
The quality of the boxes can vary greatly, so use your best judgment.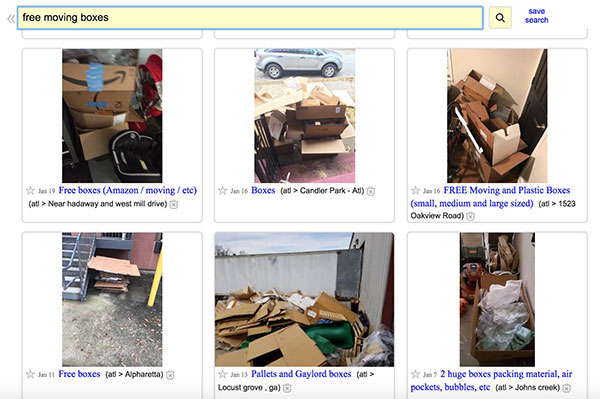 2) Get on that Social Media
Quality: Typically high-quality, lightly used boxes
Moving is one of those times it's acceptable to shamelessly use social media for personal gain.
Post on Facebook, Twitter and wherever else your friends hang out asking if anyone has any boxes lying around. You'd be surprised how often people have spare boxes or know someone who just moved.
Who knows, you may even be able to sucker someone into helping you pack as well!

3) Visit Liquor Stores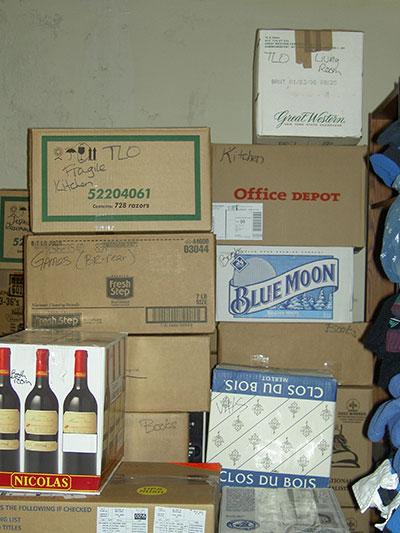 Quality: Sturdy boxes of varying sizes
No, the liquor store isn't just the place you go to relieve some moving day stress. It actually has another important purpose: free boxes!
Liquor stores often have boxes right behind the counter or in a pile near the checkout. Since the boxes are built to carry glass they tend to be very sturdy. Perfect for moving!
Insider tip: Maker's Mark and Crown Royal boxes come with cardboard dividers making them ideal for packing plates and kitchenware.
4) Checkout Bookstores
Quality: Sturdy and smaller boxes
Bookstores aren't as prevalent as they used to be but if you have a local bookshop or Barnes & Noble nearby they can be a treasure trove of quality boxes.
Book boxes tend to be smaller and built to hold a lot of weight.
5) Hoard Amazon Boxes
Quality: High-quality, small to very large boxes
We don't typically suggest hoarding, but in this case, we're going to make an exception. If your move isn't coming up for a while be sure to hold on to boxes you get from deliveries.
Amazon, in particular, uses some of the best quality boxes around to make their deliveries.
Plus, it gives you an excuse to order online rather than go to the store.
6) Get to the Pharmacy
Quality: Big assortment of varying size and quality boxes
While you're stocking up on Advil and anti-anxiety meds in preparation for the move, take a look around and see if the drug store has any boxes lying around.
You can also ask the clerk when they expect a big delivery. Chances are they'll be a lot of leftover boxes once they get done stocking the shelves.
Pharmacies tend to get boxes of all shapes and sizes, so they can be especially good if you have some large or irregular items. Just be sure the boxes you grab aren't too flimsy.
7) Hit the Loews & Home Depot
Quality: High-quality, big selection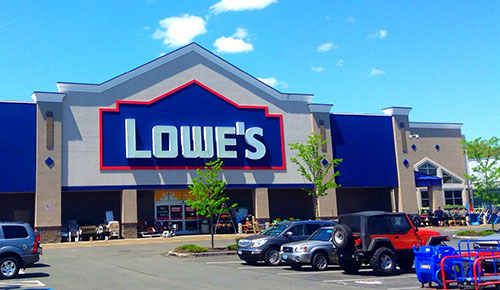 This is a tricky one because hardware stores also sell moving boxes in the store. Employees might not be as eager to give you their boxes when you can just as easily buy them right there.
You'll have to use your best salesmanship here to convince the store manager to let you have the boxes. You may have better luck trying a smaller local hardware store.
That being said, these stores can be a treasure trove of awesome boxes. Everything from appliance sized boxes to free boxes for electronics can be had.
8) Try U-Haul Box Exchange
Quality: High-quality, professional supplies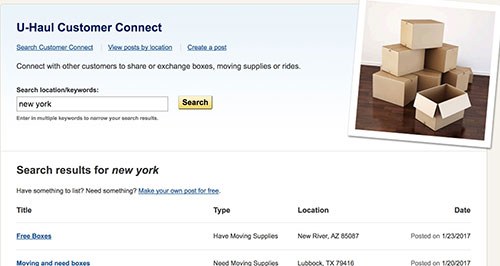 U-Haul is used for millions of moves every year and that means a lot of their customers have boxes they no longer need.
This being the case, the good people at U-Haul decided to set up a box exchange on their website where people can offer up their used moving boxes and supplies to those who are planning a move.
While we commend U-Haul's efforts, there doesn't seem to be many postings in most areas. Either way, it's definitely worth a quick check to see if you can get lucky.
9) Check the Grocery Store
Quality: Varying size and quality with potential risks
Since groceries get deliveries almost daily they get recommended often as a good place to go fishing for moving boxes. While this is true, before you go running off to the local grocery there are a few things to keep in mind.
Grocery boxes often get wet which weakens the cardboard
Food attracts pests that can stay in the boxes even after they're emptied
The boxes tend to vary in greatly in size making them hard to stack nicely
A grocery store is definitely an option, although, it may not be the best one…
10) Peruse a Few Retail Stores
Quality: High-quality boxes of varying sizes
Retail stores tend to get new product shipped in all the time, which means they're constantly throwing away boxes.
Walking into random stores in your area is one way to find some free boxes. You can also drive through the alleys around strip malls and find boxes piled up near the dumpsters.
Retailers' tend to ship products in high-quality boxes to avoid damage, so you can often find great boxes at them.
11) Look Around Your Office
Quality: File boxes are great for moving
If you're in an office setting chances are you have empty file boxes stacked up somewhere. Assuming your boss says it's cool, be sure to grab as many as you can.
File boxes are uniform in size and fairly sturdy making them great for moving.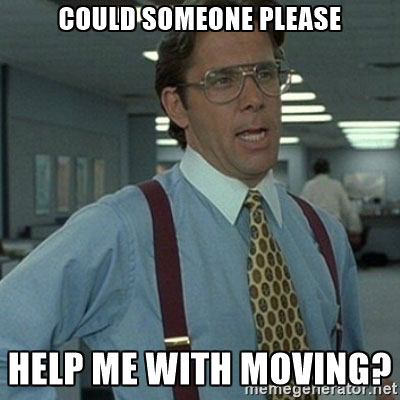 12) Join Your Local Freecycle
Quality: High-quality, professional moving boxes
Freecycle is a nonprofit connecting individuals in neighborhoods to help them give away and get all kinds of items for free. The best part, membership is free.
The Freecycle communities are fairly active and it's not hard to find people giving away great condition moving boxes.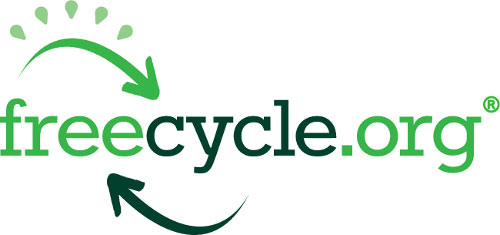 13) Call Some Yard Sales
Quality: Varying quality and sizes
Yard sales typically mean an attic or garage is getting cleaned out which also means there will likely be some empty boxes to be had.
Chasing down yard sales can be a major time suck, so it's worth it to call ahead and see if they have any old boxes.
Keep in mind boxes that have sat in a garage or basement for a long time may not be in ideal condition for a move.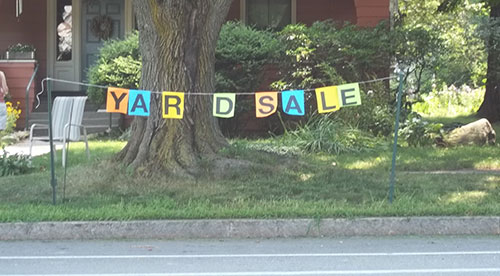 14) Apartment Complexes Near Months End
Quality: High-quality, professional moving boxes
Apartment complexes have leases constantly turning over and this means a lot of people are always moving in and out.
If you live near any large apartment buildings there's a good chance you will find dumpsters stacked with free boxes around the end and beginning of new months.
15) Free Boxes From Walmart
Quality: High-quality boxes of varying sizes
If you plan on getting free boxes from Walmart, think again. Walmart is ruthlessly efficient and will usually resell or recycle their old boxes.
Your best chance is to stop by Walmart around midnight when restocking the shelves is typically taking place. You may be able to find an employee who will take some pity on you.
Have other ideas on where to get free boxes, let us know in the comments!
Bonus: Now that you've got your free boxes, find out how to ship them long distance on the cheap. We've put together a full guide with tips on cheap Amtrak shipping and 6 other cost-effective ways to ship boxes.