What is the cheapest way to ship 20-30 moving boxes?
Well, it's time to move.You've debated what to move and trashed, sold, or donated nearly every large item you own.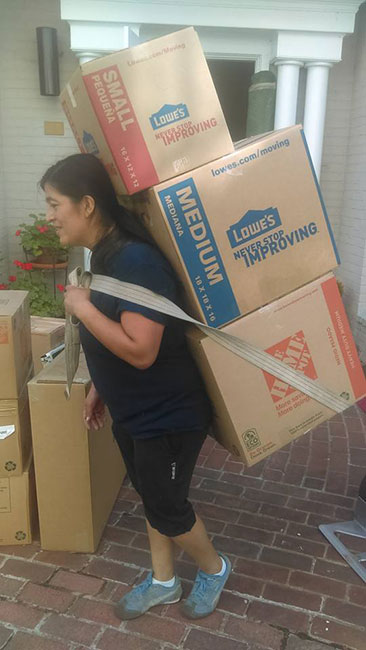 We here at moveBuddha certainly applaud your minimalism.But, despite your purging efforts, you still have about 20-30 boxes of clothes, kitchen stuff and other miscellaneous items you can't imagine trying to replace.

To ship boxes is without a doubt easier than moving an entire house of furniture. But, figuring out the cheapest method to move 20-30 boxes long distance can still be tricky.

Every move is different. The key to finding the best option is to compare all of them.

Here we lay out every way we know to get boxes shipped.

Oh, and if you want to save money on boxes either get them free or buy boxes online.

Alright, let's get started.
Quick Reference
moveBuddha says:
Comparison is the only true path to relocation enlightenment
Amtrak Shipping: Ship boxes via train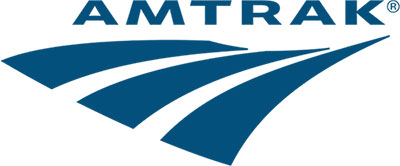 Yes, Amtrak the train company is actually a great option if you only need to ship some boxes.
Here are how it works and some quick tips when shipping with Amtrak.
Discard any fragile items or electronics. Amtrak won't let you ship those items.
Package your items in boxes no larger than 3 ft x 3 ft x 3 ft and no heavier than 50 lbs per box. If you have larger or heavier boxes, you'll need to call ahead of time to make sure they can handle them.
Number each box and keep an idea on what is inside.
It's a good idea to put everything in sealable bags before putting it in the box.
Put your Name, phone, and address somewhere inside the box.
Weigh your boxes by first weighing yourself. Then stand on the scale with your box and subtract your weight. Make sure the boxes are under 50 lbs each.
Split up your boxes into groups of 500 lbs. Amtrak only allows you to ship 500 lbs worth of boxes per day, so if you have more you'll need to spread out your shipments over multiple days.
Wrap the box in packing tape. No, not just around the seams. Seriously, wrap the entire box in packing tape.
Make sure to coordinate pickup of your boxes at the destination ahead of time. You get 2 days to pick up everything once it's arrived.
Typical Cost
$40-$80 for the first 100 lbs and then $.40 to $.80 for each additional pound over the first 100 lbs. You'll also need to factor in the cost of shuttling your boxes back and forth from the Amtrak terminal.
Pros
Very reasonable pricing
Fairly quick ship times
Reasonable storage rates, $3/box/day
Good insurance options
Options for bike shipping
Cons
Drop-off/pick-up at Amtrak location
Shipping limit: 500/lb/day
Box size restriction: 3'x3'x3'
Box weight restriction: 50 lbs
No electronics or breakables
moveBuddha consensus
Good and cheap option to ship clothes and durable items.
Check out Amtrak: Express Shipping or call 1-800-377-6914 for quotes and more info.
**Disclaimer: Amtrak Express Shipping is suspended until further notice.**
Additional resources
How to move cheap with Amtrak – Dolly Blog
---
Greyhound: Ship boxes via bus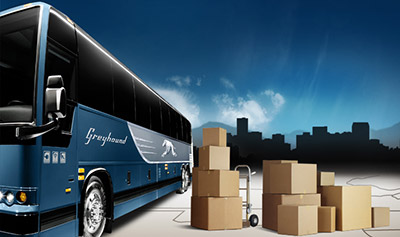 If trains aren't your thing, maybe try the bus.
Greyhound offers package express, a way to take advantage of excess space underneath their buses.
Here are how it works and some quick tips when shipping with Greyhound.
Consider alternatives for electronics and breakables. While not explicitly banned, Greyhound probably isn't a great option for shipping electronics or fragile items. Their insurance will exclude these items as well.
Package everything in boxes or containers no larger than 30″x47″x82″ and no heavier than 100 lbs. Everything needs to be able to fit under the bus.
Number each box and keep an idea what's inside
It's a good idea to put everything in sealable bags before putting it in the box
Put your Name, phone, and address somewhere inside the box
Weigh your boxes by first weighing yourself. Then stand on the scale with your box and subtract your weight. Make sure the boxes are under 100 lbs each.
After the boxes are inspected by Greyhound, wrap the entire box in packing tape. The more tape the better.
For an extra fee, Greyhound offers to pick-up and deliver your packages door-to-door.
Typical Cost
Pricing tends to be roughly around $1 per pound with additional charges depending on the package's size. Door-to-door delivery will increase your costs.
Pros
Offer pickup/delivery service
Quick ship times
Cheap pricing
Larger package size than Amtrak
Cons
Sometimes rough handling at bus transfers
Limited insurance options
Zero Liability for electronics & breakables
No cross-border shipping to Canada or Mexico
moveBuddha consensus
Good and cheap option to ship clothes and durable items.
Visit Ship Greyhound to get an online quote.
**Disclaimer: Greyhound will end its package express shipping operations as of September 30, 2022.**
---
USPS, DHL, FedEx, UPS: The big players
Many people look to major carriers like UPS or FedEx first, only to be surprised at how quickly costs can add up when shipping boxes in bulk. Generally, the more boxes you're trying to ship the less economical traditional parcel shipping services become.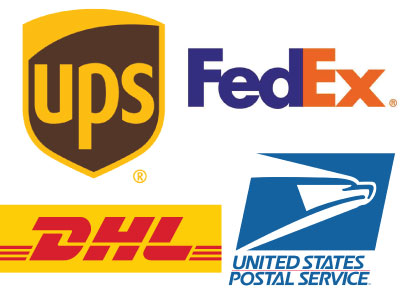 We certainly recommend getting prices on at least two of these companies to see where they line up.
For those who have a lot of books they can't part with, there is a cheap shipping hack with USPS.
USPS media mail is a special type of mail classification allowing you to send media (books, DVDs, CDs, printed music) cheaply.
If you're shipping books long distance, there is no cheaper option than media mail.
As long as the contents of your box meet the definition of "media" and your box is under 70 lbs you're good to go. Find out more about media mail here.
moveBuddha consensus
Quote a few carriers to see what kind of pricing you can get. Since the big carriers offer higher insurance coverage and more careful handling, it may make sense to ship electronics and fragile or high-value items separately through these carriers. Use media mail when possible!
Get quotes!
---
Find Shippers with UShip Marketplace
UShip is a marketplace connecting trucking companies with people looking to ship things.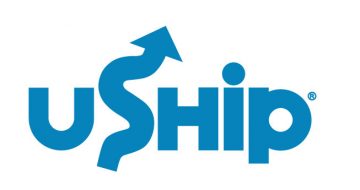 Most people don't realize the massive trucking industry ($700B in the US alone) is made up of thousands and thousands of independent haulers.
And guess what, these truck drivers are more than willing to haul your boxes if they have some extra space on their rig.
The tricky part is finding a driver already headed the route you want to go. That's where UShip's marketplace comes in.
The way it works is you post your move on UShip's move board. Truckers can view the requirements of the move and then bid on the job.
The truck driver has a chance to make some extra money and you get a great price.
The only drawback here is sometimes independent drivers aren't the most professional.
While UShip does provide reviews and a verified vendor system, you're still ultimately responsible for picking a good vendor. Do your research!
moveBuddha consensus
Certainly, doesn't hurt to post your shipment requirements and see what kind of response you get. If you find a shipper with a proven track record and a decent price, UShip can be a great option for small moves.
For more, check out our complete UShip Review.
---
Checked Baggage: The airline move
With checked bag fees going up and up, many people overlook airlines as a viable method for shipping.
Most airlines are still pretty expensive when it comes to checked bags, but Southwest and Alaska Air are certainly worth a look.
Southwest airlines offers decent bag rates with 9 bags running just about $525- roughly $60/bag.
Alaska Air offers checked bags at $75 per bag..
If you don't mind looking like a packrat in the airport, consider "the airline move".
For a complete breakdown on carry on rates check out this article from MapHappy.

United and Delta also offer cargo shipping options. To be honest, we don't have much experience with either one of these offerings and couldn't find out too much about them.
If you know more, let us know in the comments. Links below.
Delta Airlines Cargo
United Airlines Cargo
moveBuddha consensus
While airlines won't work for the majority of people, it's still worth looking into.
---
Ship By Car: The Trunk Move
This option is only relevant if you're planning on shipping a car at the same time as the boxes.
If that's not the case, just go ahead and skip this option right now.
But if you do happen to also be shipping a car, most auto transporters will allow you to put items in the car.
Just make sure to check with the auto shipper about their policies prior to loading the car up with boxes. Some companies have a maximum weight policy or may not allow shipping within the car at all.
Most auto shippers allow for 100 lbs to be shipped inside the car as part of the base cost. Additional weight may cost extra depending on the auto shipper. There may also be restrictions around the numbers of boxes or suitcases you can put inside the vehicle.
If you're shipping a car be sure to have a look at our list of best car shipping companies.
moveBuddha consensus
If you're already paying to ship a car and can fit everything in the car this is a very affordable option.
---
Freight shipping: Palletize your boxes
Update: ShipSmart, (866) 333-8018, will actually do all the work of prepping and shipping your goods via freight for you. Mention moveBuddha to get a 10% discount from ShipSmart.
For those who don't mind getting their hands dirty, freight shipping can be a very economical option.
Here's how it works…
Put all the boxes on a wood pallet and shrink wrap the hell out of it. Make sure to shrink wrap around the actual pallet so everything stays anchored to it. Here's a picture of what it should look like.
Load the pallet up with boxes at a location where it can easily be brought out to the truck, i.e. your garage.
Now you need to call around and get rates from freight companies. Here is a carrier list. Boxed, household goods are typically categorized as freight class 150.
Haggle, haggle, haggle. Carriers are going to try and overcharge you. You should be able to get 1 pallet shipped for a few hundred bucks depending on the details.
You'll probably need a liftgate (small elevator on the back of the truck that will bring the pallet down to ground level) and a pallet jack to move the pallet. This will be a small additional charge. Make sure to let the shipper know you need these services.
Freight can also be a good option if you're just trying to ship a couch or single furniture item.
moveBuddha consensus
If you don't mind doing some prep work and haggling, freight can be a very affordable option.
---
Tow Trailer: Hitch it and drive
If you're already planning on driving and your car meets the towing requirements, a cargo trailer can be a great way to transport small and even larger moves.
U-Haul is the only company we know of that rents trailers for long distance moves.
If you're really looking to save money, you can also buy a cargo trailer off a site like craigslist and then resell it at your destination.
Keep in mind, tow-behind trailers are responsible for a lot of accidents and can be dangerous. Hence, why so few companies rent them.
If you don't have experience hitching and driving with a trailer, we wouldn't recommend learning on a long distance moving adventure.
Trailer sauce has some excellent tips for trailer towing.
moveBuddha consensus
For those with the right car and experience driving with trailers, this option is going to be hard to beat.
---
Moving company: Toss on some boxes
Full-service moving companies are not a good option if you're just shipping 20-30 boxes or a few furniture items.
We often get asked if a moving company will just toss a few extra boxes onto their truck.
While this seems like it would be a win-win for both parties, when you add up all the costs associated with moving, these arrangements rarely make financial sense for a moving company.
That's why many moving companies have minimum size requirements on long distance moves.
In the winter, movers typically won't accept loads under 1000 lbs (roughly 55 medium moving boxes.)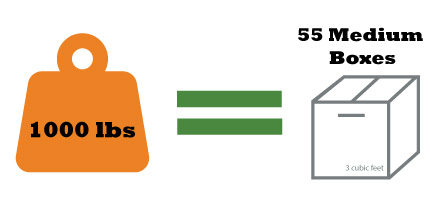 During the busy summer moving season, companies typically raise their minimums to 3000 lbs.
If your move is closer to 1000 lbs then it might be a good idea to check out our moving cost calculator to compare moving companies to other options for larger shipments.
moveBuddha consensus
There is a slight chance you may be able to find a mover who will do you a favor, but more than likely moving companies are not a good option for shipping a couple dozen boxes long distance.
If you want to check moving company prices check out our list of the best reviewed long distance movers.
Have another idea? Let us know in the comments.
Not what you were looking for?
Check out other categories that can help you find the information you need!