MiniMoves Review: A Great Choice for Small Moves
Overall Opinion
MiniMoves is a well-established mover that specifically provides services for smaller-sized moving and relocations.
They have consistently maintained an industry-leading claims record for damaged or lost items of less than 6%.
MiniMoves now offers services to roughly 95% of the U.S. and handles international transportation services.
The company is an excellent option, particularly for those moving from a 1- or 2-bedroom apartment, or individual pieces of furniture.
If you're moving with a small number of items, check out our full post of the options for moving a few items. 
Jump to the MiniMoves review section that you're looking for:
About MiniMoves


Founded in 1991, MiniMoves is a leading interstate moving company headquartered in Hillside, Illinois, located approximately 15 miles west of Chicago. The company specializes in smaller, full-service moving projects for residential and commercial customers to local, long-distance, and international destinations. Unlike some competitors, MiniMoves imposes no weight or size minimums.
The company uses a containerization system for most transports using shipping boxes constructed of triple-walled cardboard. For many destinations further away, they transport the container by an LTL carrier, and a MiniMoves agent facilitates the drop-off process. The organization maintains validation and governing member status with the International Association of Movers (IAM).
Top-quality, branded moving blankets, corrugated materials, and triple-walled containers ensure items arrive without damage.
Designated relocation counselor based in their Hillside call center
All service providers maintain compliance with background screening and drug testing requirements
Reliable tracking to minimize the likelihood of late deliveries or losing your items
Uses contracted third-party service providers to complete some projects. However, these partners are vetted and trained. Many of these transport providers include several major national less-then-truckload (LTL) carriers that maintain established service area networks with excellent reliability.
MiniMoves doesn't currently offer automobile transport services; however, they maintain partnerships with several carriers to transport a vehicle.
MiniMoves offers a specific set of services.
Local moves: Provides moving services to local destinations and are the best movers for small moves with full services as options available for additional fees.
Long-distance movers: They handle interstate and cross-country moves. Unlike many moving services and van lines, they welcome small loads. The majority of these moves involve loading placing all belongings in storage/transport containers, and shipping them using a less-than-truckload (LTL) freight carrier. Upon arrival at the destination, local movers will then unload items, place them as directed, assemble furniture, etc.
International moves: A relocation coordinator with many years of moving industry experience will provide a free quote and a summary of the details regarding international relocations.
Military moves: MiniMoves remains a leading DOD-approved Transportation Service Provider and proudly provides small, large, or long-distance services for military personnel.
Corporate moves: MiniMoves offers comprehensive business moving services with transit times ranging from 2 to 12 days. Business customers should call the posted phone number for additional information.
Packing and unpacking: Among their options include professional packing and unpacking services and customized crating solutions when needed.
Mini movers' storage: They offer both temporary and long-term storage options.
Furniture shipping: From one piece to an entire room of furniture, MiniMoves will safely transport these items on a moving truck.
Moving boxes and supplies: They sell boxes and a large array of packing materials.
Full replacement value coverage: If an item becomes damaged or lost during shipping, MiniMoves will either repair, replace, or pay the replacement cost. Additional fees do apply for full replacement value coverage.
How much does MiniMoves charge?
Depending on what you're looking for, you can expect to spend anywhere from a few hundred dollars to ship a couple of boxes or items, to several thousand dollars for a full-service cross country move. 
You can get ballpark pricing on their website (www.minimoves.com).
The moving quotes include loading, cloth padding of furniture items, transportation to destination, and unloading.
Here are a few examples of routes they handle along with price estimates for that route.
| | | | | |
| --- | --- | --- | --- | --- |
| Origin | Destination | Size of Move | Price | Price Including Full Packing |
| Charlotte, NC | Dallas, TX | 1 Bedroom Apt. | $2,301 – $2,812 | $2,674 – $3,268 |
| Dallas, TX | Phoenix, AZ | 1 Bedroom Apt. | $2,323 – $2,839 | $2,696 – $3,295 |
| Atlanta, GA | Cleveland, OH | 1 Bedroom Apt. | $1,823 – $2,227 | $2,196 – $2,683 |
| Atlanta, GA | Cleveland, OH | 3 Bedroom Apt. | $2,658 – $3,248 | $3,404 – $4,159 |
Customers must pay the full amount using either Visa, Mastercard, or Discover before delivery.
What is MiniMoves' Customer Service Like?
Customers can contact the organization over the phone, text message, email on the web form, or use the interactive chat feature on their website. (see image)
Customers may choose to purchase full replacement value coverage (insurance). Otherwise, the minimum required released value coverage applies. Released value coverage provides compensation of sixty cents (.60) per pound per item.
Does MiniMoves have a good online reputation?
MiniMoves maintains Better Business Bureau (BBB) accreditation and a rating of A+ and has great reviews from customers. 
The BBB received three complaints over the past three years and one complaint in the last year. See the complaint summary below.
Here is a summary of the categories (nature) of the complaints received.
| | |
| --- | --- |
| BBB Complaint Types | Number |
| Sales or Advertising | 0 |
| Collections or Billing | 0 |
| Deliver-Related Concerns | 1 |
| Warranty or Guarantee | 0 |
| Product or Service Problems | 2 |
On Yelp, they have an overall rating of 3.5 stars out of 5 based on more than 170 posted reviews.
Their Google business profile has feedback from more than 40 customers and has an overall rating of 4.2 out of 5.
Is MiniMoves licensed and insured?
MiniMoves Inc. is an actively registered motor carrier of household goods with the Federal Motor Carrier Safety Administration (FMCSA). They maintain $1 million in bodily injury and property damage insurance (BIPD), which exceeds the minimum $750,000 required.
The organization's Company Safety Profile (CSP) indicates the company has five vehicles, six drivers, and travel 180,000 miles in 2020.
Licensing, registration, and insurance information goes here
| | |
| --- | --- |
| Database | Listed (Y/N) |
| AI FMCSA? | Yes |
| SAFER FMCSA? | Yes |
| Licensing Insurance FMCSA? | Yes |
| Better Business Bureau (BBB) | Yes |
For more information on how moving company regulations and why we choose to look at these databases, check out our post on how moving companies are regulated.
The company maintains an active motor carrier registration with the Illinois Commerce Commission (ILCC: 107443).
MiniMoves, Inc. is also registered (#56525939) in good standing with the Office of the Illinois Secretary of State.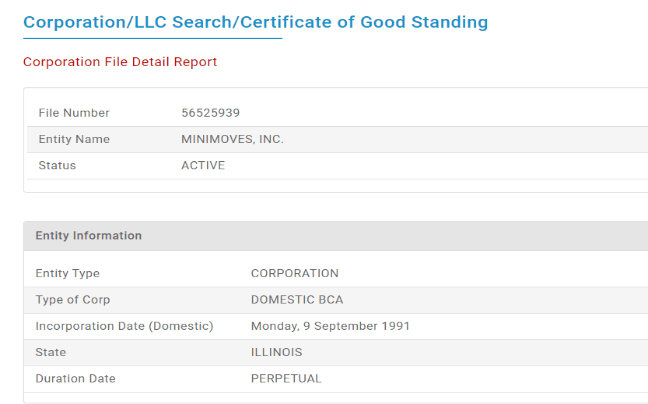 Should You Consider MiniMoves?
Prospective movers with a relatively small collection of belongings should definitely consider MiniMoves.
The company created a somewhat "hybrid" interstate business model that combines elements used by local movers, moving container transport companies, and freight or moving brokers.
Some of the best aspects of their services include how no minimum weight or size requirements apply, the unlikelihood of lost or damaged items, and very predictable pricing estimates and arrival dates.
For more help choosing the right moving company and to get a free moving quote, check our picks of the top-rated interstate moving companies.
Not what you were looking for?
Check out other categories that can help you find the information you need!
See All
Hide All