Moving Experience: Lyle's Move with MiniMoves
After living in the Sunshine State for over two decades, Lyle and his fiance recently moved from Clearwater, Florida, to Raleigh, North Carolina, to be closer to family.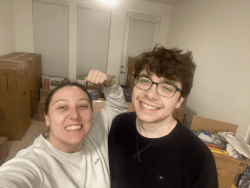 They got quotes from several companies on our list of Best Long-Distance Movers, but Chicago-based small move specialist MiniMoves came through with the services they wanted for a price they could afford. MiniMoves was a natural fit because Lyle only moved about 70 items, and he liked that the company didn't have a minimum move size like most traditional movers.
To take advantage of a $500 relocation stipend and promote transparency in the moving industry, Lyle participated in our Better Moves Project by documenting and sharing his experience with MiniMoves.
Lyle's move wasn't perfect, but Minimoves picked up and delivered his items on time and without loss or damage.
In this post, we'll look at what Lyle liked about working with MiniMoves, where improvements could have been made, and whether he'd use the company again.
Move day takeaways for MiniMoves customers
Communication: MiniMoves could have communicated more proactively while Lyle's things were in transit, but the company lived up to its service commitments
Pricing accuracy and transparency: Lyle paid more than the original quote, but this wasn't a huge surprise because he moved far more boxes than expected
Professionalism: MiniMoves' moving crew was polite, careful, and efficient
Timeliness: MiniMoves delivered Lyle's household goods on time on the third day of a five-day delivery window
Loss and damage: Nothing got lost or damaged on Lyle's move from Florida to North Carolina
Would Lyle use MiniMoves again? Lyle's move was a resounding success by nearly every measure, but he'd probably use another company if he moves again in the future
Lyle needed help moving from Florida to North Carolina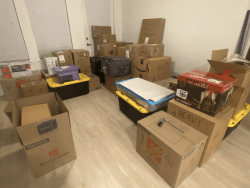 With their move to the Tarheel State approaching, Lyle and his fiance focused on getting organized, decluttering and downsizing, and finding the best possible mover to handle their relocation.
Lyle originally planned on having about 20 boxes and miscellaneous furniture, but he ended up moving more cartons than anticipated. He also had a 65-inch television, some framed artwork, and a number of retro video game components that needed special attention.
Price was an issue (our Moving Cost Calculator is a great budgeting tool), but Lyle ruled out moving container companies because he wanted a full-service experience. This was especially important because he'd never coordinated a long-distance move.
Lyle's move at a glance
| | |
| --- | --- |
| Move date | December 14th, 2022 |
| Moved from | Clearwater, Florida |
| Moved to | Raleigh, North Carolina |
| Distance | 680 miles |
| Move size | 2 bedroom apartment, about 1,100 square feet |
| Moving company | MiniMoves |
| Moving quote | $3,000 |
| Actual cost | $3,665 |
Lyle began compiling quotes a month out
Lyle began looking for the perfect mover by searching online and requesting quotes. Unfortunately, the estimates he got from traditional movers were too high because his shipment was smaller than their minimum move size.
Then he changed tact after stumbling onto moveBuddha and checking out our post on the Best Options for Small Moves.
Lyle liked that MiniMoves specialized in small moves like his, so he filled out an online quote form, spoke with a representative who took a detailed inventory of everything that needed to be moved, and provided a written quote that was valid for 30 days. MiniMoves' $3,000 quote was a bit more than Lyle wanted to spend, but he was confident he could reduce his shipment size and moving costs by getting rid of things he and his fiance no longer needed.
After untold hours online and on the phone, Lyle had the following quotes:
| Company | Move type | Cost estimate |
| --- | --- | --- |
| American Van Lines (traditional mover) | Full-service | $3,500 |
| Safeway Moving (traditional mover) | Full-service | $3,000 |
| MiniMoves (small move specialist) | Full-service | $3,000 |
| Roadway Moving (traditional mover) | Full-service | $2,700 |
Lyle chose MiniMoves for price and convenience
Moving is all about getting the biggest bang for your buck, and MiniMove's mix of price and services was hard to beat.
In addition, MiniMoves representative Erik always responded quickly when Lyle had questions about his quote or the moving process in general.
MiniMoves' straightforward quote included the following:
Door-to-door transportation
A fuel surcharge
Extra charges for two flights of stairs in Florida and a long carry in North Carolina
Partial packing (Lyle ended up doing the packing himself)
Basic released-value coverage of $.60 per pound per item
Lyle liked that his quote was based on the number of items he was moving as opposed to how much they weighed and that he could add or subtract things at any time and update his estimate to reflect the changes. He also had the option of adding full-value replacement coverage with no deductible for $375, but he chose to go with the basic free coverage included in the quote.
With his proposed move date drawing near, Lyle booked his move to make sure his dates and moving crew were locked in.
Things were falling into place on Lyle's move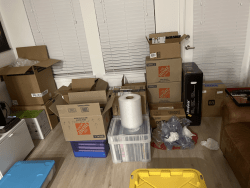 After Lyle booked his move, MiniMoves reached out a number of times to confirm the following:
Pick-up and delivery dates
How many items he was moving
If he'd be able to do all the packing himself or would need help
Lyle and his fiance prepared by staying organized, packing as many boxes as possible, and selling unwanted furniture and household items. They also did a few dry runs to see how much "stuff" they'd be able to fit in their car. Because they had limited time off, taking personal items like laptops with them was important so they could hit the ground running after arriving at their new apartment in North Carolina.
Things were moving along nicely, but Lyle thought the communication dropped off a bit because Eric wasn't always available. He often had to deal with representatives manning the general customer support line.
A few days before his scheduled move-out date, Lyle found out that the movers that had been assigned to his job had canceled, but it wasn't a big deal because MiniMoves promptly assigned another company. Thankfully, the new moving company reached out to Lyle multiple times to confirm his move details.
Moving day went smoothly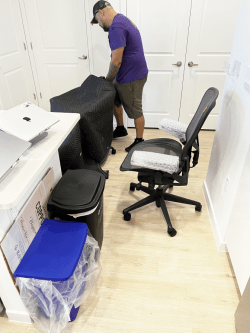 Lyle's movers called on December 13th to let him know that the crew would arrive between 10 AM and noon the following day.
On the morning of the 14th, the driver called to say they were on the way and arrived right on schedule at 10 AM. Lyle would have preferred having an exact time for their arrival, but a two-hour service window is reasonable on such a small move.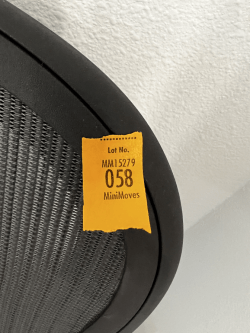 After taking a quick look around, the driver inventoried everything while the second crewmember began moving loose items and boxes down the stairs and onto the truck.
Lyle was impressed with how careful and efficient they were, and while the two movers worked, he and his fiance tidied up, answered their questions, and tried to stay out of the way.
Despite multiple flights of stairs to contend with, loading took just two hours. Lyle gave each mover a $50 cash tip for a job well done and paid MiniMoves via credit card the following day.
Delivery was quick and efficient
Lyle wasn't thrilled with the limited communication while his things were in transit, and he would have preferred knowing exactly which day his things would arrive at his new place. However, it's worth noting that MiniMoves established a five-day delivery window during the quote process. 
We regularly hear about communication and delivery window issues from Better Moves Project participants. Unfortunately, many customers assume that they can choose which day they want their items delivered as long as it's within the window, but this isn't the case.
The truth is that it's up to the moving company to decide which day to deliver, and as long as it's within the agreed-upon window, they've fulfilled their contractual obligation.
Lyle's household goods arrived at his new residence on day three of the five-day window, so MiniMoves could have delivered two days later and still met its service commitments.
That said, Lyle was pleasantly surprised to discover that the same moving company that had picked his items up in Florida delivered them to North Carolina, which rarely happens on small moves going from one state to another.
Again, the crew worked quickly and carefully and moved everything into Lyle's new apartment in under two hours. In his post-move survey, Lyle noted that delivery went as expected and that the movers performed their duties perfectly.
A few boxes were slightly misshapen, but during the unpacking process, he and his fiance found that everything inside was in good shape.
The verdict – did MiniMoves make the grade?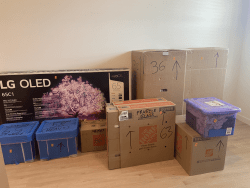 Here's how Lyle rated his experience with MiniMoves on a scale of 1 to 5:
Communication – 2
Timeliness – 3
Quote Accuracy – 4
Overall Experience – 2
Lyle described the communication from MiniMoves as "disheartening," but we're a little surprised that he gave the company such low scores in the other key areas. His move may not have gone perfectly, but it went remarkably well by nearly every other measure.
To recap, Lyle's things were picked up on time in Florida. They arrived in North Carolina right in the middle of the agreed-upon delivery window, and nothing got lost or damaged in the process.
Lyle paid about $600 more than expected, but he admitted that this was because he underestimated how many boxes he'd have.
Unsure how many boxes you'll need? Check out our post on the best way to estimate the number of boxes you can expect to have. 
In hindsight, Lyle thinks he might have had better communication and more transparency from a traditional moving company. Full-service long-distance movers are great options for larger moves. Still, small moves like Lyle's are typically more expensive and have even longer delivery windows because they use bigger trucks that generally need to be filled before making state-to-state trips.
Another thing Lyle wasn't crazy about was that MiniMoves subcontracted his move to a third-party company. Not knowing who'll show up on move day is another frequent complaint; we know this can be unsettling.
However, Lyle got top-notch service from the company that handled his move. Nearly all van lines and brokers utilize agents or subcontractors. This tried-and-true system is the most efficient and cost-effective way to move household goods shipments long distances.
Lyle's advice for anyone planning a move like his
Lyle's meticulous planning paid off his move from Florida to North Carolina. He learned that it's wise to assume you'll move more than you think. He also found that packing took far longer than expected. Lyle and his fiance scrambled at the last minute to make sure everything was ready to go when the movers showed up.
We're just glad that Lyle's move is over and done with and that he and his fiance can focus on settling into their apartment and familiarizing themselves with their new surroundings.
Before signing off, check out these helpful resources:
Not what you were looking for?
Check out other categories that can help you find the information you need!