Moving Experience: Jennifer's Move with MiniMoves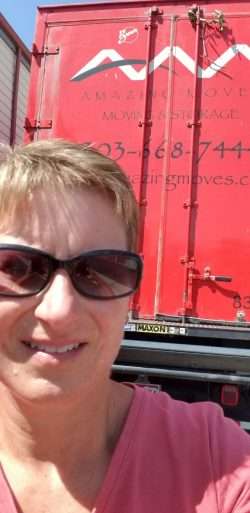 Jennifer recently moved a few items from a storage unit in Centennial, Colorado, to her mother's attic in Spring, Texas.
Jennifer's move was relatively straightforward, but it was unique because she did nearly all of the pre-move legwork from Mexico and didn't actually move with her belongings. Since her move presented a number of logistical challenges, meticulous planning and working with an experienced mover were big priorities.
After considering her options, establishing a budget (our moving cost calculator is a great budgeting tool), and researching service providers, Jennifer hired small-move specialist MiniMoves.
MiniMoves' quote was a little more than Jennifer wanted to spend, but she liked that the company wasn't a broker, had an A+ rating with the Better Business Bureau (BBB), and that most of the reviews she found online were positive.
To help anyone coordinating a move like hers, Jennifer participated in our Better Moves Project by documenting her experience with MiniMoves. Hint: Jennifer's move didn't go perfectly, but her things arrived in Texas without damage, and she paid less than expected.
Let's jump in.
Move day takeaways for MiniMoves customers
Pricing accuracy and transparency: Jennifer's move cost slightly less than the original quote
Customer service: MiniMoves' office staff was polite and professional, but they weren't easy to get a hold of. Jennifer gave them poor marks for communication throughout her move
Crew efficiency and professionalism: Jennifer's movers were personable and efficient in Colorado and Texas
Timeliness: MiniMoves delivered Jennifer's items one day later than expected
Loss and damage: Nothing was lost or damaged on Jennifer's move
Would Jennifer use MiniMoves again? MiniMoves came in under budget, with no damage, and only a small delay for the 1,000-mile move. Overall, Jennifer was happy with MiniMoves and would use them again
How Much do Movers Cost?
Get instant ballpark pricing. No email or phone required. It's fast, free, and easy.
Jennifer needed help moving a small shipment from Colorado to Texas
Jennifer and her partner recently retired and moved to Mexico, but they weren't sure if the ex-pat lifestyle would suit them. To hedge their bets, they put their belongings into a 5 x 5 storage unit in Colorado in case they decided to come back.
It turns out that they liked Mexico, but Jennifer didn't want to pay storage fees for years to come if she could find a better alternative. After comparing the cost of storing her items versus moving them, she realized that the latter made better financial sense. Luckily, her mother had free attic space she could use, but it was almost 1,000 miles away in Texas.
Jennifer considered renting a moving van from a company like U-Haul or Penske and doing a DIY move, but this would have been inconvenient and exhausting. Instead, she focused on finding a full-service mover.
Jennifer's shipment didn't include any specialty items, but there were things with sentimental value, like family photos and holiday decorations. Since she was coordinating her move from another country, Jennifer was determined to work with a company that could provide an accurate estimate and top-notch communication.
Jennifer's move details
| | |
| --- | --- |
| Move date | August 4, 2022 |
| Moved from | Centennial, Colorado |
| Moved to | Spring, Texas |
| Distance | 990 miles |
| Move size | the contents of a 5 x 5 storage unit (less than 20 items) |
| Moving company | MiniMoves |
| Moving quote | $2,296 |
| Actual cost | $2,176 |
Jennifer spent 2 1/2 weeks searching for the perfect mover
Once she decided to use a full-service mover, Jennifer searched for a suitable company using Google, moveBuddha, and the Better Business Bureau.
After checking out our Best Options for Small Moves post, she did a Google search for "small moves from Denver to Houston." With a number of promising leads in hand, Jennifer skimmed the results, read some reviews, and contacted a few companies for estimates.
After a few missed calls, Jennifer finally connected with Paul from MiniMoves. Paul provided a binding quote based on the inventory form Jennifer had filled out on MiniMoves' website.
Now with multiple quotes, Jennifer focused on choosing the best possible option.
Here's how her estimates compared:
| Moving company | Estimated weight/number of items | Estimated cost |
| --- | --- | --- |
| MiniMoves | 14 items (MiniMoves' estimate was based on the number of items Jennifer was moving) | $2,296 |
| Sterling Van Lines | 1,232 pounds | $2,477 |
| ShipSmart | 632 pounds | $1,795 |
MiniMoves' estimate included everything but packing (nearly everything was already packed) and extra insurance. Jennifer chose not to purchase additional coverage because her items weren't valuable enough to cover the deductible.
She was leaning toward ShipSmart to save money, but alarm bells went off when she read a number of bad reviews from customers whose costs had increased significantly at the end of their moves.
After mulling over the choice for a few days, Jennifer "bit the bullet" and chose MiniMoves. Getting ahold of Paul still wasn't easy, but when she did, his patience and professionalism reassured her that she'd made the right decision. To reserve her date and crew, Jennifer signed a moving contract and gave the company her credit card information.
Jennifer's pre-move planning seemed to be paying off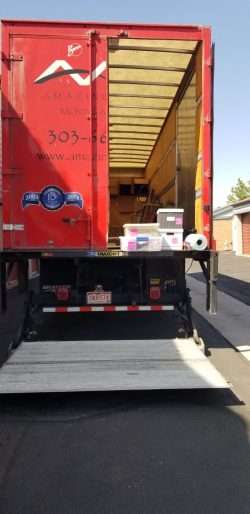 Jennifer didn't want to spend any more money than she had to, but choosing MiniMoves boiled down to positive online reviews and the company's A+ rating with the Better Business Bureau.
After she booked her move, Paul said delivery would take between one and three weeks and that he'd follow up in a day or two with a pick-up time.
However, she wouldn't hear back until about a week before her move when she was contacted by a customer service representative from Amazing Moves (MiniMoves' partner in Colorado). Amazing Moves wanted to schedule the pick-up for around noon, but Jennifer had a lunch meeting planned for that day. Thankfully, the representative worked around her schedule and set the estimated arrival time between 2 and 4 PM.
Since Jennifer was still in Mexico, her preparations were limited to staying organized, buying plane tickets, and hoping for the best. She planned to arrive in Colorado the day before the movers, discard and donate the things she didn't want to move, and label the boxes clearly so she'd know what was in them later.
Loading took less than an hour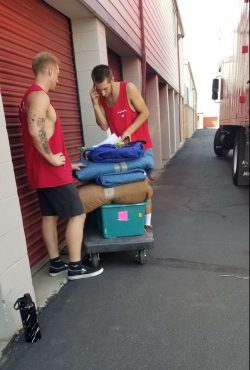 On the big day (August 4th), the movers had trouble finding the storage facility. They called several times to ask Jennifer for directions, but the caller ID on her phone said the calls were from out of state, so she ignored them.
Eventually, they connected, and the crew arrived squarely within the established window just before three o'clock.
Amazing Moves' Denver-based crew was professional and personable, and Jennifer was impressed with how they prepared a detailed inventory and handled her items carefully. Loading took less than an hour because, according to the movers, Jennifer's shipment was even smaller than expected.
Communication was poor while Jennifer's things were in transit
Jennifer's original delivery window was from August 11th to the 25th, but when she called for a status update on the 15th, she was told that her things hadn't even left Colorado.
She made more calls for additional information over the next few days, but though she left several voicemails, it was days before anyone got back to her. In fact, Jennifer initiated nearly all communication with MiniMoves after her items were loaded. Only one of her calls was returned, and the information she got was vague and unhelpful.
Jennifer assumed that the folks at MiniMoves and Amazing Moves were overworked, but she was a little put off by the fact that, as the customer, she was putting in the most effort to ensure that her move went smoothly. Delivery was eventually scheduled for the 26th, but since Jennifer couldn't be there on that day, she had to schedule her mother's neighbor to meet the movers.
Move day was relatively smooth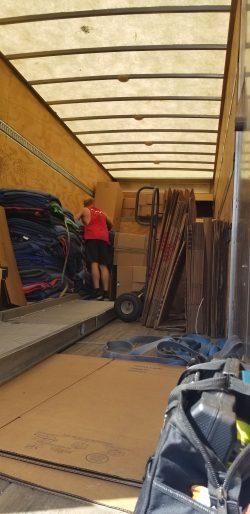 Jennifer's original delivery window ended on the 25th, but her things weren't delivered until the 26th.
The movers in Texas (Roadrunner Moving) were running late on delivery day, but they didn't call to let Jennifer know they were behind schedule so she could pass this information on to her mother's neighbor. When Jennifer called to find out what was going on, she was only told that the company had difficulty rounding up enough movers that morning.
Even though the service window was from 8 to 10 AM, the crew didn't arrive until just after noon. This wasn't a huge deal, but again, the lack of communication made everything more tedious and stressful than it needed to be. Despite the poor communication and late delivery, the movers were courteous and careful, and everything ended up where it needed to be without loss or damage.
What didn't go so well on Jennifer's move
In a word, communication.
Ineffective communication was the biggest source of aggravation on Jennifer's move. We found this surprising for such an established and well-respected company like MiniMoves. In general, poor communication is an industry-wide problem, but in Jennifer's case, it may have partially been because she moved during the busiest time of the year.
On the bright side, Jennifer paid about $120 less than her estimate. That said, she never found out how her actual charges were calculated, so she didn't feel like MiniMoves' pricing was particularly transparent.
There was definitely room for improvement on Jennifer's move, but at the end of the day:
Her move came in under budget
Her items arrived "only" a day late
Nothing got lost or damaged
Considering that she moved a small shipment nearly 1,000 miles during the peak summer moving season, that's a pretty good deal.
How Jennifer rated MiniMoves
Unfortunately, Jennifer gave MiniMoves low scores (on a scale of 1 to 5) in the following key areas:
Communication – 1
Timeliness – 2
Overall experience – 2
Jennifer's poor rating for communication is understandable, but are the low scores for timeliness and overall experience warranted?
The delivery crew did show up a day late and a few hours outside the 8 to 10 AM window, but 22 days is a relatively quick turnaround time on a move like Jennifer's.
As for dollars and cents, Jennifer didn't feel like she got her money's worth. She didn't think it should have cost more than $2,000 to move such a small shipment. But again, MiniMoves came through with a reasonable quote that was in line with the competition. We'd all rather spend $2,000 on anything other than moving, but with such high equipment, labor, and fuel costs, it's surprising that moving isn't even more expensive.
What Jennifer learned on her unique move from Colorado to Texas
While researching and vetting movers, Jennifer read several posts about the perils of working with brokers.
Jennifer liked that MiniMoves wasn't a broker, but her move was handled by MiniMoves partners, not company employees. However, the companies were likely MiniMoves agents, and aside from the communication issues, they moved her items carefully and professionally. Even the big national van lines rely on the agency system to move shipments efficiently and affordably, and MiniMoves isn't any different.
Communication was the most significant issue on Jennifer's move, but in the end, she paid less than expected, and her needs were ultimately met.
Moving a small shipment to another state? Check out these helpful posts:
Not what you were looking for?
Check out other categories that can help you find the information you need!
See All
Hide All