Moving Industry Statistics
With 31 million people in the United States moving each year and an estimated $86 Billion in revenue, the moving industry is much larger than most people realize.
To give you a better grasp of how much the moving industry affects just about everything, we've compiled some of the most thought-provoking statistics about the entire moving industry.
The why, when, where, and how people move, as well as the economics of the moving industry and some of the latest industry trends.
Before your next move, learn more about the industry that affects millions of people every year.
General Moving Industry Statistics
The average American moves 11.7 times in their lifetime. [1]
According to new Census data, nearly 31 million people moved in the United States in 2019. That's 9.8% of all Americans moving every year. [1]
Taking the average American household size of 2.3 people, this means 15.3 million American households move each year. [2]
Around 3 million Americans make an interstate move every year. [2]
While 9.8% of all Americans moving may seem like a lot, it's actually the lowest number of moves since the Census Bureau started tracking moving data in 1948. [1]
Overall, though, moving rates are on the decline. Today, about half as many people move each year as they did in the 1960s. [3]
Summer is by far the busiest time of year to move with nearly 60% of annual US moves taking place between May to August. [4]
How much does moving cost? [10]

Average cost for an interstate move: $4,100
Average cost for an in-state move: $980
Each local mover hired charges, on average, $25 per hour.

Who moves each year? Here's the breakdown: [2]

Individual or family moves: 44%
Corporate moves: 38%
Military moves: 16%
Government agencies: 2%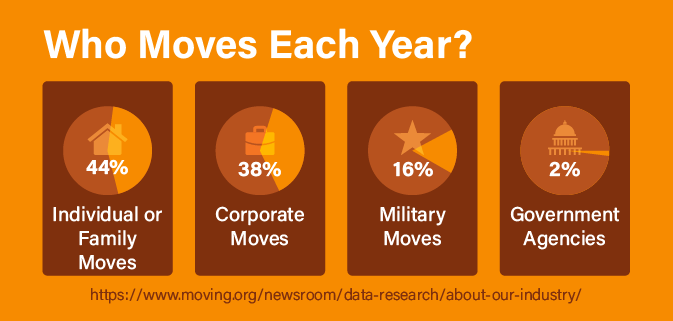 The average mover is part of a couple between the ages of 18-34 and has one or two kids. Most people who move are young — as a person gets older, their tendency to move goes way down. [5]
Who's moving more, renters or homeowners? Both sets of movers are on the decline, and it turns out renters move quite a bit more than homeowners, even though they don't move as often as they did a generation ago. [5]

21.7% of renters moved in 2017, compared to 35.2% in 1988.
5.5% of homeowners moved in 2017, compared to 9.5% in 1988.

What size households do people move most? Here's the breakdown of household sizes as percentages of the total number of moves that happen each year: [6]

Partial move: 12.69%
Studio apartments: 9.37%
1-bedroom homes: 28.81%
2-bedroom homes: 21.16%
3-bedroom homes: 20.27%
4+ bedroom homes: 7.70%

What items do people move? [2]

Household goods: 73%
Computers and electronic office equipment (copiers, fax machines, servers, etc.): 20%
Exhibits and trade shows: 6%
Office and institutional supplies: 1%

 There are around 50,000 moving trucks just in the United States. [2]
Economics of Moving
The moving industry employs 122,600 people. Their combined annual payroll comes out to around $3.6 billion. [2]
While the strength of the moving industry tends to mirror the strength of the overall economy, the industry has been growing at a rate of about 3% yearly since the end of the Great Recession. [7]
Despite all the household names like U-Haul and PODS, the moving industry is comprised mostly of small businesses. 47.8 percent of moving companies in the U.S. have fewer than 5 employees. Only 8.5 percent of moving companies employ more than 100 people [2]
That means there are a ton of moving companies out there — around 7,000 of them just in the U.S. [2]
Those 7,000 different moving companies operate 13,900 locations across the country. [2]
The total yearly economic impact of the moving industry is estimated to be around $86 billion. [7]
The moving industry is directly responsible for creating 186,722 jobs, and indirectly responsible for 482,081 more.[7]
Wages paid to workers in the moving industry generate an estimated $9.42 billion in tax revenue each year. [7]
The moving industry is closely related to the self-storage industry. In the U.S., self storage generates around $36 billion in revenue each year. [8]
There are more self-storage units in the United States than McDonalds and Starbucks locations combined. [9]
Ever wondered where revenue from the moving industry goes? Here's how it gets broken down: [7]

Actual moving costs: 69.6%
Storage: 20.2%
Packing and packaging: 7.5%
Miscellaneous other related costs: 2.7%
Millennials on the Move
Despite being less tied down by marriage, children, and homeownership, millennials actually move less than previous generations did at the same age. Only 20% of millennials reported moving in the last year. That's compared to 26% of the Silent Generation in 1963, and 26% of Generation X in 2000. [11]
Only 42% of millennials between the ages of 25 and 35 are married and living with their spouse. That's compared to 82% of members of the Silent Generation who were the same age in 1963. [11]
Only 37% of millennials own their homes. That's compared to 56% of Baby Boomers in 1981. [11]
56% of millennials between the ages of 25 and 35 do not have children. [11]
80% of millennials say they would be willing to take a pay cut to move to their dream location. [14]
Considering all of these factors, why are millennials moving less than previous generations? Economists think there are a few factors, but the biggest ones are that there are less job market opportunities for this generation, plus millennials largely can't afford to buy homes, which makes them less motivated to move. [11]
When and Where People Move
Summer is definitely the most popular time to move. Around half of all moves that happen each year take place between the beginning of May and Labor Day. [12]
Here's what percentage of the total number of moves happen in each month of the calendar year: [4]

January: 3%
February: 6%
March: 9%
April: 8%
May: 10%
June: 13%
July: 12%
August: 12%
September: 9%
October: 7%
November: 6%
December: 3%

And while we know that weekends are the most popular time for people to move, here's how annual moves actually break down by day of the week: [4]

Sunday: 8%
Monday: 16%
Tuesday: 11%
Wednesday: 13%
Thursday: 14%
Friday: 20%
Saturday: 18%

The busiest moving day in 2018 was June 1. The second busiest day was August 1. [4]
The majority of Americans who move stay in the same state. Here's how the numbers break down out of the 31 million Americans who move each year: [2]

82.7% move within their home state.
13.4% move to a different state.
0.36% move to a different country.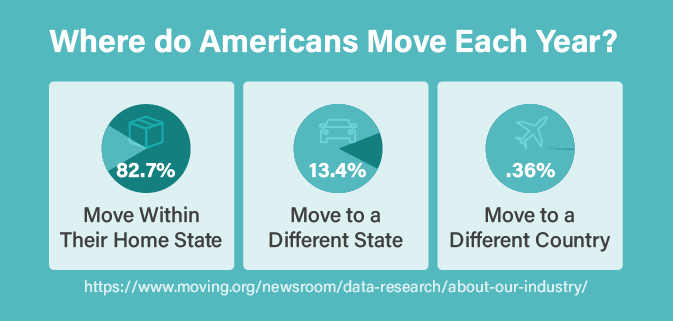 Movers who stay in the same state don't tend to go very far at all. 40.2% of all movers relocated less than 50 miles from their old home to their new one. [5]
Only 24.7 percent of movers relocate 500 miles or more. [5]
Which states do most people move to? Here are the top 10, according to American Moving and Storage Association data:

Idaho
Nevada
Vermont
Arizona
Oregon
North Carolina
Tennessee
Montana
South Carolina
Alabama

Which states do most people move away from? Here are the top 10, according to American Moving and Storage Association data:

Illinois
New Jersey
West Virginia
New York
Alaska
North Dakota
Connecticut
Kansas
Michigan
California

These are the states that had the largest net gain of movers in 2018 [13]:

Idaho: 84.38% net gain
Montana: 82.35% net gain
Vermont: 64.29% net gain
Wyoming: 38.46% net gain
New Mexico: 31.03% net gain
Delaware: 29.49% net gain
South Carolina: 24.70% net gain
Maine: 17.05% net gain
Oregon: 16.84% net gain
Arizona: 16.21% net gain

These are the states that had the largest net loss of movers in 2018: [13]

Nebraska: -19.23% net loss
Connecticut: -16.35% net loss
Illinois: -15.82% net loss
California: -13.03% net loss
Massachusetts: -12.82% net loss
New Jersey: -12.78% net loss
Louisiana: -11.20% net loss
Maryland: -10.78% net loss
Indiana: -10.02% net loss
New York: -10.02% net loss

People who move from North Dakota and South Dakota tend to move the longest distances (1,214 miles and 1,149 miles respectively). [13]
People who move from Pennsylvania and New Hampshire tend to move the shortest distances (50 miles and 65 miles, respectively). [13]
These are the busiest moving routes in the United States: [13]

California to Texas
New York to Florida
California to Washington
California to Arizona
New York to California
How People Move
More people make DIY moves each year than use professional services, whether they be full-service moving companies, freight companies, or container moving companies. Here's the breakdown: [2]

Professional movers: Around 650,000 each year
DIY with a rented moving truck: Around 1 million each year
DIY with no assistance at all: Around 1.35 million each year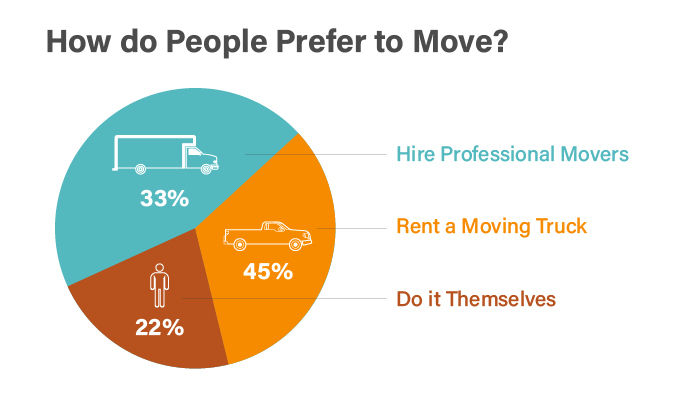 Why People Move
According to U.S. Census Bureau data, these are the reasons why Americans move: [2]

Wanted new or better home/apartment: 17.4%
To establish own household: 12.2%
New job or transfer: 10.8%
Other family reason: 10.5%
Wanted cheaper housing: 8.2%
Other housing reason: 6.7%
To be closer to work/easier commute: 6%
Wanted to own their own home, not rent: 5.9%
Change in marital status: 4.8%
Other reasons: 4.4%
To attend or leave college: 3.2%
Wanted better neighborhood/less crime: 3.1%
Health reasons: 1.8%
To look for work or lost job: 1.5%
Other job-related reasons: 1.2%
Foreclosure/eviction: 0.9%
Change of climate: 0.8%
Retired: 0.7%
Natural disaster: 0.1%

According to a survey by Porch, 1 in 4 people who move for work ultimately regret the decision. [5]
How is the Moving Industry After the Pandemic?
Moving companies report the current status of the industry and how the pandemic has affected it:[16]

71% of moving companies report experiencing delays in 2021 that exceed what is normal for the peak moving season.
67% of moving companies do not have enough drivers to cover demand, which many attribute at least partially to pandemic-related job loss.
Nearly half of moving companies are booked out at least three weeks further than in previous seasons.
44% of companies are limiting or suspending their services within the state of California.
Customer complaints about cancellations have risen 250% this season compared with 2019.
5.1% of the 13% of reported moves in the last year were influenced by either remote work policy or COVID-19.
How Much Waste Does Moving Create?
Moving creates more waste than most of us realize. Understanding this is the first step to doing something about it in your next move. This is how much waste is created in moves across the country each year: [15]

900 million cardboard boxes
8.4 million tons of… junk. This includes all of the things sitting in cabinets, drawers, and garages that get thrown out.
345,000 towns of food
353 million gallons of fuel
90 million pounds of packing paper
30 million rolls of tape
Sources:
Not what you were looking for?
Check out other categories that can help you find the information you need!