Carolina in Our Minds: moveBuddha's 2021-2022 North Carolina Migration Report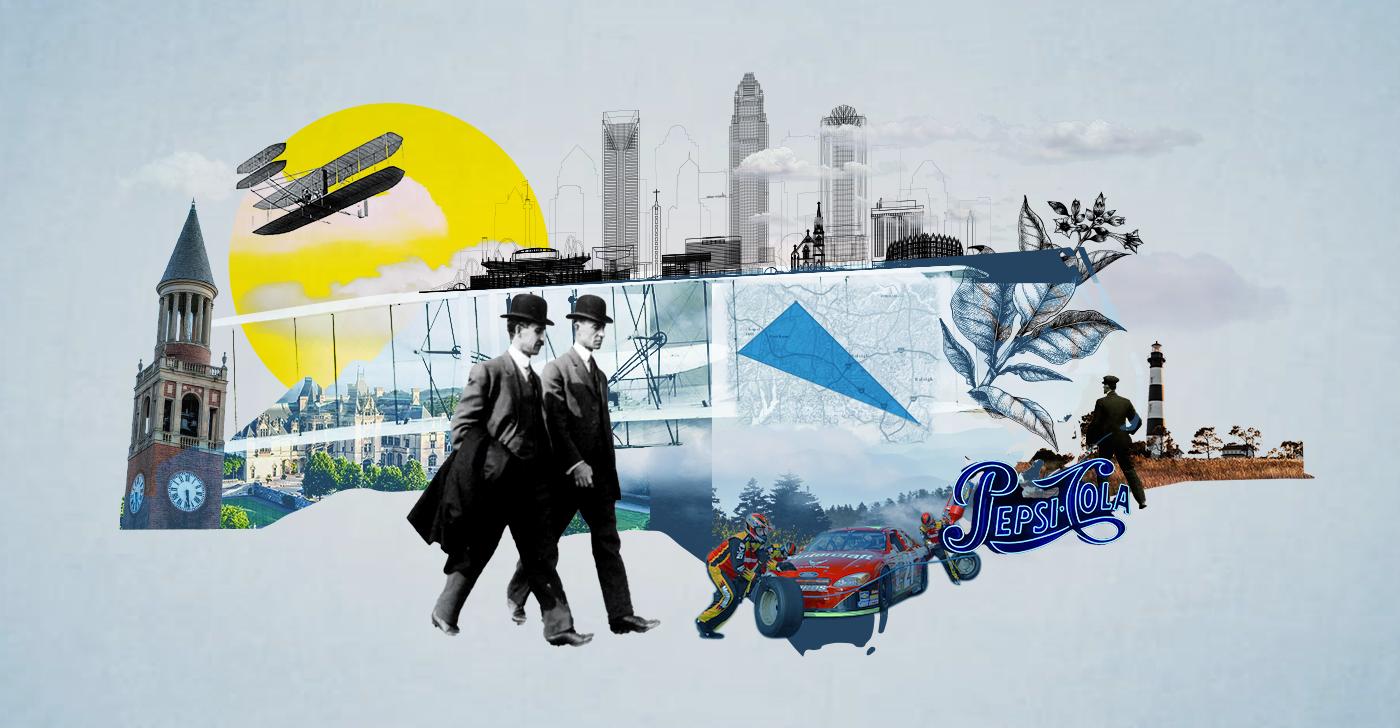 The Wright Brothers were from Dayton, Ohio, but even they had to relocate to North Carolina to make their dreams come true. On the sandy shores of Kill Devil Hills, they found the coastal breezes and gentle slopes ideal for flying gliders. Today the same appeal is drawing increasing moves into North Carolina.
Now more than ever, many who once were lured purely for vacationing are pulling up their roots in other states and staying in balmy, breezy North Carolina for good. While the state stretches from the Atlantic Ocean to the Blue Ridge Mountains and is the 28th largest in area, it's grown to 9th in population. It's not because North Carolinians are having more babies. While the birth rate barely budged from 2010 to 2020 (increasing just .1%), the state's adult population burgeoned 12.4%.
It seems like (North) Carolina's on everybody's mind.
So, where are all these newcomers settling in? We looked to moveBuddha's 2022 move data to see which North Carolina cities are attracting the highest proportions of inbound moves. We also looked at the changes from the 2010 to 2020 censuses to uncover North Carolina's fastest-growing cities in three categories: small, mid-sized, and large.
Table of Contents
1. Moving to North Carolina: Statewide trends from the last decade and during the new decade's great migration
2. 2022 Forecast: Which North Carolina cities are surging in popularity?
3. Fast-growing Cities: Which small, mid-sized, and large cities are expanding fastest?
4. Real Insights: We asked locals, why move to North Carolina?
5. Sources and Methodology
Big Takeaways
Movin' to #1 New Bern. 2022 moveBuddha data shows that for every 338 moves into New Bern, there are only 100 out — a higher in-to-out ratio than any other city in the state for the first half of this year. Next most popular to move to? #2 is Eagle Rock (276 to 100) and #3 is Asheville (253 to 100).
Raleigh and Charlotte metropolitan-area cities are especially popular for 2022 moves in, but many of these cities (6 around The Triangle, 4 around the Metrolina) have seen +50% hikes in home values.
California, Florida, and New York are fueling growth in 2022, together they comprise 30% of searches for moves to NC.
Fast-growth of the past decade is especially concentrated around Raleigh. 7 of the fast-growing mid-size cities, 3 of the small cities, and 2 of the large cities are located in this region.
Wake County alone is home to 11 fast-growth cities. Within the 3 categories, we identified which city saw the highest spikes in home values from 2020 to 2022 — all are located in the county and are: large city Cary +59%, mid-size Morrisville +62%, and small Rolesville +59%.
The Southeast coast dominates small city growth over the past decade.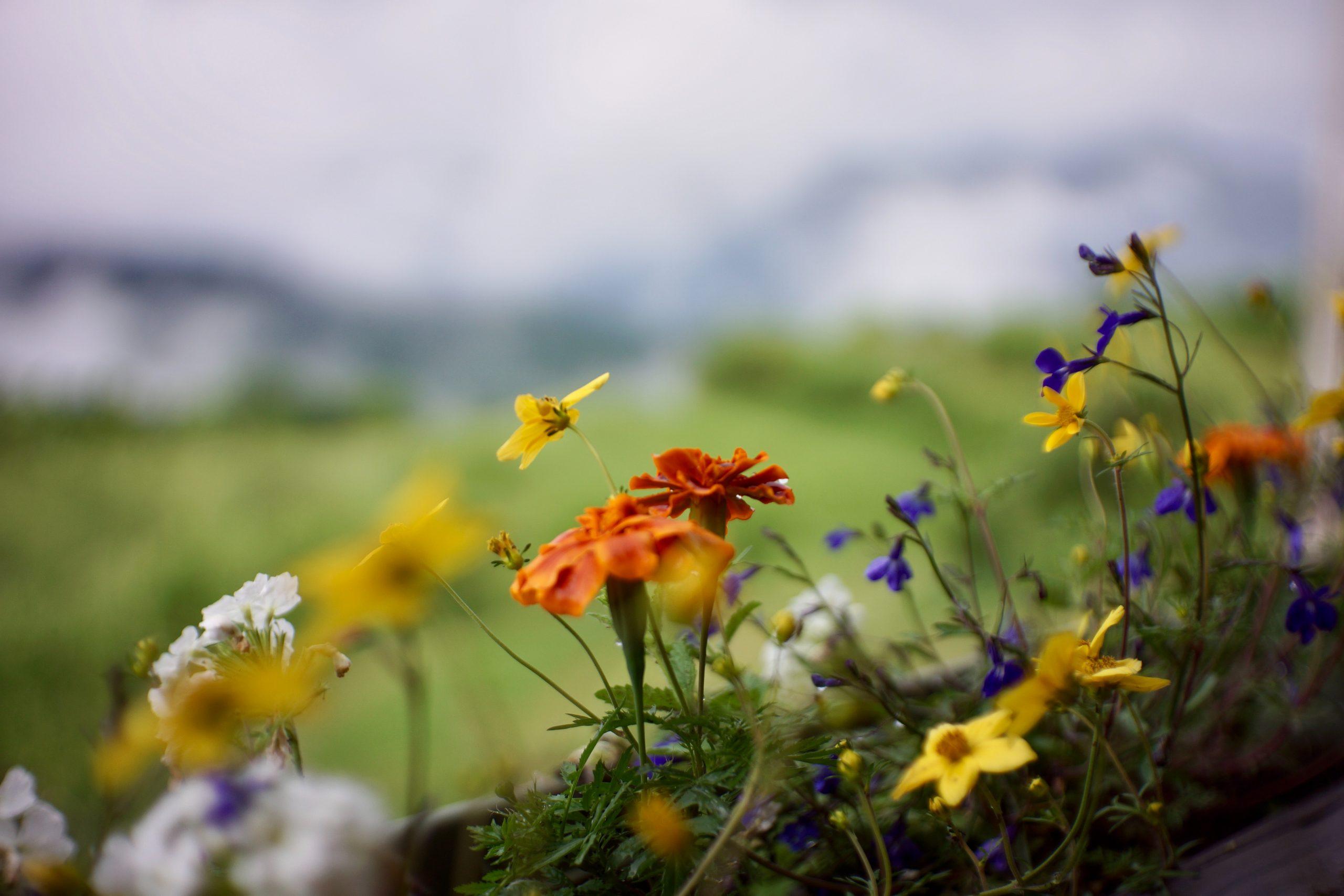 1.  Moving to North Carolina: A growing trend for remote workers, a staying trend for retirees
Since 2010, almost a million new North Carolinians have put down roots in the Tar Heel state. Cleveland County even crossed the 100K population threshold between 2010 and 2020.
But the real story is what's happened since.
From 2020 to 2021, North Carolina ranked #4 in the nation for population increase, with its population jumping another 93,985 residents, according to U.S. Census estimates. Only outdone by Texas, Florida, and Arizona, North Carolina joins this popular group of population winners. And for some of the same reasons, all boast fair weather, low taxes, and affordable costs.
North Carolina is especially attractive to movers in 2022, according to moveBuddha's latest search data.
In fact, looking at the ratio of inflow to outflow at the state level, North Carolina is on par with Florida. Both have more than 1.8 times the number of searchers for inbound moves compared to moves leaving the state.
Like Florida, North Carolina has always been popular with the 60+ set. It's famous for "halfbacks" who initially moved to Florida but end up springing halfway back towards their original Northeastern origins. With the increasing waves of oppressive heat and humidity swelling across the deeper South, North Carolina may be the next Florida.
Additionally, movers who have discovered the long-term ability to work remotely have favored states with beautiful weather, outdoor recreation, and affordable costs. Enter North Carolina. It fits the bill perfectly, offering adventures like kiteboarding with dolphins off Okracoke island to hiking the Appalachian Trail along North Carolina's western border. And its cost of living is less than the national average in every category except healthcare.
North Carolina is especially appealing to young professionals or starter families looking to invest in a new home. Across the state, housing is about 80% of the national average.
Which States are Fueling North Carolina's Growth?
Of the nearly one million new Tar Heels North Carolina has added since 2010, 70% are newcomers moving in from other states.
North Carolina is popular, and the word is out.
Which groups of Americans are most likely to set their sights on the Tar Heel state?
13.5% of North Carolina's moves come from Californians trading coasts.
With 300 miles of coastline and dunes, Californians don't need to give up their beachfront lifestyle when they leave the Golden State.
With similarly mild weather, Californians may find the landscape and climate familiar, but without their home state's wildfires and water woes. California lost 360,000 residents in 2021 alone. While many lamented the high cost of living in the Golden State, others cited taxes, COVID-19 policies, and politics as reasons they threw in the towel. But, it's not just residents looking eastward. Corporations aren't immune to North Carolina's charms, either. The state was recently ranked 7th in the nation for companies relocating from California.
Silicon Valley transplants have also found a welcoming landing pad in the North Carolina cities that comprise the Research Triangle: Raleigh, Durham, and Chapel Hill. Locals with degrees from UNC-Chapel Hill, North Carolina State University, or Duke gather here to talk about start-up opportunities, find venture capital funding, and relish in the science and tech scene.
Following California are Florida (9.3%) and New York (7.1%), collectively accounting for 30% of queries for moves into North Carolina in 2022. That makes sense since they're all large states with plenty of movers (so is #4 Texas).
North Carolina is unique in that it draws many new residents from distant places, not just from neighboring states (for example, it takes until #5 Virginia to find a neighbor contributing to North Carolina's phenomenal growth).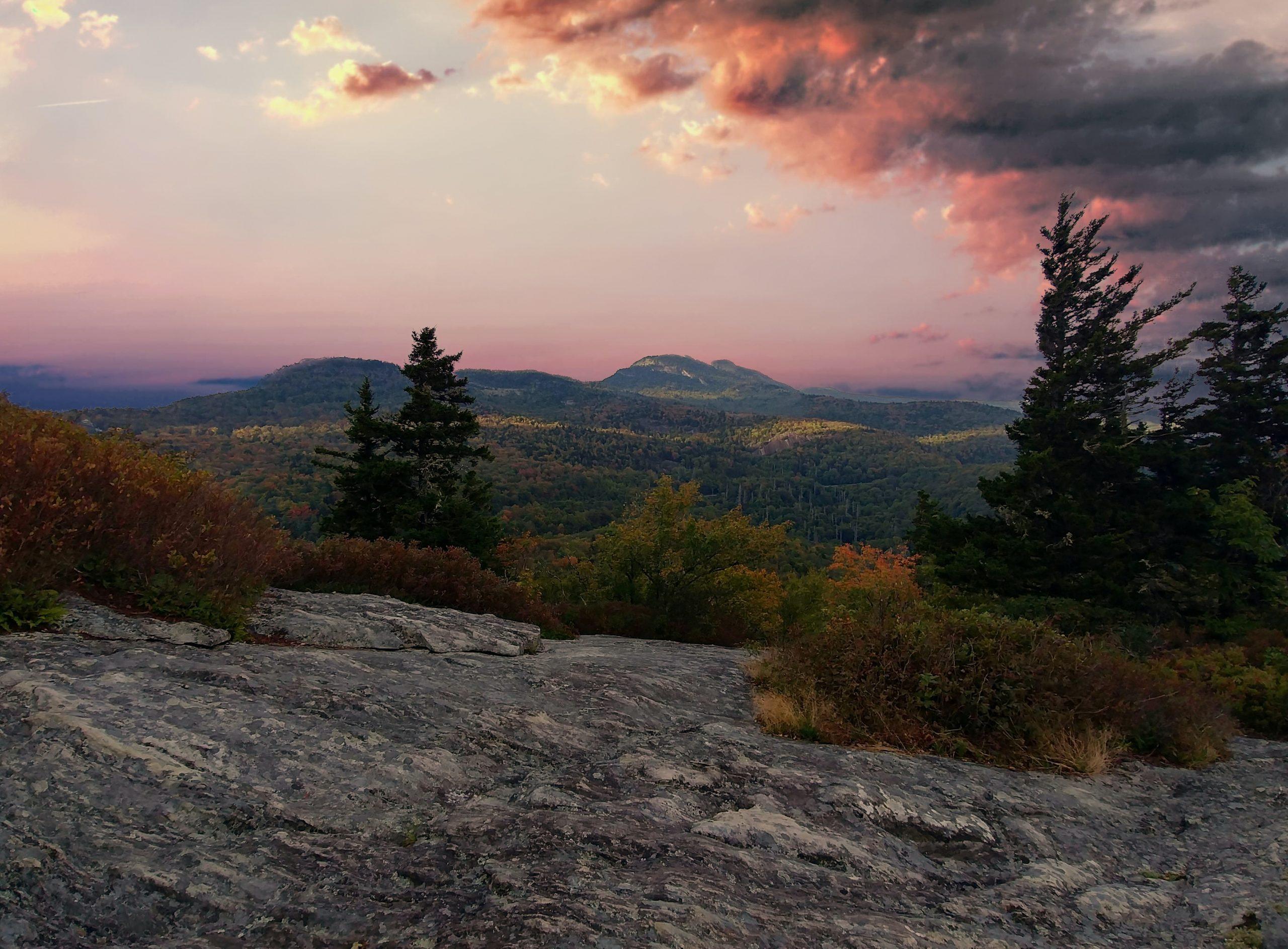 2. 2022 Forecast: New Bern attracting moves in; The Triangle and Metrolina too
While North Carolina is catching the eye of Americans across the country, the latest moveBuddha data shows that some cities in North Carolina are more popular than others in 2022.
We looked at search data for inbound and outbound moves to and from all North Carolina cities, with at least 25 queries in either direction (collected between January 1 and July 5). Using an in-to-out ratio, we have collected a list of which cities are attracting proportionally more moves in than out.
The cities and coasts are attracting the highest inflow while keeping the residents that have already moved in.
Coastal Favorites: #1 New Bern, #4 Leland, #5 Wilmington, and #7 Jacksonville.
At the confluence of two tidal rivers, #1 New Bern's historic, coastal location draws new residents who want to be a stone's throw away from Wilmington and Raleigh without being in the middle of the action. With a charming downtown, the colonial Governor Tryon Palace (complete with Outlander-themed events), and plenty of porches to sip a sweet tea and watch the boats float by, New Bern has gained a reputation as a retirement destination not far from the beach.
Raleigh Suburbs: #2 Eagle Rock, #6 Apex, and #8 Holly Springs.
Just east of Raleigh, undeveloped #2 Eagle Rock beckons newcomers to the research triangle who want a rural lifestyle just 20 minutes from the downtown core. While Eagle Rock is small and unincorporated, nearby Knightdale is a diverse and booming suburb where new residents can find shopping, restaurants, and plenty of school options.
(By the way, Raleigh's Wake county has accounted for over 25% of growth in the state, adding over 230,000 people from 2010 to 2020).
Mountain Charm: #3 Asheville attracts 253 moves in for every 100 out.
If you prefer cooler summers than the low country in the eastern half of the state, #3 Asheville might be the town for you. Its higher elevation, gorgeous blue ridge views, and thriving art scene give it more personality than North Carolina's big cities, if not more jobs. The trade-off comes with a cost-of-living compromise as well: Asheville real estate is more affordable than its counterparts in either Raleigh or Charlotte.
49% increase in home values since 2020 in 20 most popular cities
The curse of popularity is rising prices, but some North Carolina cities are doing better to contain the rising costs of new residents. Here are the twenty most popular North Carolina cities alongside the average home price increase from 2010 to 2022.
When it comes to keeping it affordable, small towns are doing better than large cities.
Of the top-twenty cities with 50%+ increases in average housing cost from 2020 to 2022, all are located near North Carolina's two largest metros: Charlotte and Raleigh-Durham-Chapel Hill.
That includes the Raleigh-Durham area's:
#2 Eagle Rock (+56%),
#6 Apex (+61%),
#8 Holly Springs (+61%),
#11 Raleigh (+56%),
#16 Cary (+60%), and
#17 Fuquay Varina (+60%). 
While over in the Metrolina, the spikes aren't as severe. Still, a few still shoot over 50% including:
#10 Charlotte (+51%),
#12 Huntersville (+51%),
#14 Monroe (+57%), and
#19 Waxhaw (+55%).
Some of these cities have the state's highest average real estate prices. Rising real estate prices here make them some of the most desirable but unaffordable places in North Carolina.
Want more for your money? Coastal up-and-comers offer more affordable real estate from the inland banks to the piedmont. Head to #1 New Bern, #7 Jacksonville, #15 Winston-Salem, or #18 Goldsboro, where the median home price is under $300K.
More good news, rents are also more affordable. The average two-bedroom apartment in New Bern's Craven County costs $984. That same apartment in Raleigh's Wake County costs $1,223.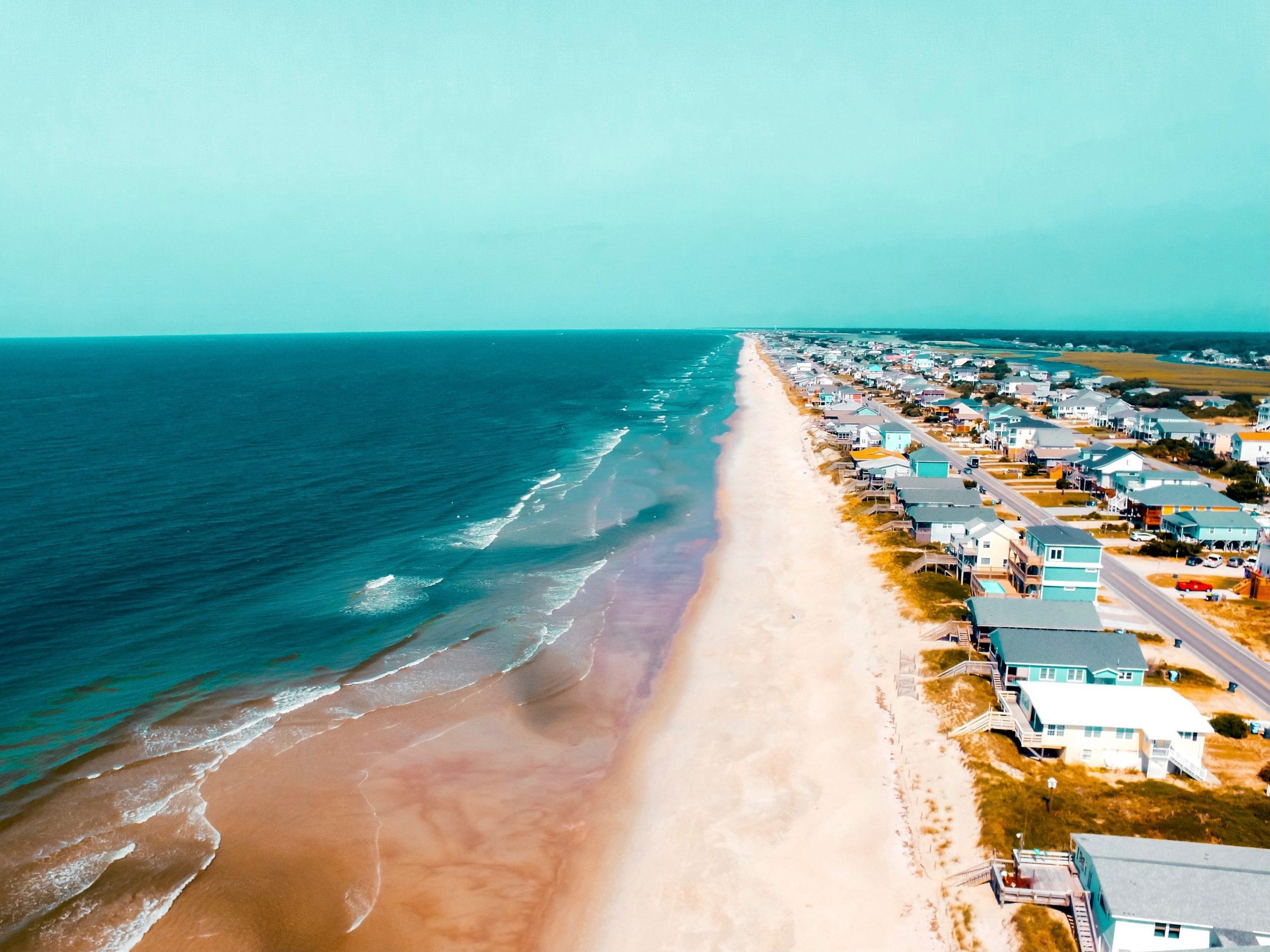 3. Growth is Strong on the Coast and in the Piedmont
We didn't want to look only at big cities with lots of moves and risk missing up-and-coming gems with smaller populations. So we combined historical population trends with Zillow home value data to uncover a broader range of cities experiencing growth from 2010 to 2020.
Our goal was to analyze growth beyond just the cities with the most significant influx of residents (typically the largest cities) or those with the highest percentage increases in population (typically the smallest cities). Instead, we grouped cities by population:
Small (under 10K population)
Mid-sized (10-100K)
Large (over 100K)
This approach means we could look at similar cities to find which are really taking off compared to their peers. Using percentage growth as a measure, we found the top fastest-growing cities in the past decade.
Here are the top cities in each category, mapped (you can hover over each spot for more details):
North Carolina cities with the highest growth have (not surprisingly) also seen skyrocketing rent and real estate prices.
So we looked at home value increases over time as well as average area incomes, to see which cities represent the best bargains for new residents. Here are some of the patterns we noticed:
Wake County is home to 11 of the fastest-growing cities.
Within each category, the city with the highest spike in home values from 2020 to 2022 was located in Wake County. Homes are up 59% in large city Cary, 62% in mid-size Morrisville, and 59% in small city Rolesville.
The highest average incomes of fast-growth cities are also in the Research Triangle: Orange, Chatham, and Wake Counties have the highest incomes in the state.
The average home price across these fast-growing cities is about $417K. Looking for the most affordable big city? Head to High Point, where the average home price is just $224,256, or to Greensboro and Winston-Salem, also in the Piedmont Triangle.
North Carolina's fastest-growth city's most expensive real estate is in the retirement community of St. James, $675K.
For a price tag easily half that and some of the most affordable small city real estate in the state, try Carolina Shores, where homes run around $303K.
4 cities boasting average homes valued under $300K (as of June 2022): Navassa ($223K), High Point ($224K), Winston-Salem ($233K), and Greensboro ($247K).
North Carolina's fastest-growing big cities seeing fast disappearing affordable homes
All of North Carolina's large cities saw their populations increase from 2010 to 2020. But the large North Carolina cities with the highest growth are Cary (28%), Charlotte (22%), and Raleigh (17%).
Prices flying high in Research Triangle and Charlotte 
What do you get when you cross the Piedmont Triangle, including Winston-Salem, High Point, and Greensboro, with the nearby Research Triangle? An emerging megalopolis, set to sprawl across northern North Carolina and create a vibrant, growing region.
But the fortunes of the cities and towns in this vibrant area of the state aren't the same. The Piedmont Triangle boasts some of the best prices, while the Research Triangle (along with Charlotte) see costs rising as they become some of the most desirable places to live.
While the pattern of North Carolina city hubs welcoming an oversized portion of the nation's movers started long before COVID, it's accelerated in recent years as more Americans discover its winning combination of jobs, education, and nature.
Cary Me Home: The Biggest Growth City is a Suburban Bedroom Community
Cary, a planned city on the outskirts of Raleigh, is a coveted gem in the Research Triangle's crown. In 2018, Money Magazine named it the fifth best place to live in America, noticing that gobs of people were moving in to rave about its low crime rates, public art, and sports facilities. They were riding its miles of bike and greenway trails and taking part in the concerts and festivals available for residents.
In fact, Cary was attracting so many outsiders that it was affectionately referred to as a "Concentrated Area of Relocated Yankees." However, with growth comes growing pains. As more and more outsiders call Cary home, prices have risen more than in other big North Carolina cities. Of all the large cities, it has the highest home price increase from 2020 to 2022, at 56%. That took the price of a house from about $403K to a whopping $629K in just two years.
Raleigh and Charlotte Are Also Losing Affordability
Nearby Raleigh does not fare much better, with its median home up 54% over the same period (it's still a bargain, though, at $466K).
Large city growth and increasingly competitive real estate are not confined to the Raleigh metro area, alone. In Charlotte, the median $407K home has seen its value increase 49% in the last two years. Overall, the biggest-growth large cities have seen similar real estate price increases that make relocating more difficult. Renters in these three cities won't see much relief, either. While Charlotte rents are average for the state, Cary and Raleigh have the highest rents for  2-bedroom apartments (averaging $1,223 per month).
Mid-Sized Cities Mix Suburban Affordability with Large-City Amenities
Steep growth comes with price increases in large cities, which is true for mid-sized cities. But look closer, and a few mid-sized treasures come out ahead. While you can find bargains, you won't sacrifice all the city has to offer. Mid-sized cities are often just a stone's throw away from large city hubs. In fact, every mid-sized city on our list, except for Mebane, is within a 30-minute commute to the closest large city.
But are the most popular mid-sized cities any more affordable? The median home price in the three fastest-growing large cities is around $500K. For the top three mid-sized cities, the price drops modestly to $477K. That's not much, but when you consider #1 Leland is just $362K, you realize that North Carolina's growth doesn't mean it has lost its affordability.
Suburbs Characterize Mid-Sized City Growth
On the west side of the Cape Fear and Brunswick Rivers, Leland is separated from Wilmington by a 15-minute commute and a few golf courses. Sure, it's a great retirement community, with affordable housing and one planned community with 8,000 homes welcoming boomers who are ready to ditch the snow and hit the links.
But those 8,000 homes can't account for the ~12K people Leland has added since 2010, nearly doubling its population. It turns out that Leland is also a mid-sized city that's attracting young families looking for affordability near the coast, large city jobs, and amenities.
Mixing Affordability and Access
#2 Fuquay-Varina, #3 Apex, and #4 Morrisville are west-side suburbs on the far side of Cary, each vying for new Raleigh residents looking for a little more affordability.  In the mid-sized city boom, growth is centered near North Carolina's existing large cities. Affordability savings aren't huge, but suburban growth does mean new housing, new communities, and safe, clean streets as cities spill into the surrounding farmland. The biggest drawback of these mid-sized cities? The traffic.
All three of these fast-growing cities have lower median housing prices than nearby Cary, though in the case of Apex, housing prices have risen just as much over the last 12 years. Overall, mid-sized cities are taking advantage of cheaper land outside city limits to accommodate new North Carolinians and their quest for affordable housing. Eventually, newcomers may have to go even farther from central hubs to find the right combination of access to the city and affordability.
Small City Growth Driven by Southeast Towns
It's not all retirement traffic pouring into Wilmington to enjoy the Southeast coast, a once quiet corner of the state closer to Myrtle Beach than Raleigh. While #3 St. James has growth driven by planned retirement communities, #1 Holly Ridge is growing across demographics, diversifying an economy that once depended on military personnel and has recently reinvented itself around an industrial park and tourism to nearby Topsail Island.
Add #6 Navassa, #8 Carolina Shores, and #9 Southport, and you'll see how the southeast coast's small cities are leading North Carolina's small city growth.
Holly Ridge is Not your Average Military Town
Holly Ridge saw its first population boom in World War II. The site of an anti-aircraft training camp for military personnel, the town mobilized, building a theater, hospital, and multiple runways. But with a boom came the bust, and while the Marines' Camp Lejeune replaced some of the military economy of the town, it never quite recovered after the war ended.
With added job growth investment, Holly Ridge is set for a comeback. With the median home price under $300K, and rent for a 2-bedroom apartment $876, it's also one of the most affordable small cities in the state.
The Research Triangle Shows Strong Growth for Large, Mid-Sized, and Small Cities
#2 Rolesville is a Raleigh suburb with greenway paths, character, and plenty of local pride, meaning high-octane growth can't be far behind. As the Research Triangle grows, families looking for suburbs with many amenities compete for housing in these desirable, safe neighborhoods. Like other Raleigh suburbs, median housing and rent costs are high, but so are incomes. Proximity to healthcare and high-tech companies helps the area stay attractive to newcomers.
Why Move to North Carolina?
We don't live in the state ourselves, but we can see the draw.
To learn a bit more about what's bringing in new moves, we reached out to people who've made the decision to move to North Carolina. Here's their take on why it's a great place to live:
Outdoor adventures, history, and magic: "Being outdoor and adventure enthusiasts, we love living by the ocean and experiencing all it has to offer [...] This town has so much history. You can feel it as you walk the small streets. There is magic in the air of Beaufort. We were drawn to it, which is why we sold our belongings and moved here." -Shannon, Gerry, and Betty White the Fur Baby, Beaufort, North Carolina.
Small-town charm meets city living: "I have been living in Charlotte, which is the most populated city in North Carolina. The most fascinating thing for professionals about North Carolina is that it has a higher average salary than the national average [...] It is a city that combines the best features of a very populous place but preserves itself as a small town. As it is a very well-designed city, this organization reflects on the traffic, architecture, cleanliness, and conservation of its streets and squares." -Ronald Williams, Charlotte, North Carolina.
Reasonable cost of living, an abundance of jobs, access to mountains and beaches, and so much more: "People move to North Carolina for a variety of reasons, but most are looking for a good quality of life at a reasonable cost [...] I currently live in the Raleigh area, which is centrally located and offers easy access to both the mountains and the beach. The Research Triangle Park is also nearby, which is one of the largest employment hubs in the country. In short, there are plenty of reasons to move to North Carolina - you just have to find the right fit for you." - Joshua Haley, Raleigh, North Carolina
The Future for North Cackalacky
It was once a place where Scottish and Cherokee people lived together, forging a new identity for this land that was a combination of both their words, languages, and histories. Today's North Carolina is no different, with many moving to the state and excited to make new lives in the state of "North Cackalacky."
North Carolina's growth has piggybacked on accelerated retirement, remote work, and the quest for affordability. It's been spurred by companies making the move alongside workers, with more and more economic opportunities helping make it easier to create a new life in North Carolina.
North Carolina's growth isn't a new phenomenon. Over the past decade, the state has grown more and more appealing to Americans from every direction. Californians, New Yorkers, and Floridians have found reasons to call the Tar Heel State home. As they descend on this diverse state, where sandy beaches, research tech, and blue ridge hiking trails come together, they may begin to find that some of yesterday's charms (and prices) are disappearing.
North Carolina is reinventing itself as a top destination for retirees, remote workers, and young families alike. With the word getting out, it isn't likely to see its growth slowing anytime soon.
Planning a move to North Carolina
If you've got a NC move on the horizon, these pages will help you:
Best North Carolina Movers Pretty straight forward, we looked at hundreds of movers across the state and these are the best ones in North Carolina.
Find your North Carolina moving route Want detailed help for your move? Pick where you're moving to and from in North Carolina, and we'll help you find out costs and movers
4. Sources and Methodology
This report primarily uses a combination of U.S. Census Bureau data and moveBuddha proprietary data. For understanding the cost of area homes, we use Zillow's Home Value Index, and for rent data, we referred to F.Y. 2022 Fair Market Rent.
moveBuddha proprietary data
Search data was collected from January 1, 2022 through July 5, 2022  capturing searches by individuals who were either planning to move or hire a moving company throughout 2022.
We only included cities with a minimum of 25 inbound queries and 25 outbound queries for city-level analysis.
More information about our move data and in-to-out ratio equation can be found in our Migration Report.
U.S. Census Bureau — population, median income, historical population data
Historical population totals, April 1, 2010 to July 1, 2020. Please refer to the official methodology for total resident population estimates to understand the methods for devising these estimates.
The median income is provided at the county level.
Zillow — Zillow Home Value Index city data
The Zillow Home Value Index or ZHVI provides us with the typical home value within each city at a given period.
North Carolina rent prices - HUD Fair Market Rent 2022
To understand the cost of rent in the fast-growth cities, we've included North Carolina 2022 Housing Data HUD Fair Market Rent for 2 Bedrooms. It's important to note that this is the 40th percentile of rent prices, so will reflect prices slightly below average.
Not what you were looking for?
Check out other categories that can help you find the information you need!
See All
Hide All