Moving Apocalypse: Moving Companies Struggling to Keep up with High Demand, New Survey Reveals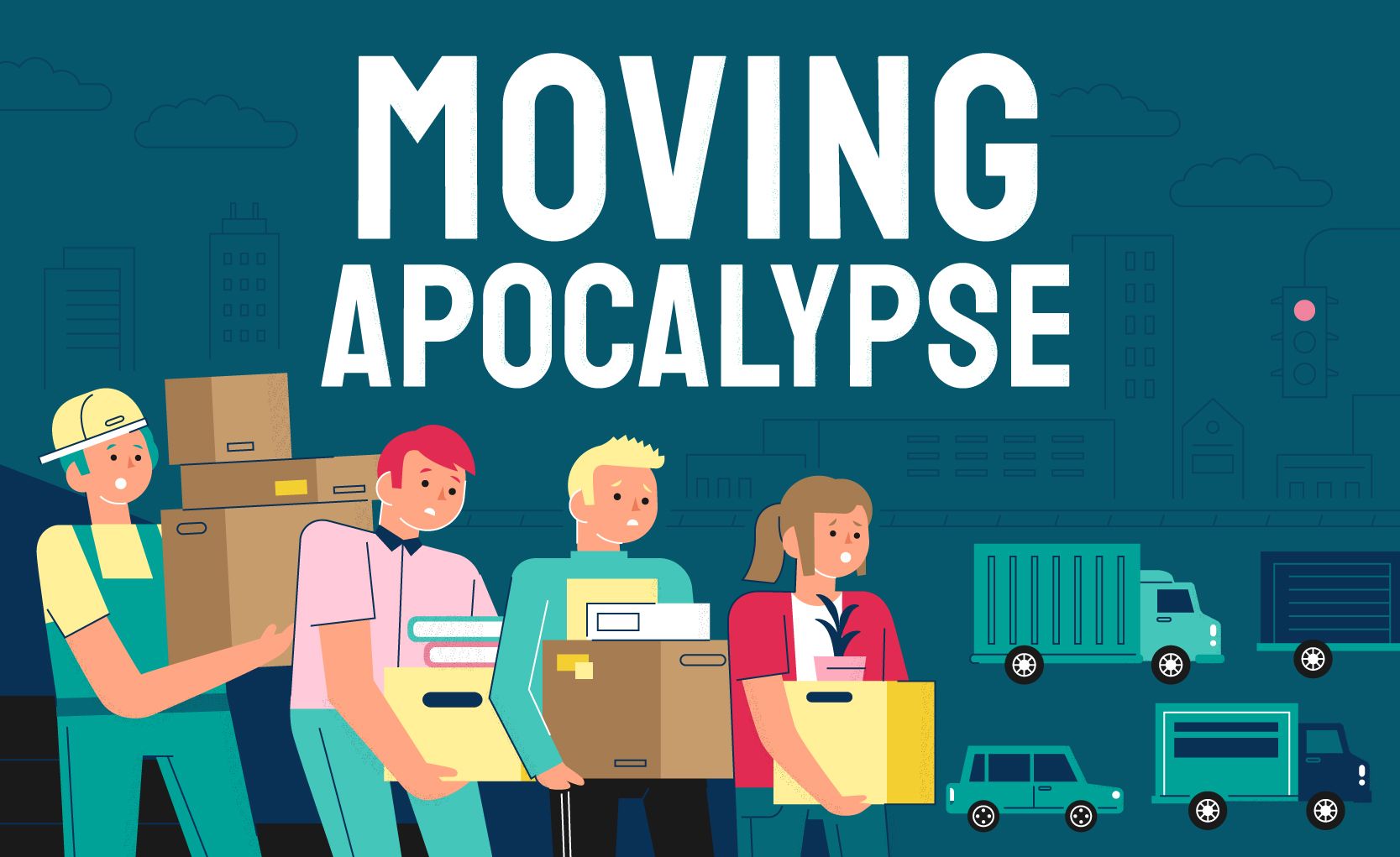 Key survey findings:
71% of moving companies report experiencing delays in 2021 that exceed what is normal for the peak moving season.
67% of moving companies do not have enough drivers to cover demand, which many attribute at least partially to pandemic-related job loss.
Nearly half of moving companies are booked out at least three weeks further than in previous seasons.
44% of companies are limiting or suspending their services within the state of California.
Customer complaints about cancellations have risen 250% this season compared with 2019.
5.1% of the 13% of reported moves in the last year were influenced by either remote work policy or COVID-19.
Moving companies are no strangers to busy summers. With school out of session and vacation season in full swing, May to August is traditionally peak season for the moving industry, during which as much as 70% of relocations take place.
The coronavirus pandemic has untethered many Americans from the necessity of proximity to their employer. This newly won freedom of movement has led to an estimated 20% increase in the number of Americans planning to move this year, and a booming housing market to match.
With so many Americans on the move, 2021 is seeing an unprecedented surge in the need for relocation services. Moving businesses across the country are reeling to meet demand in an economy plagued by worker shortages, rising fuel costs, and health concerns. And customers are hurting as well.
"I'm seeing more pain in moving than ever before," says Ben Heller, CEO of PricePoint. "There is a large supply/demand issue which is increasing costs for everyone and decreasing service levels."
Here at moveBuddha, it's our job to connect customers to great moving services. So we surveyed 63 partners to better understand the challenges facing both consumers and moving businesses during the 2021 peak season.
All booked up
Few things are more stressful than coordinating a long-distance move on short notice. But in 2021, waiting 'til the last minute may mean missing your ideal moving date by as much as six weeks.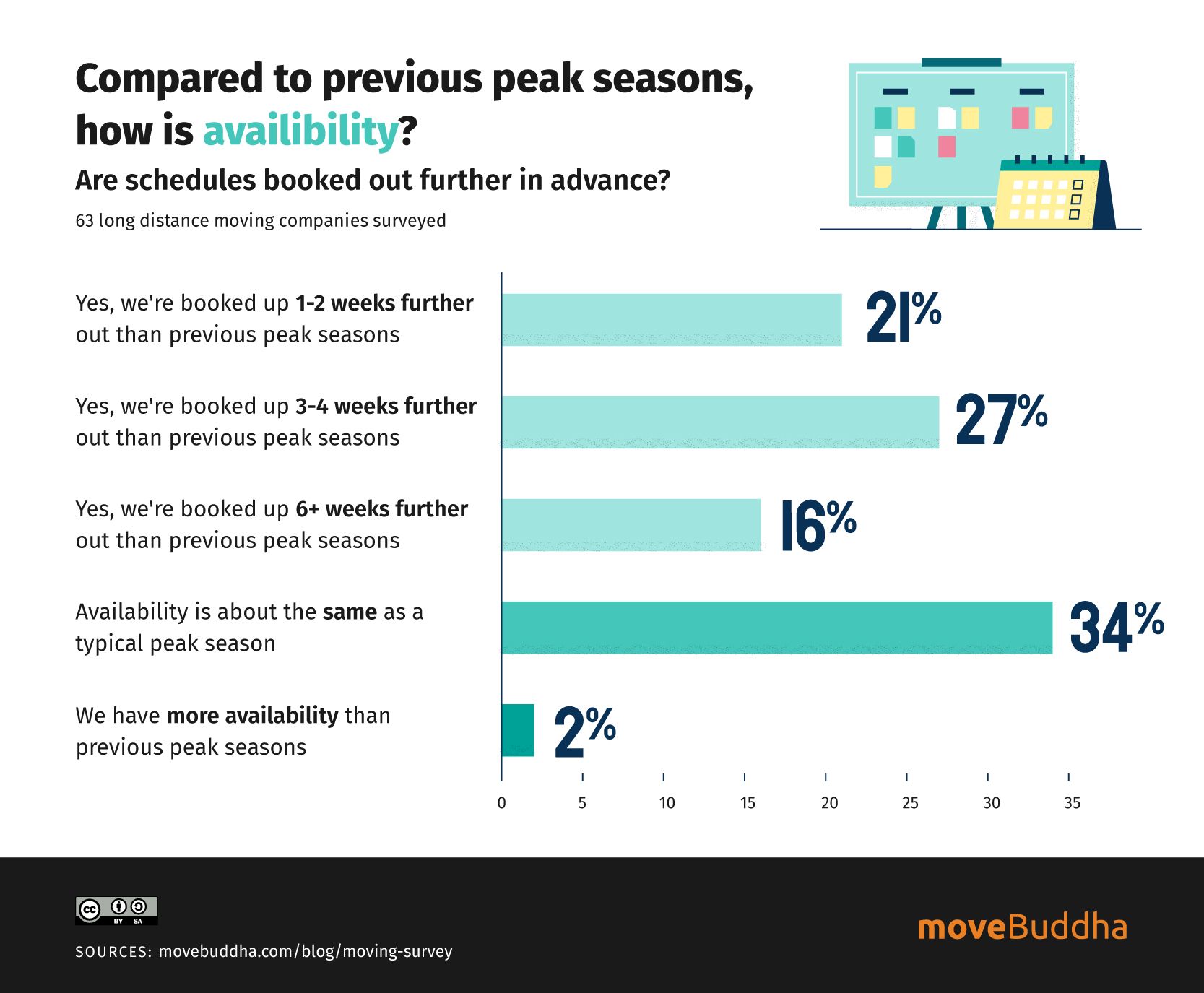 64% of moving companies report their calendars are fully-booked beyond what is normal for peak moving season.
"Like many industries, we're seeing unprecedented demand for our services," says Bellhop CEO, Luke Marklin. "This year, our weekend reservations were getting fully booked as early as April. We normally recommend our customers book two weeks in advance, but we're now recommending customers book as soon as they know their moving date!"
Expect delays and higher prices
In addition to limited availability, many customers who do manage to book moving assistance should be prepared to pay more and wait longer.
Some seven in ten moving companies are reporting higher rates of delivery delays in 2021 compared to previous years.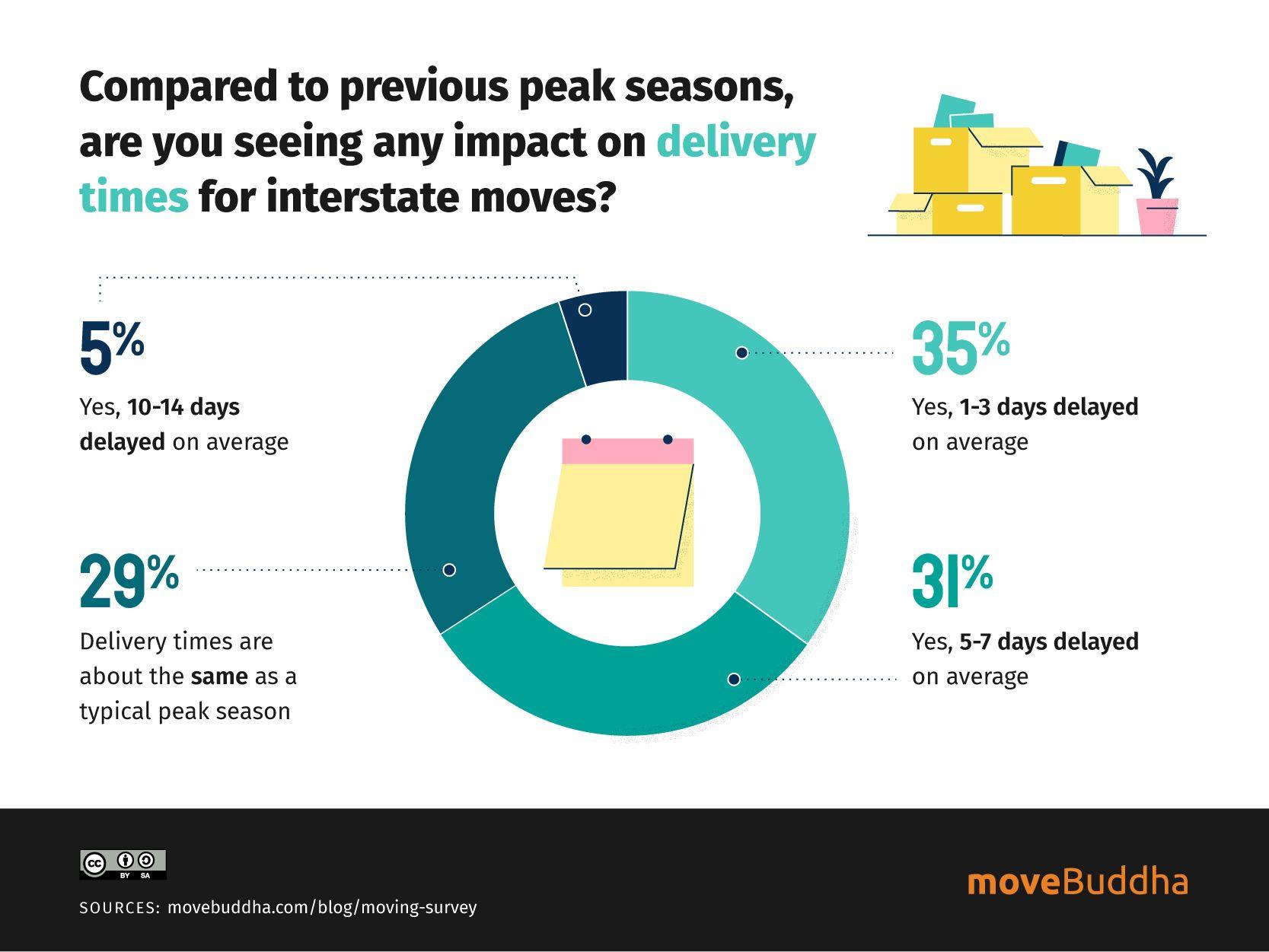 Delays are especially prevalent for individuals moving as part of an employer-sponsored relocation contract. Corporate relocation departments often negotiate contracts with moving companies two to three years out, locking in the lowest price they can. "This hasn't worked well during COVID," explains Heller.
Consumers and military businesses are now willing to pay higher-than-normal prices in this competitive market. Already strapped for capacity, many moving companies are reluctant to fulfill cheap corporate moving contracts that were negotiated prior to the pandemic.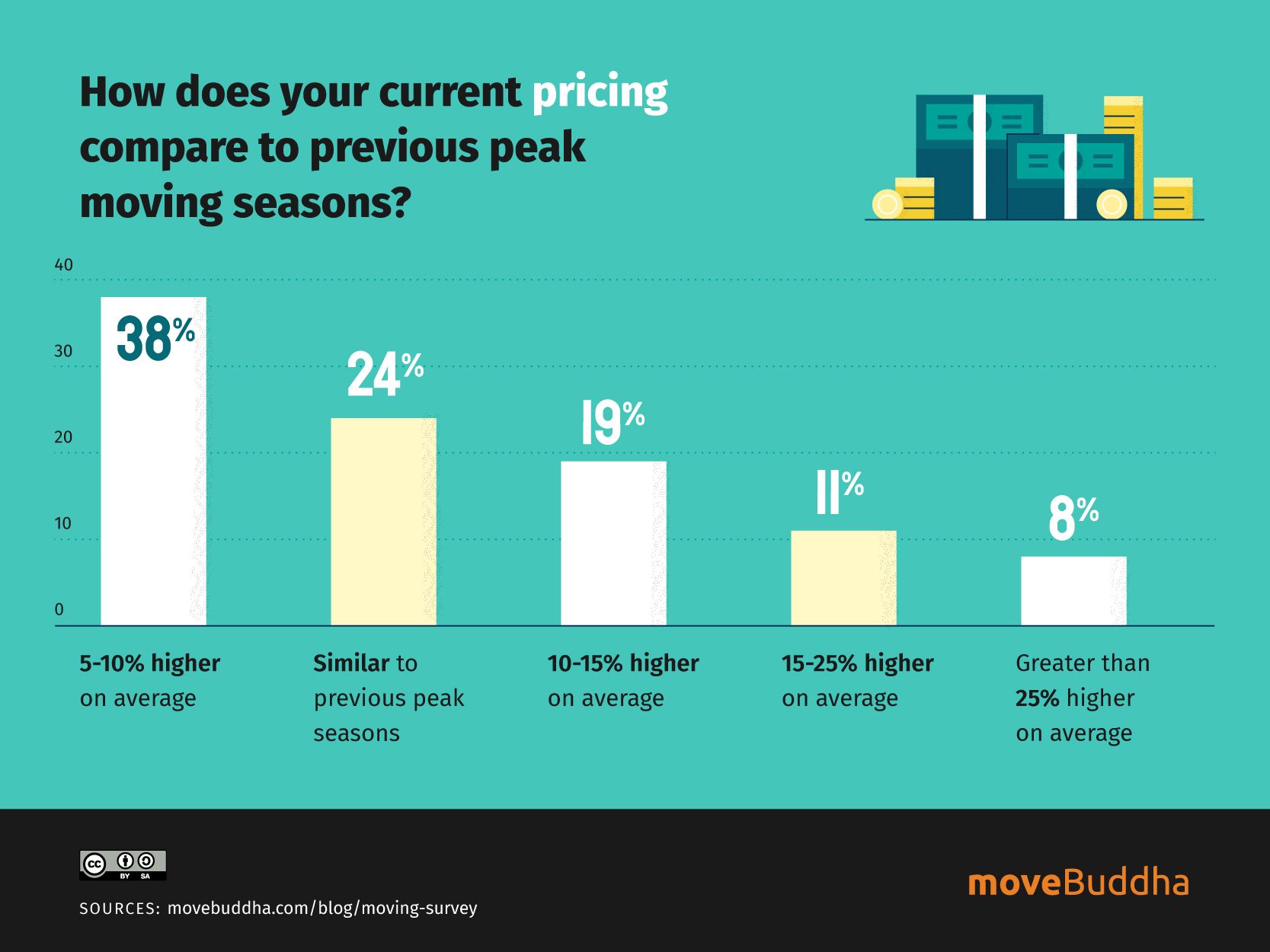 According to the survey, 76% of companies are charging more than they used to. "With so much demand, moving and freight companies are incentivized to take jobs that are more profitable now," says Heller. "The result: there are more corporate moves with delays or no availability from partners, larger delivery spreads, and more annoyed transferees."
Why moving companies are falling behind demand
In a separate survey of 1,011 people, we found that of moves from March 2020 to August 2021, almost 40% of those who moved were influenced by either COVID-19 or remote work policy.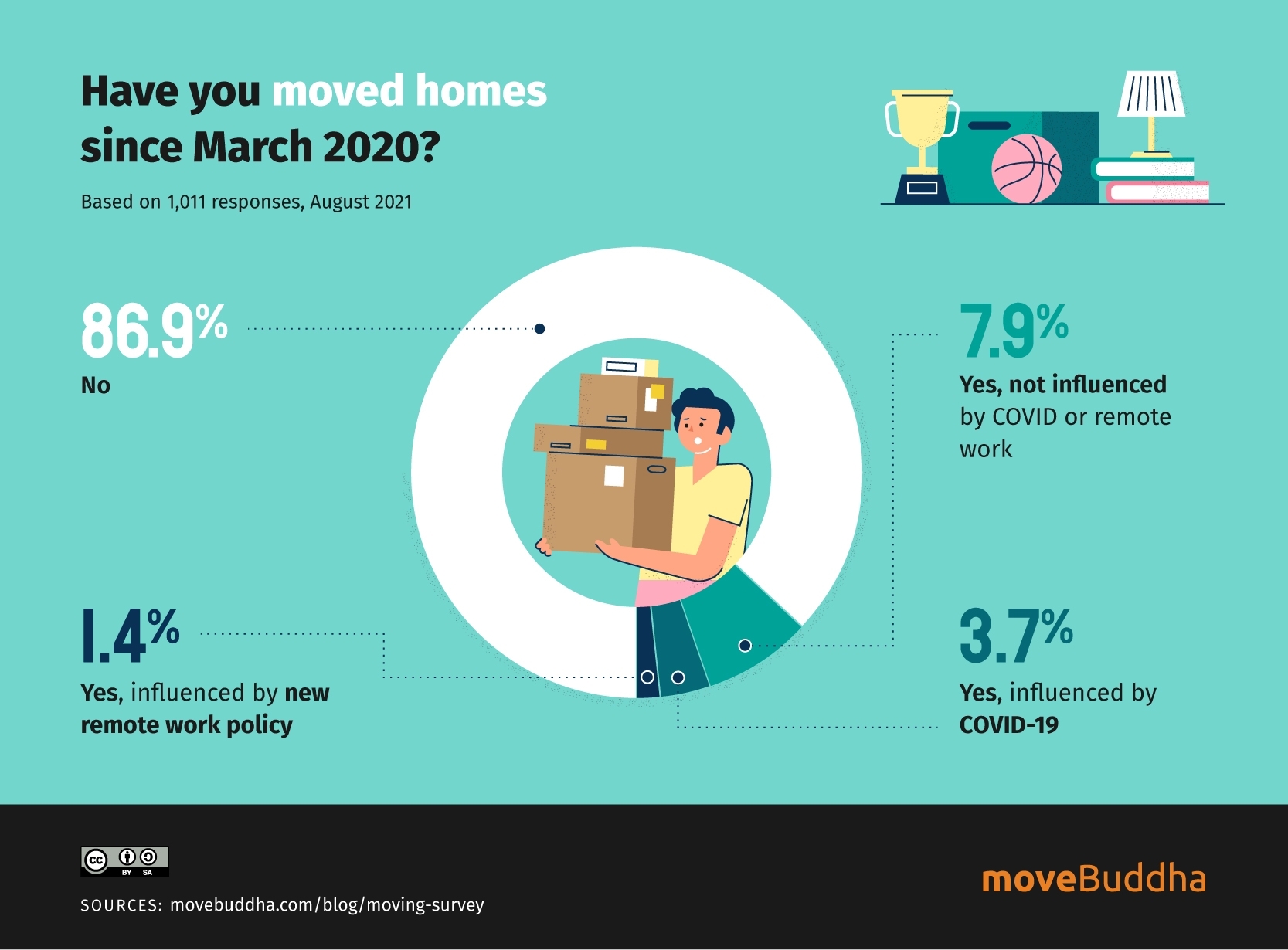 Following these findings and survey results, it appears the influence of the pandemic nearly doubled the anticipated demand for moves in the last year.
Plus, moving companies are struggling more than ever to find employees amid this record demand.
An industry-wide shortage of truck drivers is among the top challenges facing moving companies, an issue that two-thirds of companies are struggling with.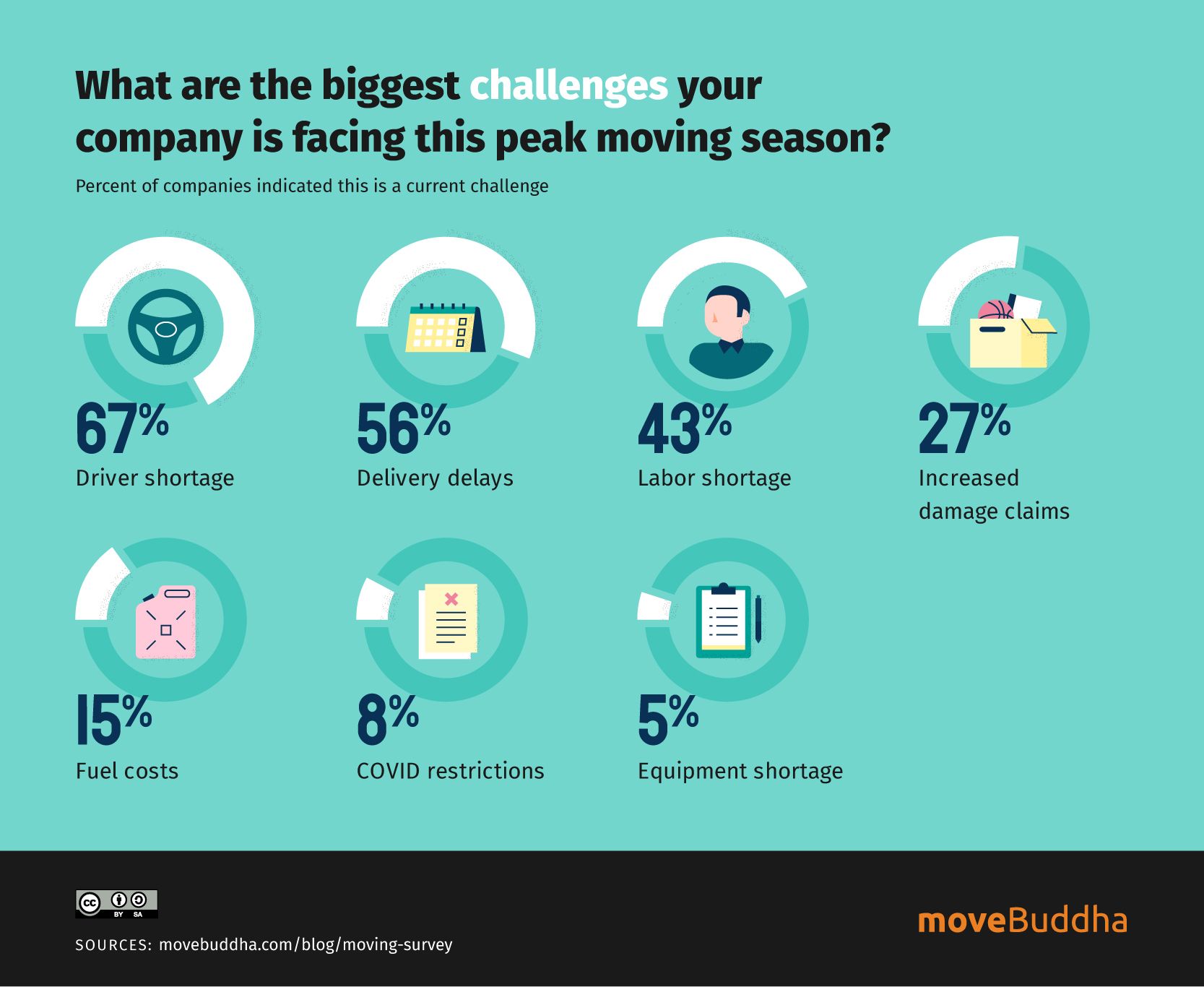 "There was a driver shortage prior to COVID, and that challenge is noticeably worse today," says Heller.
The physical labor associated with driving a moving truck is one thing. But combined with oppressively hot summer temperatures and masking requirements, it is perhaps no surprise that fewer people are eager to begin working for a moving company right now.
On top of a worker shortage, moving companies must also grapple with the rising cost of fuel, supply chain issues resulting in equipment shortages, and the added complexity of navigating different COVID restrictions from state to state.
The picture is even more hectic for international moves.
"Freight rates have been all over the place," says Heller. "There are bidding wars for freight coming out of Asia, and that creates highly variable and expensive international moves which don't align with the needs or expectations of customers."
Ditching the Golden State
America's most populous state dropped in population between January 2020 and January 2021. The first-ever population decline in the state's recorded history, this loss of 180k residents is attributed to a slowing birth rate, COVID-19 deaths, and a mass exodus influenced by high costs of living and a statewide housing shortage.
With many more people moving out of California than moving in, this dynamic has created a logistical nightmare for moving companies.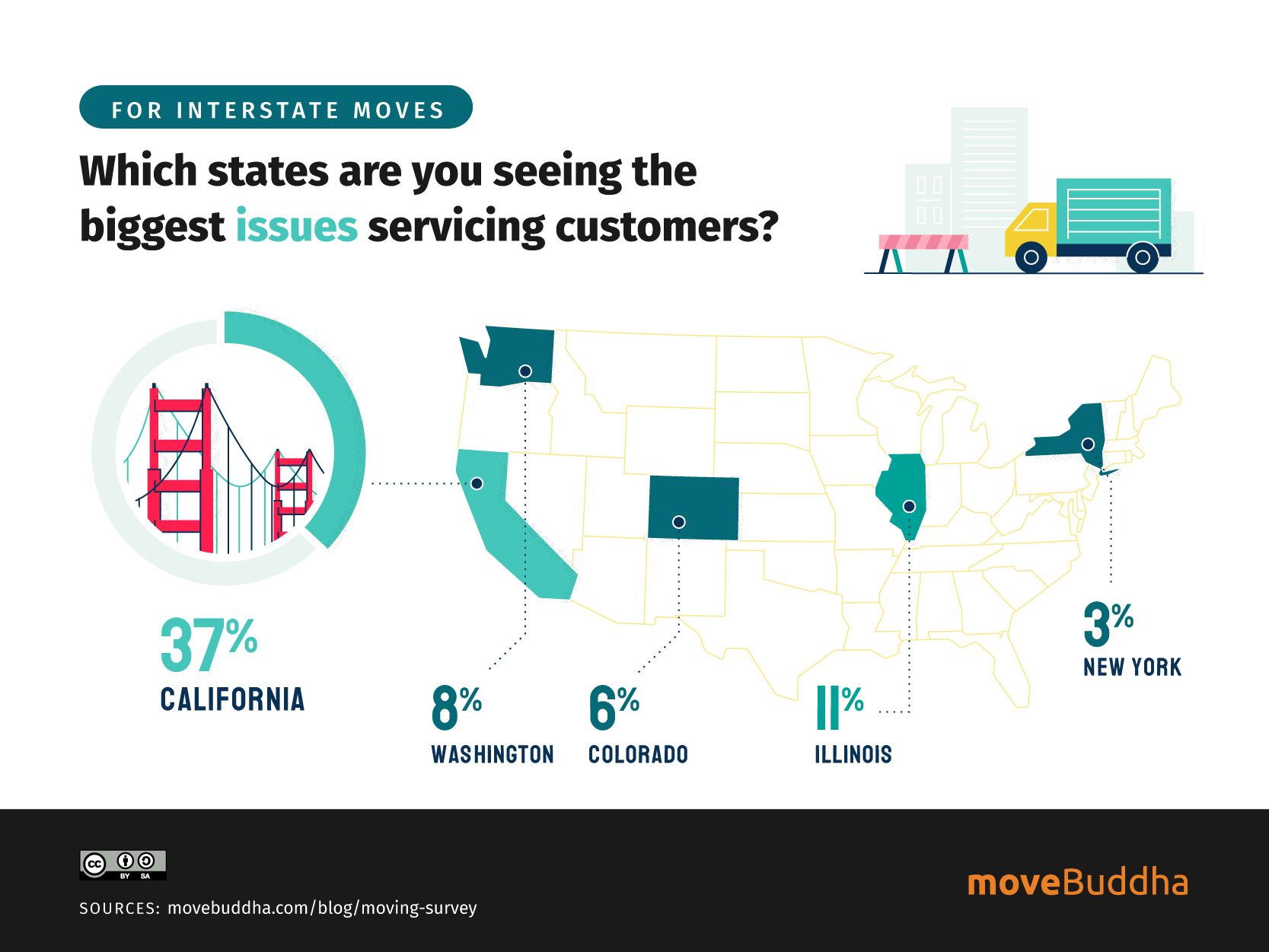 Transporting large loads across vast distances is most economical when customer movement is bidirectional, allowing moving companies to keep their trucks full for every leg of the journey. But when the volume of outbound California moves is many times higher than the inbound moves, moving companies are forced to make many return trips with empty trucks.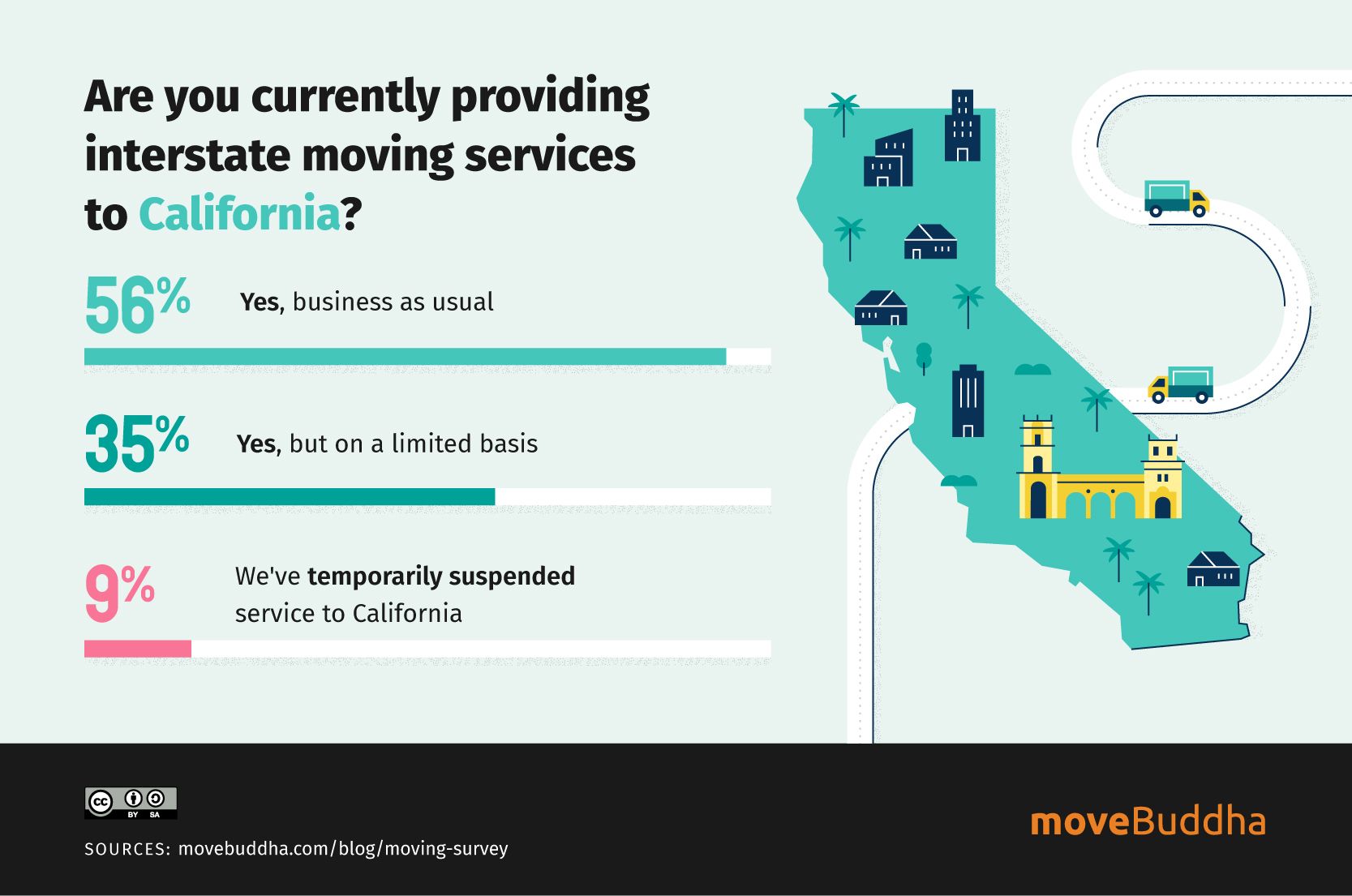 The logistics of servicing movers leaving California have become so difficult that some 44% of moving companies have temporarily limited or suspended their services in the Golden State.
Unhappy customers abound
With the moving industry experiencing so much turbulence, customers are increasingly reporting frustration with the services they receive.
From cancellations to lost items and damage claims, to delays in deliveries — those who move in 2021 are dramatically more likely to be disappointed in their experience than those who moved in 2021.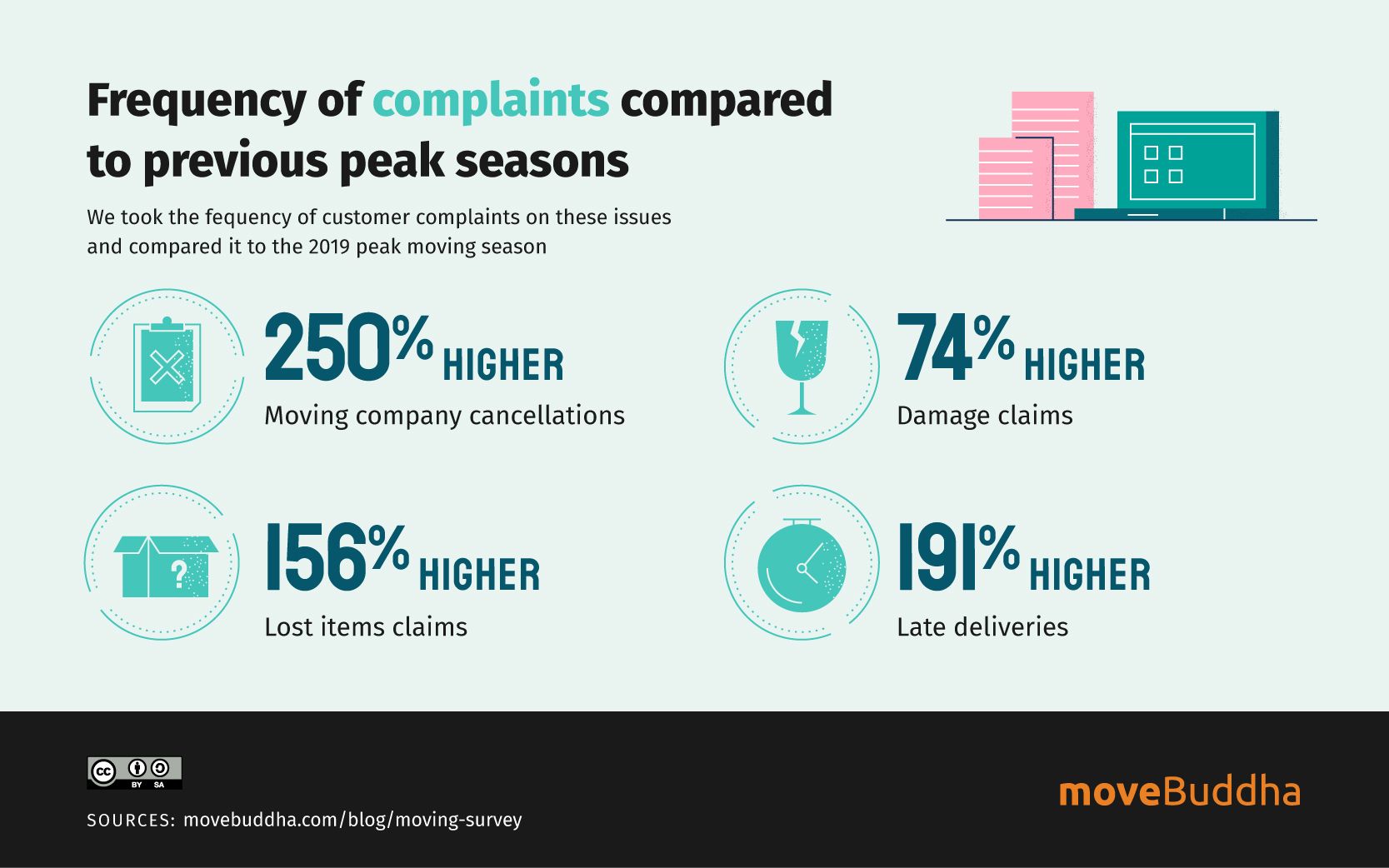 When will the apocalypse end?
It's very difficult to predict exactly when bottlenecks in the moving industry will be solved. As with the Uber driver shortage and price hikes, the classic supply and demand problem applies here. There are many national and global economic factors outside of the control of the moving companies themselves.
Will we see an increase in supply as we did with lumber prices, eventually causing prices to drop? Or will the housing market remain super hot at historic prices and demand that lasts more than a year?
We're still in the middle of the moving apocalypse, with no clear end in sight.
Click here to view full infographic: Moving Apocalypse [Infographic] 
Not what you were looking for?
Check out other categories that can help you find the information you need!
See All
Hide All