Is Miami the Next Silicon Valley? New Study Reveals Surprising Trends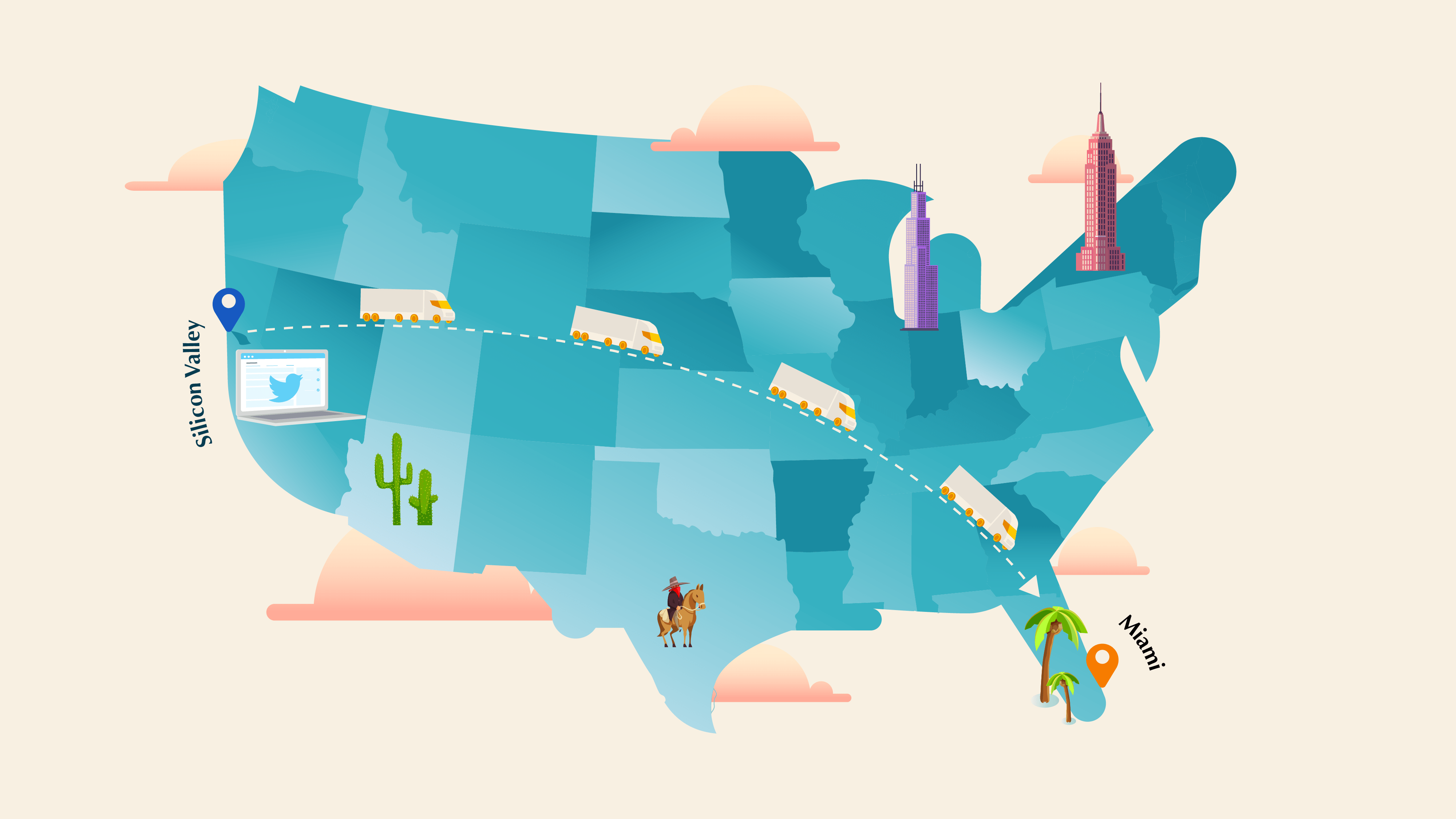 The coronavirus pandemic has continued to have a butterfly effect on domestic migrations in the United States, from California to Texas, to Georgia and Florida.
One unexpected story to arise from the pandemic, is a small but vocal minority calling for a mass migration from Silicon Valley to Miami.
Led by an unlikely partnership between top venture capitalist Keith Rabois and Miami mayor Francis Suarez, Miami has become the latest city to grab headlines as the next big tech hub. From December 2020 to January 2021, Miami saw a net migration of 145%, while the Silicon Valley-Bay Area region saw -47.2% net migration.
Is the great Miami migration an over-hyped story driven by the echo chamber of tech Twitter, or the beginning of a long-term trend that will put one of  America's leading Latin American cultural hubs on the startup map?
To get to the bottom of this, we analyzed the data for the 400,000 US domestic moves moveBuddha assisted in 2020.
Key Findings:
In an analysis 42,666 Tweets, we found a 129% increase in mentions of moving to Miami in December 2020 – January 2021 vs the previous year.
There were 40% more moves to Miami than out of Miami in 2020.
2.3x more people moved out of the San Francisco Bay Area in 2020 than moved in.
San Francisco was the 2nd most common source of moves to Miami after New York City, which represented 30% of all Miami-bound moves.
Moving to Florida
? Pick your origin state and we'll help you figure out what it should cost and the best movers for your route.
It Starts with Analyzing 42,000+ Tweets
Throughout the pandemic in 2020, there were many conversations about fleeing Silicon Valley and the San Francisco Bay Area in general.
I've never had more people text me to say they're leaving the Bay Area than today.

— Jeff Morris Jr. (@jmj) September 9, 2020
Prominent venture capitalist Keith Rabois, the general partner at Founders Fund and early investor of companies like PayPal, LinkedIn, and Square, has become a vocal member of the escape-from-Silicon-Valley brigade.
Rabois started hinting at Miami as a destination throughout the fall:
Denver is popular. For investor types Miami is attractive. Texas generally. Utah.

— Keith Rabois (@rabois) September 10, 2020
He made public his commitment to move to the city in November:
Miami.

— Keith Rabois (@rabois) November 4, 2020
But things really began to take off in December 2020. That's when Miami mayor Francis Suarez entered the conversation.
How can I help? https://t.co/hIC1k8ka1i

— Mayor Francis Suarez (@FrancisSuarez) December 5, 2020
And the floodgates opened on tech Twitter:
MIAMI FTW. https://t.co/wlrlzX55B2

— Keith Rabois (@rabois) December 5, 2020
Since 2018, Mayor Suarez had been working on city-wide initiatives designed to attract and support startups in Miami.
But Tweets from Mayor Suarez and a handful of prominent tech leaders aside, there is also evidence to show a broader conversation about Miami is taking place online.
We scraped 42,666 Tweets on Twitter going back to Dec 1, 2019 looking for usage of the phrases "move to miami", "moved to miami", and "moving to miami". Below we see a clear increase in the three phrases ramping up in December 2020 and January 2021: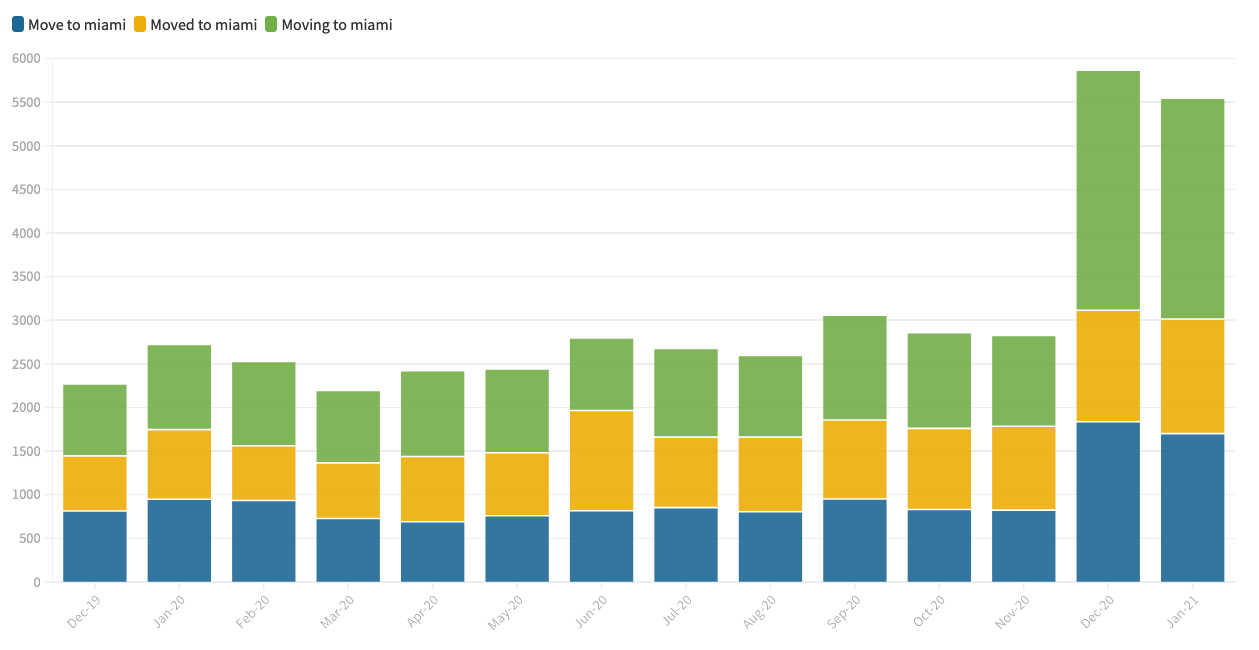 The data from Twitter reveals there was a 129% increase in Tweets mentioning these phrases in the December 20 – January 2021 period over the previous year. Then question arises – do conversations on Twitter translate to real-life moves?
Google Trends Shows the Way
Twitter is where conversations start, but Google Search is where people take action. We pulled the weekly data from Google Trends going back to early 2020 and also found compelling evidence that interest in Miami is growing. Beginning in December 2020, more users were searching for "move to miami" and "moving to miami" than "move to san francisco" or "moving to san francisco":
This data from Google Trends shows relative popularity between the phrases mentioning the two cities, showing peaks in the final weeks of 2020 and early 2021.
The Movement Begins: Data Reveals the Actual Migration Patterns
Are billionaire transplants and all this social media buzz influencing people to ditch Silicon Valley for the Magic City? moveBuddha helped with thousands of home moves in 2020, and our numbers reflect some elements of this narrative while disputing others.
Evidence supporting the idea of a Great Migration from Silicon Valley to Miami
We can't claim that moveBuddha customers are a perfect representation of nationwide migration patterns. But by analyzing the 400,000 moves we helped with in 2020, we were able to identify some trends that suggest Miami may be growing as Silicon Valley shrinks.
It's true: Miami is experiencing an uptick in new residents
moveBuddha helped with 40% more moves to Miami than out of Miami over the course of 2020.
If we were to extrapolate the moveBuddha customer pool, Miami experienced a 16% net gain in residents through relocation during the time period of December 2019 to January 2021.
Miami saw net gains via relocation for 10 out 12 months in 2020, with January (-28%) and April (-37%) being the only months with more residents leaving than arriving.

Starting in May, Miami consistently saw significantly more inbound than outbound moves.
With net moves showing a clear positive throughout the second half of 2020: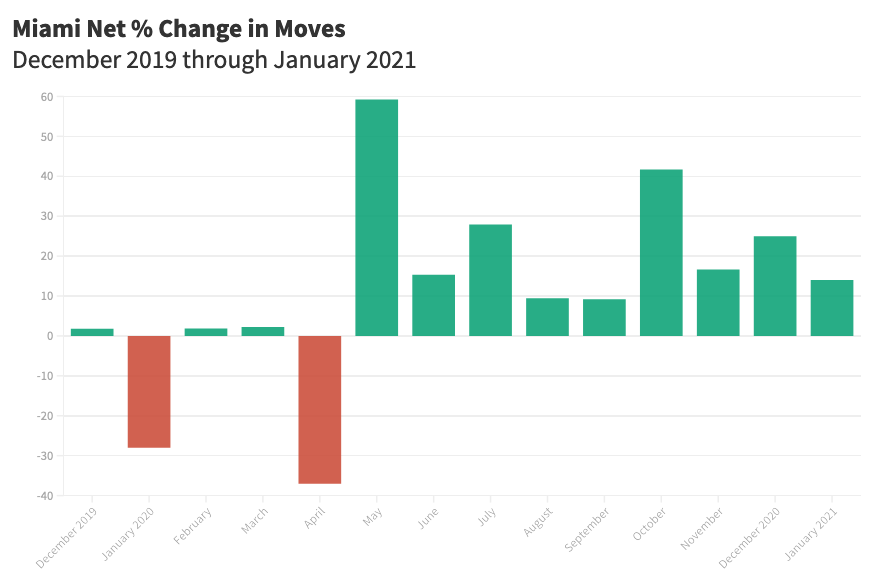 More people are moving out of San Francisco than are moving in
2.3x more people moved out of the San Francisco Bay Area in 2020 than moved to it.
In every month of 2020, the San Francisco Bay Area saw a net negative in population due to relocation. This trend accelerated after the summer, with August 2020 to January 2021 seeing net relocation losses ranging between -42 and -54%.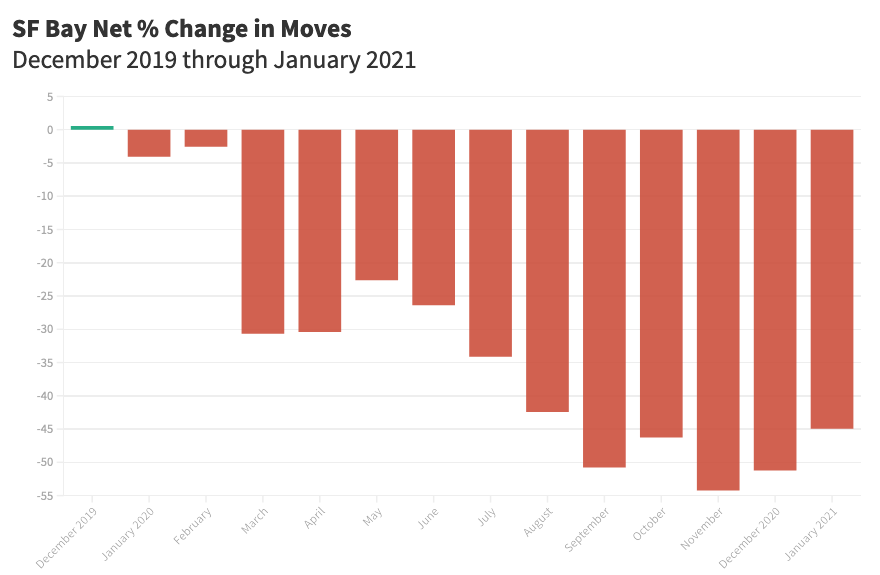 Former San Franciscans were among the most common new Miami residents in 2020
San Francisco was the starting point for nearly 11 percent of all the Miami-bound moves we helped with in 2020. This made it the second most common starting point after New York City, which represented 30% of all Miami-bound moves.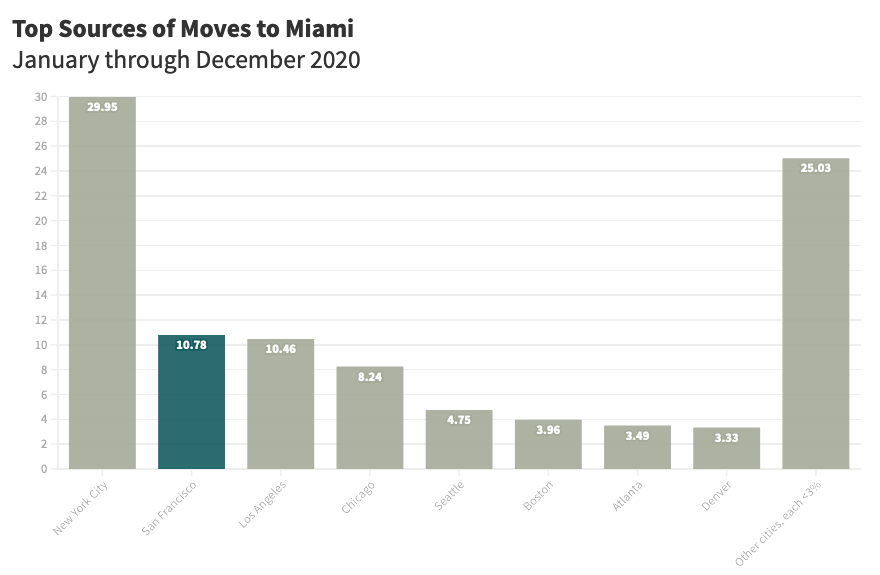 Roughly 1 in every 69,5000 San Francisco Bay Area residents moved to Miami with the help of moveBuddha in 2020. This was the highest Miami-bound per capita rate of all metropolitan areas with a population of more than one million.
Evidence disputing the idea of a Great Migration from San Francisco to Miami 
Our numbers certainly suggest Miami is gaining residents while San Francisco is losing them. But this data alone is hardly enough to convince us that tech workers are ditching the Bay Area en masse and heading to the Magic City.
A closer look at our data revealed that, while the Bay Area was the second most common location people left to move to Miami in 2020, Miami was just one of many destinations for outbound San Francisco residents.
Miami was the destination for less than 2% of people leaving the San Francisco Bay Area in 2020, making it only the 15th most common destination. Already-established tech hubs Austin (18%), Seattle (10%), and New York (10%) were far more popular destinations for those leaving San Francisco in 2020.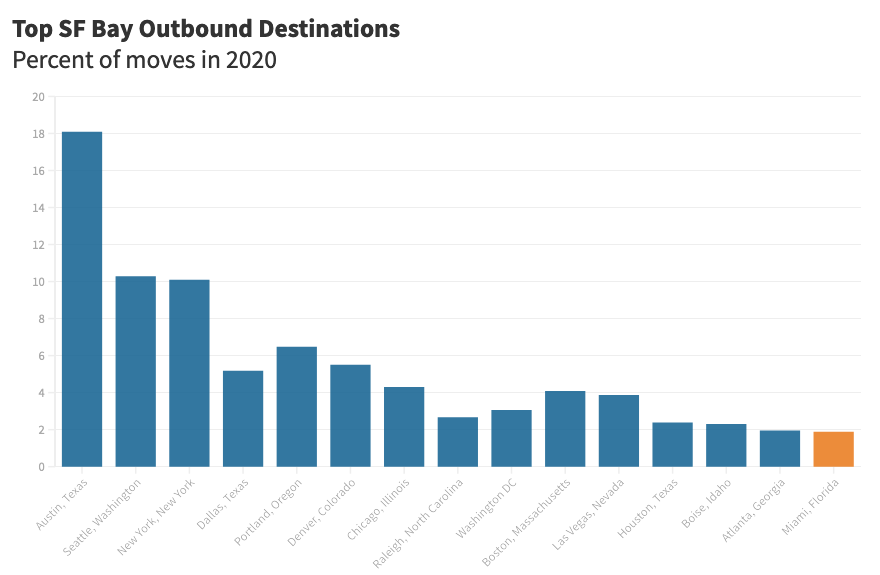 What's more, it's not just cities with booming tech industries that are attracting high numbers of former Bay Area residents. Smaller cities are also seeing an influx of outbound San Franciscans. In fact, 42% more outbound San Franciscans moved to Boise, Idaho in 2020 than to Miami. In another example, Reno, Nevada was just 3% shy of Miami in terms of the number of former Bay Area residents it attracted in 2020. Both Boise and Reno have populations just a fraction of Miami's.
The verdict on Miami as the next Silicon Valley
Based on our data for 2020, we can confidently say a growing number of Bay Area residents are packing their bags. At the same time, Miami is seeing an influx of new residents, many of whom are coming from San Francisco.
The numbers don't definitively prove Miami has joined the ranks of booming startup hubs like Austin, but they do show a promising start for Miami's tech scene. As a growing number of high-profile tech gurus take root in Miami, we will eagerly monitor this trend for developments over the next few years.
Why Now? COVID, Taxes, QOL, Zoom, and Government
Looking beyond the tragic losses from the COVID-19 pandemic, we see some macro shifts in the way we work, live, and play. In one oft-cited example, the pandemic accelerated ecommerce shopping and food delivery anywhere from five to ten years into the future. 
The pandemic also disrupted a core advantage of living in Silicon Valley: the potential to have in-person meetings between startups and investors. With the decampment to Zoom meetings as the norm, the pressure to stay in Silicon Valley for its strong network effect has deflated.
As prominent VCs come to realize they can live anywhere, they naturally gravitate towards locales without state income tax. Given all the options, Texas and Florida both offer a high quality of life paired with a low cost-of-living. Even billionaires are looking to stretch their dollars further.
Jason Lemkin, founder of SaaStr summarized it well: "If you look at the states with 0% state capital gains, Texas/Austin and Florida/Miami are the most appealing for VC investing. Everything else just doesn't have enough going on."
The final piece of the puzzle lies in something with which certain California tech leaders have always had a love/hate relationship: government and politics. 
It's pretty amazing to see government with an attitude of working toward creating a great city rather than instating policies that only serve to make them feel better about themselves (and protect property values of the senior class) but are bad for everyone long term

— Eade (@eade_bengard) December 5, 2020
Local government in the Bay Area has received its fair share of criticism from tech gurus.  Rabois has condemned San Francisco local governance as "so massively improperly run and managed that it's impossible to stay here." VC Joe Lonsdale wrote of San Francisco in a Wall Street Journal op-ed,  that "bad policies discourage business and innovation, stifle opportunity and make life in major cities ugly and unpleasant."
With Mayor Francis Suarez seizing on these points and rolling out the welcome mat, Miami seems to offer the perfect recipe to make soundwaves on social media that lead to real-life migrations.
The Future of Miami
Only time will tell if this recent tech migration is just a flash in the pan, or if it will fuel sustained growth in the Miami startup scene.
Miami is not without its own challenges, especially when it comes to the effects of rising sea levels. Miami is very vulnerable to climate change, and so buying property here is a risky long-term investment. According to Zillow, the City of Miami is home to roughly a quarter of all U.S. homes at risk from rising seas. The Risky Business project estimates that between $15 and $23 billion in Miami property could be underwater by 2050.
But the city isn't standing by,with Suarez having recently passed a dedicating $192 million to combat rising sea levels.
Mayor Suarez is keeping his foot on the gas to keep the Miami tech momentum growing from all angles. He just announced a $100 million venture capital fund with Japanese company SoftBank, famous for making big bets like on WeWork.
Suarez is also open to making the city more welcoming to new cryptocurrency initiatives. He wants the ability to pay city employees in crypto, allow citizens to pay taxes in crypto, and even invest city money into Bitcoin itself.
And he wants to be competitive in attracting crypto talent and networks to the city, saying "we're looking at states like Wyoming and making sure that we have the most progressive crypto laws. We're looking at New York's regulatory environment. We want to make sure that we believe that if all things are equal, we win. So, we just want to equalize the playing field. We want to make sure that nobody has an advantage over us based on laws that are easily changeable."
This could be the beginning of a new model of public-private partnerships – a social-media-savvy mayor responding to Elon Musk's memes on Twitter and ending with billion-dollar plans to create the city of the future.
Count me in! No brainer…we would love to be the prototype city. https://t.co/waRwj0dprJ

— Mayor Francis Suarez (@FrancisSuarez) January 18, 2021
Perhaps the Boring Company tunnel will find a home in Miami.
Not what you were looking for?
Check out other categories that can help you find the information you need!