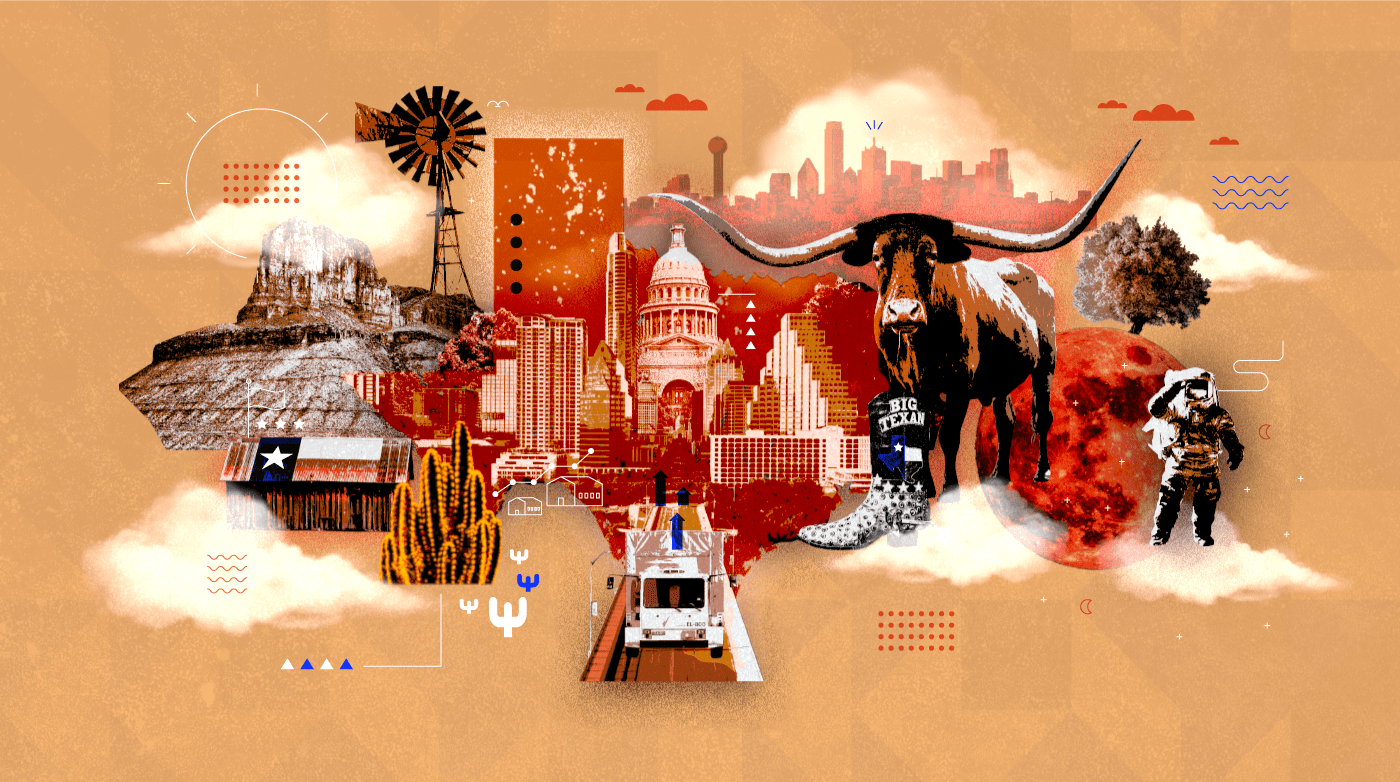 Lone Star Migration: The moveBuddha 2021-2022 Texas Migration Report
With explosive growth across the Lone Star state, Texas is clearly a beacon attracting both businesses and individuals nationwide. Urban metros are overflowing with newcomers flooding historically off-the-radar towns. Which Texas metros, cities, and towns have attracted the most moves?
Texas is the nation's second-largest state by size and GDP and the runner-up for most populous.

And the population just keeps growing. Why are people (still) moving to Texas?
For starters, Texas still has plenty of space (wide open space). Its large land area gives it a population density of about 110 people per square mile, less than half of California's and about a quarter of Florida's. It's good news for those moving into the Lone Star state. (There's a lot of them.) They'll need it if Texas continues to see its proven track record of steady year-over-year growth.
However, people moving to Texas are heading to the same cities and regions where Texans have already dug in roots. The result: area home prices have been skyrocketing. The major victims are small and mid-size cities around areas like Austin, especially as big names like HP and Tesla are moving in and creating jobs.
We wanted to know how moving patterns in Texas are shifting with this influx of newcomers. So, in this report, we take a look at the wider population trends impacting Texas. Then, we dive into moveBuddha's 2022 data to see where moves are flowing to this year (the most) and how this has impacted the cost of homes in these popular cities. We also highlight growth from the 2010 to 2020 census to uncover the fastest-growing Texas cities in 5 categories: Metro, Large, Mid-Size, Small, and Towns.
Table of Contents:
1. Moving to Texas: Looking at statewide trends from the last decade and into 2021
2. 2022 Forecast: Which Texas cities are most popular to move to in 2022?
3. Fast-growth Cities: Which Texas cities are growing fastest according to Census data?
4. Sources and Methodology
Big takeaways:
From 2010 to 2020, Texas grew by 4 million — more than any other state.
Nearly 1 in 4 moves into Texas is from California in 2022 with 24% of total moves into Texas from other states. Following this is inflow from Washington, Florida, Illinois and New York, collectively representing ~22% of the total inflow from out of state.   
2021's popularity contest winner: #1 Leander, Texas saw a surge in inbound moves, an inflow rate of +128.6% from 2020 to 2021. Also popular in 2021: #2 Fort Worth & #3 McKinney.
A decade of fast-growth: #1 Metro is Fort Worth, followed by #2 Austin & #3 San Antonio.
Central Texas fast-growth cities (Austin-area) have seen the highest increases in home values in the last two years, anywhere between Leander's +79% and Austin's +63%.
11 of the fastest-growing cities are located in counties where the median income is greater than $100K.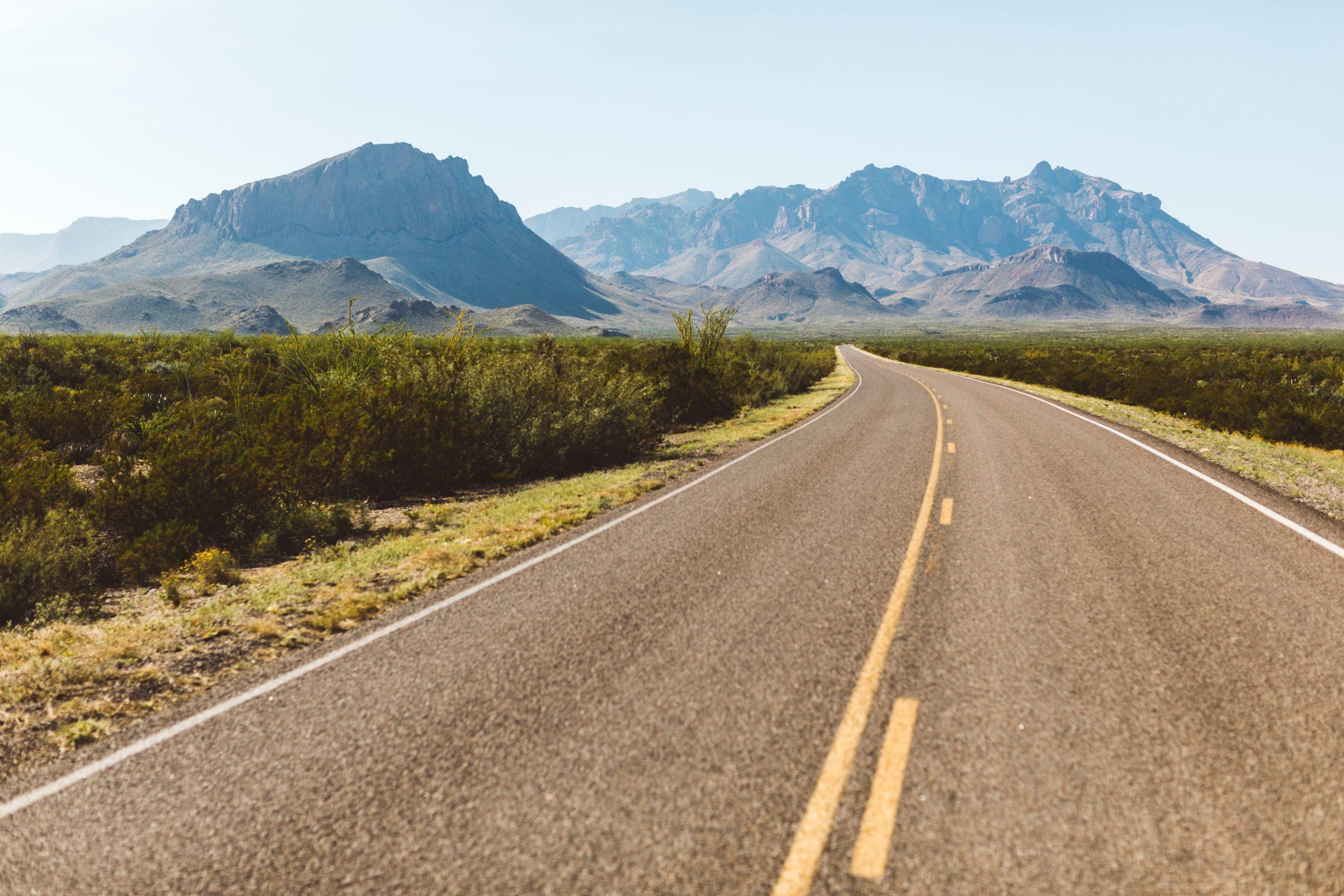 1. Hint, Everything's Bigger: State-wide population trends in Texas
With almost 4 million new residents from 2010-2020, Texas's growth is astronomical.
Today, it has right around 30 million residents, making it the second-most populous state in the country behind California, and it's still growing. In one of the latest U.S. Census Bureau reports, Texas was home to five of the top 10 largest-gaining counties in 2021.
Collin, Fort Bend, Williamson, Denton, and Montgomery counties together gained nearly 150K new residents for the state of Texas in one year alone.
The state is also home to four of the top 10 largest-gaining metro areas:
Steady growth in Texas poised to overtake the population booms in California and Florida
How does Texas compare to some of the other large and growing states?
If we look at the state with the highest overall population, California, it's clear that Texas has a ways to go. Texas needs to add another 10 million residents before it will catch up to the Golden State's nearly 40 million. 
Even still, California's growth is slowing down. From 4 million (in the 2000s) to 3.3 million (2010s), with the latest Census reports finding a population increase of 2.28 million.
The Lone Star State on the other hand saw the biggest increase of all states in the nation according to this latest Census report, with nearly 4 million in population growth.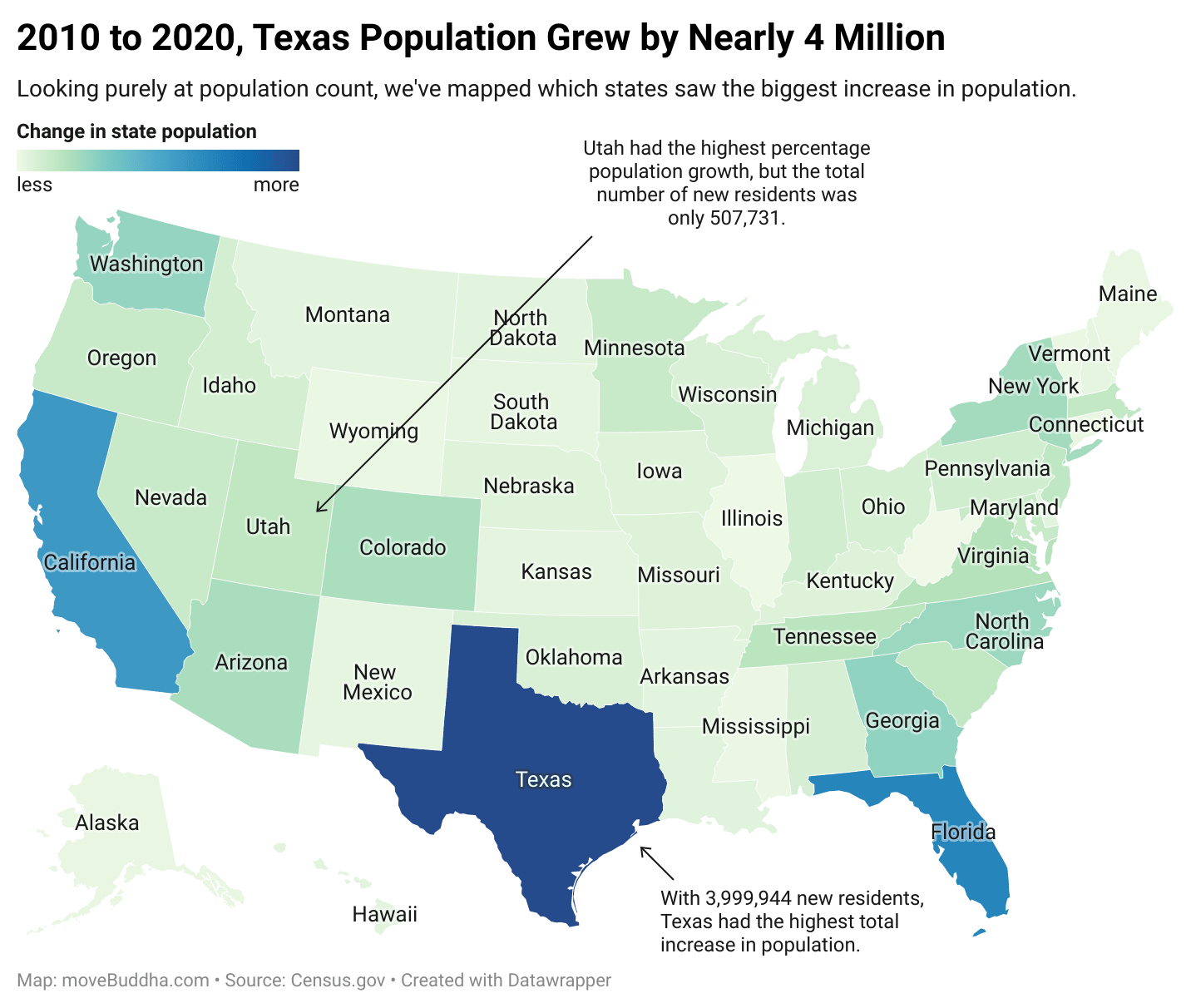 It's worth noting that California owes much of its current size to various booms such as the tech boom in the 1990s (which led to a rapid six-million population increase). But in more recent years, this growth has dramatically slowed.

And, while Texas hasn't had any "booms" like California and Florida (besides maybe a slight oil rush in the 80s), Census data shows that since the start of the 21st century, Texas has maintained a higher positive percentage growth than either Florida or California.
Texas Dreamin': Californians are Powering Texan Growth
We know that Texas is growing. So, we have to discuss what is fueling this population influx.
Some of it can be explained, funnily enough, by just how many are moving out of California and into Texas. 
Actually, Californians are moving to Texas more than any other state, even in 2022.
Of all queries for moves to Texas from other states in the first half of 2022, 24% are from Californians. 
The 4 states next in line don't even collectively outdo California's inflow with a combined 22% of the moving-to-Texas-pie divided between them. Even still, with substantial numbers of moves in, Washington, Florida, Illinois, and New York are worth keeping in mind. In 2019 Texas population growth was over 500K and the U.S. Census estimates 300K in growth from 2020 to 2021. So, even if we assume a modest 200K inflow into Texas that's about 10,000 from each of these 4 runner-up states. 
| | |
| --- | --- |
| State | % of Inflow |
| California | 24.1% |
| Washington | 6.3% |
| Florida | 6.1% |
| Illinois | 5.1% |
| New York | 4.5% |
Inflow from California in could be motivated by those looking to establish themselves where the cost of living is lower and
home prices are more affordable
. Some are also following the jobs, as many companies have had the same idea – flocking to Texas to take advantage of its relatively
lower taxes and fewer regulations
.
Our 2022 state-to-state migration survey found that 14% of Californians are considering an out-of-state move, while only 5% of Texas are considering exiting the state.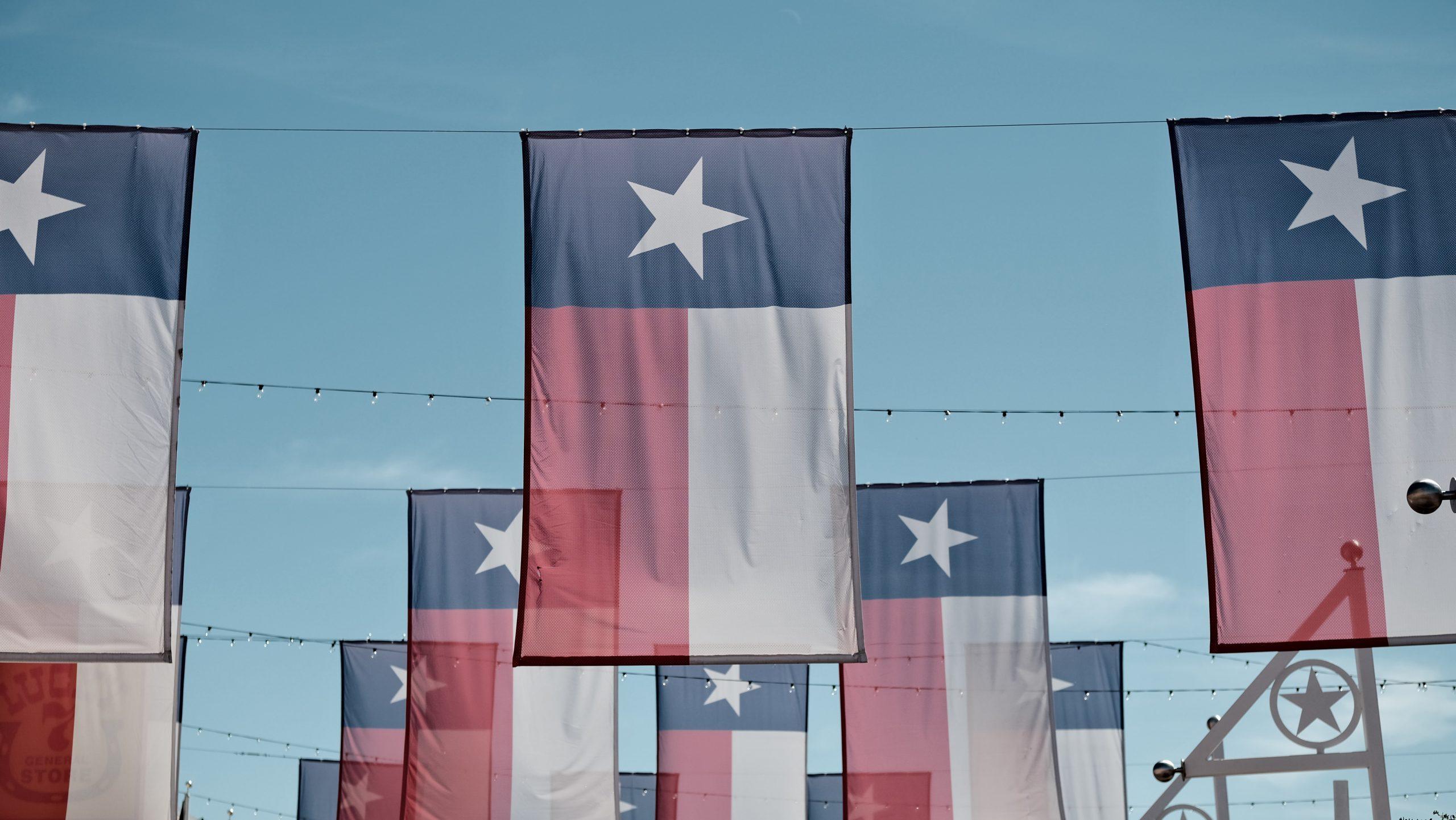 2. Texas Gains: Where are people moving to in Texas? 
It's pretty clear that people are moving to Texas.

So, where have they been moving the most, and which cities are especially popular in 2022?

We dug into our own moveBuddha to find out. 
Most popular cities in Texas to move to in 2022
Examining queries for all moves into and out of Texas cities for the first half of 2022 (January 1 to July 5) we can shine a light on which cities are especially popular to move to this year. 
Using an in-to-out ratio of inflow divided by outflow, we see which cities attract higher proportions of searches for inbound moves than out. If there is an even flow in and out, the ratio sits at a neutral "1:1" ratio, a ratio higher than "1" indicates inflow, and anything lower than "1" means more outflow.
Here are the top Texas cities, most popular to move to in 2022. We also included those for which the inverse is true.
Surge Cities: Leander, Fort Worth, and McKinney were popular Texas cities in 2021
In order to understand which Texas cities surged in popularity in 2021, we compared the net inflow ratio from year to year.
Leander came in at the top with the highest popularity increase, while Fort Worth and McKinney followed in second and third place, respectively.
At the bottom of the list, Round Rock experienced the largest decline in the ratio change from 2020 to 2021, with Frisco and Cedar Park close behind.
It's important to note that while Round Rock continues to see inflow, it's at a much slower rate than the year before. The city saw about 320 inbound moves for every 100 out in 2020, and that rate dropped by 103.6% in 2021 to 220 moves in for every 100 out.
| | | | |
| --- | --- | --- | --- |
| City | 2020 In-to-Out | 2021 In-to-Out | YoY % Change |
| Leander | 220 to 100 | 350 to 100 | +128.6% |
| Fort Worth | 132 to 100 | 203 to 100 | +70.9% |
| McKinney | 132 to 100 | 195 to 100 | +62.6% |
| Cedar Park | 214 to 100 | 168 to 100 | -45.2% |
| Frisco | 291 to 100 | 244 to 100 | -46.5% |
| Round Rock | 318 to 100 | 215 to 100 | -103.6% |
Unsurprisingly, most of the cities experiencing increased growth rates in 2021 are located in or near major metropolitan areas. Sugar Land, Katy, and Humble all are on the outskirts of Houston, while Leander is a rising area just 25 miles northwest of downtown Austin.
But cities like Houston and Austin steadily lose residents to surrounding areas. For example, the population center of Harris County has completely shifted from Houston's historic center to its suburbs. In 2020, 118% more people lived in the metro area outside of Houston's city limits than they did in 2000.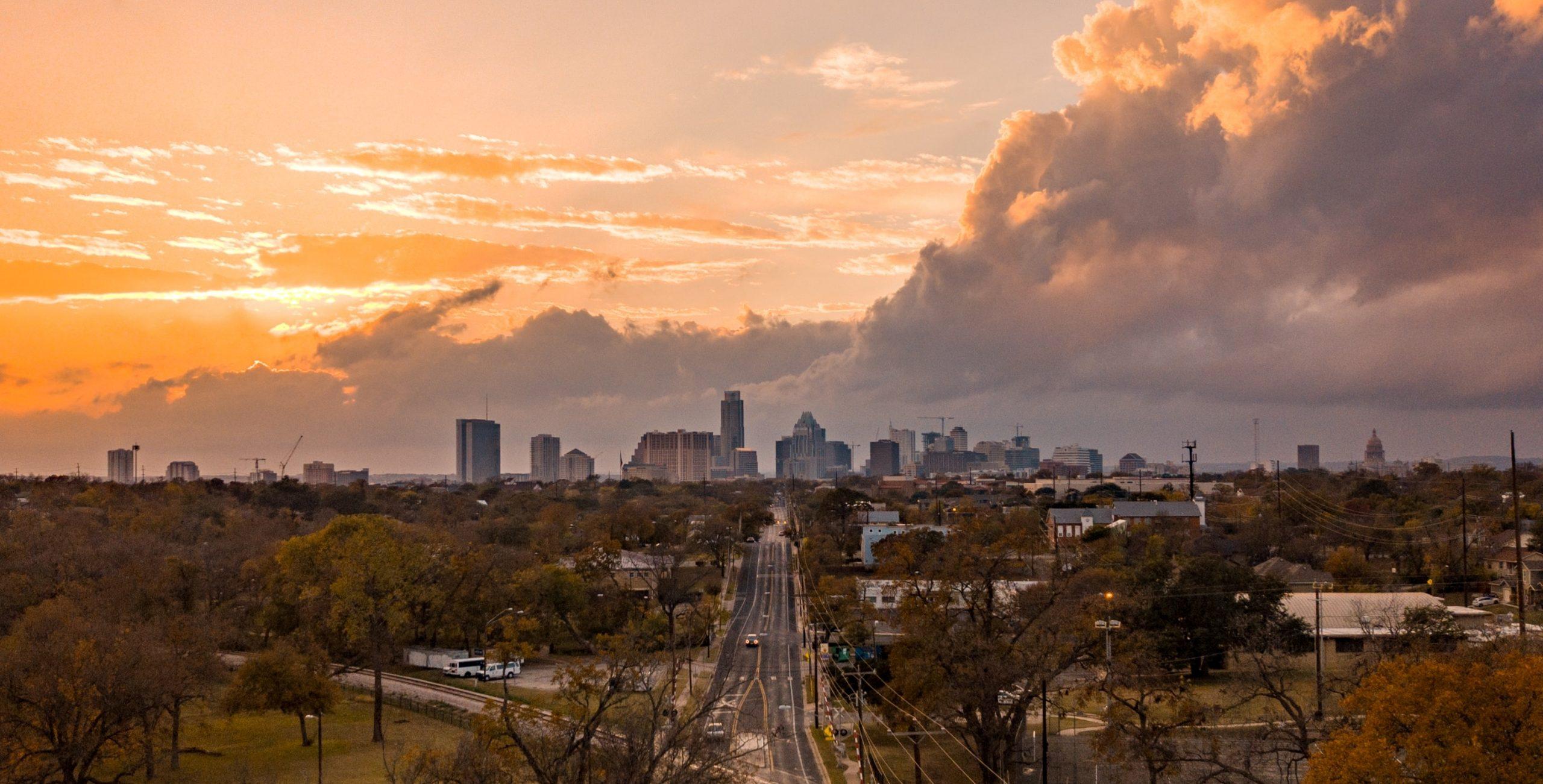 3. Texas-Size Growth: Fastest Growing Texas Metros, Cities, and Towns
So far we've looked at the Texas cities that are experiencing the most recent and relative growth across the state according to moveBuddha data.
To get a more comprehensive picture, we expanded our analysis to uncover the Texas cities that saw the most growth from 2010 to 2020 (using Census data). We divided the cities into five categories grouped by population size:
Metropolitan cities: 250K+
Large cities: 100-250K
Mid-size cities: 50K-100K
Small cities: 10K-50K
Towns: Less than 10K
Here we've mapped all the fastest growth in the state from 2010 to 2020:
Fast growth often includes skyrocketing home prices. So we've also included details about typical home values (using Zillow's Home Value Index — ZHVI) to understand how prices have fluctuated over time and details about the local median household income to see which cities offer homebuyers a better bargain.
Examining population data from 2010, 2020, and Zillow home values across this period to as recent as March 2022, we found a few trends:
Excluding metros, Dallas cities dominate this past decade's fast growth with 16 cities popping up. These DFW-area cities offer homes that are on average valued at $501K, from high-value Prosper's homes at $774K to the little town of Josephine's more affordable $303K. 
Central Texas: 13 of the fastest growing are scattered in the Texas Triangle. Those around Austin specifically experienced the highest increases in home values from 2020 to March 2022, an average of 72% across 10 cities. That equates to Austin-area homes that cost on average about $240K more in 2022 than they did in 2020 at an average value of $533K. 
Comparatively, Houston and San Antonio offer much more affordable area homes. The lowest value homes are located primarily in the west and southern parts of the state, El Paso ($188K), Laredo ($190K), and Odessa ($197K). 
Metropolitan cities: Modest growth yet surprisingly affordable homes
According to Census data, here is how the population growth has been distributed across Texas' largest metropolitan areas (250K+) from 2010 to 2020.
Of the metropolitan cities, Fort Worth (25%), Austin (24%), and San Antonio (18%) saw the most growth from 2010 to 2020. Typical area homes across all metropolitan areas over this period saw an average 57% jump in home prices, with an additional average increase of 37% over the last two years. 
Can we still call Austin affordable? Defying the average mentioned above, in the Capitol city home values leaped, +81% from 2010 to 2020! The city has seen a rapid rise in population - an average of 180 new residents moved into Austin every day in 2020. Many of the newcomers are following a surge in startup and venture endeavors settling in Austin. According to PitchBook, VC investors in 2021 funneled 5.5 billion to Austin-based startups. So it may be less surprising that average Austin homes have gone from $238K in 2010 to $431K in 2020 and the latest March 2022 price is $702K! 
The second most expensive for homes is Plano, where a typical home is about $516K. But this business hub also boasts the highest median income at $102K, $20K more than Austin. Plano provides a highly educated workforce that serves major employers like JPMorgan Chase, PepsiCo, Samsung Electronics, Toyota, and many more. 

Of the three fastest-growing metros, San Antonio — Texas' second-largest city — offers the most bang for your buck, with prices for a typical home in March 2022 at $290K.
Fast-growing Fort Worth homes are priced around $311K, while Dallas is $326K and Plano climbs up even higher for typical homes at $516K. 
Large cities: Urban spill feeding large-city growth
As a whole, large Texas cities (100-250K population size) experienced on average nearly twice the population growth rates (31% average growth across all 10 cities) from 2010 to 2020 as the metropolitan areas (14% average growth across all 9 metros).
Goin' to the big D's suburbs: 4 Dallas suburbs lead large-city growth. Of the fastest-growing large cities, those experiencing the most growth are primarily situated around the DFW metropolitan area, including Frisco, McKinney, Denton, and Carrollton. In fact, Dallas suburb Frisco's population saw a 79% increase between 2010 and 2020.
Round Rock: Itself a suburb of Austin, a decade ago finding a home in Round Rock under $200K was a breeze — the average typical home in 2010 was valued at $197K in 2010. Compare that to March 2022's ZHVI a reported $553K.

Larger purchasing power: While cities in this category are slightly on average more expensive than the larger metro cities, it's important to note that the top four have median incomes well above the four fastest-growing metropolitan cities. This translates to a lower income to housing cost ratio in the four fastest-growing large cities. 
Mid-size cities: Big city access without the big prices
Mid-size cities, with populations of 50,000 to 100,000 can offer the best of both city living and an escape from metropolitan chaos. These are the mid-size Texas cities that saw the most growth in the last decade.
Perfectly positioned New Braunfels: Topping the mid-size city list with a 66% rise in population is a fast-growing German immigrant settled city right at the heart of the Austin-San Antonio Corridor. Likely contributing to the growth, New Braunfels boasts a strong job market, with employment projected to rise 17% by 2025. While the median income here is higher than the national and state average, housing costs are on the rise.
Conroe, Houston-area's best-kept secret? Nature abounds in this lakeside city located about 40 miles north of Houston. It's the second-fastest growing city in this category, having grown 47% from 2010 to 2020. Conroe also offers relatively affordable housing, with a typical area home running around $317K. With a median income of $85,348 (well above both the national and state median) the low ratio of income to home price means that you'll have more buying power.
Unexpected boomtowns, College Station and Odessa: Far from any major metropolitan areas these two cities saw growth rates that landed them in the top 10.
Odessa is strategically positioned in the Permian Basin, an area rich in petroleum and natural gas. Recent, large production of gas and oil in the region has boosted the economy and attracted workers from across the country.
While College Station, aptly named thanks to long-time residing Texas A&M, is right at the center of the Texas Triangle, which contains 5 of the largest cities in the state. It's much more than just a college town, with Forbes ranking College Station number two in its Best Small Places for Business and Careers in 2019.
Small cities: Explosive growth 
Moving down in population size but up in growth and affordability, we come to Texas' small cities, which started 2010 with populations between 10,000 and 50,000.
Not so small anymore: Leander, Little Elm, Kyle, Georgetown, Farmers Branch: Five of the ten small cities we looked at actually grew past the 50K threshold, with the largest, Georgetown, coming in at a population of 85,538 in 2020.
Skyrocketing home prices in Williamson County, no slowdown in sight. The fastest-growing small city from 2010 to 2020 is located in the county, the once-rural #1 Leander. Back in 2010 home prices in Leander were about $198K. From that price, 2020 saw a 55% jump while today's typical homes are a +178% jump from 2010 prices, up to $550K (March 2022). Hutto and Georgetown, also located in Williamson, have seen price increases on par with those in Leander. 
Compared to Austin's Travis County, the real estate market is still more affordable in Williamson County despite a 42% increase cost in homes over the past year. That said, there's no slow down in sight. For instance, a new Samsung semiconductor fabrication facility in Taylor is estimated to bring around 2,000 jobs to the county by the time it's operational in 2024. (Surrounding small towns like Thrall, Thorndale, Granger, Circleville, and Coupland could potentially see massive growth in the years to come.)
DFW's fast-growing small towns, Little Elm and Forney: Second-fastest growing small town is Little Elm, a lakeside suburban city north of Dallas. The "Antique Capital of Texas," Forney, comes in at 3rd and is located just east of DFW. 
Towns: Tiny but mighty popular
Towns that started out in 2010 with small communities of less than 10K have collectively experienced the most growth. 
Populations in these tiny towns shot up between 170% to 1,368% from 2010 to 2020. 
From 1,167 to 17,136: Houston-area #1 fast-growing town Fulshear saw the greatest increase in population across the decade. 

Four other cities also surpassed a population of 10,000 from 2010 to 2020. Of these, Celina, Melissa, and Prosper are all located in Collin County, in the Dallas-Fort Worth metropolitan area. While the 4th, Manor, is 15 miles from Austin's downtown.
This category is also exceptional in that it is the only one in which every town has a median income above the national and state median – five boast incomes over $100K. But in almost every case, high incomes haven't been enough to offset the huge home price increases.
Josephine won't break your pocketbook. Along with remarkable population growth, the home prices are the most affordable of all these tiny towns at $303K as of March 2022 according to Zillow, pair that knowledge with the fact that area median incomes are around $101,560. Plus, it's just 40 miles from Dallas with a nearly direct route via I-30 West.
The Texas of the future
Nearly all of the explosive growth that the state has experienced over the last decade has taken place in metro areas, which grew 18% compared to less than 1% in rural areas. 
New residents will find that many of the smaller cities and towns just outside of the large metro areas provide access to everything the big cities have to offer at a more affordable cost of living.
For those looking to make Texas their new home, the state has a lot to offer. Economically and culturally strong urban centers. A growing and diverse population. Low taxes and a business-friendly environment. And yes, even wide open spaces for those looking to get away from it all.
Planning a move to Texas
If you've got a TX move on the horizon, these pages will help you:
Best Texas Movers Pretty straight forward, we looked at hundreds of movers across the state and these are the best ones in Texas.
Find your Texas moving route Want detailed help for your move? Pick where you're moving to and from in Texas, and we'll help you find out costs and movers
Sources and Methodology
This report primarily uses a combination of U.S. Census Bureau data and moveBuddha proprietary data. For understanding the cost of area homes we use Zillow's Home Value Index and for rent data we referred to RentData.org.
moveBuddha proprietary data:
2022 State-to-State: We looked at queries for moves from all states outside of Texas looking to move to Texas. Queries for this analysis were collected at moveBuddha.com from January 1 to July 5, 2022. 
2022 most popular cities in Texas to move to, in-to-out raio: We compared inflow and outflow of cities across Texas by dividing the number of queries for moves into the city by the number of queries for moves out. This gave us an in-to-out ratio for each city. Cities with ratios higher than 1 saw higher inflow, and ratios falling below 1 saw higher outflow. Queries for this analysis were collected at moveBuddha.com from January 1 to July 5, 2022. For city-level analysis, we only included cities with a minimum of 25 inbound queries and 25 outbound queries.
2021 "Surge Cities" in Texas: Using the in-to-out ratio for Texas cities collected in 2020 and 2021, we compared the change in ratio from year to year to understand which cities were experiencing significantly higher (or lower) inflow in 2021 than in 2020. More information about our 2020 to 2021 move data can be found in our end of the year Migration Report.
U.S. Census Bureau — population, median income, historical population data:
Historical population totals, April 1, 2010 to July 1, 2020. To understand the methodology for devising these population estimates, please refer to the official methodology for total resident population estimates. 
The median income is provided at the county level. 

Zillow — Zillow Home Value Index city data:

The Zillow Home Value Index or ZHVI provides us with the typical home value within each city at a given period of time. 

RentData.org — Fair Market Rent 2021
To understand the cost of rent for each city, we've included RentData.org's Fair Market Rent data for 2021. It's important to note that this is the 40th-percentile of rent prices, so will reflect prices slightly below average. 
Not what you were looking for?
Check out other categories that can help you find the information you need!