Follow Me to Tennessee: The moveBuddha 2021-2022 Tennessee Migration Report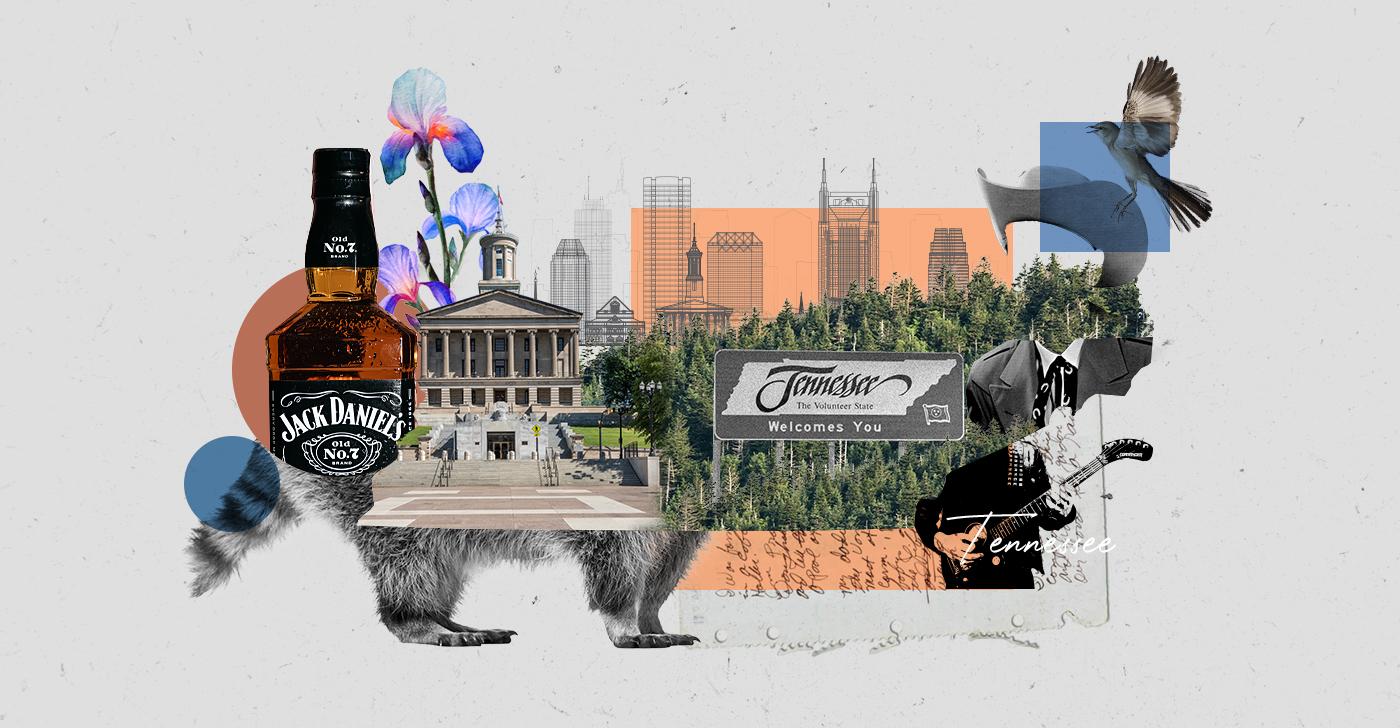 If you ask the average person what they know about Tennessee, their response will likely involve either music – country, blues, Dolly Parton – or food – hot chicken, Memphis-style barbecue, Jack Daniels whiskey. And while these are all worthwhile pursuits, they hardly scratch the surface of what the Volunteer State offers for those interested in a move to Tennessee.
With a strong job market and the eighth-lowest cost of living in the U.S., more and more people are discovering that there's more to Tennessee than music and food. 
Thanks to the state's affordability, small tax burden, and mild weather, Tennessee is particularly attractive for those looking to retire and was recently named the third best state for retirees.
But it's not just seniors flocking to this landlocked southern state. According to 2020 Census data, while most racial and ethnic groups have grown in size since 2010, the largest gain was among people who reported themselves as "Hispanic or Latino" and those identifying as being of "Two or More Races." These accounted for a combined 65% of the state's growth over the past decade.
We wanted to know where all these newcomers are settling and how this influx has affected Tennessee's cities, so we analyzed the overall population trends impacting growth across the state. In this report, we share our findings of the most popular areas for inbound moves in 2022 and also highlight growth from the 2010 to 2020 census to uncover the fastest-growing small, mid-size, and large Tennessee cities.
Table of Contents:
1. Moving to Tennessee: Statewide trends from the last decade and into 2022
2. 2022 Forecast: Which cities are the most popular to move to in 2022?
3. Fast-growth Cities: Which cities are growing fastest according to Census data?
4. Sources and Methodology
Big Takeaways:
In 2022, everyone's moving East to #1 Chattanooga(300 moves in for every 100 out) and #2 Johnson City (273 moves in for every 100 out), the top two with the highest ratio of inflow (to outflow). According to Zillow, average area homes are valued well below $300K in both of these cities! Other cities attracting moves: #3 Knoxville & Nashville (tied), and #5 Brentwood. Meanwhile, Memphis sees more exits than moves in.
Tennessee's Popularity is on the Rise: The Volunteer State was #8th for increased popularity from 2020 to 2021. Our end-of-the-year migration report found a +14.2% increase in move interest according to the statewide analysis of in-to-out ratios from year to year.
In 2022, Californians (22%) dominate inflow into Tennessee, followed by Florida (8%), Texas (5%), Illinois (5%), and Colorado (4%).
Mid-size conundrum: Housing costs are up while median incomes are stagnant in fast-growing mid-size cities surrounding the Nashville metro.
Just south of Nashville, Williamson County's local economy boosts household incomes and keeps homebuying a viable option for locals.  For instance, in WilCo's fast-growing small town of Fairview, the ratio of home value to median income puts affordability on par with Chattanooga.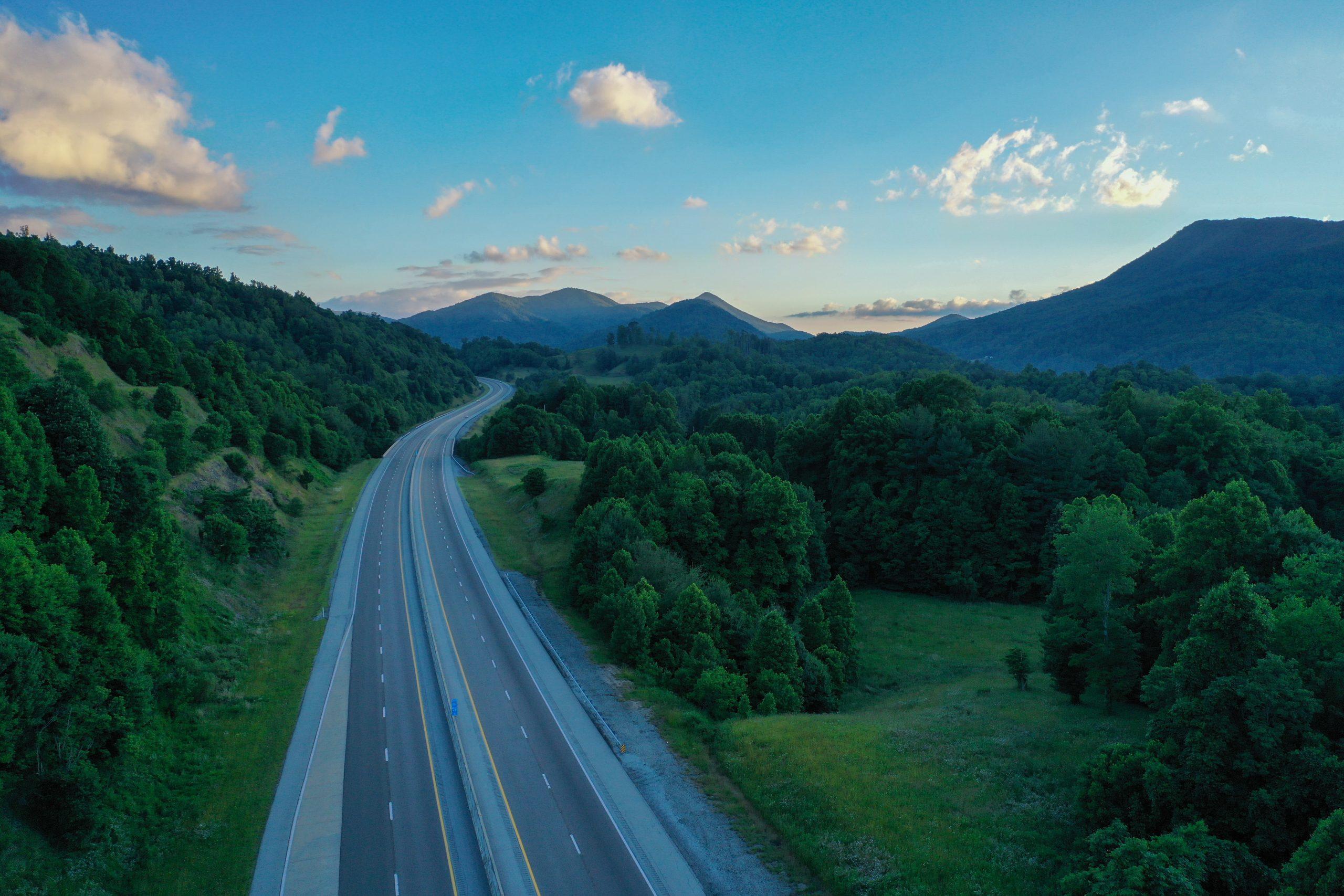 1. Moving to Tennessee: Moving up the (population) charts thanks to moves into the Volunteer State
According to the latest U.S. Census data, the population of Tennessee grew nearly 9% over the past decade, reaching 6,910,840 in 2020. This gain of 564,735 people bumps it up from the 17th to the 16th most populous state in the nation.
And that upward trend is continuing, with the latest Census population estimates showing that the state added another 55,099 residents from 2020 to 2021.
We also found in our State-to-State Migration Report that Tennessee had the eighth highest percentage change of inbound to outbound moves (+14.2%) from 2020 to 2021.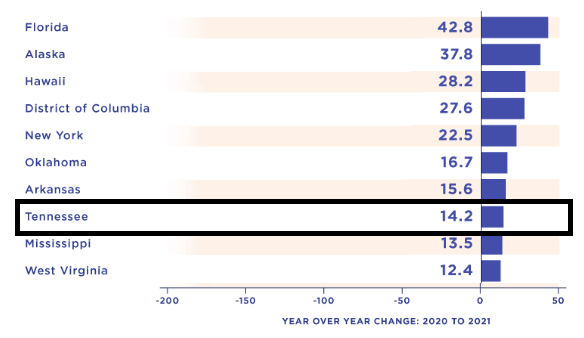 So where are all those new Tennesseans moving to?
Crossing the 2-million threshold: The Nashville-Davidson-Murfreesboro-Franklin MSA is seeing the most growth, adding 17,133 residents between 2020 and 2021 for a total population of 2,012,476. Compared to other fast-growing cities across the country, Nashville had the third-highest increase in residents from January 2021 through March 2022. With its vibrant music, food, and entertainment scene, it's easy to see why the Music City is a draw for out-of-staters looking for a change of scenery. 
Plus, the lifestyle Tennessee offers is a popular reason newcomers cite for their move. For instance, the business-friendly regulations, low cost of living, political climate, and access to the outdoors.
1 in 5 inbound searches for moves to Tennessee are from California 
Our 2022 data shows that California is the largest contributor to Tennessee's population increase.
Nearly a quarter (22.14%) of all search queries for moves into Tennessee are from the Golden State. The next largest contributors are Florida (8.12%), Texas (5.40%), Illinois (5.34%), and Colorado (4.03%).
With home prices already high and continuing to rise in the West, it's a no-brainer that Californians are flocking to places like Tennessee, where the average price of a house is about half the cost. According to our California Migration Report, moves out of California and into Tennessee make up a higher proportion than those into neighboring Arizona.
Tennessee also boasts some of the lowest property taxes in the U.S. – about half the national average – and no individual income tax. This is especially attractive for those coming from California and Illinois, both in the top ten for the highest state income tax.
While the tax environment in Florida and Colorado is comparable to and even slightly better than in Tennessee, the Volunteer State wins in the cost of living category. Florida has also experienced a surge in popularity for inbound moves (check out our Florida Migration Report), but the cost of living index in the Sunshine State is 100.3, while in Tennessee, it is 89. Greater still is the difference when we look at Colorado, where the cost of living index is 105.3. 
2. 2022 Forecast: Movers head east to Tennessee's spectacular nature
We compare population inflow to outflow for a different view of growth. This shows us how many more people are moving into an area than out and often sheds light on which cities are particularly popular with movers.
To get insights into where people are planning to move in 2022, we have gathered our latest moveBuddha search data (January 1 to May 4). The actual planned move dates span from early January to the end of the year.
Using an in-to-out ratio of net inflow divided by net outflow, we can see which cities attract more inbound moves than out.
Here are the Tennessee cities to keep an eye on:
Rank
(Higher Inflow
than outflow)
City
2022
In-to-Out
1
Chattanooga
306 to 100
2
Johnson City
273 to 100
3
Knoxville
181 to 100
3
Nashville
181 to 100
5
Brentwood
166 to 100
6
Cleveland
148 to 100
7
Clarksville
143 to 100
8
Spring Hill
140 to 100
9
Mount Juliet
137 to 100
10
Franklin
122 to 100
11
Murfreesboro
118 to 100
12
Hendersonville
105 to 100
13
Lebanon
103 to 100
14
Gallatin
89 to 100
15
Antioch
81 to 100
16
Memphis
77 to 100
(For our analysis, we only include cities with a minimum of 25 inbound queries and 25 outbound queries, which narrows our list down to 16 cities across just over 4K queries.)
(East) Tennesse Mountain Home; where affordability reigns
With its access to outdoor recreational activities, an abundance of historical sites, and low cost of living, it's no wonder that people are making the move to #1 Chattanooga, with 306 moves in for every 100 out. Even better, the average area home value is about $278K, according to Zillow.
Another popular spot for both outdoor enthusiasts and retirees is #2 Johnson City in Eastern Tennessee. Dubbed "Little Chicago" due to its alleged history as a stopover point and hideout in the 1920s for infamous gangster Al Capone, well-situated Johnson City provides just as fine a home base today for those looking to explore the Appalachians or those looking to buy a home. Area homes are over $100K more affordable than the U.S. average home, at $233.8K!
Nash vs. Knox and Brentwood too
Friendly competition between the villes: Tying for third place are Tennessee's first and third largest cities of Nashville and Knoxville. These two are known to engage in a little friendly competition every now and then (and we don't just mean the Tennessee–Vanderbilt football rivalry). While Nashville holds the current title of state capital (Knoxville was the original) and has a larger population than its rival to the East, Knoxville is enjoying just as much inbound traffic as its big sister.
Brentwood, Nashville's idyllic neighborhood to move to in 2022: Rounding out the top five most popular cities to move to is affluent Nashville suburb #5 Brentwood. The historic city boasts luxury homes and some of the best schools in the state. So, it's easy to see why this is a popular place to put down roots.
Walking out of Memphis: More outbound moves than in
On the other end of the spectrum, Tennessee's second-largest city, Memphis, has seen a sustained period of more outbound than inbound traffic. The latest Census data reveals that three different Memphis zip codes lost over 20% of their residents between 2010 and 2020. Much of this attrition has been attributed to problems with blight and crime, but defenders of Memphis also say that the city has a perception problem.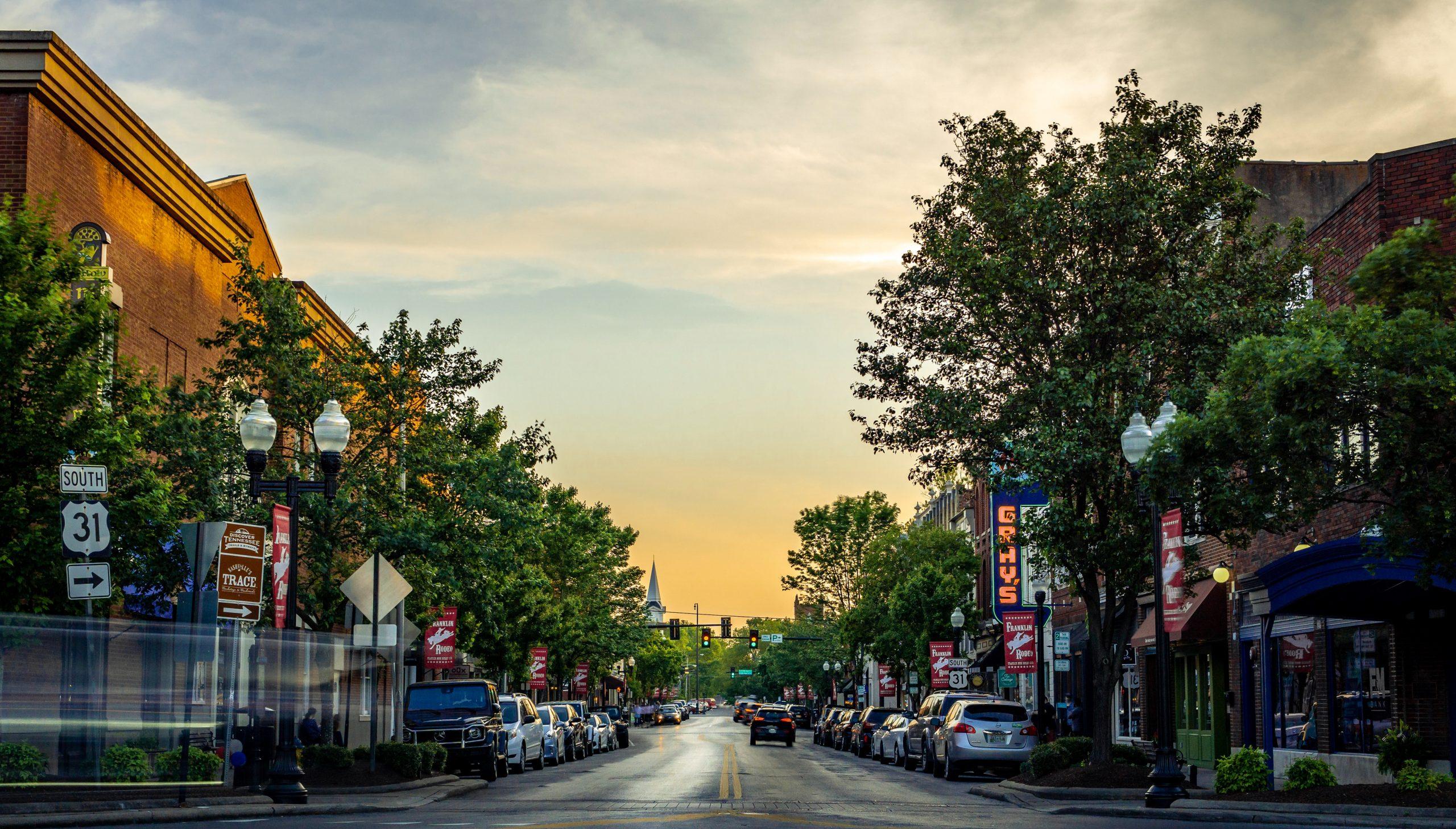 3. Fast-Growth Cities of the Past Decade
To highlight historical trends over the last ten years and cast a wider net across the state, we expanded our analysis to include vintage U.S. Census data. This allows us to feature a wider range of cities experiencing growth from 2010 to 2020.
We divided Tennessee cities into three categories based on population size to compare similar cities and look for standout performers. This allows us to go beyond those experiencing the biggest percentage increases in population (often the smallest cities) and beyond pure numeric growth (often just the largest). Our three category splits are as follows:
Large: 100K+
Mid-size: 10K-100K
Small: <10K
Using percentage growth as a measure, we found the top fastest-growing cities in the past decade.
Here are the top cities in each category, mapped (you can hover over each spot for more details):
Patterns we noticed:
The fastest-growing city in each category is within Nashville's orb: Murfreesboro (large, 35mi), Spring Hill (mid-size, 35.8mi), and Thompson's Station (small, 31.2 mi).
The locales with the highest jump in home prices over the past decade are Eagleville (79%), Nashville (77%), and Columbia (75%).
Franklin home prices have risen 59%, bringing the average area home value to $886K, making Franklin the #1 most expensive for homebuying across all categories of fast-growth cities.
The most affordable fast-growing large city for home buying is Chattanooga, which has experienced comparatively lower population growth (8.5% rate) but has the least expensive average home price in its category at $280K.
Mid-sized fast-growth cities have the fastest climbing area home costs while median incomes are stuck. The one exception is Franklin, whose median income is just below $100K annually. Compare that to the other nine mid-size cities where the median income is about half of that at $50K.
Williamson County's local economy boosts household incomes and keeps homebuying a viable option for locals.  For instance, in WilCo's fast-growing small town of Fairview, the ratio of home value to median income puts affordability on par with Chattanooga.  
Large Cities: Central Tennessee's Population is Soaring. So Are Home Prices
While all of Tennessee's large cities experienced growth from 2010 to 2020, Murfreesboro and Clarksville come in at the number one and two spots with population growth rates of 38.2% and 21.4%, respectively.
A boom in the Boro: Fast-growing Murfreesboro saw the #1 highest percentage population growth from 2010 to 2020. The city has committed to prioritizing investment in affordable housing, infrastructure, and economic development – including a $350 million, 260-acre multi-use sports and entertainment complex – to help handle its rapid growth.
The city's median homes run around $399,772, but comparing that to its below-average median income of $45,374 actually makes it less affordable relative to Nashville. 
Music City is more affordable than you'd think: The highest percentage jump in home prices over the past decade (2010 to 2020) is in #3 Nashville which saw a 77% increase in home values. Median homes here run about $466,704 (as of June 2022), the highest price tag of all the fast-growth large cities. Yet, the median income of $71,659 is well above the state median and the highest of Tennessee's large cities making it more affordable than Murfreesboro and on par with #2, Clarksville, where homes run around $296,503 and the county median income is $45,871, nearly $10K less than the state median.
Chattanooga, steady growth + affordable homes: The last decade saw comparatively lower population growth (8.5% rate) but as of March '22 this large city had the least expensive average home prices in its category at $259,980. And newer June '22 data shows home values are climbing but still under the $300K mark: $280,198.
The city is attracting remote workers, replacing old factories with new luxury developments, and tops moveBuddha's list of popular cities to move to for 2022! 
Mid-size Cities: Nashville Spillover Driving Suburban Growth and Home Prices Increases
On average, Tennessee's mid-size cities experienced more growth over the last decade than their larger counterparts, with Nashville-adjacent cities Spring Hill (58.56%) and Mount Juliet (55.45%) enjoying the highest rates.
Welcome to Music City's suburbia: The top seven fastest-growing mid-size cities are each located within 30 miles of Nashville.
The #1 fastest-growing mid-size city Spring Hill was also the tenth fastest-growing city in the nation between 2020 and 2021. This upswing has been underway since 1990 when a General Motors plant opened and led to a surge in Spring Hill's then-population of just 1,464. That number exploded all the way up to 53,339 in 2021. We don't anticipate a slowdown, considering the news of a new $2.3 billion vehicle battery cell plant coming in that will create 1,300 new jobs once construction is complete in 2023.
With this growth and proximity to the major metro area has come the dreaded but expected uptick in home prices. In fact, this category experienced the highest increase in home median prices on average over both the 2010-2020 and 2020-2022 periods. The rise in housing prices is especially painful given that, with the exception of Franklin, every mid-size city has a median income below the state average.
To be reckoned with, Franklin's job force: For the higher median income of $94,748 across Williamson County, Franklin can thank the local job market. 23% of the county's jobs are in professional, scientific, and technical services – higher than the national rate of 14%. But it's not all good news for Franklinites, as the city has experienced the highest increase in median home prices over the past two years (+55%) and has the most expensive median price of all the cities we analyzed at $886,098 (June 2022). 
Small Cities: Cities under 10,000 Near Metro Areas See Major Growth
Tennessee's small cities underwent the highest rates of overall growth this past decade, with #1 Thompson's Station at an impressive rate of 217.53%. Other big gains occurred in Nolensville (86.84%) and Rossville (53.33%).
Three cities surpassed the 10,000 "small city" threshold in 2020: #2 Nolensville, #5 Collegedale, and #9 Alcoa.
Small towns in urban areas: Four of the fastest-growing small cities are located within the Nashville metro area. Another three are in the Memphis metro, while the Chattanooga and Knoxville metros have one each.
It's safe to infer that much of the growth in the small cities attached to metro areas is due to spillover from their bigger neighbors.
But what explains the population expansion in #7 Algood? Located in rural Putnam County, it's the only small city not in the radius of a major metro.
It's good to be in Algood: First of all, Algood is part of what's considered the Cookeville micropolitan area — a small urban cluster that functions as a regional economic hub. In fact, Algood has an ideal location, practically equidistance to the state's major cities: Knoxville (100 miles east), Chattanooga (100 miles south), and Nashville (85 miles west).
What's more, Algood has the lowest median home price across all the fast-growth cities analyzed, at just $239,833 as of June 2022.
Nashville's Southern small towns: Williamson County is home to #1 Thompson's Station and #2 Nolensville. Home prices are on the higher end – $729,926 in Thompson's Station and $786,860 in Nolensville (as of June 2022) – but the county boasts high median incomes of $94,748.
Most affordable small town award goes to: Oakland, with median home prices at $298,485 (June 2022) and incomes that are slightly above the state median; this Memphis neighbor provides residents big city access but the low cost of small city living. Bonus, the city also has one of the lowest total property tax rates in the state.
Rocky Top, Tennessee
Tennessee is a siren call for a growing and diverse number of people, like those chasing the great outdoors, the best barbecue, an early retirement, and dare we say, the American dream of actually being able to afford a home.
Though Tennesseans enjoy relatively affordable housing and a low cost of living, real estate prices are creeping up. With a continued influx of wealthy West Coasters – 45.82% of people moving to Tennessee make $150,000+ annually – it remains to be seen whether the state will continue to remain affordable for those already making it their home.
For those in it for the long haul, we'd like to raise a rousing rendition of the Osborne Brothers' classic:
Rocky Top, you'll always be
Home sweet home to me
Good ol' Rocky Top
Rocky Top, Tennessee
Planning a move to Tennessee
If you've got a TN move on the horizon, these pages will help you:
Best Tennessee Movers Pretty straight forward, we looked at hundreds of movers across the state and these are the best ones in Tennessee.
Find your local Tennessee route Want detailed help for your move? Pick where you're moving to and from in Tennessee, and we'll help you find out costs and movers
4. Sources and Methodology
This report primarily uses a combination of U.S. Census Bureau data and moveBuddha proprietary data. For understanding the cost of area homes we use Zillow's Home Value Index and for rent data, we referred to F.Y. 2022 Fair Market Rent.
moveBuddha proprietary data
Data collected from January 1, 2022 through May 4, 2022  capturing searches by individuals who were either planning to move or hire a moving company.
We only included cities with a minimum of 25 inbound queries and 25 outbound queries for city-level analysis.
More information about our move data can be found in our Migration Report.
U.S. Census Bureau — population, median income, historical population data
Historical population totals, April 1, 2010 to July 1, 2020. Please refer to the official methodology for total resident population estimates to understand the methods for devising these estimates.
The median income is provided at the county level.
Zillow — Zillow Home Value Index city data
The Zillow Home Value Index or ZHVI provides us with the typical home value within each city at a given period.
Tennessee rent prices - F.Y. Tennessee 2022 Fair Market Rent
To understand the cost of rent in the fast-growth cities, we've included Tennessee 2022 Housing Data HUD Fair Market Rent for 2 Bedrooms. It's important to note that this is the 40th percentile of rent prices, so will reflect prices slightly below average.
Not what you were looking for?
Check out other categories that can help you find the information you need!
See All
Hide All