Golden State Exodus: The moveBuddha 2021-2022 California Migration Report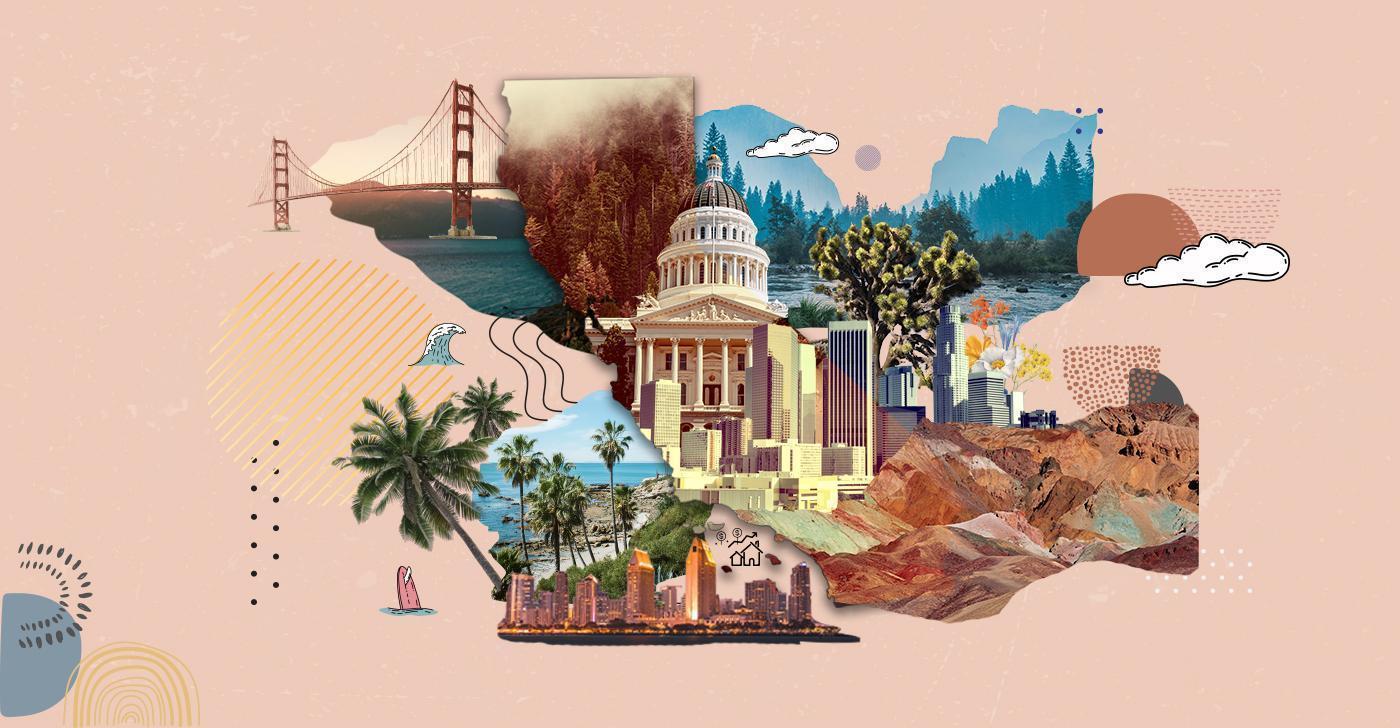 Big Takeaways
moveBuddha's data in 2022, shows

CA is seeing the biggest outflow in the country

with a move ratio of only 51 moves in for every 100 out. According to the U.S. Census, California lost the 2nd most residents in the country April 2020-July 2021 population estimates (only behind New York).

Beverly Hills, CA has the highest inflow so far this year with a move ratio of 248 moves in for every 100 moves out. The next highest cities are San Luis Obispo, CA (172 to 100) and Palo Alto, CA (155 to 100).
The most outflow is happening in El Cajon, CA with only 17 moves in for every 100 moves out. Followed by Woodland Hills, CA and Escondido, CA (both 30 to 100).
The top states welcoming Californians in 2022 are Texas, Florida, and Washington, in that order. Together, they comprise of just over 30% of moves out of CA.
The most popular routes in and out of the state have been coast to coast this year. For inbound moves, "New York, NY to Los Angeles, CA" has been the most popular search and for outbound, "San Francisco, CA to New York, NY".
Is the California Exodus Continuing in 2022?
For more than a century, California has been a literal Golden State.
Newcomers through the years have come for the economic promise that California represented, from striking it rich in the gold rush to getting discovered by a movie agent at a soda counter.
It nurtured depression-era Oakies escaping the dust bowl with its mild climate and fertile land. And more recently, it fed the dreams of tech entrepreneurs seeking a share in the more than 20% of American venture funding to launch their businesses.
While dreams of life in California aren't likely to fade, the numbers show that the exits from the state are on the rise and it's not just tech companies headed out.
With the country's widest gap between middle- and upper-class earners, many individuals are finding a new reality: prosperity means moving elsewhere.
We wanted to mine more details on California's exodus, so we looked at all of our data on moves in and out of the Golden State to find out which residents are moving, where they're going, and then looked to the U.S. Census to uncover which cities are shrinking fastest.
Table of Contents:
I. Moving Out of California: Looking at statewide trends from the last decade and into 2022
II. 2022 Forecast: Which California cities are surging in popularity and which are losing residents?
I. California Rush (Out): Not a boom season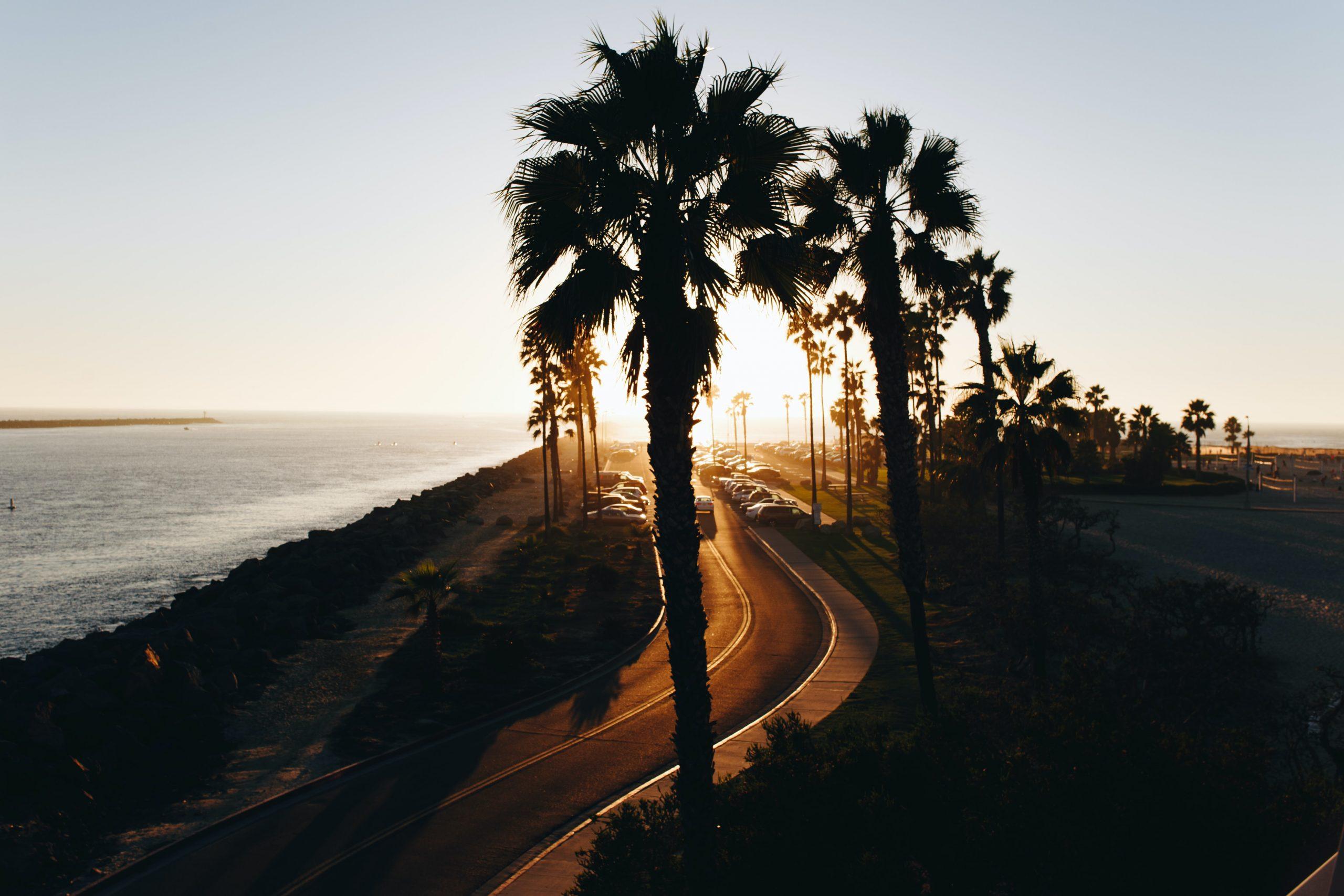 Most booms expect a bust, but California's loss is a brand new trend. Until 2010, the state's population had been expanding steadily for over a century, powered by booms in agriculture, gold, and international immigration. Its superstar status really took off during the Great Depression, when it overtook other growing states and never looked back.
Until recently.
The latest data shows that more and more Californians are dreaming of leaving, and choosing to do so.
According to U.S. Census data, four California counties saw the highest population declines in the nation from April 2020 to July 2021. Collectively, #1 Los Angeles, #6 San Francisco, #7 Santa Clara, and #9 Alameda counties lost 330,777 residents. That's nearly the equivalent of the entire country of Iceland.
Two counties were on the list of those with the highest percentage decline: #2 San Francisco at 6.7%, and #5 San Mateo at 3.5% decline.
2022 moveBuddha data shows California still seeing a massive outflow
We analyzed over 280K search queries for state-to-state moves in 2022 and California's losing trend continues.
The Golden State has the worst in-to-out ratio in the country.
That means there were many more searches for moves out of state than in, about 51 moves in for 100 moves out. That reflects what we're seeing in other polls, that more than half of California residents are considering a move out of state.
| | |
| --- | --- |
| State | In-to-Out Move Ratio |
| California | 51 to 100 |
| | 53 to 100 |
| | 67 to 100 |
| | 69 to 100 |
| Louisiana | 70 to 100 |
Where are they all going?
| | | |
| --- | --- | --- |
| Rank | Destination State | % of Moves |
| 1 | Texas | 14.96% |
| 2 | Florida | 7.84% |
| 3 | Washington | 7.24% |
| 4 | New York | 4.88% |
| 5 | Colorado | 4.47% |
| 6 | Tennessee | 4.18% |
| 7 | North Carolina | 4.15% |
| 8 | Arizona | 4.08% |
| 9 | Oregon | 3.75% |
| 10 | Nevada | 3.31% |
When Californians pull up roots, they're heading to places like #1 Texas, followed by #2 Florida and #3 Washington. Together, those states account for over 30% of Californians' moves.
New York, Colorado, Tennessee, North Carolina, and Arizona also each account for over 4% of California's outbound moves. In other words, half of Californians' moves out of state end at one of these eight destinations.
It could be that California's high cost of living makes multiple other states attractive for those looking to relocate. According to the Public Policy Institute of California, residents moving out tend to be less affluent than incoming residents, suggesting that high housing costs and taxes could be the primary factors in the exodus.
Middle- and low-income earners considering a move away from California should find Texas and Florida to become appealingly affordable destinations. According to cost of living data, Texas' housing cost index is 83.3 (109.4 is average) whereas California's is 192.7. Even Washington affords significant housing savings (116.7), and as a bonus, there's no state income tax.
II. 2022 Forecast: Which cities are the most popular to move to and out of in 2022 according to moveBuddha data?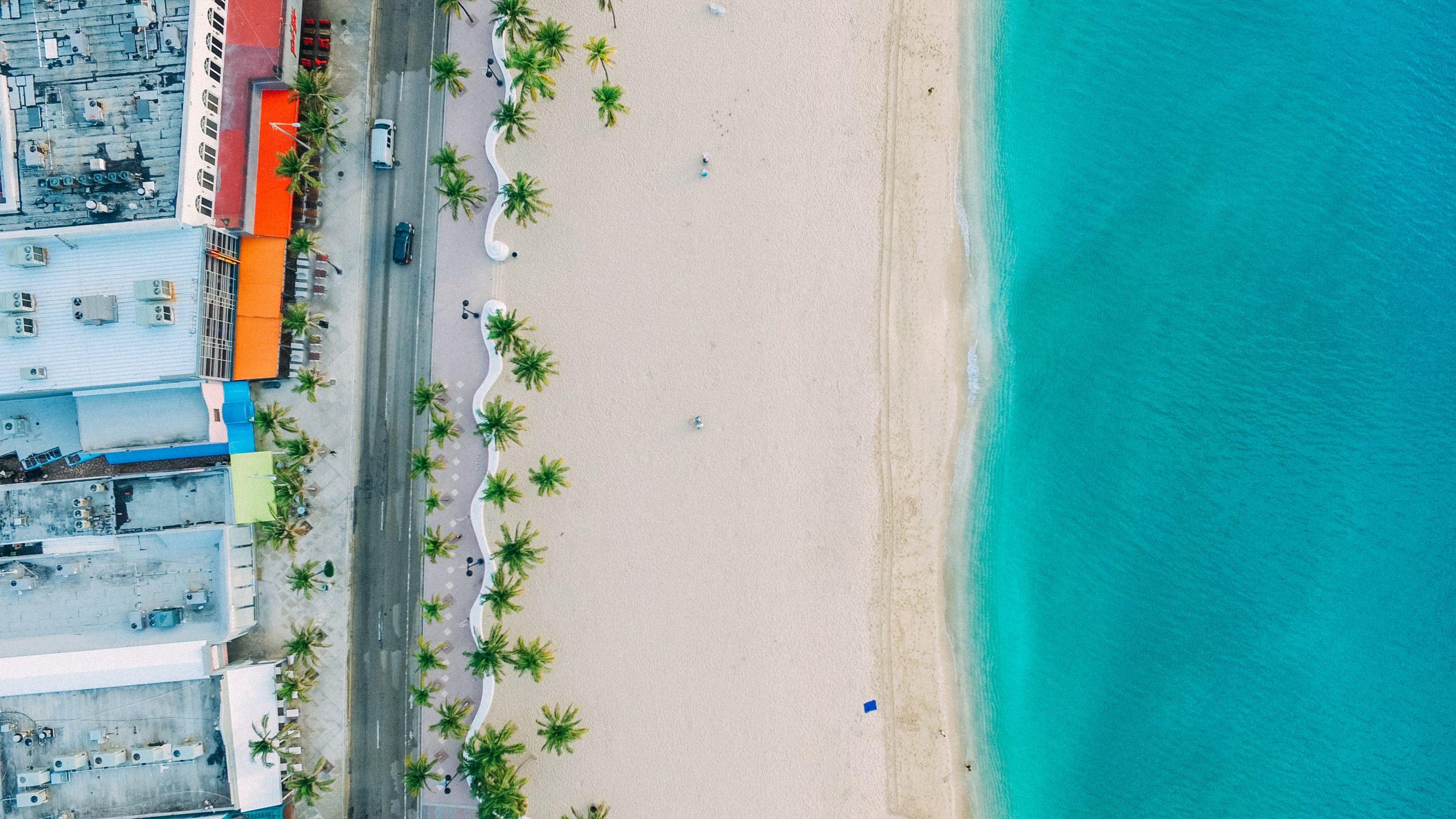 We analyzed over 280K searches from the moveBuddha Moving Cost Calculator to identify all the California cities that moveBuddha users are searching. We looked at only cities with at least 50 inbound searches and 50 outbound searches to avoid outliers and identified 108 total California cities to see which were the most popular.
Of the 108 cities in our dataset, only 9 cities saw positive inflow.
California cities are no longer worth the price tag
It's a trend we've seen remain true since the rise of remote work in 2020 that people are valuing affordability and space over the big-city living. Almost all of the most-searched California cities on our list have seen a significant increase in housing costs from 2010-2020 and even further jumps since the start of the pandemic.
Menlo Park, CA has had the highest home value increase in the last decade at a whopping 140% from 2010-2020 and is among 27 cities on our list with an increase of over 100%. Add on some of the country's highest property taxes and relatively low square footage for the price tag, it's no wonder California cities have seen an overall exodus.
5 Cities Seeing High Inflow
#1 Beverly Hills, CA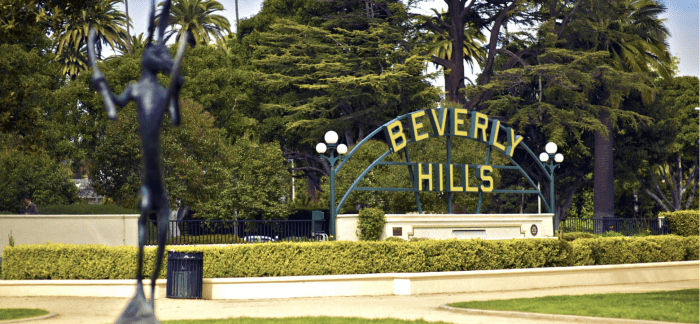 CBSA: Los Angeles-Long Beach-Anaheim, CA
Census population (2020): 32,782
Average home value: $6,128,249
Median rent: $2,259
Median household income: $101,241
Median age: 46.9
College education or higher: 64%
Unemployment rate: 7.5%
Looks like Weezer's influence has lasted since 2005 because Beverly Hills is still where everyone wants to be in 2022. Despite having by far the highest average home value on the list of most popular California cities (the next highest is Palo Alto, CA which is over $2.8 million less than the Beverly Hills average), that's not stopping folks from moving into the 90210 and staying put. These stats are a good testament that the most affluent areas often remain popular, as only those who can afford it move in in the first place, so the highs and lows of the economy and cost of living rarely impact the number of moves in or out.
#2 San Luis Obispo, CA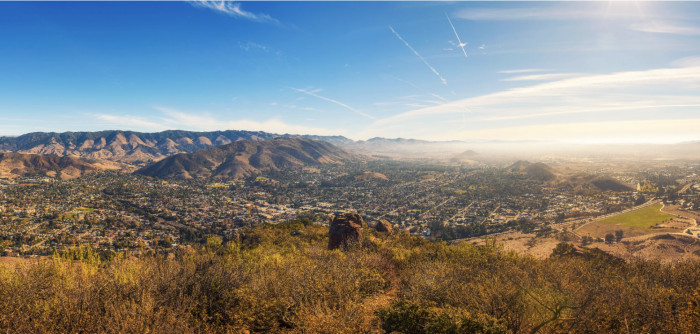 CBSA: San Luis Obispo-Paso Robles, CA
Census population (2020): 47,085
Average home value: $1,074,008
Median rent: $1,611
Median household income: $58,546
Median age: 26.7
College education or higher: 50%
Unemployment rate: 5.8%
San Luis Obispo is known for its charming small-town feel away from the hustle and bustle of the major cities it's right in the middle of - San Francisco and Los Angeles. Visitors flock to SLO for the many wineries scattered throughout the county (notably the Paso Robles area) and to stay at the Madonna Inn which looks straight out of a storybook. For those who move and stay in San Luis Obispo, the mix of an easy-going lifestyle with access to plenty of outdoor activities and the ability to have a night out around nearby Cal Poly University makes SLO an ideal home for those who want to live on the California coast and value balance in their lifestyles.
#3 Palo Alto, CA

CBSA: San Francisco-Oakland-Berkeley, CA
Census Population (2020): 68,724
Average home value: $3,874,236
Median rent: $2,679
Median household income: $174,003
Median age: 42.6
College education or higher: 82.8%
Unemployment rate: 3.3%
Palo Alto is best known for being a residential sanctuary in the middle of the tech capital of America, Silicon Valley. It's no wonder the city has low unemployment rates, high incomes, and plenty of folks looking to move in and stay. Palo Alto is home to some of the biggest tech companies and CEOs in the world (Mark Zuckerberg for starters) as well as the prestigious Stanford University.
#4 Palm Springs, CA

CBSA: Riverside-San Bernardino-Ontario, CA
Census population (2020): 44,561
Average home value: $1,216,203
Median rent: $1,199
Median household income: $57,916
Median age: 56.1
College education or higher: 42.2%<
Unemployment rate: 8.4%
A true desert oasis, Palm Springs is the ultimate vacation-style living mixed with a blast to art-deco past. There are plenty of ritzy country clubs and casinos to pass the time in this predominantly-retired community. The 8.8% unemployment rate is likely not due to a poor economy, but rather the fact that most Palm Springs residents no longer have to work.
#5 Sun City, CA


CBSA: Riverside-San Bernardino-Ontario, CA
Census population (2020): 25,202
Average home value: $455,000
Median rent: $1,509*
Median household income: $45,834*
Median age: 48
College education or higher: 35.07%
Unemployment rate: 3.4%
Situated in the epitome of suburbia, Menifee, CA, Sun City was actually built to be a 55+ neighborhood, and one of four "Sun Cities" in California designed by Del Webb. This area offers affordable homes and easy access to all of the business opportunities in Riverside (just a 30-minute drive up the freeway) for those who aren't retired. Residents appreciate the safety of the area and the friendliness of neighbors - again, a true suburban haven for those looking for simple living inland.
5 Cities Seeing High Outflow
#1 El Cajon, CA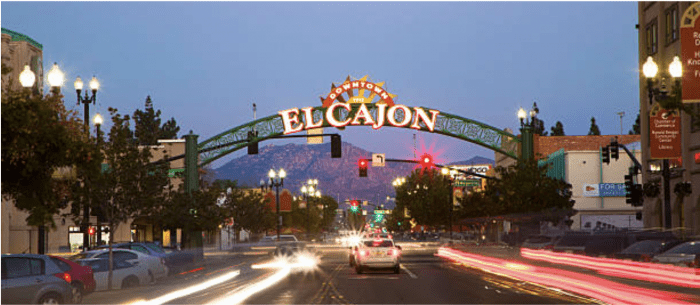 CBSA: San Diego-Chula Vista-Carlsbad, CA
Census population (2020): 106,286
Average home value: $573,620
Median rent: $1,398
Median household income: $56,367
Median age: 35
College education or higher: 22.2%
Unemployment rate: 7.7%
A suburb of San Diego, El Cajon is a melting pot of cultures and one of the top destinations in the country for new immigrants and refugees. Earlier this year, El Cajon went through a redistricting process to determine new boundaries for its City Council districts, and many officials voted in favor of a map that was unrepresentative of the minority communities within El Cajon. Arab, Middle Eastern, Muslim, and South Asian (AMEMSA) community members, all defended their voices during the process but may have lost the feeling of mutual respect between them and their city leaders along the way.
#2 (tied) Escondido, CA

CBSA: San Diego-Chula Vista-Carlsbad, CA
Census population (2020): 151,271
Average home value: $847,857
Median rent: $1,550
Median household income: $65,326
Median age: 35.1
College education or higher: 24.6%
Unemployment rate: 4.7%
Similarly to El Cajon, Escondido has had its ups and downs over the years with political turmoil between the city and its residents. Escondido's population is over 50% Latino, yet became known for having some of the harshest anti-immigration measures in the country. Additionally, Escondido made headlines earlier this year as their Department of Housing and Urban Development evicted a commune of folks who had been living in a foreclosed home for over two years, leaving them homeless with no aid. This turmoil raised a red flag for those already looking to leave the city.
#2 (tied) Woodland Hills, CA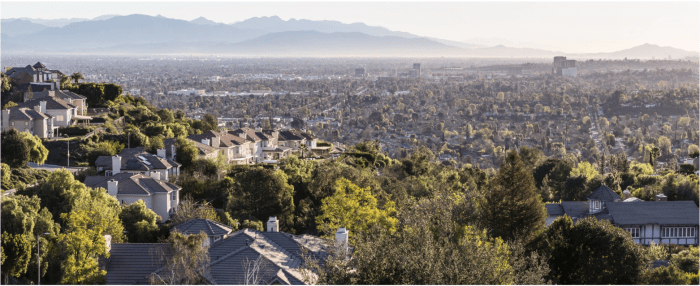 CBSA: Los Angeles-Long Beach-Anaheim, CA
Census population (2020): 70,245
Average home value: $1,250,000
Median rent: $2,044*
Median household income: $68,272*
Median age: 41
College education or higher: 24.57%
Unemployment rate: 6%
Situated just outside of the Calabasas and Topanga, this affluent neighborhood has been home to a list of celebrities and Hollywood industry professionals seeking a suburban lifestyle. Many neighborhoods in Los Angeles and its surrounding areas have fallen victim to mass exodus since the 2020 pandemic, and haven't seen the inflow to keep up. Woodland Hills could very well be a part of this trend, despite the comfortability the area offers.
#3 Van Nuys, CA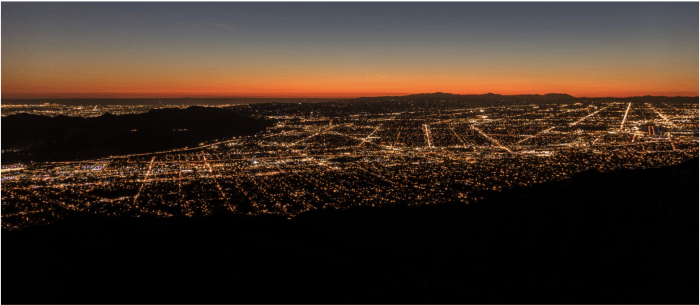 CBSA: Los Angeles-Long Beach-Anaheim, CA
Census population (2020): 102,966
Average home value: $764,500
Median rent: $2,044*
Median household income: $68,272*
Median age: 35
College education or higher: 25.1%
Unemployment rate: 6%
Moving closer and closer to the hub of Los Angeles, Van Nuys is yet another LA area neighborhood that can't keep up with the outflow brought on by the COVID-19 pandemic. Despite being more affordable than its neighboring cities, Van Nuys residents may still be looking to escape the rising taxes and inevitable traffic that comes with the territory.
#4 North Hollywood, CA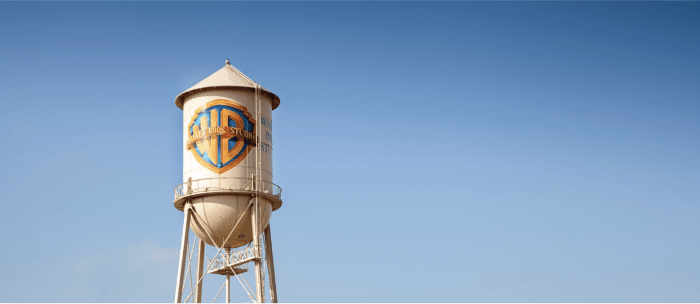 CBSA: Los Angeles-Long Beach-Anaheim, CA
Census population (2020): 72,718
Average home value: $849,000
Median rent: $2,044*
Median household income: $68,272*
Median age: 36
College education or higher: 21%
Unemployment rate: 6.3%
To round off the list of shrinking Los Angeles neighborhoods is North Hollywood, CA. Though North Hollywood will inevitably always retain residents for its industry job opportunities, those who are able to work remotely are still choosing to take advantage of that and escaping the high cost of living and area congestion (among other downsides).
*For some cities, the U.S. Census did not have demographic data, and those numbers were pulled from the sources linked to their corresponding numbers. Numbers with a * were taken from the HUD Fair Market Rent documentation for California counties and FRED per capita personal income documentation, also by county.
What Out-of-State Cities are Californians Moving to?
We've also narrowed down what out-of-state cities Californians are flocking to. Here are the top ten most popular out-of-state destinations for California moves:
Austin, Seattle, and New York have been in the top 3 all year. Furthermore, three Texas cities land in the top ten: #1 Austin, #7 Dallas, and #9 Houston. These Californians aren't giving up the sun, they're just following the 114 businesses that have left California for some southern hospitality in the Lone Star State.
Planning a move to California
If you've got a CA move on the horizon, these pages will help you:
Best California Movers Pretty straight forward, we looked at hundreds of movers across the state and these are the best ones in California.
Find your California moving route Want detailed help for your move? Pick where you're moving to and from in California, and we'll help you find out costs and movers
Sources & Methodology
This report primarily uses a combination of U.S. Census Bureau data and moveBuddha proprietary data. For understanding the cost of area homes we use Zillow's Home Value Index and for rent data, we referred to California Housing Data.
moveBuddha proprietary data:
This data was collected from January 1, 2022 through September 6, 2022 capturing searches by individuals who were either planning to move themselves or hire a moving company in the subsequent year.
We used this data to analyze:
Section 1:
2022 State-based in-to-out move ratio, +280K queries analyzed
Most popular states for moves from California in 2022, +16K queries analyzed
Section 2:
2022 California cities in-to-out move ratio, we limited data to cities with a minimum of 50 inbound queries and 50 outbound queries for a total of 108 cities analyzed.
Most popular cities for Californians to move to in 2022
Most popular routes for Californians heading out of state in 2022
U.S. Census Bureau — population, median income, historical population data:
Historical population totals, April 1, 2010 to July 1, 2020. To understand the methodology for devising these population estimates, please refer to the official methodology for total resident population estimates.
The median income is provided at the county level.
Zillow — Zillow Home Value Index city data:
The Zillow Home Value Index or ZHVI provides us with the typical home value within each city at a given period of time.
2022 Fair Market Rent HUD
To understand the cost of rent in the cities, we've included California Housing Data Clearinghouse HUD Fair Market Rent for 2 Bedrooms by county. It's important to note that this is the 40th percentile of rent prices, so will reflect prices slightly below average.
FRED Per Capita Personal Income by County:
The Federal Reserve Economic Data from the Federal Reserve Bank of St. Louis releases annual personal income data tables per county across the U.S. We then match these stats to the corresponding counties in each city.
Not what you were looking for?
Check out other categories that can help you find the information you need!
See All
Hide All