Zippy Shell vs PODS: Comparing Costs, Service, and Quality
Overall Opinion: While Zippy Shell and PODS offer similar services, we think PODS are superior to Zippy Shell thanks to PODS' flexible packing and unpacking options, greater variety of container sizes, and better customer service. 

Are you considering using portable on-demand storage for your move? Be sure to check out our list of the

best moving container companies

.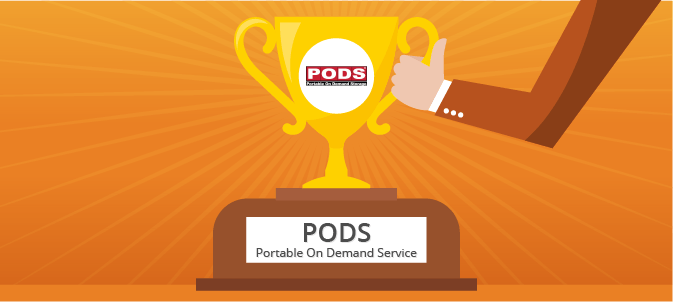 Zippy Shell and PODS are both container moving companies with similar business models. Both companies allow you to rent a container (or multiple containers), which are delivered to your property for you to pack your household goods if you're
going the DIY route
. They're then transported to your new address, where you can unpack it yourself or hire professional movers or a moving company to unpack for you. 
While both companies offer storage solutions that can help minimize your moving stress,
PODS
is more flexible because you can
keep the containers on your property
(and store them there, instead of in a storage facility)
for as long as you want to
. That means you can take your time to pack and unpack the containers. 
Zippy Shell, on the other hand, only allows containers to stay on your property for up to three days. This time sensitivity could add to the pressure of your moving experience. 
Zippy Shell advertises two container sizes, 10 feet and 15 feet. PODS offers three different portable storage unit sizes that clock in at 8 feet, 12 feet, and 16 feet long, so you're more likely to find a PODS container that suits your needs. Once you've chosen a container, you can load up your household goods into whichever container you choose using packing materials and either your own labor or a professional moving company/full-service movers.
During our comparison research, we found a few negative experiences with Zippy Shell's customer service, as demonstrated by Michelle's moving experience with Zippy Shell. Overall, we feel that movers would be in better hands with PODS. 
Read on for a comprehensive comparison of Zippy Shell versus PODS. If you'd like more information on either company, check out this Zippy Shell review and this PODS review from real-life customers.
Research before your move
Doing research prior to your cross-country move date helps to avoid bad movers, moving scams, and shady bait-and-switch tactics from moving brokers who offer moving services but don't deliver on their promises. 
Sadly, the moving industry is full of red-flag movers who bill themselves as professional moving companies but who are just the opposite, which may result in lost or damaged belongings. Avoid a bad moving company and a negative moving experience by conducting research and following your gut instinct. 
Reputable moving companies will have a free quote, positive customer reviews, a good rating with the Better Business Bureau (BBB), and a dependable company name. Many will offer a range of moving services, packing options, and professional movers to help make your moving experience as seamless as possible.
A little bit of research can go a long way toward preventing last-minute headaches and saving on unnecessary moving costs.
Zippy Shell vs PODS: Services Head to Head
PODS and Zippy Shell's offerings are very similar. Both offer portable storage containers, which means their basic business models involve delivering shipping containers to your home, allowing time for you to pack them with your belongings, and then transporting them to your new location. 
But that's not all Zippy Shell and PODS offer. Here's how services from both companies compare.
| | | |
| --- | --- | --- |
| | Zippy Shell | PODS |
| Moving | ✔ | ✔ |
| Storage at a Facility | ✔ | ✔ |
| Storage on Your Property | | ✔ |
| Storage Between Destinations During a Move | ✔ | ✔ |
| Delivery and Pickup of Containers | ✔ | ✔ |
| You Pack the Containers | ✔ | ✔ |
| Professionals Pack the Containers | Can be added on as an optional service, sometimes free of charge | |
| Shipment of Containers to New Address | ✔ | ✔ |
| Insurance | ✔ | ✔ |
As you can see, the services offered by Zippy Shell and PODS are nearly identical. The biggest difference is that PODS allows you to store containers on your own property for as long as you like, while Zippy Shell only lets you keep the containers for up to three days before moving them to a storage facility. Depending on your circumstances, that added pressure could be detrimental to your move.
These two companies also differ in their availability. Both are fairly limited compared to other nationwide moving container companies. Here's how their availability stacks up:
| | | |
| --- | --- | --- |
| | Zippy Shell | PODS |
| Available in the U.S.? | In 28 states (but partners with 1-800-PACK-RAT to help increase availability) | In 44 states |
| Available in Canada? | No | Yes |
| Available internationally? | No | Yes, in the U.K. and Australia |
Zippy Shell vs PODS: How the Containers Compare
How do the containers themselves compare? Here's what Zippy Shell and PODS offer.
Zippy Shell
PODS
How many container sizes available?
2*
3
What are the container sizes?
10-foot*

15-foot

7-foot
12-foot
16-foot
Storage available for all container sizes?
No, only for 15-foot
Yes
Cubic footage available?
385-625 cf
390-1,008 cf
Container material?
Metal cage
Metal
Weight limit?
4,500 lbs
4,200-5,200 lbs, depending on container size
*Zippy Shell advertises 10-foot containers on its website, but that size has severely limited availability. You'll have to check with your local Zippy Shell location, but it's likely that only the 15-foot containers will be available.
Cost is obviously a major consideration when comparing moving companies. Moving is always going to be expensive, no matter what—but a company that can save you money has a huge advantage over its competitors.
There are many factors that go into pricing a move, but here's how the average costs stack up for Zippy Shell versus PODS.
Zippy Shell vs PODS Cost for a Local Move
| | | |
| --- | --- | --- |
| | Zippy Shell | PODS |
| 1 bedroom | $190 – $240 | $200 – $400 |
| 2-3 bedrooms | $300 – $630 | $300 – $650 |
| 4-5 bedrooms | $350 – $750 | $300 – $800 |
Zippy Shell vs PODS Cost for a Move < 250 Miles
| | | |
| --- | --- | --- |
| | Zippy Shell | PODS |
| 1 bedroom | $500 – $920 | $450 – $800 |
| 2-3 bedrooms | $730 – $1,600 | $750 – $1,900 |
| 4-5 bedrooms | $1,100 – $3,100 | $900 – $2,100 |
Zippy Shell vs PODS Cost for a Cross-Country Move
| | | |
| --- | --- | --- |
| | Zippy Shell | PODS |
| 1 bedroom | $1,800 – $3,900 | $2,000 – $4,000 |
| 2-3 bedrooms | $2,800 – $4,500 | $3,000 – $4,900 |
| 4-5 bedrooms | $5,200 – $7,000 | $5,500 – $7,600 |
The average costs for the two companies are very comparable. But keep in mind that with all the factors that go into a move, the only way to know exactly how much your move will cost is to get a personalized quote based on your needs. 
(Need more help with estimating your moving expenses? A moving cost calculator is a great way to get a free quote and a moving estimate before the big day.) 
You should get personalized quotes from both Zippy Shell and PODS to accurately compare what each company will charge for your move.
Zippy Shell vs PODS: Pros and Cons of Each
When comparing two moving companies, it's important to look at all the pros and cons. Here are how the best and worst features of PODS and Zippy Shell compare.
Zippy Shell vs PODS Pros
Zippy Shell Pros
PODS Pros

Street legal containers perfect for city parking
Innovative metal cage containers that promote airflow
Expedited and guaranteed delivery options
Available for both local and long-distance moves
Multiple insurance choices
Easily add moving labor help

Usually less expensive than hiring full-service movers. See PODS cost.
Flexible change and cancelation policies so you can get a full refund if your plans change.
30-day minimum rentals mean you can take your time packing and unpacking.
Store on property or at a facility.
Moving and storage offered separately, or combined in one order.
Multiple container sizes available.
You don't have to haul the containers or drive a truck.
Available in almost all states and several countries.
Moving supplies can be included.
Online shipment tracking.
Military discounts.
More pros: PODS.
Zippy Shell vs PODS Cons
Zippy Shell Cons
PODS Cons

It's hard to find some important information on their website.
No online quotes —  you have to call.
We had a few bad experiences with their customer service giving us inaccurate information.
You can only keep containers on your property for up to three business days.
You can only order one container at a time.
Their cancelation policy is less forgiving than we've seen from other companies.
Availability can be limited — Zippy Shell is only in the U.S., and only has locations in 28 states
Containers are slightly smaller than competitors

Pricing can be higher than competition
No online quotes for long-distance moves — you have to call.
Some bookings can only be made by phone; there's no online option.
Availability can be limited because they're so popular — PODS containers are often sold out up to six months in advance, especially during peak moving times (spring and summer).
Fewer cons: PODS.
As you can see, PODS has more pros and fewer cons than Zippy Shell containers in this head-to-head comparison—but pros and cons don't always tell the whole story.
Zippy Shell vs PODS: Online Reviews and Reputation
Both Zippy Shell and PODS are established container-moving businesses. Neither is a fly-by-night organization, so you don't need to worry about getting scammed by either of these companies.
With that said, both Zippy Shell and PODS operate under a franchise model, meaning each individual Zippy Shell or PODS location has its own page for Google, Yelp, and Facebook reviews. 
Regarding PODS in particular, the Better Business Bureau (BBB) even has a different page for each franchise location. This can make it tough to get an accurate grasp on these companies' reviews and online reputations.
Our best advice: Since each franchise location operates somewhat independently, some will be more professional and offer higher quality services than others. We recommend doing your research about the specific location you'll be working with before booking a move with either company. Be sure to look up customer reviews and other information about that specific location to get a better sense of whether other movers have had positive or negative experiences.
Zippy Shell vs PODS: Which One Is Right for Your Move?
Overall, Zippy Shell and PODS have similar offerings. We prefer PODS because of its more flexible rental policy and better customer service, but that doesn't necessarily mean it's the right choice for you.
You might prefer Zippy Shell if you live in an urban area or on a property that doesn't have space for you to park a sizeable storage container. In that case, Zippy Shell's smaller, street-legal containers might make the company a better option for you.
However, if you prefer storage on your own property rather than at a facility, PODS is the clear winner, since Zippy Shell doesn't allow that.
We recommend acquiring a personalized moving quote from both Zippy Shell and PODS if you're interested in moving with a container company. The price may end up being the deciding factor for you, and there's always the possibility that one company may have a special offer or promotion that makes it the more cost-effective choice.
Zippy Shell and PODS aren't your only container options when planning a move: Other good alternatives include U-Haul U-Box and U-Pack ReloCube. Seek out instant quotes from multiple movers to compare prices and services.
Not what you were looking for?
Check out other categories that can help you find the information you need!
See All
Hide All